When you're switching to a new iPhone or have factory reset your device accidentally, the first thing to do must be restoring the important old data, including the WhatsApp chats.
If you have ever turned on the iCloud backup function, then the easiest way to restore WhatsApp would be from iCloud as this is the official backup platform for iPhone. However, while you seek to do this, you might not know the correct procedure.
Well, this tutorial has got you covered with different ways to help restore WhatsApp from iCloud quickly, read on!

How to Restore WhatsApp Backup From iCloud to iPhone
Before moving to the actual steps for restoring WhatsApp from iCloud, many people may wonder "Where is my WhatsApp backup stored in iCloud"?
Well, the entire backup is stored in a hidden folder in your iCloud Drive if you have turned on it. You may access this folder in the following way:
On your Macbook, go to Utilities > Applications > Terminal.
Then type this command:
cd ~/Library/Mobile\ Documents/
find *whatsapp*
Restore WhatsApp from iCloud to iPhone
You can directly restore WhatsApp backup from iCloud as long as a backup is made before. Below are the steps to follow.
Step 1 Open your WhatsApp account, go to Settings > Chats > Chats Backup, and ensure that a backup exists.
Step 2 If you need to restore WhatsApp on your current device, delete the WhatsApp app from the phone and reinstall it. If it's a brand new iPhone, simply download WhatsApp on it.
Step 3 Now, open the WhatsApp messenger and proceed to verify your phone number and iCloud ID. Make sure that it's the same as the one when the backup is created.
Step 4 Click on the Restore Chat History option when promoted. It will start restoring WhatsApp backup from iCloud.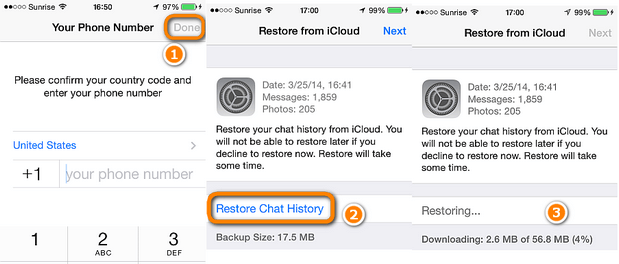 In a few minutes, you'll see all the chats on your WhatsApp account.
What If WhatsApp Couldn't Restore Chat History from iCloud?
Sometimes, WhatsApp might show an error when restoring chats from iCloud, which can be frustrating. Luckily, you can use the following tips to troubleshoot this problem:
Check the phone number and iCloud ID that you are using to restore the data and ensure that it's the same as the one you used to create the WhatsApp backup.
In case the backup is on iCloud Drive, make sure that you're using an iOS 9 or higher version on your phone.
Sometimes, it's just network issues. So, make sure that you're having proper network connection. If that's still causing an issue, you can try changing the networks.
iCloud will not be able to recover the backup if your device doesn't have sufficient storage. As a matter of fact, the storage space in your phone must be at least 2 times the size of the backup to be restored.
To know more details, you can check this gull guide to fix WhatsApp restore from iCloud not working.
A Better Alternative to Backup and Restore WhatsApp (Android & iPhone)
Although iCloud is the official WhatsApp backup solution, it comes with some disadvantages.
Given these disadvantages and limitations, it's essential to find an alternative solution and Wootechy WhatsMover is no doubt the best you can get. The WhatsMover - WhatsApp Transfer Tool can bypass all those limits with iCloud. It has no storage limitation when backing up your WhatsApp data because your data is saved securely on the computer.
Whether you want to backup WhatsApp data, restore WhatsApp, transfer it from one device to another, or share the data with others in different file formats, WhatsMover can surely help you.
Guide to Backup & Restore WhatsApp Data with WhatsMover
Download the install the WhatsMover program on your computer, then follow the easy steps below:
Step 1 Launch WhatsMover and select Back Up WhatsApp on Devices on the left pane. Connect your iPhone or Android to the computer.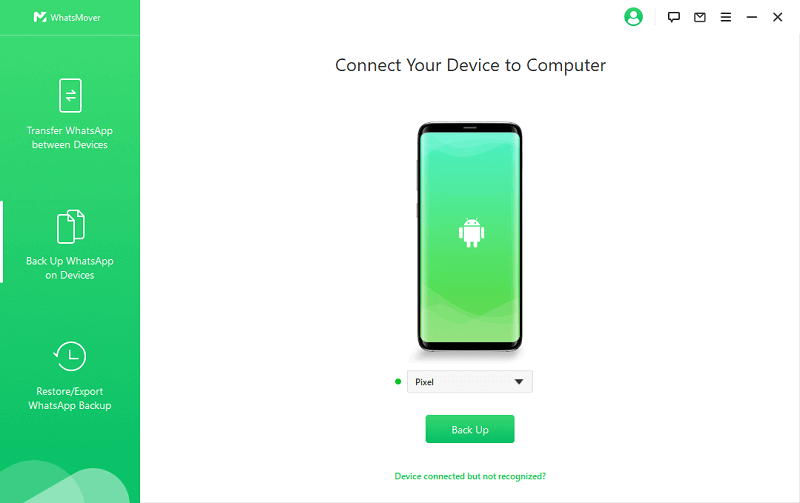 Step 2 Once your device is recognized, select Back Up and the process will start. Just wait for it to be completed.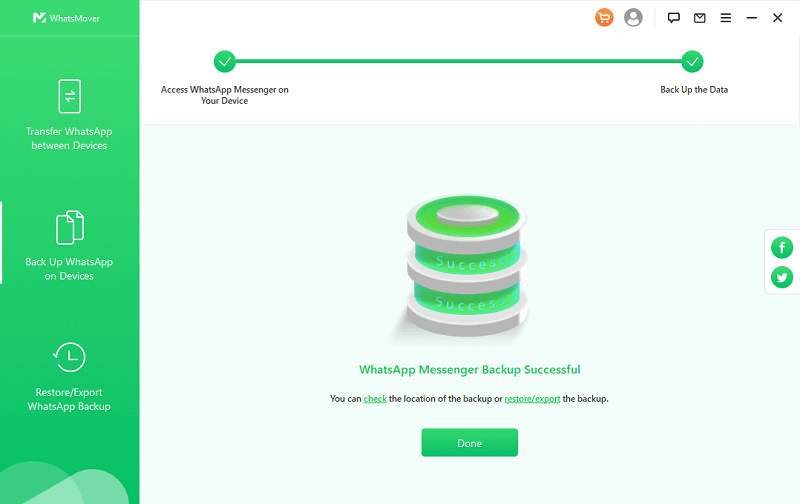 To restore WhatsApp data, you will need some additional steps:
Step 1 Select Restore/Export WhatsApp Backup on the left, then choose a backup and click Restore to Device.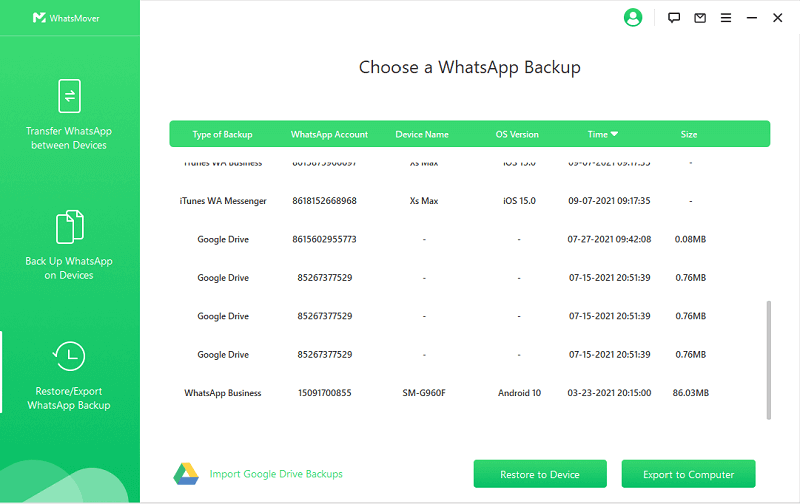 Step 2 Ensure your phone is connected and click on Restore. That's it, your data is restored successfully.