Contacts are without doubt among the most important data on WhatsApp. They represent the connections you have built over time, including contacts of family members, loved ones, and even business partners.
As there is only limited contacts you can commit to your memory, save on your phone, or write down in your diary – especially when you belong to a number of WhatsApp groups, there is always the need to export these contacts for safety and future access.
With the likelihood of hundreds or even thousands of contacts to be exported, you surely need a guide about how to export WhatsApp contacts to store them securely. This article adheres to get your aim done. Let's get started!
Part 1: [4 Proven Ways] How to Export WhatsApp Contacts?
Exporting WhatsApp contacts is pretty easy with the right information. In this section, we will discuss 4 simple yet effective methods about how to export contacts from WhatsApp group and individual on both Android and iPhone.
Way 1: [100% Security] Export All WhatsApp Contacts to XLS/CSV/HTML/PDF via WhatsMover
When it comes to export WhatsApp contacts, there is no easier way than using WooTechy WhatsMover, which can export your WhatsApp contacts to PC safely without any storage limitation.
It is a complete WhatsApp management tool that makes exporting WhatsApp contacts a walk in the park. WhatsMover requires no technical knowledge to export WhatsApp chats including contacts over 40000 at a time at once without any loss. It is just a no-brainer for straightforward and swift contact exportation.
WooTechy WhatsMover -- Directly Export WhatsApp Contacts with A 100% Success Rate:
100.000+
Downloads
Compatiable to export WhatsApp contacts on both WhatsApp and WA Business on all models of iPhone and all brands of Android devices, with Android 13 and iOS 16 available.

The privacy and security of all your WhatsApp contacts can be protected with 100% safety during the export process.

You are able to preview your WhatsApp contacts and select which parts you need before exporting them to your PC.

And also, WhatsMover supports you to directly export all your WhatsApp to Excel, or other formats like PDF, HTML and CSV.
WooTechy WhatsMover -- Video Guide to Exporting WhatsApp Contacts to Excel in 2022:
Below are straightforward steps on how to export WhatsApp contacts after you downloaded and installed the WooTechy WhatsMover software.
1 Back Up WhatsApp Data
Launch the WhatsMover software on your PC and connect your device via a USB cable. Click on the Back Up WhatsApp on Devices on the left plane to back up your WhatsApp contacts.
Note
For iPhone users, if you have backed up your WhatsApp data including contacts to your iTunes, then you can use this tool to scan the iTunes backup, and follow the step 2-4 to export the contacts to your PC.
For Android users, you can use this tool to directly download your Google Drive backup including contacts, then further export them to your PC or restore your Android and iPhone device.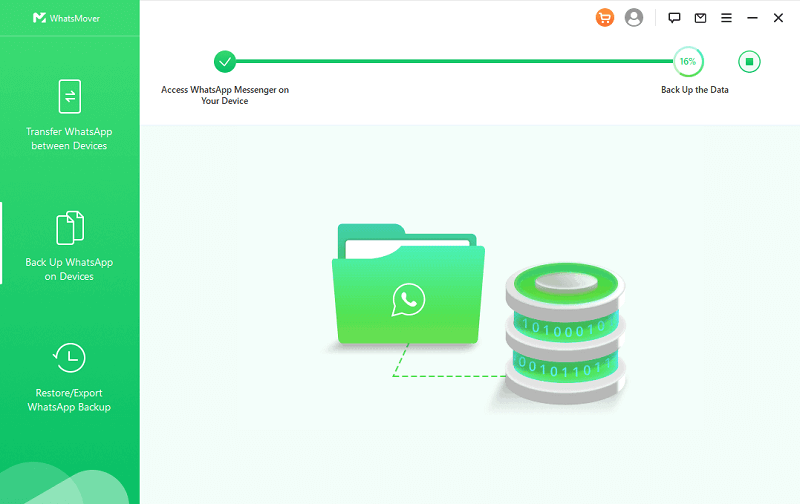 2 Export WhatsApp Contacts Files
After the backup, select Restore/Export WhatsApp Backup to initiate the export process. Choose the backup you just created and click Export to Computer.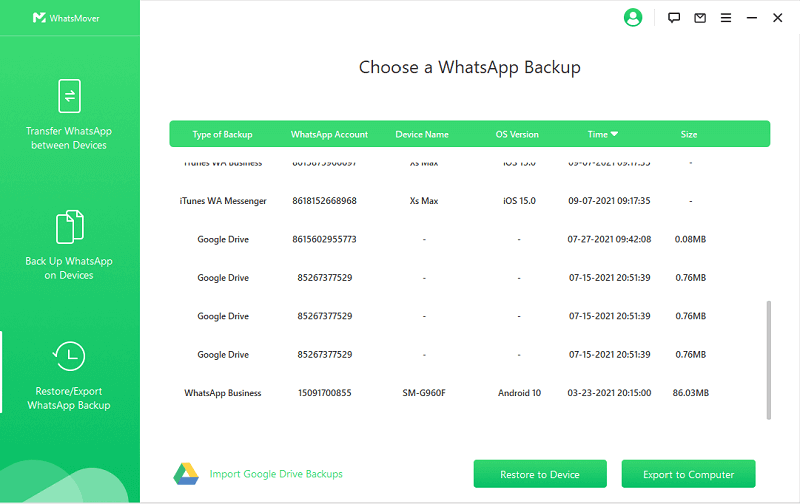 3 Preview WhatsApp Files
The chats in the backup will be shown after a scan is completed. You can also preview the files and select the Contacts file to export. Choose either XLS/CSV/HTML/PDF format to export your WhatsApp contacts.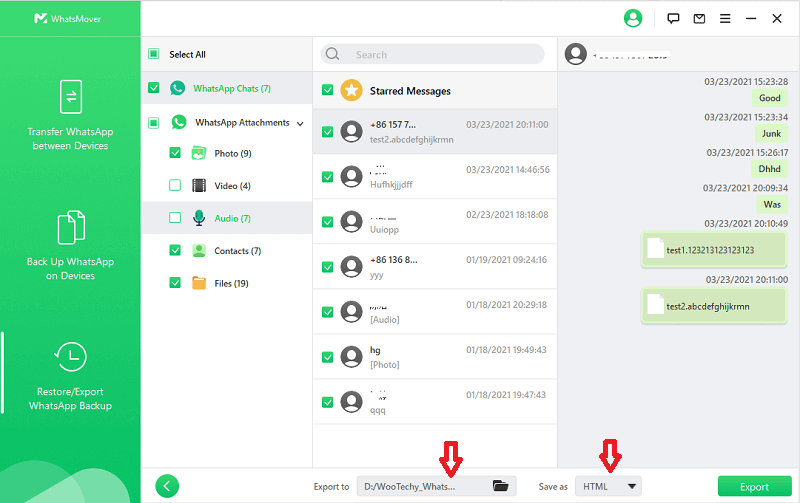 4 Successfully Export WhatsApp Contacts
Click Export and wait for the process to finish. All the WhatsApp contacts in the backup will be displayed after the exportation is complete.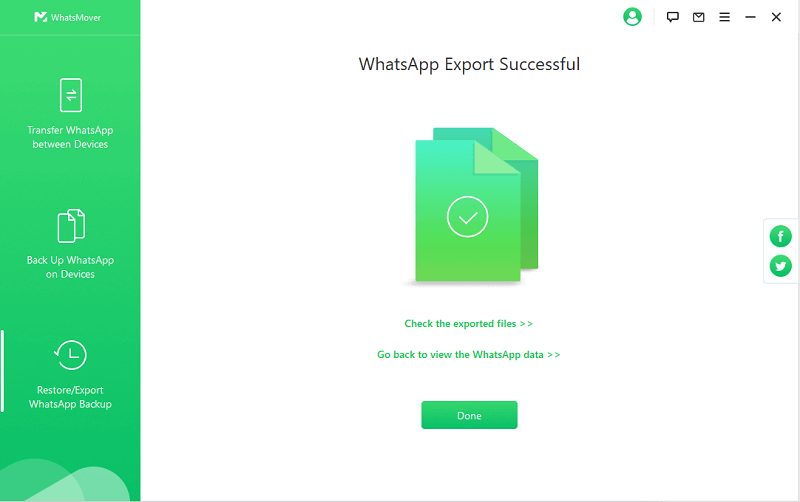 Way 2. Export WhatsApp Group Contacts to Excel via WhatsApp Web
WhatsApp groups usually contain lots of people (maximum of 256 people) from different places coming together for some common goals such as Business or sharing of information.
More often than not, users do not have the vast majority of contacts on their WhatsApp groups saved locally on their phones. This is even more true when you belong to various groups. Hence, to avoid losing some of these important contacts, there might be a need to export WhatsApp group contacts.
How to extract contacts from WhatsApp group with WhatsApp Web:
Step 1. Sign in your WhatsApp Web on your PC and click on the WhatsApp group you want to export contacts from.
Step 2. Right-click on the group name and select Inspect from the options displayed. This will split the screen and display a window containing the backend code of the page.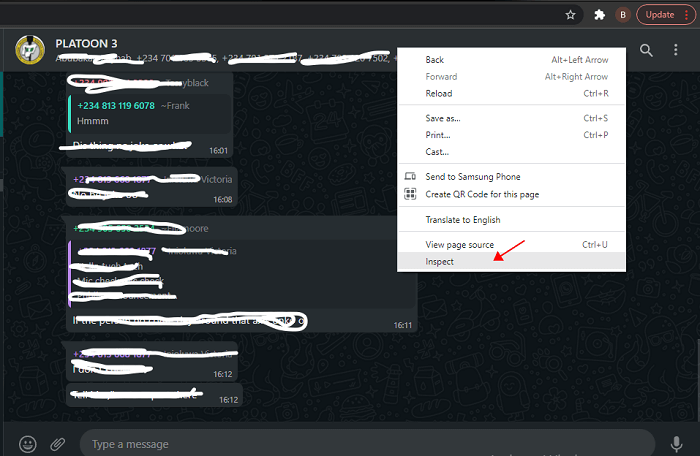 Step 3. Click the Arrow sign on the top left-hand corner and click on the Contacts on the group title. This displays the area of code where all the group contacts are located.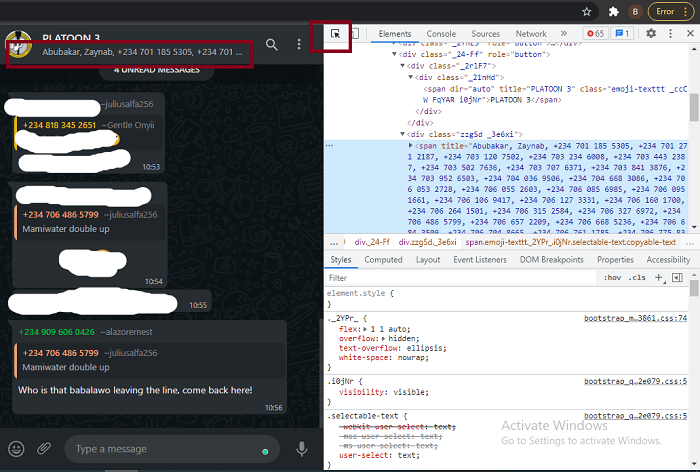 Step 4. Select all the contacts and right-click on them. Choose the copy option and subsequently the copy element option.
Step 5. Open Excel on your PC and paste the contacts there. The contacts will contain some coding jargon at the start and towards that can be easily deleted. Also, the contacts will be pasted on a single cell.
Step 6. To get the contacts arranged in different cells, go to the Data tab and choose the Text to column option. From here, click on Fixed Width from the prompt and then click Finish to close the window. Lastly, select the entire row you want to copy the contacts to and right-click on it.
Step 7. Now select Paste Special and check the Transpose checkbox. Now, click OK to close the window and the contacts will be arranged in an orderly manner.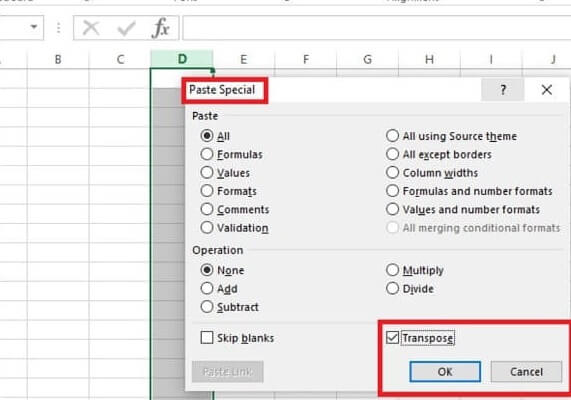 Way 3. Export WhatsApp Contacts in a CSV file (Android Only)
Exporting WhatsApp contacts to CSV files makes it easy to access the contacts and also convert to other formats such as VCF or vCard formats. Also, it is the foundation to export WhatsApp contacts to Gmail.
This method works only on Android because the third-party app used is only available on Google Play Store. Follow the steps below to get started.
Step 1. Download and install the Export Contacts for WhatsApp app from Google Play Store. Launch the app and log in with your Google account to get started.
Step 2. Click on the Export Contacts button. This will prompt you that you can only export 100 contacts at once in the free version. To export more, you will need to pay for the premium version.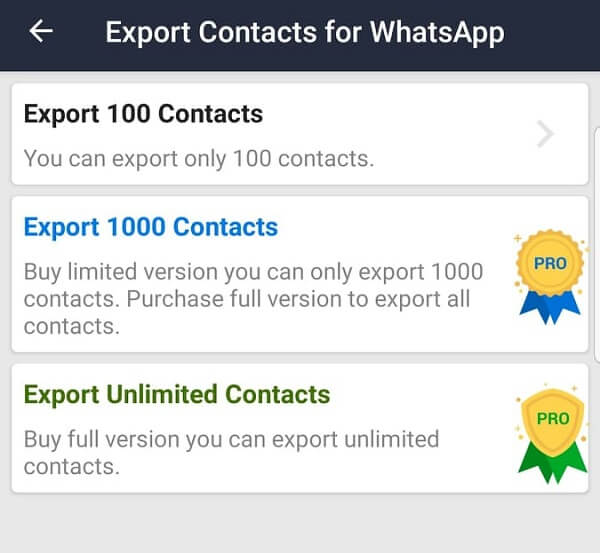 Step 3. Select the Export 100 Contacts option. This will display a text box for you to name the contact CSV file. Enter the preferred name and select Export to complete the process.
After exporting the contacts to CSV file, you can now convert it to vCard format for easy access.
Step 1. Open the run utility by pressing Window + R. Type wab in the run box and click OK to run the command. This will open the contact window.
Step 2. Click the Import tab from the top of the contact window. From the window displayed, select the CSV file you created and click Next to continue.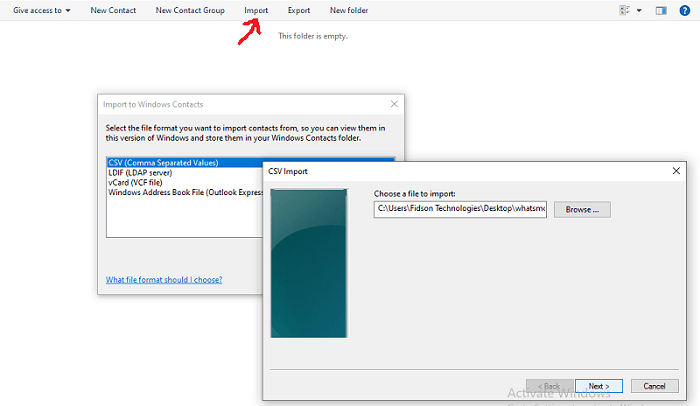 Step 3. Now, choose a contact field name for which you would like to create the vCard and click Finish. Wait for the process to complete.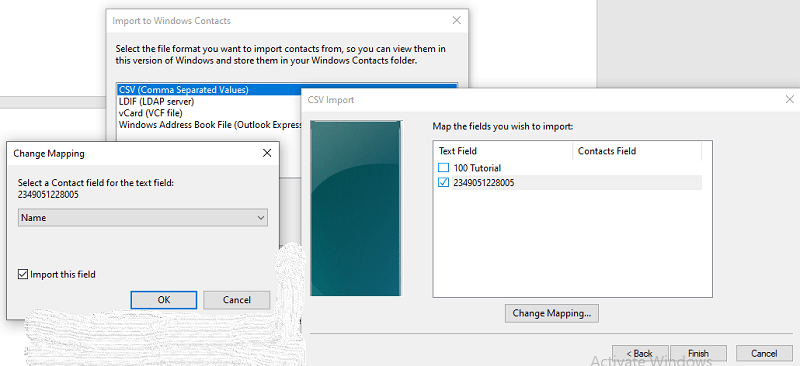 Step 4. After the process, choose the Export option from the menu bar at the top of the screen. From here, choose the vCards option and click Export.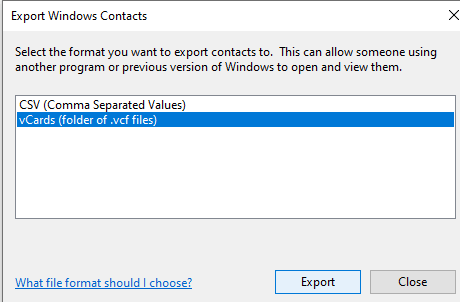 Step 5. Choose a path you would like to use to save the vCards and click OK. This will convert all the contacts imported from the CSV file to vCards format at the chosen path.
Way 4: Export WhatsApp Contacts via Contacts To Excel (Android Only)
The last alternative way to export WhatsApp contacts is to use a third-party app -- Contacts To Excel. In this way, you can your WhatsApp in XLSX/PDF/ CSV formats. Just follow the operations step by step.
Step 1. Download and install Contact To Excel app from Play Store.
Step 2. You will see Export Contacts button on the middle of screen, click it. You will be asked for the permissions to to allow exporting contacts from you WhatsApp, just allow it, then the process will start.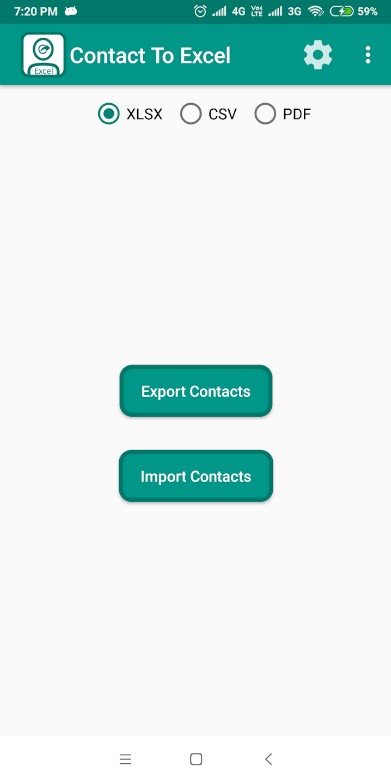 Step 3. Please be patient enough, since this process will take a little long time.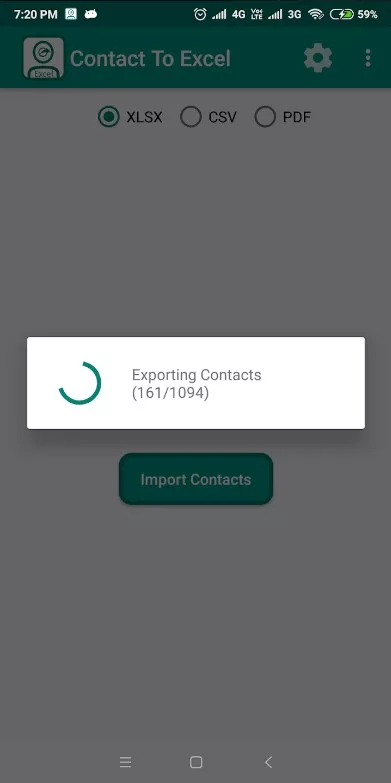 Step 4. You can choose XLSX/PDF/CSV format for your contacts file. It's suggested that you select XLSX format, for which can make you easier to read the WhatsApp contacts you exported.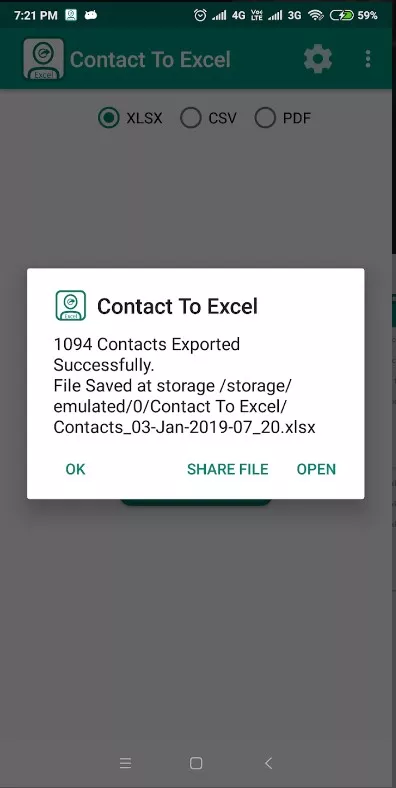 Step 5. You can read the file on your device, or send it to your computer with Email to store it safely.
Cons
The WhatsAppcontacts file you expored will be a bit of a mess.

The whole export process is really time-consuming, you need to wait it to complete for a long time.
Part 2: How Do I Export WhatsApp Contacts to Gmail
As stated earlier, exporting WhatsApp contacts to a CSV file is the prerequisite for exportation to Gmail. Since we have discussed the steps to export WhatsApp contacts to CSV files, let's just get right into exporting the CSV files to Gmail.
Step 1. Open the web version of Gmail and tap the Gear icon on the top right-hand side of your screen.
Step 2. From the options displayed, tap on the Contacts icon. Now, select More and choose the Import option.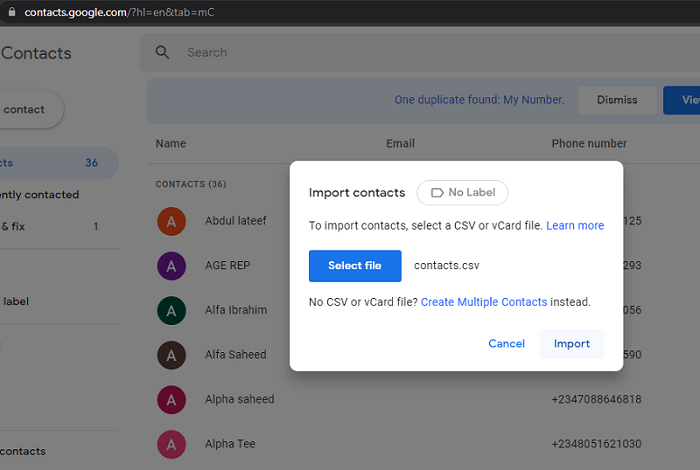 Step 3. Tap on the Select File option and attach the CSV file you created. Click OK to complete the process.
Part 3: Can I Transfer WhatsApp Contacts to Another Phone?
Yes, you can transfer WhatsApp contacts to another phone directly with a WhatsApp transfer tool like WooTechy WhatsMover. This top-notch software allows you to transfer all your WhatsApp data such as contacts, chats history, media files and more from one phone to another, no matter it is an Android device or iPhone.
WooTechy WhatsMover, without doubt, is the best option available to you. Just click the Download Now button below, you can freely download and install this wonderful tool.
3 steps to transfer WhatsApp contacts to another phone with WooTechy WhatsMover:
Step 1 Launch the WooTechy WhatsMover app on your PC. Simultaneously connect your two smartphones to the PC using USB cables. Then select Transfer WhatsApp between Devices on the left side.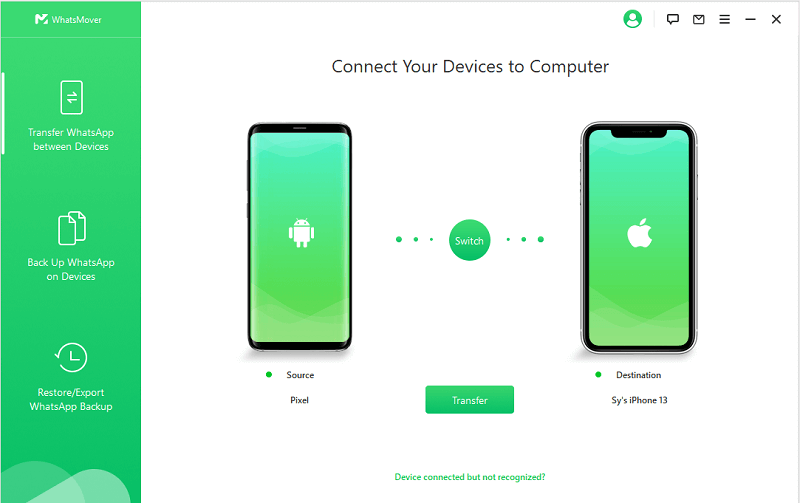 Step 2 Crosscheck that both the source and destination are correct and then press Transfer to start the WhatsApp transfer process from your old phone to the new one.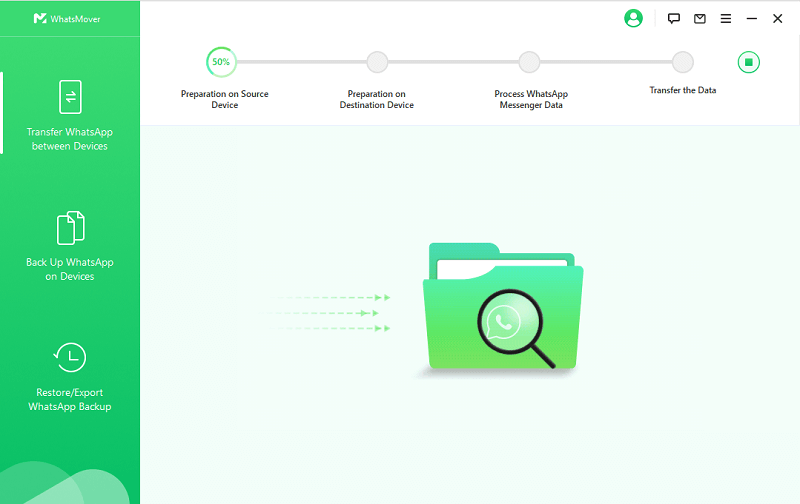 Step 3 Choose WhatsApp or WhatsApp Business on prompt. Wait for a minute, you can successfully transfer WhatsApp contacts to another phone.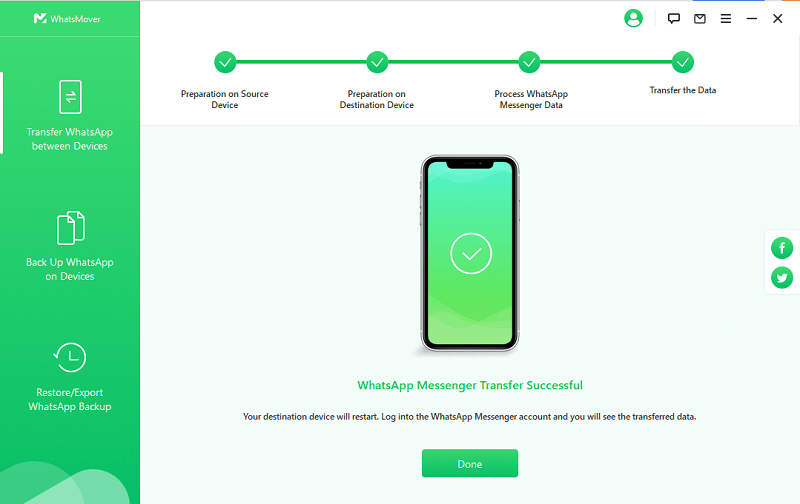 Wrapping Up
We have come to the end of this extensive guide containing everything you need to know about how to export WhatsApp contacts. This article has covered series of practicable and working methods to export those all-important contacts.
While all the methods on our list are pretty straightforward, we recommend the use of WooTechy WhatsMover software as it is not only the easiest but the most effective option. Lastly, it is a complete WhatsApp management platform that gives you control over your WhatsApp data including your valuable contacts.