At one point or another, we all look to change our phones for some reason. As a fervent Android user, you look to improve on your current device with an upgrade boasting better features.
While relishing the new features that comes with your shiny new device, there is also the troublesome of transferring WhatsApp data from your old Android.
However, you don't need to worry as this article contains everything you need to transfer WhatsApp from Android to Android. Irrespective of the brand of your Android device, you will be able to confidently transfer your data quickly. Enjoy!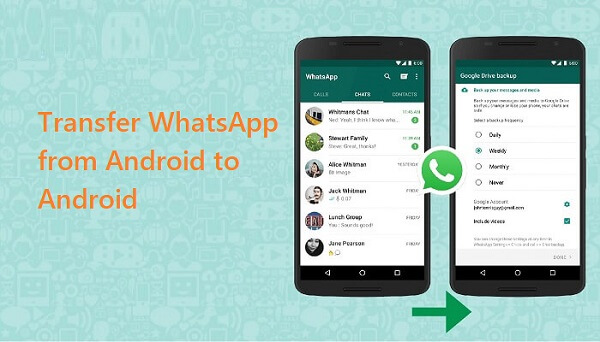 Transfer WhatsApp from Android to Android in 3 Ways
There are three effective methods to transfer WhatsApp from Android to Android, and we have made a quick comparison of the methods, so that you can choose the one that suits you most.
Without much ado, let's go deeper into the methods and learn to transfer WhatsApp data to a new Android phone.
1

Transfer WhatsApp from Android to Android in 1 Click

We'll start with the easiest way to securely transfer WhatsApp from Android to Android without breaking a sweat, and for this we recommend using the WooTechy WhatsMover software.

This software allows you to transfer WhatsApp messages to new Android phone without backup, as it directly move the data from one phone to another. Moreover, the WhatsMover WhatsApp transfer tool is compatible with all major Android phone brands like Samsung, LG, Huawei, Motorola, Xiaomi, and more.

Not just limited to the Android WhatsApp transfer, it is the best you can get for cross-platform (Android to iPhone and iPhone to Android) WhatsApp transfer anywhere.
Why Choosing WooTechy WhatsMover Software
100.000+
Downloads
Compatible with both WhatsApp Messenger and WhatsApp business.

Transfer WhatsApp data directly without backup or any other tools.

Supports extensive WhatsApp data types like chat history, contacts, photos, emojis, and other attachments.

FREE WhatsApp backup solution that has no storage limits.
Transfer WhatsApp from Android to Android using WhatsMover
Below are the steps to follow to transfer your WhatsApp after downloading and installing the WooTechy WhatsMover software on your PC.
Step 1 Open the WhatsMover software and click the Transfer WhatsApp between Devices tab on the left plane.
Step 2 Now, connect the two Android devices to your PC via USB cable, ensure the Source and Destination devices are accurate. Then click the Transfer button.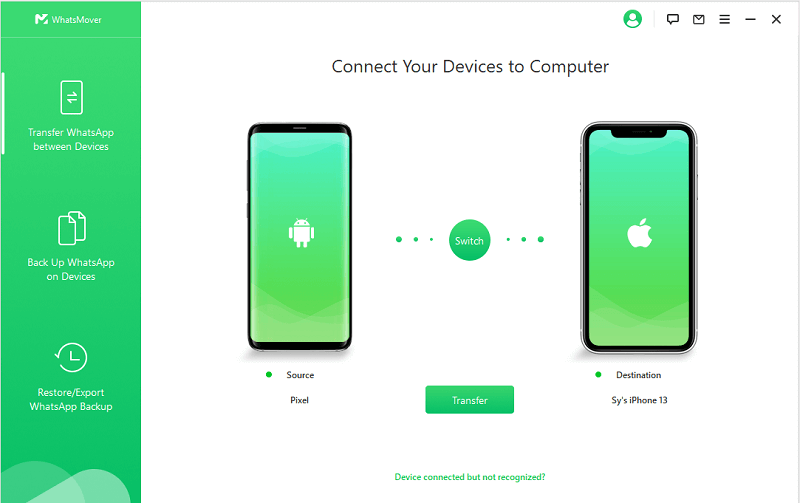 Step 3 Confirm your WhatsApp type and the transfer process will start immediately. Once it's done, you can check all the messages on your new phone.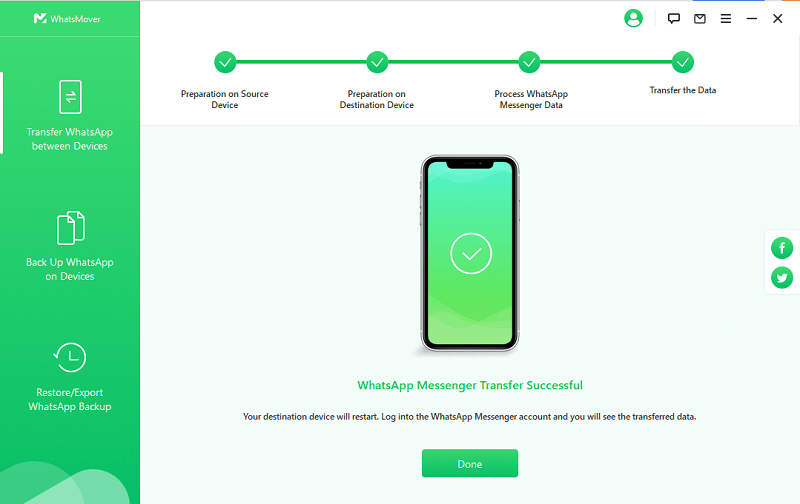 2

Transfer WhatsApp to New Android Phone via Google Drive Backup

Google Drive is one of the two official means for Android WhatsApp data backup, from which you may restore data. But to make use of this method, the below requirements must be met:
1. Your old Android phone must be synced with Google Drive.

2. There must be enough space on your Google Drive and Android phone for your WhatsApp backup.
Step 1 Open WhatsApp on your old phone and navigate to Menu (three vertical dots) > Settings > Chats > Chat backup > Back Up. From here you can create the most recent WhatsApp backup to your Google Drive.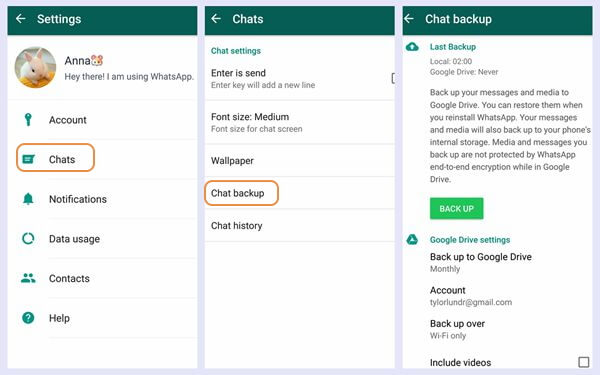 Step 2 Download and launch WhatsApp on your new Android device and verify the phone number. Note that you must use the same number used on your old Android and also link your new device to the same Google Drive account.
Step 3 Click Restore when prompted to restore your WhatsApp backup from Google Drive. Wait for the process to finish.
Step 4 Tap the Next button to complete the process, and you have your WhatsApp data ready for access!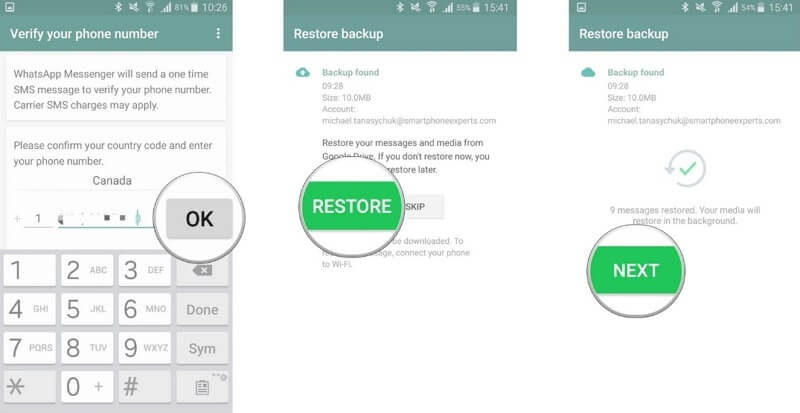 After this, you can turn on automatic WhatsApp backup to Google Drive on your new Android phone on a daily, weekly, or monthly basis.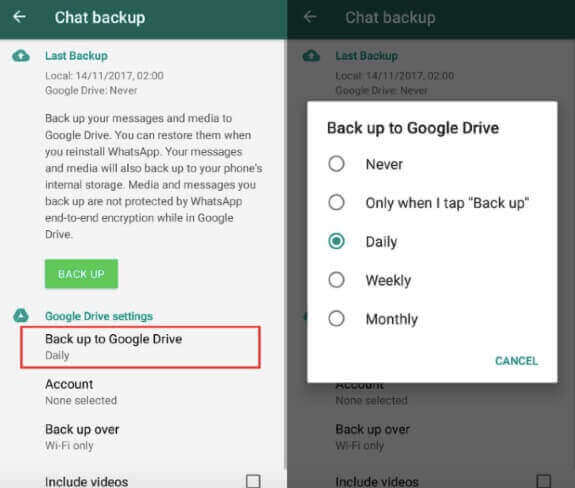 3

Transfer WhatsApp Data from Android to Android using Local Backup

WhatsApp has a feature that automatically creates a local backup on your device at a specific time daily. These backups are stored in a WhatsApp folder on your device and can be easily transferred to another Android phone using a computer.

Step 1: Take an Updated WhatsApp Backup on Your Old Android

Open WhatsApp on your old Android phone, navigate to Settings > Chats > Chat backup, and WhatsApp automatically starts backing up your data after you tap the green BACK UP button.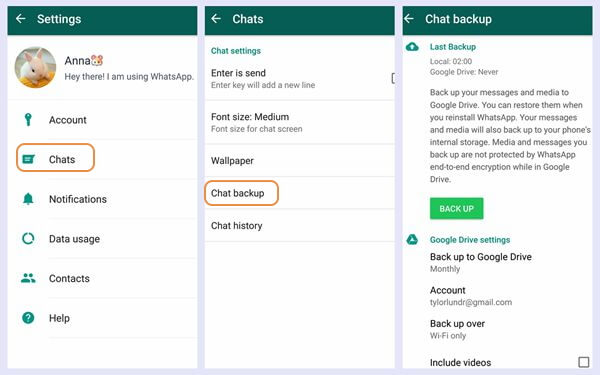 Step 2: Install WhatsApp on New Android
Delete WhatsApp from your old phone, then download and install WhatsApp on your new device from Google Playstore.
Step 3: Move WhatsApp Backup to Your New Phone
Open the file manager app of your old Android, go to your local storage (or internal storage if your data isn't stored on an SD card) > WhatsApp > Databases folder.
Copy the most recent backup file named msgstore.db.crypt14 to the equivalent folder on your new phone.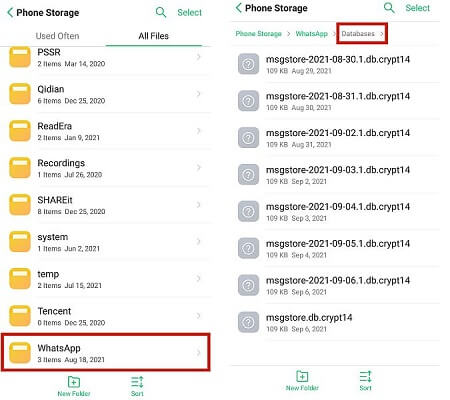 Note
If you want to restore a less recent backup, rename the old backup file in the Databases folder from
mgstore-YYYY-MM-DD.1.db.crypt14
to
msgstore.db.crypt14
, and then move the file.
Step 4: Restore Backup on New Device
Launch WhatsApp on the new Android and go through the setup process. Make sure you use the phone number of your old Android WhatsApp for the verification. After that, tap Restore when prompted to restore a backup from local storage.
Transfer WhatsApp to a New Phone while Changing Number
Sometimes, you might want to accompany your change of Android device with a new number as well. In the two official solutions above, it has been shown that you need to keep the same WhatsApp number before you can transfer WhatsApp from an old Android to a new one.
However, WhatsApp has a feature that allows you to change numbers, to get this done, follow the steps below.
Step 1 Insert the new sim card in your old Android and ensure it can receive SMS. Now, open WhatsApp, navigate to Settings > Account > Change Number.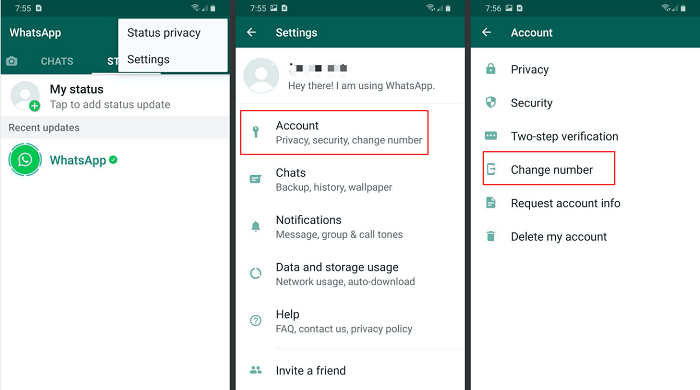 Step 2 Fill in the old and new numbers as required. A code will be sent as an SMS to the new sim on your old phone for verification. Enter the code and wait for the switch to complete.
Step 3 After that, create an updated backup on Google Drive from your old device by following the path: Settings > Chats > Chat backup > Back Up 
Step 4 Download and install WhatsApp on your new Android and insert the new sim on it. Also, ensure that you log in to the device with the same Google account you used for the backup in step 3.
Step 5 Launch WhatsApp and complete the setup process. Lastly, make sure you use your new number for the phone number verification, and you will have your WhatsApp data transferred to your new device.
Final Words
In this article, we have gathered three practical ways to ensure that you can transfer your WhatsApp data to a new Android phone. Among the three methods discussed, it is without a doubt that the WhatsMover software is the most straightforward, effective, and secure.
Also, it is not limited to WhatsApp transfer from Android to Android alone. It is equally adept in WhatsApp transfer from Android to iPhone and vice versa.