WhatsApp has been popular for personal and business communications. Be it texts, voice messages, or calls, WhatsApp supports it all. Additionally, it offers an easy way to share different media, including PDFs.
However, when it comes to sending PDFs in WhatsApp, most of us find it quite challenging. Sometimes, the application doesn't accept the files due to their size. Or we are just not able to locate the files we need to send in our mobile phones.
Well, whatever be the case, this article shall be helpful with its end-to-end guidance on how to send PDF in WhatsApp, whether you are using an Android or iPhone. So, let's get started with this guide without further ado!
How to Send PDF to WhatsApp on Android Device?
You can easily share PDF in WhatsApp as an attachment using your Android phone. You just have to make sure that you and the person with whom you are sharing the document both have the latest WhatsApp version installed on your phone.
Once you have done that, you can follow any of the two ways discussed herein below to send PDF to WhatsApp.
1

Send PDF Files by Attaching the Document on Your Phone

This method allows you to directly send the PDFs in WhatsApp as attachments within your WhatsApp chats. Here are the steps that you need to follow.

Step 1 Launch WhatsApp on your Android device, then open the conversation of the person you want to share the PDF file.

Step 2 Tap on the paperclip icon on the right corner of your text box. From the list of media file types, select Document.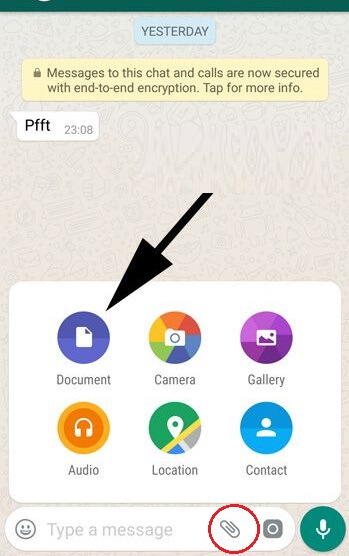 Step 3 A list of documents on your device's storage will appear on the screen. Search for the PDF file that you wish to share and select it.
Step 4 Hit the Send button once the file is added as an attachment in your text box.
And you're done. The application will process and share the file with your contact. It might take a few minutes, depending on the size of your PDF file.
2

Share PDF on WhatsApp from Google Drive

This method also involves sharing the PDF file as an attachment within a conversation. However, instead of selecting the file from your device, you need to follow some additional steps and attach the PDF uploaded to your Google Drive. Here's how you do it.

Step 1 Still, open WhatsApp and select the conversation with the person you wish to send the PDF file.

Step 2 Tap on the paperclip icon and select Document.

Step 3 In the next window, rather than searching for documents from the list, select the "Browse other docs..." option on the top of the list.

Step 4 You will see an Open From menu, tap on Drive and you will be directed to your Google Drive account.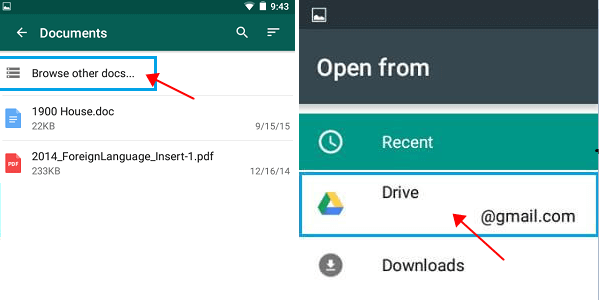 Step 5 Select the PDF file you want to share and confirm it by hitting the Send button.
How to Send PDF Files via WhatsApp on iPhone?
For iPhone users, you can send PDF files in WhatsApp directly from the conversations, or use some third-party applications. Hereinbelow, we have discussed the steps for both methods.
1

Send PDF Files via WhatsApp Conversations

Just like in Android phones, iPhones allow you to directly share PDF files as attachments. Here are the steps that you need to follow.

Step 1 Open the WhatsApp conversation of the person you have to share the PDF file.

Step 2 Click on the Up Arrow button in the text box and then select Share Document.

Step 3 Choose the source wherein you have saved the PDF file and locate it. Once you're through with your selection, click on Done on the top right corner of the screen.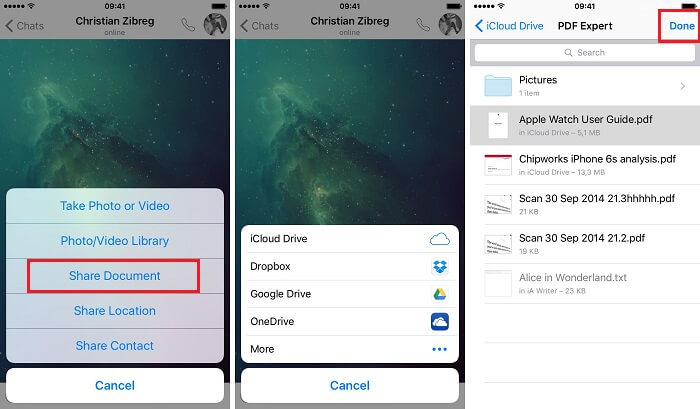 Step 4 Wait for the file to get uploaded in the chatbox. Once done, click on the Send button, and you shall see the PDF file delivered to your contact.
2

Send PDF Files from Any Other PDF Reader

You can even attach PDF files on WhatsApp using other PDF readers on your iPhone. Here are the steps you need to follow.

Step 1 Open the PDF document you wish to share in any PDF Reader on your iPhone device.

Step 2 On the top right corner of the screen, you'll see a Share button, represented by an "Up Arrow" icon. Tap on it.

Step 3 From the list of applications on which you can share the PDF, select WhatsApp.

Step 4 The next window will show you a list of all your WhatsApp contacts. Choose the contact with whom you want to share the PDF. You can choose up to 5 contacts, and it can include groups too.

Step 5

Once you're done with the selection, click on the

Send

button.
How to Send Large PDF Files of More Than 100MB?
Currently, WhatsApp cannot send large files that exceed 100MB. If your PDF file is larger than that, you may first upload them on Google Drive and then send PDF in WhatsApp indirectly.
Open Google Drive app and tap on the  "+" icon.
Here select the Upload button and upload your PDF files to the Drive.
After that, locate the PDF document, tap on the three-dots button and select Copy link.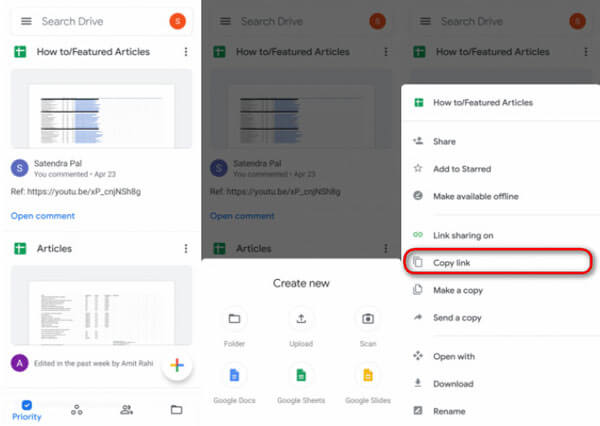 Now open the WhatsApp chat box to whom you want to share the PDF, paste the link and send it.
Send All WhatsApp Data to A New Phone in One Click
If you have bought a new phone, for example, switching from an Android device to an iPhone, transferring the WhatsApp data might be a headache as there is no official way to do so. However, a third-party tool like WooTechy WhatsMover - WhatsApp Transfer will erase the operating system barrier and complete the transfer in simple steps.
In fact, it is a comprehensive tool that encompasses WhatsApp tranfer, backup, restore and exportation.
Major benefits of using WooTechy WhatsMover
100.000+
Downloads
Transfer all WhatsApp chats and media files from one phone to another directly.

The tool is widely compatible with iPhone and Android phones of different brands.

Back up WhatsApp data to computer for free, no storage limitation.

The security and privacy of your data is 100% promised.
Step 1: Connect your Android and iPhone devices to the computer and launch the WooTechy WhatsMover tool, select Transfer.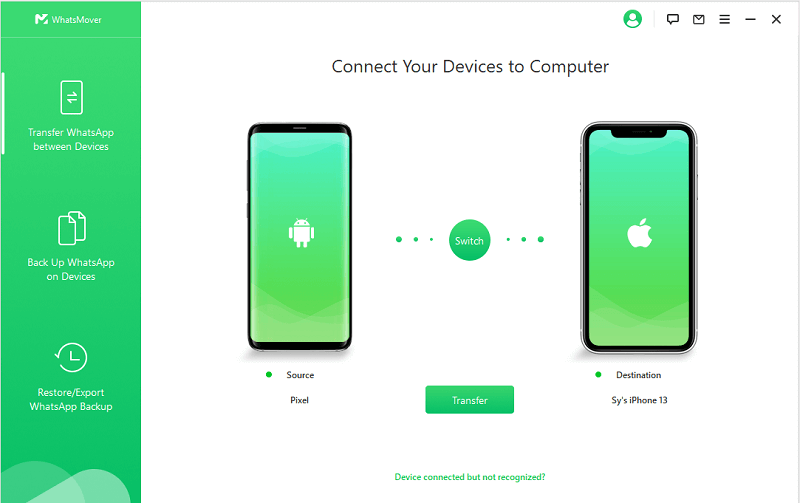 Step 2: Confirm the WhatsApp type on your computer screen and begin the transfer.
Step 3: Wait for the transfer to finish. Once done, you shall see all the data on the destination device.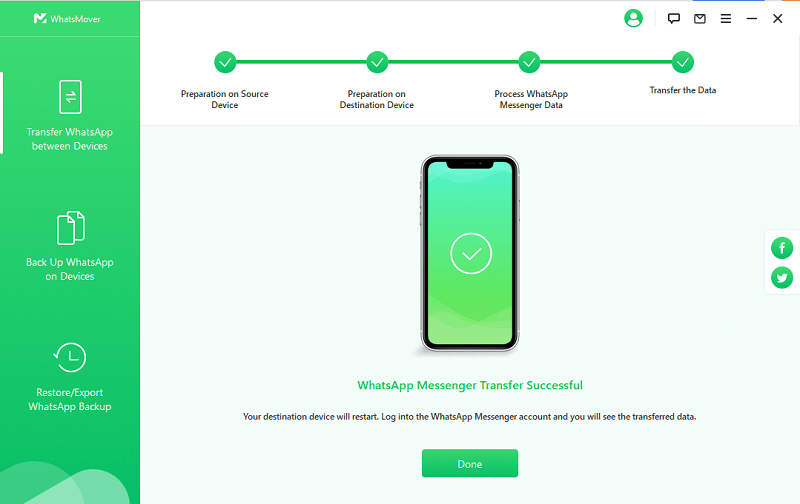 Final Words
Sending PDF files on WhatsApp is no rocket science at all, this full guide has explain different ways to share PDF files on Android and iPhone, even if the files exceed 100 MB in size.
And if you are switching to a new phone and seeking to transfer WhatsApp data from Android to iPhone or vice versa, be sure to check WooTechy WhatsMover - it will complete the transfer in only 3 steps.