"Why WhatsApp call isn't working on my mobile. When I am trying to make the call using Wi-Fi, it is working fine but I am not getting through with my mobile network. Why is this happening?"
The WhatsApp app comes with a wide range of features but one of the most loved is no doubt WhatsApp call. While this feature enables the users to make calls via the internet, it doesn't always work.
The WhatsApp call not working problem can be caused by a variety of issues like bad internet connection, using an outdated version of WhatsApp, low data usage, and corrupted WhatsApp cache.
The issue is genuine and it has been troubling a lot of users. So, for more insight into the matter, check out the 9 solutions we have compiled to fix WhatsApp call not working.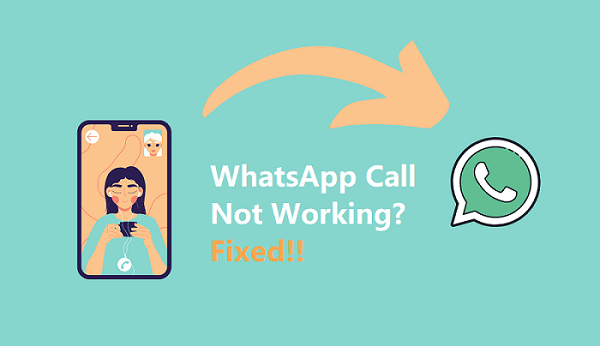 Part 1: How Do I Enable WhatsApp Calling?
Before jumping into the fixes for the WhatsApp call not connecting problem, let's talk about how to enable this feature on your mobile.
WhatsApp calling is a very convenient and free feature that lets you make video or voice calls via the internet. And you can enable this feature easily by navigating to Chats, here you will see the list of contacts. Tap on a contact and you will see the Phone Receiver Button at the top of the panel.
Tap on this button to make a call to the chosen contact.
Part 2: Fix WhatsApp Call Not Working Issue with 9 Ways
It can be very frustrating if you aren't able to make calls using WhatsApp. Thankfully, there are a few simple ways to troubleshoot this problem, just read on and try them out.
1

Try Connecting to a Different Network

Let's begin with something simple to fix WhatsApp calls not working on iPhone or Android by connecting your smartphone to a different network.

If you are unable to make or receive WhatsApp calls while connecting to mobile data, they try to make the WhatsApp call while using Wifi, or vice versa.

Also ensure the network you are connected to is configured for UDP (User Datagram Protocol), which facilitates exchange of messages.
2

Enable and Disable Airplane Mode

Airplane mode can also be the culprit of the WhatsApp call not working problem, as it blocks all sorts of communications if turned on.

So, you need to check the status of the Airplane mode on your smartphone:

If the mode is enabled, turn it off.

If it is not enabled, you need to enable it, wait a few seconds and then disable it.

Both Android and iPhone users can find the mode in the Control Center directly or go to Settings > Network.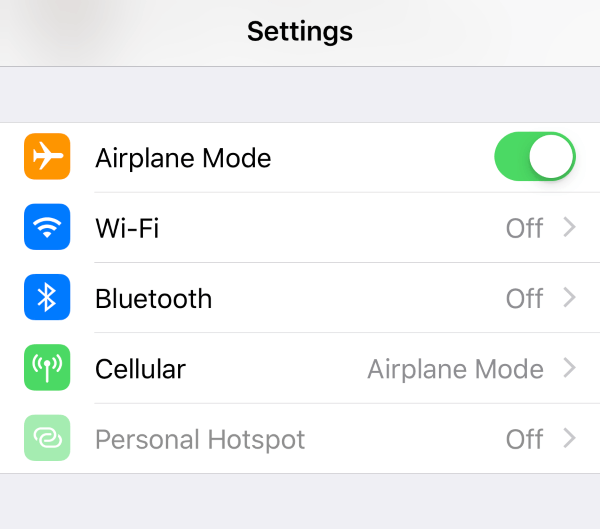 3

Turn Off Battery Saver

The battery saver mode on your smartphone could also be responsible for WhatsApp voice call not working.

It is a mode dedicated to saving the battery of your smartphone. If this mode is activated, all the applications running in the background will be stopped from functioning. So, you need to check if you have battery saver mode enabled on your smartphone following this path: Settings > Battery > Battery Saver / Power saving mode.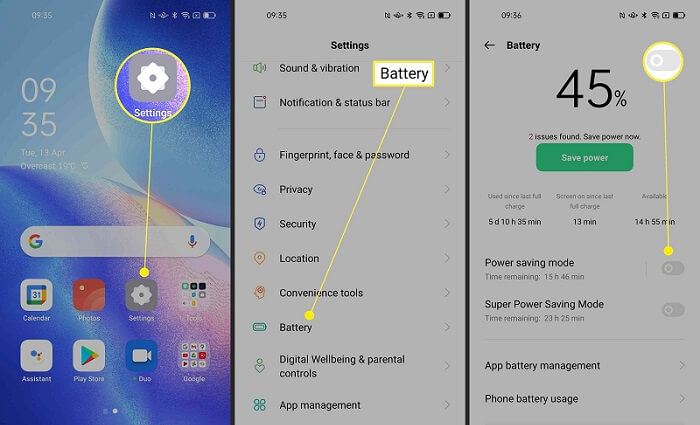 The names could be a bit different depending on the smartphone you are using. After locating battery saver mode, you can either turn it off or just exclude WhatsApp.
4

Disable Bluetooth Connection

Bluetooth sometimes conflicts with WhatsApp performance, even though WhatsApp doesn't always start acting erratically while Bluetooth is turned on.

But if you are having problems with WhatsApp calls and your phone is connected to some wireless device such as an earphone or a speaker, it would be a good idea to disconnect the devices and turn off Bluetooth.
5

Enable Necessary WhatsApp Permissions

Without necessary permissions, WhatsApp won't be able to make calls. It is one of the biggest reasons behind WhatsApp voice or video calls not working issue.

In order to make calls, WhatsApp needs access to the microphone and other sectors as well. So, you need to check WhatsApp permission status and grant access if necessary.

Step 1 Go to the Settings > Applications.

Step 2 Locate WhatsApp and tap on it, find Permissions.

Step 3 Grant access to Microphone and Camera by switching the toggle beside them. You should now be able to make calls using WhatsApp.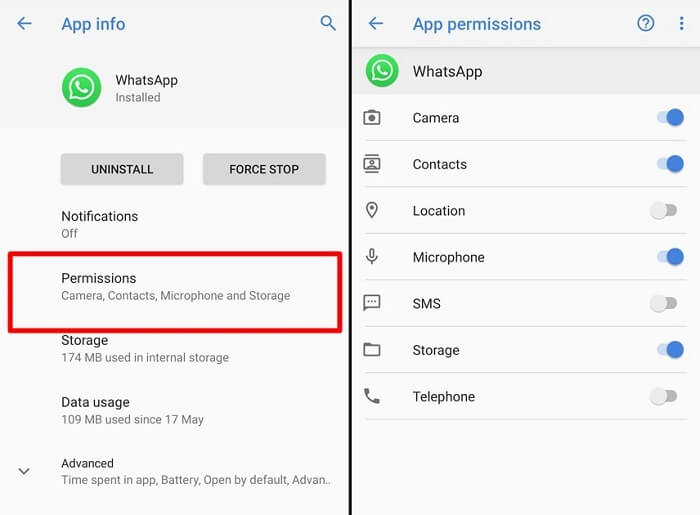 6

Turn off WhatsApp's Low Data Usage

The Low Data Usage is an in-app setting used to decrease the amount of data used during a WhatsApp call, however, it can occasionally clash with the app's calling feature. If WhatsApp call is not connecting, you need to turn off this setting.

Step 1 Navigate to WhatsApp Settings and tap on Data and Storage Usage.

Step 2 You will find a switch beside Low Data Usage, turn it off.

If WhatsApp was acting up due to Low Data Usage, you should be able to make calls after this. Try it.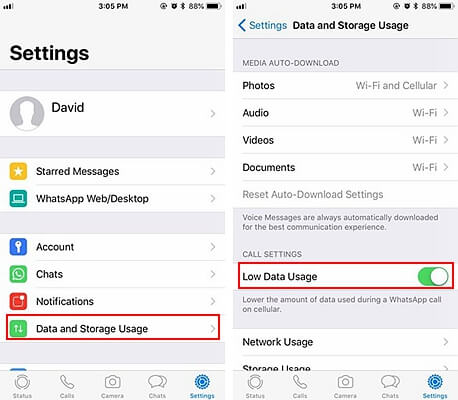 7

Clear WhatsApp Cache (For Android)

The cache files are stored in the internal storage of the device, which helps to run the app properly. But these files need to be cleaned from the device from time to time.

If too many cache files have been stored on your smartphone or some of them have gotten corrupted, WhatsApp may act up and lead to WhatsApp call not working.

Step 1 Open Settings on your Android mobile, go to Applications and locate WhatsApp.

Step 2 After that, tap on Storage and then tap on Clear Cache to remove the cache files from your mobile.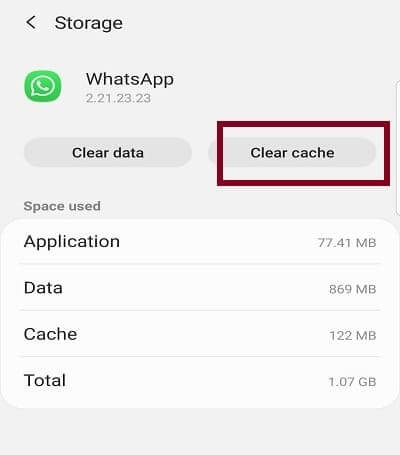 Now, you should be able to make calls via WhatsApp. Just remember, this fix is only for Android users.
8

Restart Your Device

Restarting the device may sound like a preliminary fix but it can do wonders. A simple restart can and fix a malfunctioning OS and of course, an app that is gone haywire.

So, if you are still struggling to make calls on WhatsApp, restart your Android mobile or iPhone. And after the reboot, make sure that no other application is using the microphone, camera, or earpiece. Now, make the call.
9

Update or Reinstall WhatsApp

Finally, you need to update or reinstall WhatsApp if you are still not able to make calls.

1. Update WhatsApp

If you haven't updated WhatsApp in a long time, then immediately update the app to its latest version. Updates come with bug fixes and stable the app's performance.

If you are using an Android device then you will find WhatsApp update the Google Play Store and the iPhone users can look for it on the App Store.

2. Reinstall WhatsApp

Frankly, this WhatsApp calling issue can be persistent. Even the latest update can sometimes fail to make the app perform properly. If that happens, you need to completely remove the app from your mobile by locating it in Phone Settings and confirming deletion, then you may reinstall WhatsApp from app store.

Before you uninstall WhatsApp, it is recommended to make a backup of the conversations as you will need your previous conversations and contacts after that.

Now, the default place for storing WhatsApp backup is Google Drive for Android users and iCloud for iPhone users. However, these services have come with several shortcomings like limited storage and people are also concerned about the security of cloud storage facilities.

If you are one such consumer and bothered by using cloud space for storing WhatsApp backups, check out the best WhatsApp backup solution - WooTechy WhatsMover. This tool bypasses the limits of cloud service and is FREE for WhatsApp backup. Besides, it's compatible with iPhone and Android devices, no matter the brand or model you are using.
WhatsMover – Manages Your WhatsApp Data Easily
100.000+
Downloads
Support extensive WhatsApp data like messages, photos, videos, and other attachments.

No storage limitation as it backs up your data to the computer.

100% data security is ensured, all your data are saved separately in folders.

Restore the WhatsApp backup to your phone easily, whether you are using an iPhone or Android.

Transfer WhatsApp from Android to iPhone directly or vice versa.
Final Words
WhatsApp call is an excellent feature and some users are totally reliant on it to contact friends and families. But with such convenience comes issues like WhatsApp calls not connecting.
In this article, we gave listed 9 solutions to get a better insight into the matter. On the other hand, if you are not satisfied with the default WhatsApp backup solution, you can move on to better solutions like WhatsMover. It lets you make the backup of your WhatsApp conversation smoothly and lets you store them on your personal computer with ease.