Sending videos on WhatsApp is a convenient and common feature that allows WhatsApp to compress large video files into smaller ones for quick delivery to friends or loved ones. However, many users have encountered this problem when sharing videos on WhatsApp - a pop-up window says "WhatsApp can't send this video".
So, how to solve the trouble of WhatsApp not sending videos? Worry no more! This article will introduce 11 effective quick fixes to help you solve this WhatsApp can't send video problem! Read on!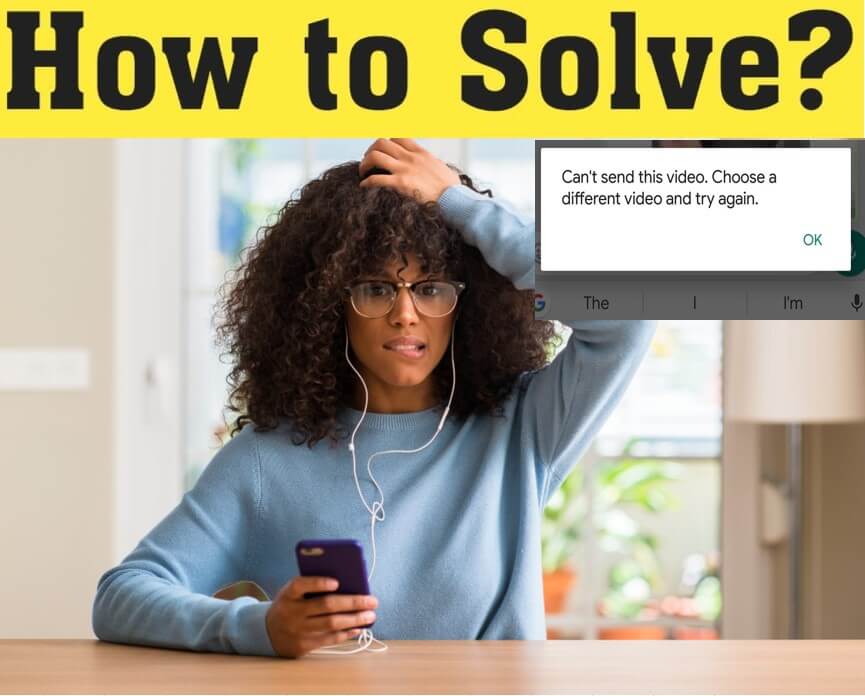 Part 1: Why Can't I Send Videos on WhatsApp?
The main reason why your WhatsApp can't send this video is that the video file you are trying to send has too large cache for its servers. While most of the time, this is not an issue because WhatsApp compresses the media in the first place, sometimes the file can be too large for compression, resulting in an error.
Besides, it's possible that there is something wrong with your WhatsApp app or your phone devices, which still can cause your WhatsApp can't send this media normally. Poor networks connection maybe another reason that influences you send media on WhatsApp.
Whatever which reason you are facing with, the following methods can help you troubleshoot this issue.
Part 2: How to Fix WhatsApp Can't Send This Video?
In fact, solving the problem of WhatsApp can't send this video is not as difficult as you think, as long as you use the right methods. Now let's find them out!
Fix 1. Update or Reinstall WhatsApp
This is the most common fix, and it will help the most amount of people. Updating your WhatsApp and possibly reinstalling it will allow WhatsApp to have all the resources it needs to be able to compress the video properly.
For Android device: Go to Play Store, Search WhatsApp Messenger, then select UPDATE next to WhatsApp Messenger.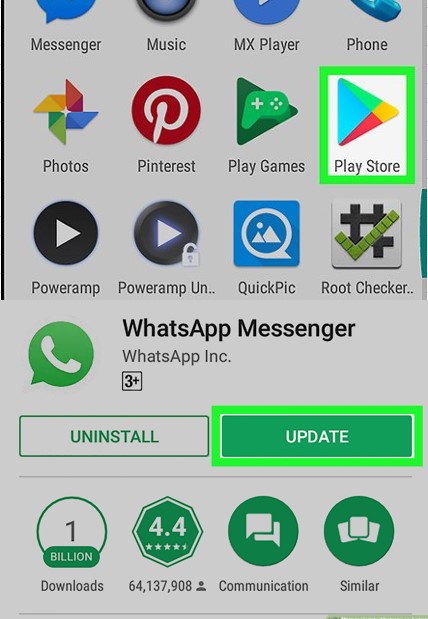 For iPhone deivce: Go to App Store, Search WhatsApp Messenger, then select UPDATE next to WhatsApp Messenger.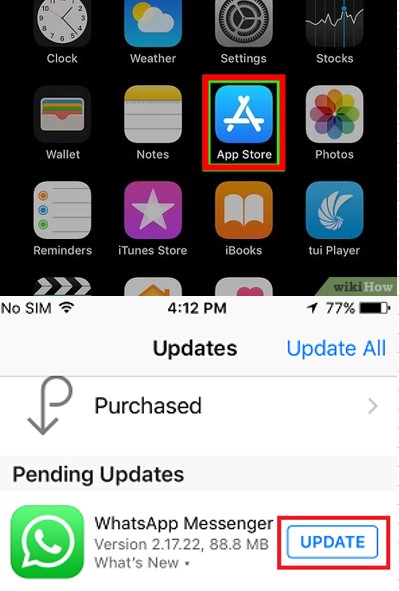 Fix 2. Use Stronger Network Connection
Sometimes you may be connected to a poor Wi-Fi or unstable network. In this case, you should to connect a stronger wifi environment or change another more stable network. Besides, if you have one network, try restarting your router.And then try sending the video you want on your WhatsApp to see if the issue has solved.
Fix 3. Check Video Size
If your the video you are sending has too overwhelming cache for your phone server, then you may fail to send it. Therefore you need you check how size your video has, if the size is too large, then you can try to compress your video and send it on your WhatsApp again,
To check your video is small enough for WhatsApp to compress on iPhone, go to Settings > General > iPhone Storage > Photos > Review Personal Vif deos.
To do the same process on Android, you must go to the Gallery app, select the video you want to use, and click on the Information Button.
Fix 4. Send Video as A file
This step works on both iPhone and Android. To bypass the video limit, you can send videos as a file. To do this, click the + icon Next to the chat bar, Select Document, and send the video you want to use. If you would like to send video as any other formats, we still have good method to help you out, which you can check in the last part.
Fix 5. Fix Video Compatibility Issues
There is a low chance this will help you, but it may help you send custom-made footage to someone. WhatsApp doesn't support all video formats. It only supports MP4, AVI, MKV, 3GP, and MOV files. If your video isn't one of the ones listed, you should try converting it to an online converter.
Fix 6. Use the Correct Time Settings
WhatsApp relies on the correct time to be able to send messages that align with its server. To ensure you are at the right time, you should make your time settings correct.
For Android users: you can go to Settings > System > Date & Time > Set timezone automatically.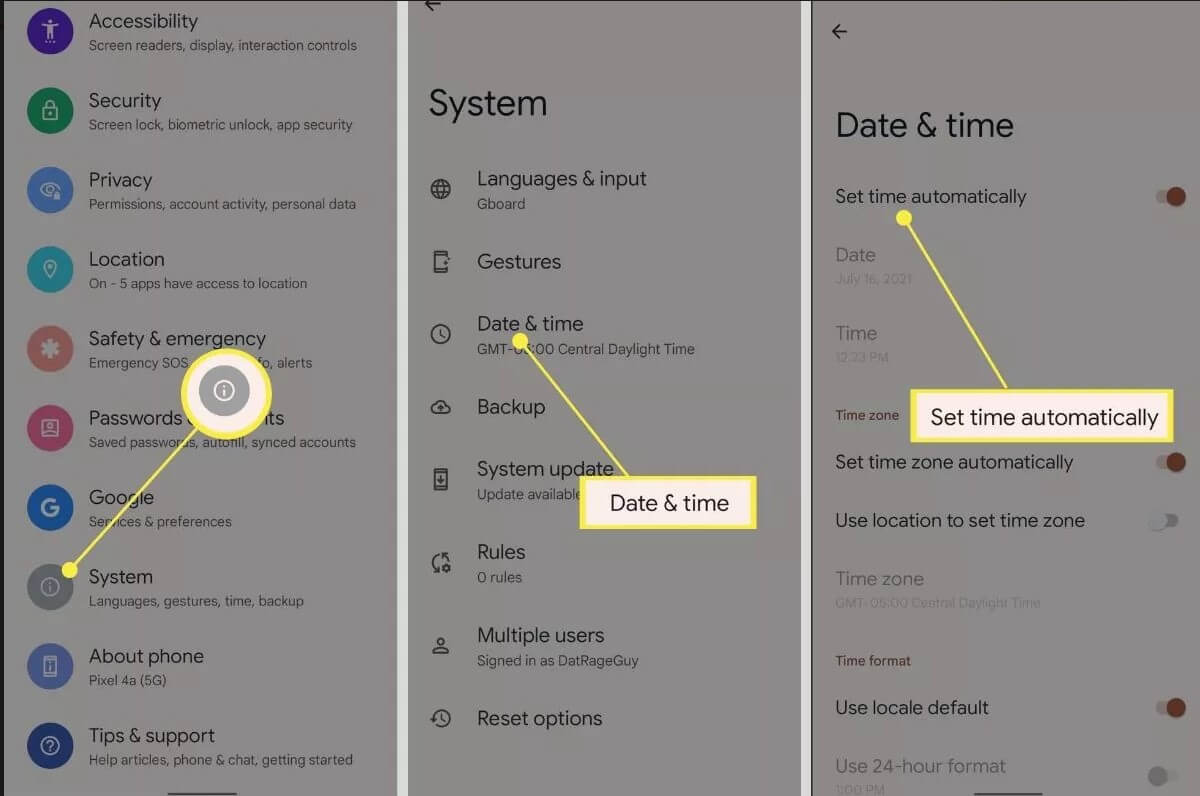 For iPhone users: you can go to Settings > General > Date & Time > Set automatically.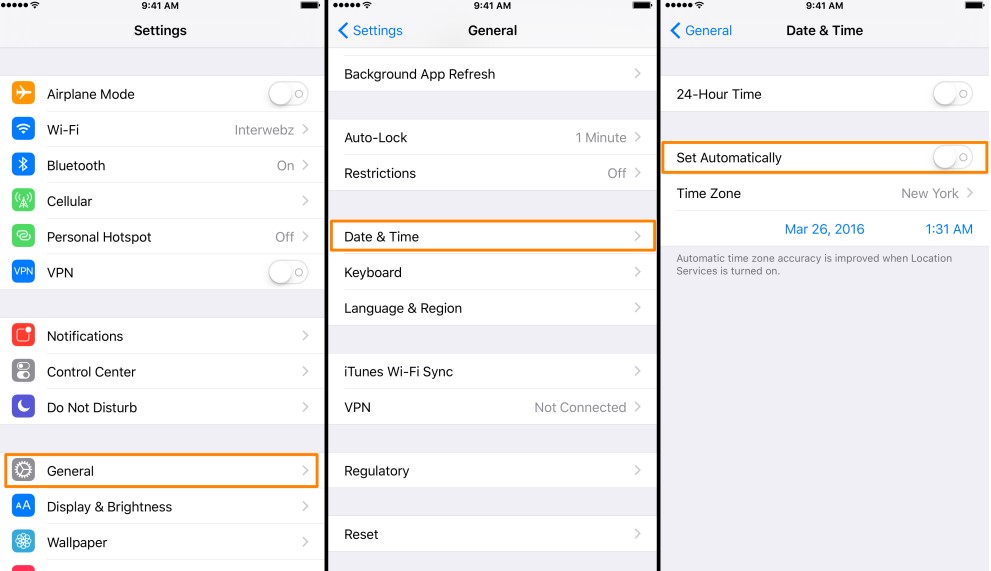 Fix 7. Your SD Card Could Be the Culprit
If nothing has worked so far, it may be your phone's SD card. You can try to reformat the SD Card. However, this rarely works and can be a painstakingly long process. Your best option is to buy a new SD Card.
Fix 8. Clear WhatsApp Cache
Sometimes WhatsApp can have a huge backlog of temporary files stuck up in their system, which can cause delays and problems in sending WhatsApp videos.
For iPhone users: Select General > iPhone Storage > WhastApp > Offlaod App.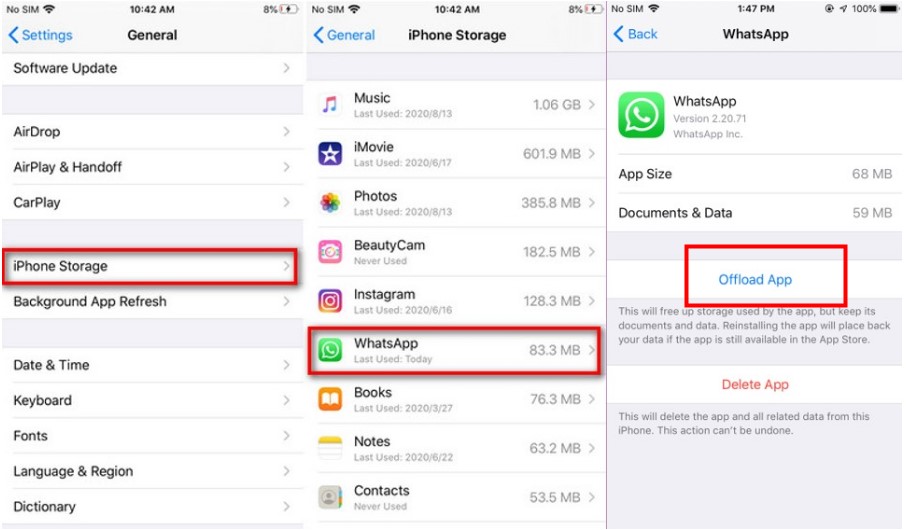 For Android users: Go to Settings > Apps & notifications> WhatsApp > >Storage & cache > CLEAR CACHE.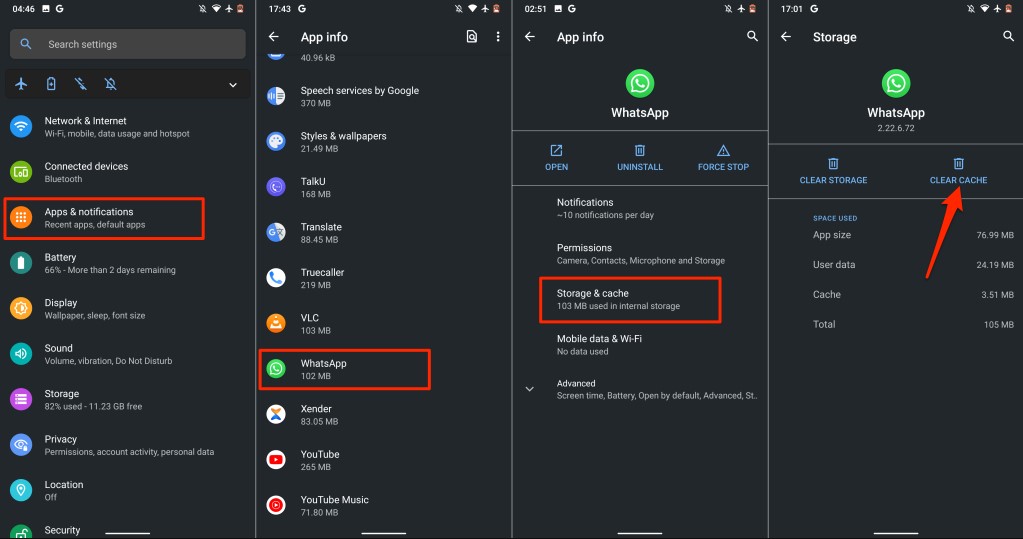 Fix 9. Keep WhatsApp Open (iPhone Only)
Sometimes, WhatsApp has not been given enough time to get all the files it needs for the video to send. Leave WhatsApp open and continue trying to send the video to whoever you desire.
Fix 10. Enable Background App Refresh (iPhone Only)
There is still a quick fix for iPhone uses if you have tries all the method referrd previously. WhatsApp needs access to its running processes in the background to operate normally. To Enable Background App Refresh on iPhone, simply go to Settings > General > Background App Refresh > On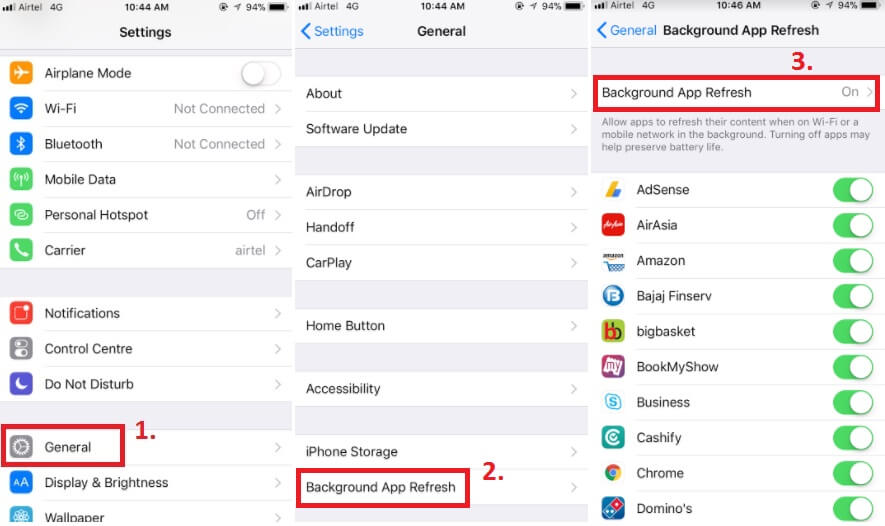 Fix 11. Force Close App (Android Only)
If you are using Android device, WhatsApp may not have closed or appropriately opened, which can still cause your WhatsApp can't send videos. So go to Force Close the App, just click Settings > Apps > WhatsApp > Force Stop. Then you can give it a try to check if you can succeed in sending video on WhatsApp.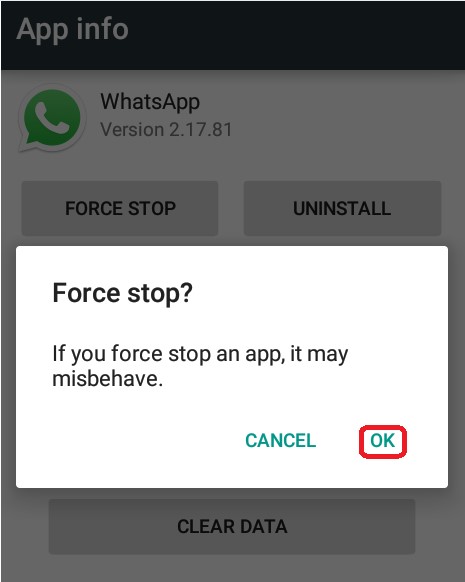 Part 3: How to Export WhatsApp Chats with Media to File Format?
Well, now you know the 11 solutions to the problem of WhatsApp can't send video. However, sometimes you may want to export all the WhatsApp chats with media and then send them to your friends. So, how can you export all the WhatsApp chats to file format at this time? You must know about this tool - WooTechy WhatsMover!
This is an official and professional WhatsApp export software. This tool not only lets you export all your WhatsApp chats, media, files, emojis and other attachments to various formats such as PDF, CSV, XLS, etc., but also supports exporting all your chats at once, which can save a lot of time and is super convenient!
WooTechy WhatsMover - Best WhatsApp Export Tool
5,000,000+
Downloads
Support export WhatsApp/WhatsApp business data on iPhone and Android, including Samsung, LG, Huawei, Xiaomi, Motorola, etc.

Support export WhatsApp chat to PDF, CSV, XLS and read them as log files

Export over 40,000 WhatsApp chat logs to file format at once without any limitation

Supports exporting all WhatsApp data, including chats, images, videos, contacts, files, emojis and more

Highly secure, ensuring the privacy of all WhatsApp chats throughout the export process
How to Export WhatsApp Chats with Media to File Formats?
Step 1: Download and install WooTechy WhatsMover on your computer. Launch it and select Back Up WhatsApp on Devices.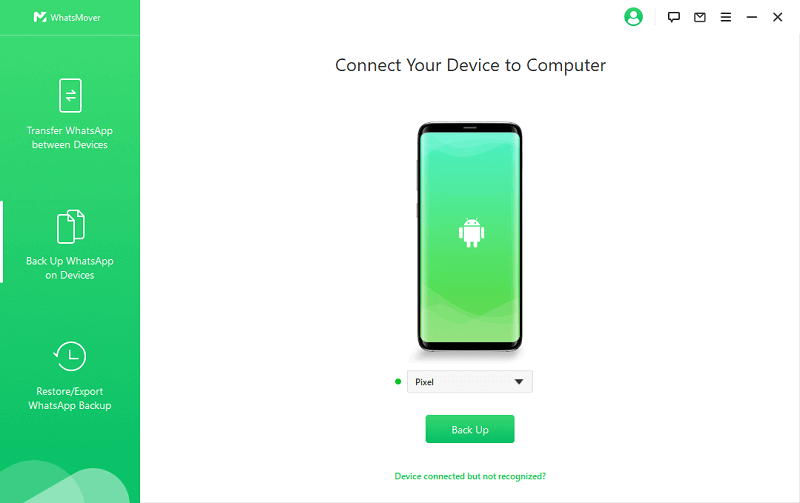 Step 2: Connect your Android or iPhone to the computer. Once the device is detected, click on Back Up.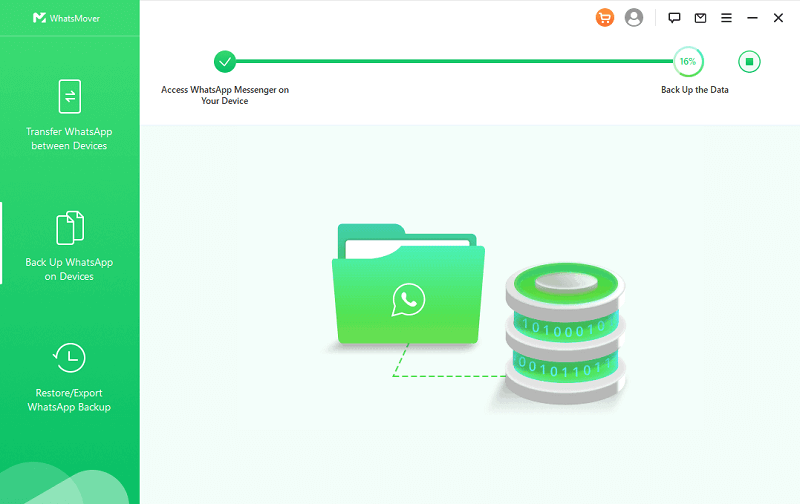 Step 3: After successfully backing up WhatsApp data, click Restore/Export WhatsApp Backup. Choose the backup you have just created and click on the Export to Computer button.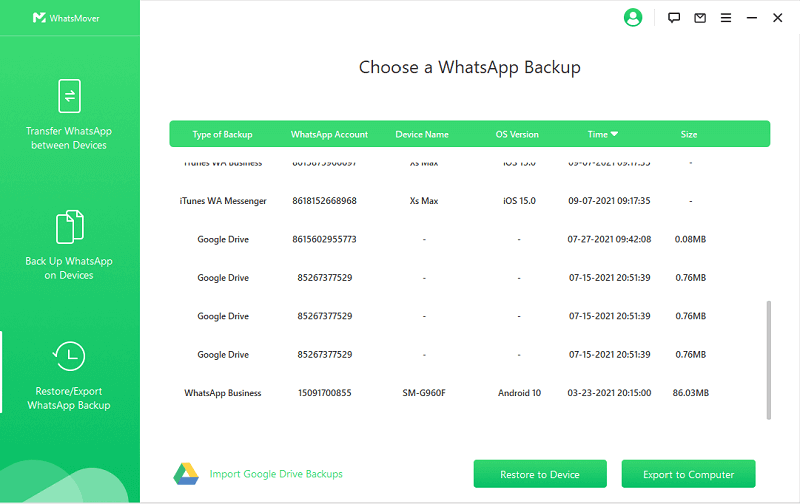 Step 4: Lastly, choose the file format you like and click Export. The WhatsApp data will be exported in file format immediately.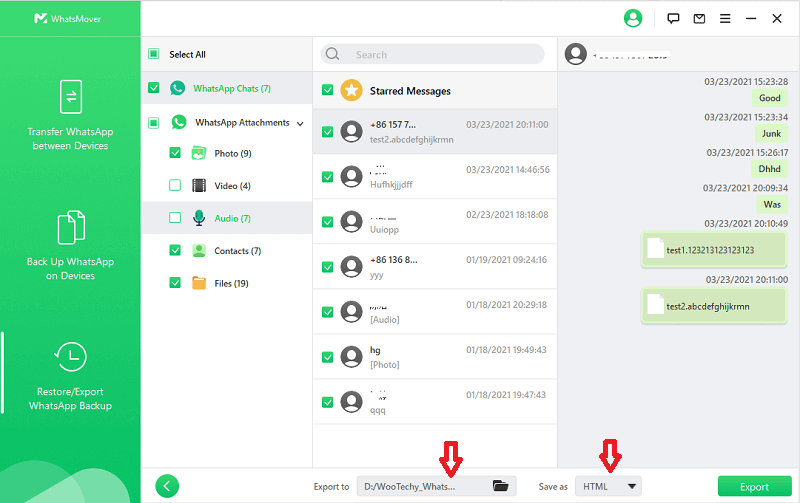 Conclusion
In this article, you know the reason why WhatsApp can't send this video and 11 effective quick fixes to solve this problem, now you should be able to send any video you want as smoothly and normally as before. Last but not least, don't forget this super handy tool that every WhatsApp user should have - WooTechy WhatsMover, which makes it easy to export all WhatsApp chats with media to the file format you want, and it's also great for WhatsApp transfer and WhatsApp backup! Try it out now!