Are you switching from iPhone to Android and intend to transfer WhatsApp backup? Well, I know this doesn't sound easy because iPhone stores its WhatsApp backup on iCloud while Android uses Google Drive – two entirely different platforms. With this difference comes data compatibility issues when you try to move WhatsApp backup from iCloud to Google Drive or vice versa.
So in this guide, we will solve this million-dollar problem, and take you through everything needed to transfer WhatsApp backup from iCloud to Google Drive for future access after switching devices. Let's get right in!
Can You Transfer WhatsApp Backup from iCloud to Google Drive?
WhatsApp backup holds some important messages and personal information that users can't afford to miss a bit, that's why people seek WhatsApp backup transfer from iCloud to Google Drive even after switching phones.
Unfortunately, there's no official way to directly move data in iCloud to Google Drive. This is due to the difference in the encoding and working principles of the two platforms. Also, the end-to-end encryption developed by WhatsApp makes it hard to access and transfer backup across platforms.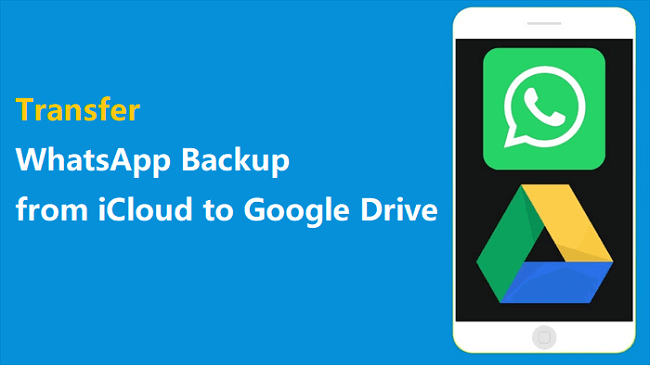 Don't give up though, we still come up with 2 ways to migrate iCloud WhatsApp backup to Google Drive with the aid of an efficient third-party software. We will discuss it in detail in the next part.
Top 2 Ways to Transfer WhatsApp Backup from iCloud to Google Drive
WooTechy WhatsMover -- Video Guide to Transfer WhatsApp Backup from iCloud to Google Drive:
Way 1: Transfer iPhone WhatsApp to Android and Back Up to Google Drive
To use the first method to transfer WhatsApp backup from iCloud to Google Drive, you have to take 3 easy-to-operate steps.
Step 1.

Restore the WhatsApp Backup from iCloud

Before transferring your WhatsApp from iPhone to Android, you need to restore the backups from iCloud to iPhone. Below is a quick rundown on how this can be done.
Backup the WhatsApp Data on Your iPhone

First, make a backup because restoring from iCloud will erase the current WhatsApp data on your phone. To do so, open WhatsApp on your iPhone and go to Settings. Select Chats and click on Chat backup.

Delete and Reinstall WhatsApp

Delete WhatsApp on your iPhone and visit the App Store to download and reinstall it.

Restore WhatsApp Chats

Now, log in to your account with the same phone number. You will be prompted to restore data from iCloud. Click on Restore Chat History and wait till the process is complete.

To avoid bottlenecks during the restoration process, make sure there's enough storage on your phone. Twice the size of the backup file is advisable.
Step 2.

Transfer WhatsApp Data from iPhone to Android

Then we can start to transfer WhatsApp from iPhone to Android. To ensure the 100% success rate and the fastest speed, the best way to get this done is with professional WhatsApp transfer software and there is none more suitable for the job than WooTechy WhatsMover. It can directly move your WhatsApp data between iPhone and Android in a few clicks and thereby eliminates the barrier between the iCloud and Google Drive.

WhatsMover works seamlessly with all iPhone and Android tablets/phones. It requires no other tool or app to carry out data transfer. Lastly, irrespective of the data types, WhatsMover perfectly transfers all WhatsApp data including messages, attachments and media files. Below is a quick rundown of the data transfer process with WhatsMover.
Launch the WhatsMover program and select Transfer WhatsApp between Devices from the left panel.

Connect the iPhone and Android to your PC via USB cables. Ensure that the iPhone is set as the "Source" and Android as the "Destination". Click on Switch if otherwise to set it to normal.

Click on Transfer and wait till the transfer process is completed, it won't take long.
Now, you have your backup ready and raring to go on your Android.
Step 3.

Backup WhatsApp from Android to Google Drive

In the last step, with the WhatsApp backup data now on your Android, you can easily back it up to Google Drive following the steps below:
Launch WhatsApp on your Android. Click the menu icon (three dots) and navigate to Settings > Chats > Chat backup.

Under Google Drive Settings, select an account you'd like to keep the backup. You can also tap on Back up to Google Drive and change the backup frequency if you want.

Tap the Back Up button and wait for the process to complete. Voila!!! All your WhatsApp data on iCloud has been successfully transferred to Google Drive.
Way 2: Export iPhone WhatsApp to PC and Migrate to Google Drive
Apart from the above solution, you can also transfer iPhone WhatsApp backup to Google Drive by exporting iPhone WhatsApp to PC and then move it to Google Drive. This way also takes 3 steps.
Step 1.

Restore WhatsApp from iCloud to iPhone

First of all, it's same with the first step of the 1st method. Follow the above steps to restore iCloud WhatsApp backup to iPhone.
Step 2.

Back Up WhatsApp Data to PC and Export It

When WhatsApp backup from iCloud gets ready on iPhone, then you can start to back it up to your computer and further export it. Here we will use a professional WhatsApp backup and export program. The powerful WooTechy WhatsMover can exactly do that. It can help you back up all WhatsApp data on either Android or iPhone to PC with unlimited free storage. Your backed-up data will be 100% safe as it won't be deleted and overwritten by previous backups. Furthermore, you can export the backup to various formats.
On WhatsMover's main screen, select Back Up WhatsApp on Devices option and connect your iPhone to PC. Trust the computer and click Back Up. Wait the process is complete.

Back to the program's main interface, Click the Restore/Export WhatsApp Backup option. Choose the backup you need and click Export to Computer.

All of your WhatsApp data will appear, select the files you need, the location to export to and the format to export as. Finally click the Export button and the data will be opened automatically.
Step 3.

Migrate Exported WhatsApp to Google Drive

After you have WhatsApp backup on your computer, you can now directly move it to your Google Drive account. Just launch the Google Drive on your Google browser and sign in with your account, then directly drag or copy the backup to your Google Drive. Thus far, your WhatsApp backup has been successfully transferred from iCloud to Google Drive.
Transfer WhatsApp Photos from iCloud to Google Drive
If you don't want to transfer your entire WhatsApp backup data but are only interested in transferring WhatsApp photos from iCloud Drive to Google Drive, there's an easy way to make that happen.
Install both the iCloud Drive app and Google Drive to your computer.
Launch two File Explorer windows on your Windows PC or two Finder windows on your Mac.
Open the iCloud Drive on one window while launching Google Drive in the other window.
Select all the photos in the iCloud Drive folder and drag them over to the Google Drive folder you opened in the other window.

This approach can only be used for transferring photos from iCloud to Google Drive. It doesn't work for the entire backup data.
Bonus: The Best Alternative to Google Drive/iCloud for WhatsApp Backup
As effective as Google Drive and iCloud are, they are not without nadirs. One of the obvious downsides is limited space allocated for data backup, and you will need to pay for additional space. Besides, data may get lost when stored over cloud services.
WooTechy WhatsMover eliminates all of these worries by backing up your data locally on your computer for free. The local backup removes the problem of storage limitation, risk of data leakage and the additional cost of purchasing storage space. All these without any difficulty and significant budget outlay.
WhatsMover – Best Free WhatsApp Backup Tool:
Backs up data on either Android and iPhone to your computer.

100% data safety, your old backup won't be overwritten or automatically deleted.

Storage is not restricted as long as there is enough space on your PC.

You can even restore or export the WhatsApp backup as you like.
Conclusion
There you have it, the tool and the information to seamlessly transfer WhatsApp backup from iCloud to Google Drive with 2 ways, and the must-need tool is WooTechy WhatsMover.
This program not only transfers WhatsApp data between Android and iPhone, but also serves as a better backup solution than iCloud and Google Drive. Whenever you need a WhatsApp management tool WhatsMover is the best choice for you!