Huawei device is increasingly popuplar in the global phone space nowadays, bring users with more practical functions, greater UT designs and improven camero settings.
However, most users finsd it difficult to complete backup WhatsApp Huawei, since there are just few guide about it online, just like this users:

Well, the thing is that it's too overwhelming for my Huawei P50 Pro storage, since I have stored lots of WhatsApp videos and photos which are valuable for me, so is there any good method to back up all my WhatsApp data on my Huawei without data loss?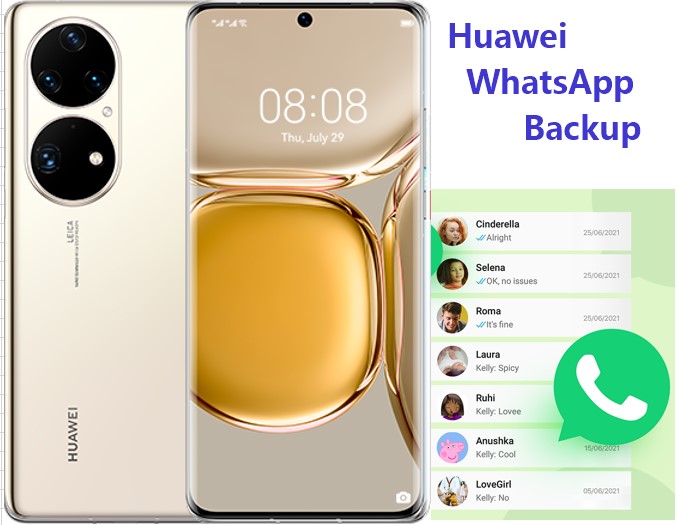 Don't worry, this article will review every possible way to fix Huawei WhatsApp backup issue, with the precondition of protecting your important WhatsApp data. We even have a bonus tip to help you better deal with Huawei WhatsApp backups.
WooTechy WhatsMover -- [100% Free] Video Guide About Huawei WhatsApp Backup to PC:
Part 1. Does Huawei Cloud Back Up WhatsApp?
Yes! Huawei Cloud is a great way to back up your WhatsApp messages without using any other software. It is an excellent tool to stay within the Huawei ecosystem. There are some bugs and glitches with the software. This is why we will show you the best option there is below.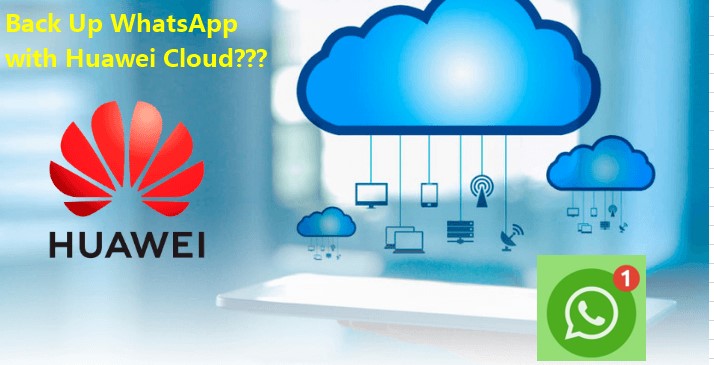 Part 2. Where is WhatsApp Backup Stored in Huawei?
There may be two locations for you to store your WhatsApp backup on your Huawei device.
One is your Internal storage.
If you have ever backed up your WhatsApp data to the internal storage in your Huawei phone. Go to click File Manager > Internal Storage (or SD card if you don't use an SD card) > WhatsApp > Databases, where you can find all your Huawei WhatsApp backup data.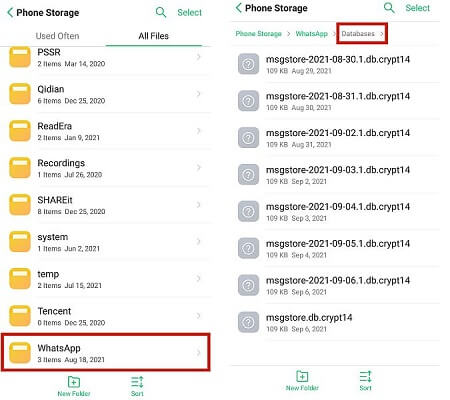 The other is your Google Drive
It is well-known that Google Drive is an official cloud tool for WhatsApp on Android device. To find out your WhatsApp backup huawei on Google Drive, you can navigate to Google Drive app, then log in with the same account you used to back up your Huawei WhatsApp data.
Your WhatsApp messages are stored in the general folder for backups. Go to Menu (three horizontal lines at top left corner) > Backups and you will find the WhatsApp backup there.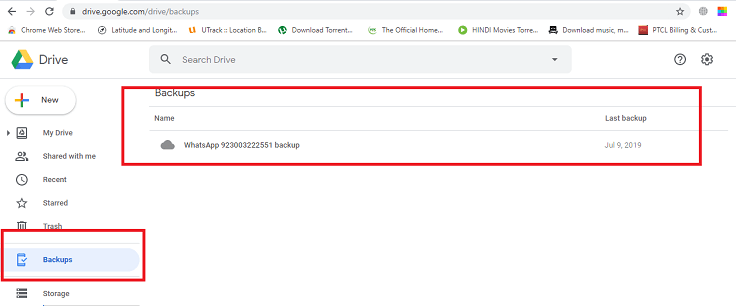 Part 3. How Can I Back Up WhatsApp on Huawei?
The rest of the article will show you step-by-step about WhatsApp backup huawei from best to worst method. It is a straightforward process, so there are so many alternatives, so pick which way suits you.
3.1 [100% Free] Huawei WhatsApp Backup in the Easiest Way
First, we would like to recommend this option as it is the best option for anyone looking to back up WhatsApp on Huawei. It will only take one click to do once you have the software. The software we have today for you is called WooTechy WhatsMover.
It is a great tool that allows you to easily back up your WhatsApp data to your computer and even further restore it to your iPhone or Android device. What's more, it's a totally free WhatsApp backup software, which supports you to back up all your Huawei WhatsApp data with the highest success rate.
WooTechy WhatsMover—Best Tool to Back Up Your WhatsApp Data:
100.000+
Downloads
Allow any user to freely back up all the data including chats, images, videos and all formats of documents.

Work with both WhatsApp Messenger and WhatsApp Business, and also support both all brands of iPhone and Android devices such as Huawei, Xiaomi, LG, Samsung and more, iOS 16 and Android 13 are supported.

Ensure your data privacy without overwriting or deleting the previous backup during the whole backup process.

Support to back up WhatsApp chat on Android & iPhone to your computer without any Storage or OS limitation.

Aside from its free WhatsApp backup function, WhatsMover also supports you to transfer WhatsApp from Android to iPhone or vice verse, iPhone to iPhone and Android to Android
To back up WhatsApp on Huawei using Wootechy WhatsMover:
Step 1 Install and open up WooTechy WhatsMover and make sure you connect your Huawei phone to your computer with a functional USB charging cable.
Make sure to tap on Allow this device on your Huawei phone once it is plugged in, otherwise, the backup processwon't work. Then click Back Up WhatsApp on Devices.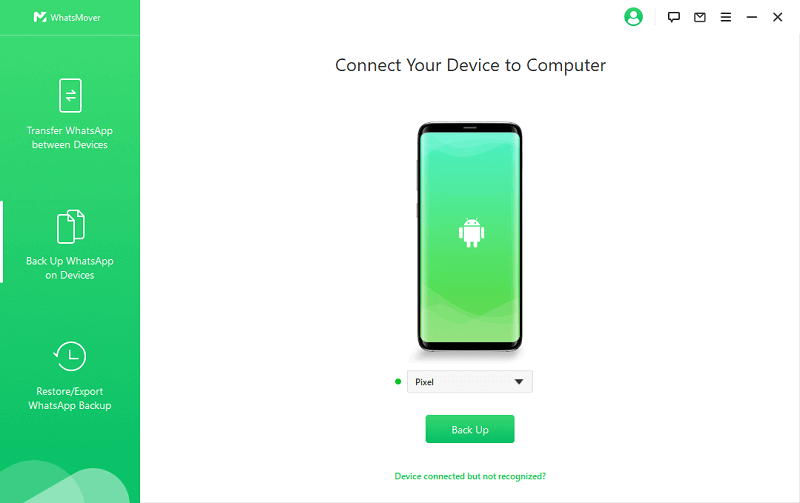 Step 2 Navigate to the Back Up section of the app and make sure your device is appropriately displayed. This will ensure that the correct data is backed up.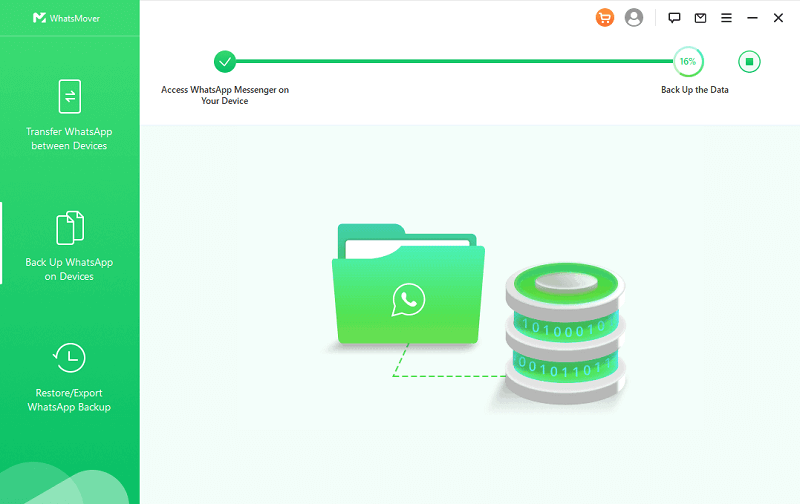 Step 3 Lastly, click on Done icon to complete the your Huawei WhatsApp backup. You are now done and can freely use your WhatsApp data as you wish.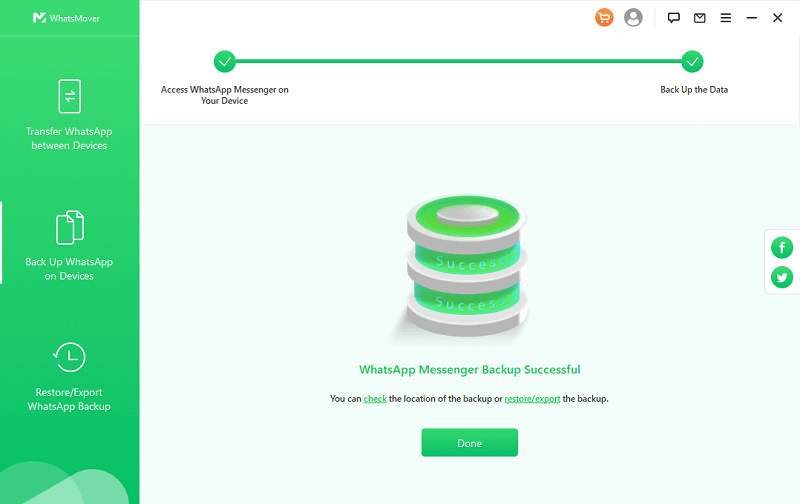 3.2 Huawei WhatsApp Backup Transfer Huawei Mobile Cloud
The following solution, which we think is slightly worse than using Wootechy WhatsMover, is Huawei Mobile Cloud. Huawei Mobile Cloud is an excellent software that allows you to stay within the Huawei ecosystem and back up your WhatsApp data effortlessly. To use it, simply follow the steps below:
Go to Settings > Huawei ID > Cloud. You must verify that you are logged in and to the correct ID; otherwise, the rest of the steps may send it to the wrong account, and you would lose your backup.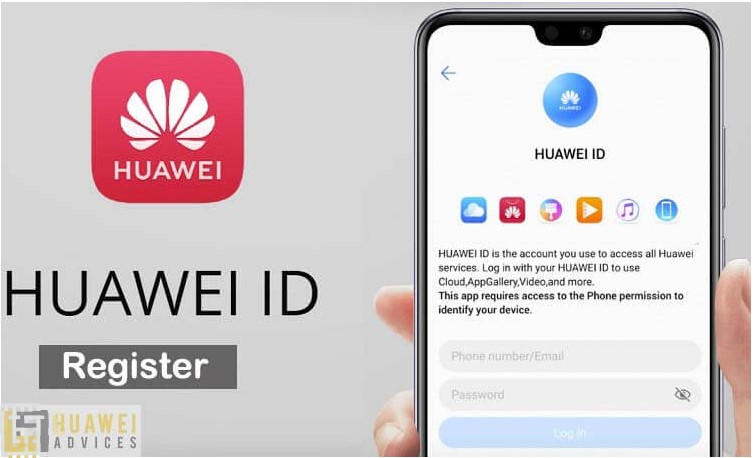 Next, you will see the Cloud Backup option being disabled. This is there by default.
Once you manually enable it, select Backup Options > App Data. You will now see a list of apps that you can backup.
Select WhatsApp to continue. You can also add other social media backups here if you so wish.
You are done! WhatsApp will automatically be backed up to the Huawei Mobile Cloud, and you can log in to other Huawei devices and have your WhatsApp synced.
3.3 Huawei WhatsApp Backup Using Email
The following best method we recommend is using Email to finish your Huawei WhatsApp Backup. This is a very convenient way of doing it; however, it can be limiting as email capabilities can't process so much data. Nevertheless, it is an excellent option if you don't have too many messages backing up.
To back up Huawei WhatsApp data using Email:
Load WhatsApp on your Huawei. Go to the contact which you would like to backup. This method only allows for one chat at a time because of email limitations.
Go to the three vertical dots > More > Export Chat.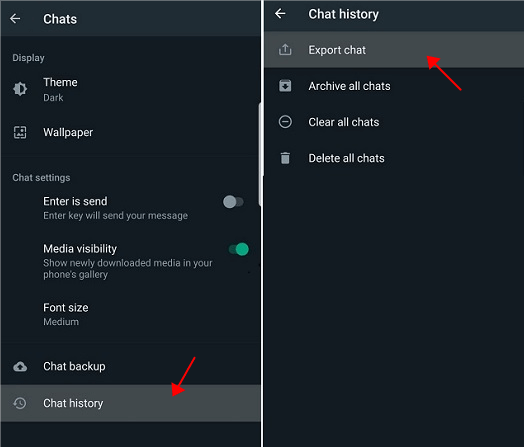 Choose the Mail icon, now you will get a menu pop-up that asks you if you want to include media. We recommend not to, as media can take up a lot of storage, and you may not get all of your chat messages backed up.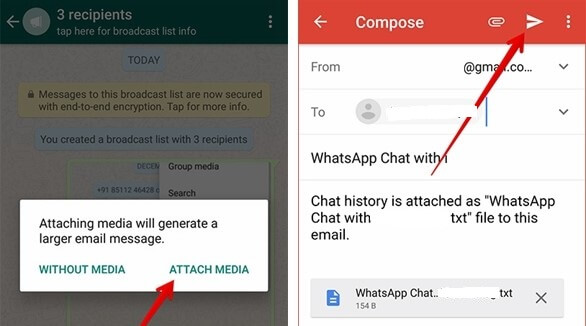 After choosing this option, just enter your email address and hit Send. You can now check your inbox for the backup on a different device and download it from there.
3.4 Huawei WhatsApp Backup Google Drive
Another very suitable method to back up WhatsApp on Huawei is using Google Drive. Google Drive is much more capable than email as it can hold more storage; however, it can be a little more complicated than email, which is why we placed it slightly below. To back up WhatsApp Data on Huawei using Google Drive:
Open WhatsApp and navigate to Settings > Chats > Chat Backup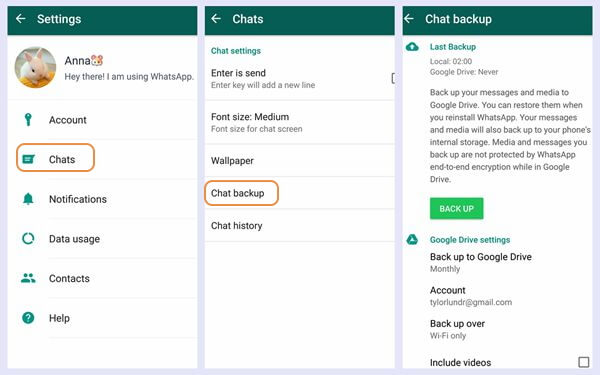 Click Backup to Google Drive so we can start the process. It will give you an option on how often you want to backup WhatsApp. Click Only when I tap Back up or other backup frequency you like except Never.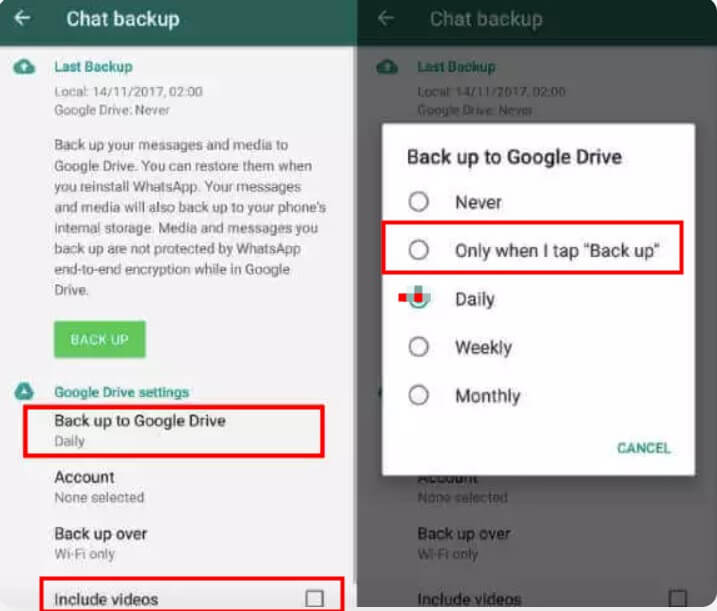 After you select the option, you may need to log in to your Google account if you are signed out. Make sure you are logged into the correct one. Otherwise, the backup won't reach the right place.
Now you can open up Google Drive on a different phone and download the backup.
3.5 Huawei WhatsApp Backup Using Phone Clone
This is another way to finish your Huawei WhatsApp backup. They do have options for other devices. However, they may not work as well because of bugs and glitches. This is perfect for you if you are trying to transfer to another Huawei.
Open the Phone Clone App on your new device and select the model of your old device.
Open the Phone Clone App on your old phone and scan the QR Code given on the new device.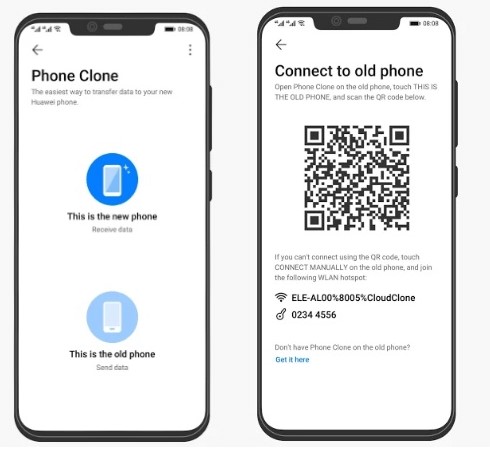 The two devices will be connected, and you will be given a menu of options to transfer. Select WhatsApp > Transfer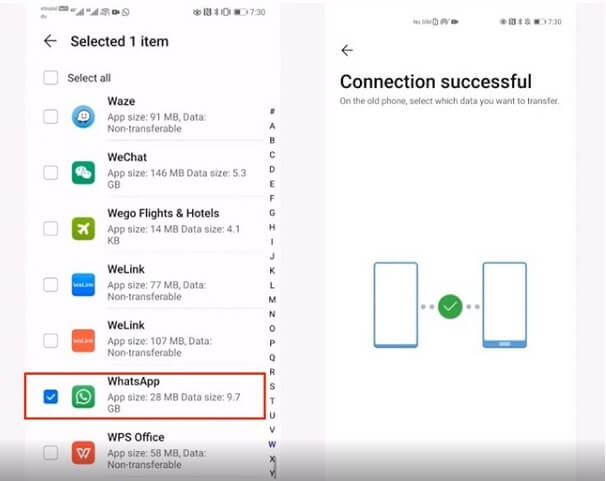 Once the process is completed, check the new phone to ensure that all of your chats have been transferred properly.
3.6 Huawei WhatsApp Backup Transfer Using SD Card
This is the last method we have in the article, and the reason it is final is that many devices don't support an SD card. SD cards can be handy, but unfortunately, they are being ruled out on many new devices. However, if you have two devices that can handle SD Cards:
Open WhatsApp and go to Menu > Settings > Chats > Chat backup. Depending on the storage left on your SD card, you can choose the chats you want to transfer.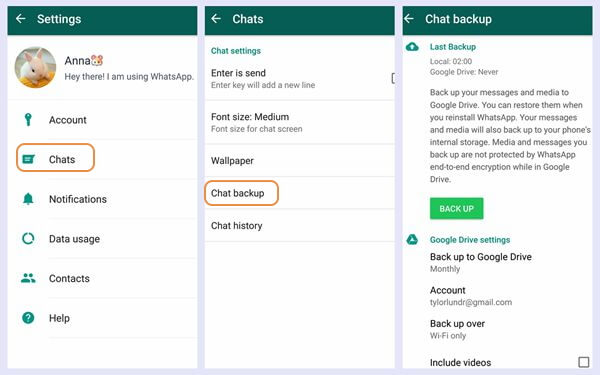 Here is where we have to finesse the system a little bit. Click on Backup on Google Drive > Never. What this will do is it will skip the Google Drive backup and go straight to your SD card.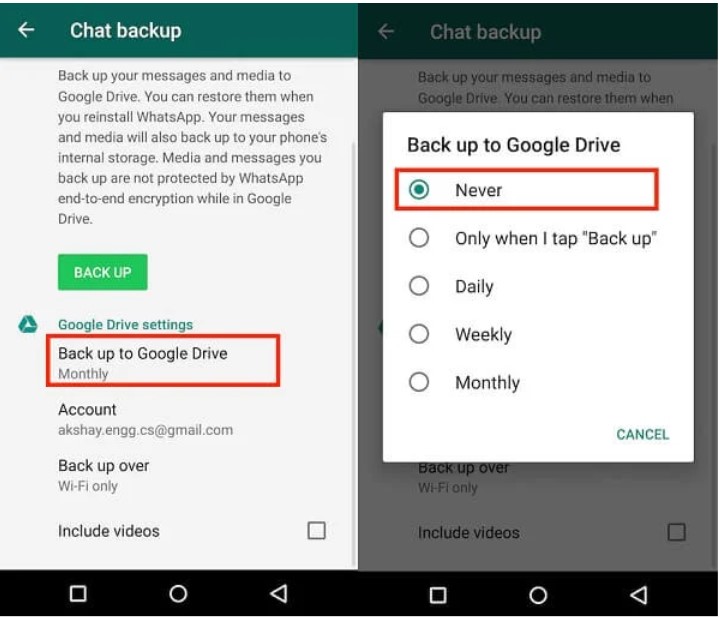 You can now remove the SD card from your device and transfer it to a new phone or your computer if you just want to store it there.
Bonus Tips: How Can I Restore WhatsApp from Huawei to Android?
When it comes to restore WhatsApp from Huawei to Android, the first quick fix comes into my mind is using WooTechy WhatsMover. As we talked above, it's a free-to-use WhatsApp backup tool, which also supports to restore WhatsApp from your Huawei device to any Android device you need, such as Samsung, Xiaomi, LG, and more.
I can promise that this tool will completely protect the privacy and security of your WhatsApp data during the whole process. And all your WhatsApp data stored on Huawei previously will be shown on your another Android phone successfully.
How to restore WhatsApp from Huawei to Android:.
Step 1 Open WooTechy WhatsMover and connect both phones you would like to transfer the data with a functional charging cable. Head to the Transfer WhatsApp between Devices section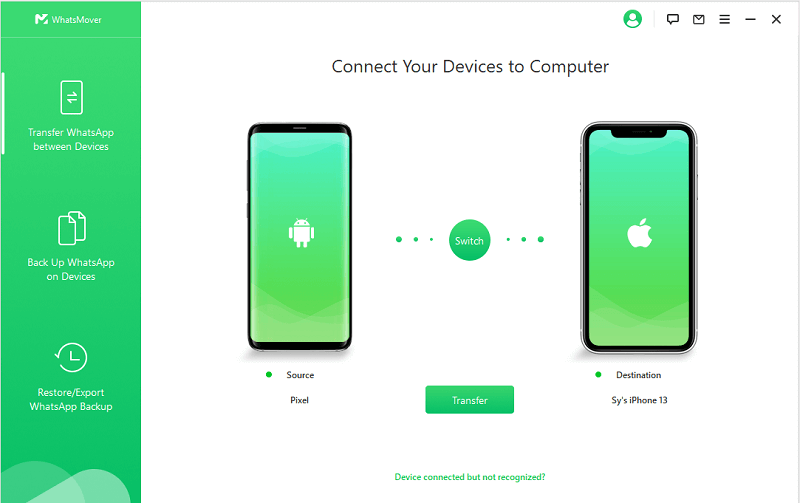 Step 2 Ensure your source and destination phones are adequately displayed. If not, click Switch icon in the middle of the screen to correct it, and then click on Transfer,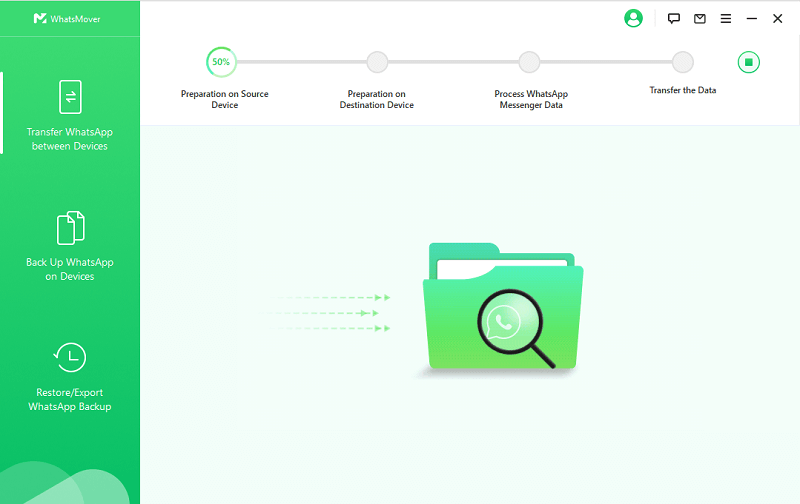 Step 3 Wootechy WhatsMover will automatically transfer the WhatsApp data, and you can use your new phone with the same data. It won't take too much time, you can restore all your WhatsApp you need to your another Android device.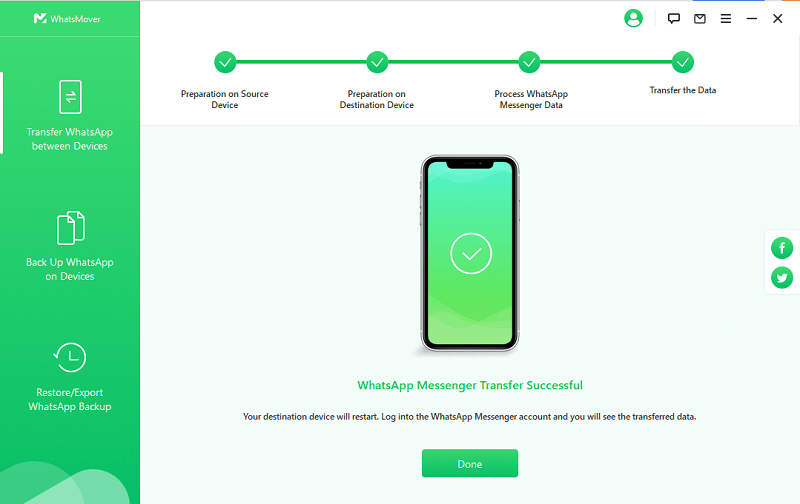 See, that's WooTechy WhatsMover, sounds amazing, right? Believe me, you will love it when you give it a try, since it's the most convenient and efficient method for your WhatsApp backup and transfer.
Conclusion
This article elaborated on top hot 6 methods for totally free about Huawei WhatsApp backup for you. We also showed you a unique new software called WooTechy WhatsMover that can not only back up WhatsApp data to PC, but also transfer WhatsApp data from one phone to another.
Using this software will save you tons of time to spend it doing the things that matter most to you while not worrying about losing your WhatsApp messages.