After several complaints from WhatsApp users, Meta/Facebook has finally allowed these users access to their WhatsApp accounts across other devices. While some devices have their custom apps, the WhatsApp web stands at the forefront of helping users access their accounts across different devices. In 2015, WhatsApp started offering this browser-based WhatsApp. Some users even refer to it as a clone of the original app.
However, the speculations about this app seem to be true because of its limited feature. Users found out they could not back up or restore their chats through the WhatsApp web feature. Therefore, this article further explores the absence of these features and alternative solutions for how to take backup from the WhatsApp web.
Part 1. Can You Take Backup from WhatsApp Web?
The straightforward answer is no. Your PC WhatsApp Web does not allow backing up your chats, photos, emojis, stickers, media, and other attachments. Let's take a deeper dive into WhatsApp and WhatsApp web to understand better why the latter cannot let you back up you're your data.
When WhatsApp web started, it would not run except your WhatsApp device was online. The reason was that WhatsApp Web is an independent entity. Therefore, it requires the WhatsApp features and data on your device to function. After a while, WhatsApp improved on this feature. Hence, users can now use their WhatsApp web even while WhatsApp is not online. Taking backup, however, remains a lacking feature on the web version of the popular chat app.
But there are still ways to take WhatsApp backup from WhatsApp Web despite the limit of official methods.
Part 2. How to Take Backup from WhatsApp Web
If the WhatsApp Web feature would not allow you to take a backup from the WhatsApp web, you can still get your backups. This is because chat evidence has been very vital as evidence in so many disputes. Hence, this section looks at the 2 probable solutions on how to take WhatsApp backup from the WhatsApp web.
1. Via Screenshot
You can take a backup from WhatsApp Web through a screenshot. Being able to screenshot a chat screen while you are logged in to your account can be very useful in preserving such a chat. Also, if you want to keep it as a memory, share it with others, including friends and factfinder, and you can easily share it.
You can go to the game bar to access features like screenshots and video recording on your Windows computer. Alternatively, Windows users use the command shortcut.
To use this command, you have to press Windows + Fn + PrtSc keys on your keyboard at the same time.

Then, a copy of the whole window is copied to your clipboard.
Now you can paste the screenshot to a document file and save it as your WhatsApp Web backup file.
However, these command does not have a video recording feature.
The command is different for a Mac computer. You can either use the Mac dedicated command or open the Screenshot toolbar.
If you intend to screenshot the entire screen on your Mac PC, you can use the Shift + Command + 3 keys command. After using this command, you will see a thumbnail at the right bottom of your screen for a while. It will be automatically saved to your main screen if you do not touch it.
If you are interested in taking a screenshot of a portion of your screen, you can use the Shift + Command + 4 command. This command will turn your pointer to a cross that you can move across your screen. Click and drag it to cover the area you want to screenshot, then release the trackpad. You can cancel your selection by pressing the ESC key.
Another alternative is the Shift + Command + 4 keys + Space bar command. It will change your pointer to a camera, and you can use that icon to select the window you want to screenshot.
Instead of using commands, you can use the Screenshot toolbar. Press the Shift + Command + 5 keys to open the toolbar. You can choose all the different commands to show on the left-hand side of this toolbar. Furthermore, you will find tools for recording your entire screen or a window on your screen. All these solutions are how to take backup of WhatsApp on the laptop.
2. Sync WhatsApp Account with Google Drive
Since WhatsApp web backup to pc is not permitted by WhatsApp, the second alternative for taking backup from WhatsApp web is through your cloud storage like Google Drive. You cannot create a backup through WhatsApp Web because all your Files, Media (Audio, Video) are only available on your device. Hence, you can sync your WhatsApp account with Google Drive. This method also requires a time-to-time backing up.
There is alternative cloud storage for iPhone users, e.g., iCloud. In addition, your WhatsApp automatically backs up your WhatsApp on the local storage of your WhatsApp device. However, this section only explores how to sync your WhatsApp account with Google Drive. This solution will allow you to get back your WhatsApp data whenever you need it.
Open your WhatsApp application on your device.
Click on the More Options or the hamburger three dots icon at the top right corner of your screen.
Select the Settings option from the More Options drop-down list.
Click on Chats in the Settings screen.
Navigate to Chat backup.
Then, select Back up to Google Drive.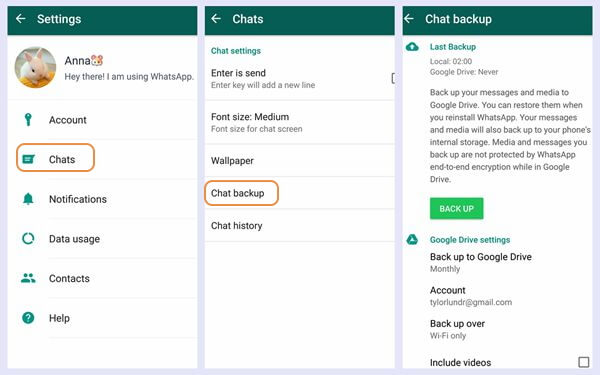 In the Back up to Google Drive screen, select any of the frequencies under Never.
You will be prompted to select the Google account you want to back up your chat history to.
Enter your Google account login credentials.
Finally, select a network you want to use for your backups.
Part 3. How Do You Backup WhatsApp Chats on PC with WooTechy WhatsMover
Since you want to take WhatsApp Web backup to PC, why not choose a better way to back up your WhatsApp data on your computer? WooTechy WhatsMover is a tool for transferring, backing up, and exporting WhatsApp/WA Business data between iPhone, Android, and your computer.
You can use it to back up WhatsApp data on your phone to a computer. It backs up your data without any privacy bridge. It supports backing up all your WhatsApp data, like chat history, photos, videos, audios, emojis, contacts, and other attachments. Your backup files are kept in separate folders and will not be overwritten or automatically deleted.
The official backup method can be limited, especially on your local storage. Even cloud storages are limited, and you will need to buy more storage. Hence, many users restore their data with WooTechy WhatsMover. You can restore your backup files from different storage to your Android/iPhone. Moreover, it can export WhatsApp backup files to different formats like HTML, PDF, CSV, or XLS.
Follow these steps to use WhatsMover to take a backup of WhatsApp on your laptop:
Download and install WhatsMover. Launch the app on your PC. Select the Back Up WhatsApp on Devices option. Connect your mobile device to the PC.
For your iPhone, click on Trust to allow your iPhone to become visible on the PC when you see the Trust This Computer? dialogue screen.
For your Android, allow USB debugging or select File Transfer on the USB Preferences screen for the PC to recognize your phone.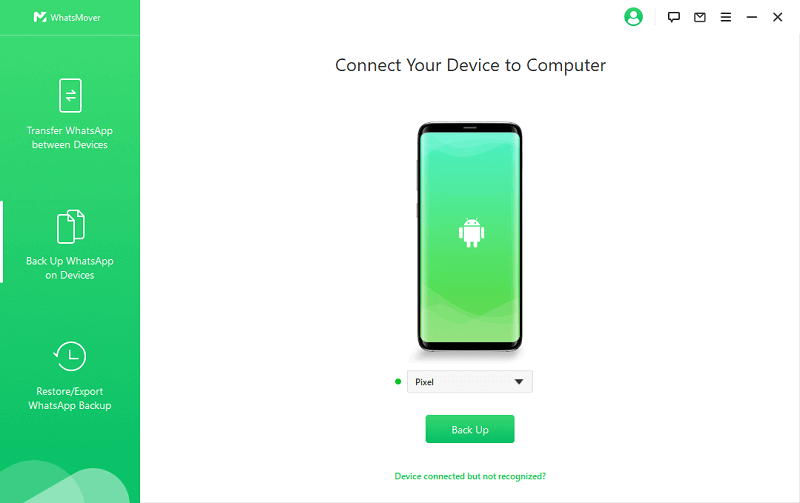 On your PC, click Back Up.
On your iPhone, the program will immediately back up your data.
On your Android, the program will install a customized WhatsApp application to access the WhatsApp data. After the installation, follow all the on-screen directives.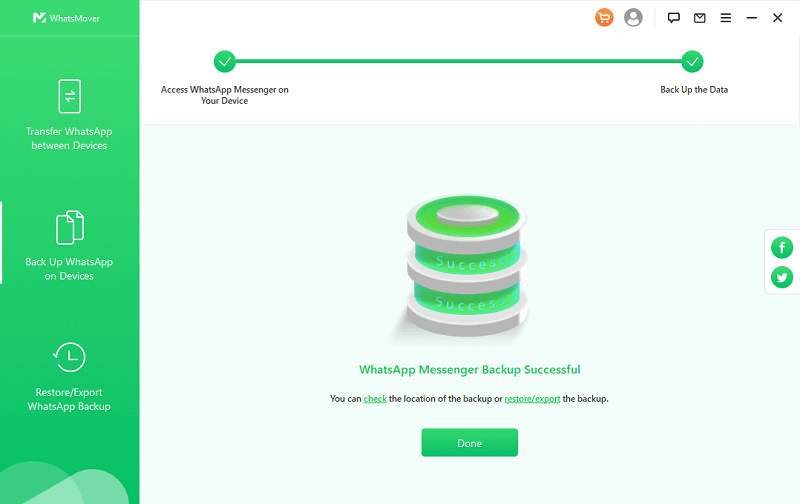 Backing up your data will not take long. It depends on your data size and your PC's processor speed. Once it is done backing up your data, you will get a notification.
Conclusion
WhatsApp web has been a helpful solution for users that want to access their WhatsApp across different devices. There has been a lot of improvement made to it since 2014, when it was first released. However, the lack of the backup function means this feature has a lot of room for improvement. While those improvements are being made, you may want to know how to take a backup from the WhatsApp web.
This article has provided solutions like screenshots, recovery through local and cloud storage, and our third-party backup tool to take WhatsApp backup to PC.