WhatsApp is the most widely used instant messaging service, with more than 2 billion active users! And the most common query that these users have is how to access WhatsApp backup on iCloud.
While the app has quite an easy and straightforward method of creating a backup of all the conversations and media, the real issue arises when people try to access the backup.
In this article, we will go over details on how to access WhatsApp backup on iCloud.
Part 1. Can You Access WhatsApp Messages from iCloud?
The WhatsApp backup that we create on iCloud is encrypted and cannot be accessed just like that. You either require software that can extract the backed-up content and save it in a readable format, or you can get a bit technical and go into the depths of your iCloud drive to access the WhatsApp messages.
Part 2. How to Access iCloud WhatsApp Backup on a PC
If you have created a WhatsApp backup on iCloud, you can access it from your MacBook. But it's not that simple!
You see, the WhatsApp backup is stored in a hidden folder on your Macbook. Once you learn how to find that folder, you can easily access iCloud WhatsApp backup on your PC. For this, you need to be signed in to iCloud and turned on the iCloud drive.
Once that is sorted, follow the steps below:
Open Finder and go to Applications > Utilities > Terminal.
Now type in the following commands: cd ~/Library/Mobile\ Documents/ find *whatsapp*
With this, you will be able to see all WhatsApp backup files. The PDF and other attachments will be visible in "Document.tar" format, and pictures and videos will be visible as Media.tar and Video.tar, respectively.
The next step is to extract these files so that you can easily access them. For this, type the following command in terminal: cp *whatsapp*/Accounts/*/backup/*.tar ~/Desktop
The files will be copied to your desktop. Simply double-click on the files to extract them to a folder where all the files will be visible and organized according to the conversation.
This method is a bit tricky and technical. Once you get the hang of it, you can access WhatsApp backup on iCloud in an instant!
Part 3. How to Access WhatsApp Backup in iTunes
While most people use iCloud or Google accounts to back up their WhatsApp data, you may have also used iTunes to create a backup. In this case, you need to access WhatsApp backup in iTunes.
But you can't directly access WhatsApp backup in iTunes, you will need third-party professional iOS data recovery software to restore iTunes backup to PC or use iTunes WhatsApp backup extractor.
Here we will teach you how to extract the files in a readable format using a WhatsApp extractor tool – WooTechy WhatsMover. It can make a full scan of your iTunes backups on local, then you can export, and access WhatsApp data from your iTunes backups.
Get WhatsMover on your PC and open it. Go to the Restore/Export WhatsApp Backup mode.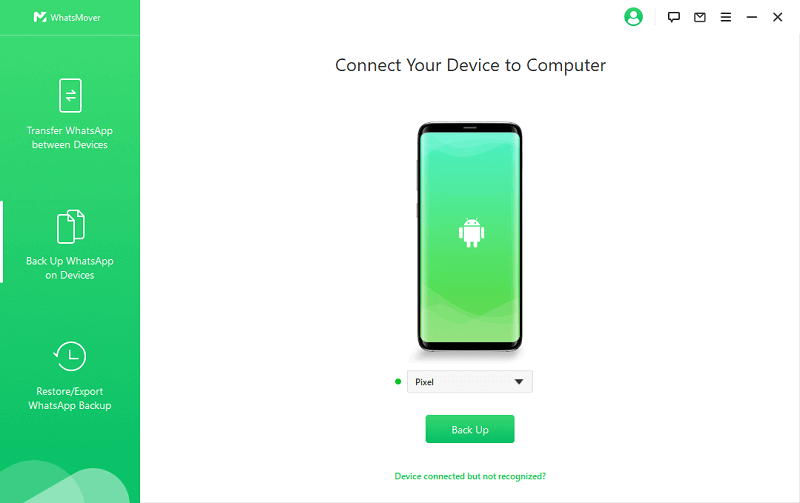 Connect your iPhone to the computer and WhatsMover will scan your WhatsApp iTunes backup. Choose a backup and click Export to Computer.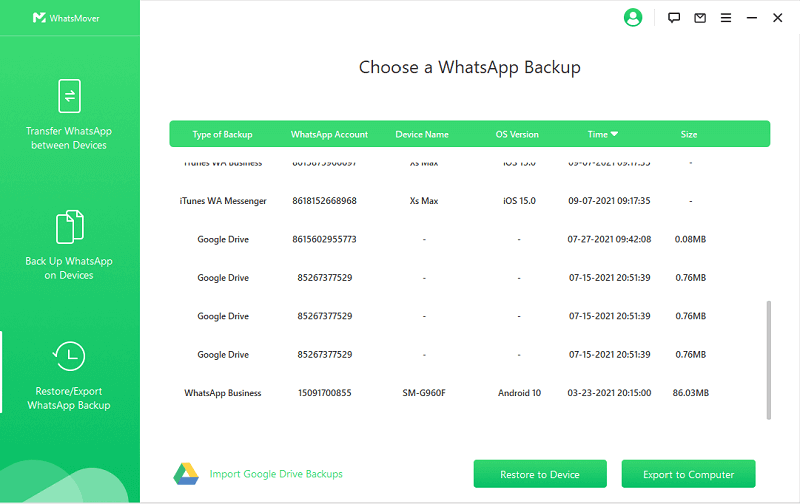 To access and read WhatsApp, you can export it through different formats such as HTML, CSV or XLS.
Part 4. A Better Way to Backup and Access WhatsApp on PC
Now, if you're the kind who doesn't want to get into all the technicalities of searching for hidden WhatsApp folders on your PC, there is an easy way to create a WhatsApp backup and easily access it on your PC. This method involves the use of third-party WhatsApp data manager software like WooTechy WhatsMover.
It is a WhatsApp transfer, backup, restore, and export tool that helps keep all your WhatsApp data safe, secure, and accessible. You can use it to back up data and further access WhatsApp backup on a PC by exporting the files in HTML, PDF, CSV, or XLS format.
Key Features of WhatsMover:
100.000+
Downloads
Back up all WhatsApp data like photos, videos and contacts on iPhone and Android to PC for free.

To access WhatsApp backups, you can directly export them to computer and read them.

You can also use it to restore WhatsApp backup to your device without limitation.

It can also transfer your WhatsApp on iOS and Android without OS restrictions.
Launch WooTechy WhatsMover on your PC and select the Back Up WhatsApp on Devices option. Connect your phone and click the Back Up button.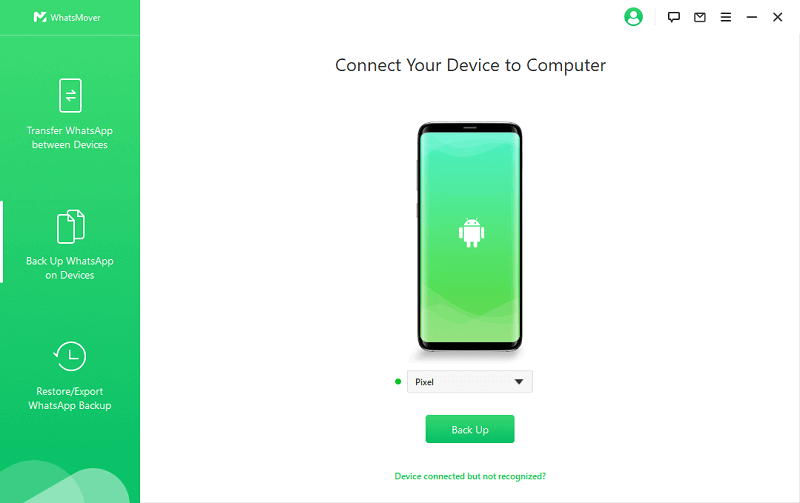 Soon all of your WhatsApp data on your device will be backed up and won't be lost for good.
Now you can start to export the backups to access them on PC by choosing the Export WhatsApp Backup mode of WhatsMover.
Conclusion
When it comes to creating a WhatsApp backup, we can do it easily with a few taps on our iPhones, but accessing the backup and viewing the content is believed to be impossible due to it being encrypted.
However, there are a handful of ways how to access WhatsApp backup on iCloud, iTunes, and PC. While accessing WhatsApp backup on iCloud and iTunes might be a tad bit technical for some people, WooTechy WhatsMover comes to the rescue with its simple interface.
So, backup your data and access it easily via WooTechy WhatsMover whenever you want!