It is, without doubt, a smart practice to backup your WhatsApp data from time to time. Even if you don't know how to perform this task of WhatsApp backup manually, WhatsApp automatically creates a local backup on your device daily. But, where is my WhatsApp? Where is WhatsApp backup stored? Where are WhatsApp messages stored when a backup is taken? These informations can be crucial when you accidentally delete a message on WhatsApp and need to restore it from WhatsApp backup.
Worry no more! This article contains all the information about WhatsApp backup and finding WhatsApp local backup location on iPhone, Android, and PC. No matter on which device you want to find WhatsApp messages, WhatsApp chats or WhatsApp media, this guide will tell you the answer. Read on!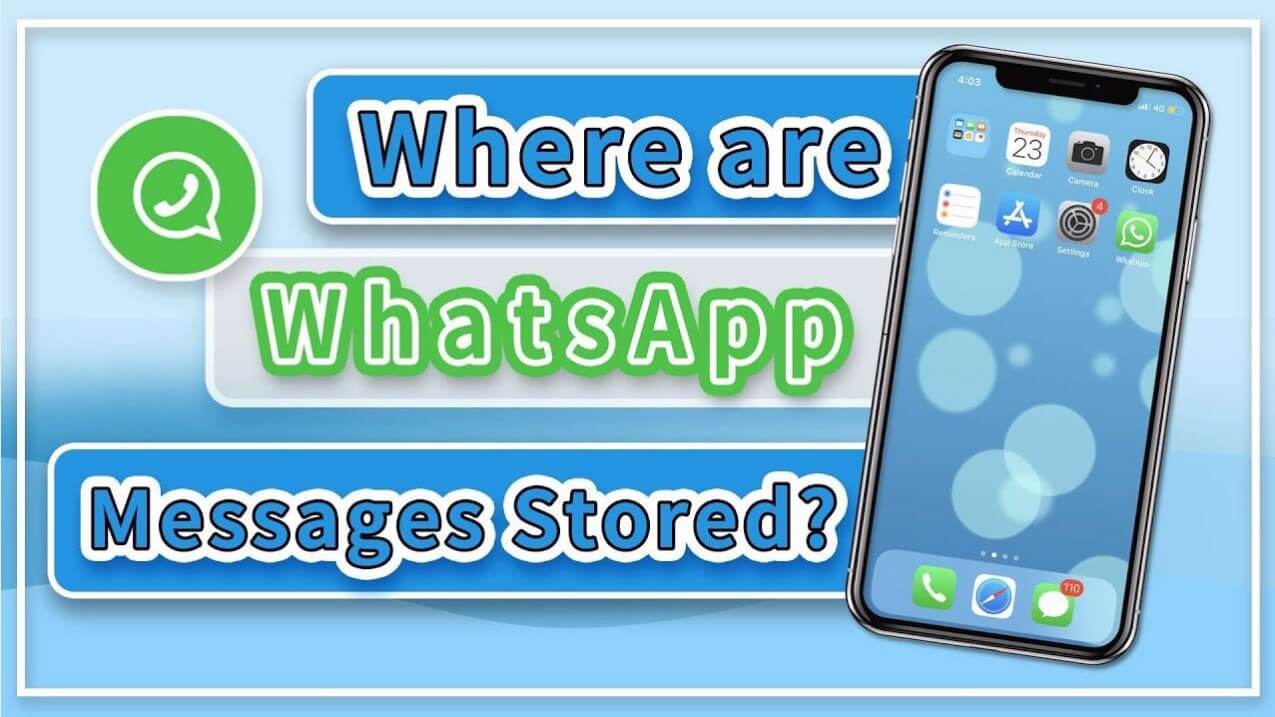 Part 1. Where Is WhatsApp Backup Stored?
[For Android] Where Is WhatsApp Backup Stored On Android?
There are 2 locations where your WhatsApp backup is stored on Android - local storage and Google Drive. As the name implies, the local storage is your phone's internal storage or your SD card, while Google Drive is the cloud backup platform.
1. Android WhatsApp Backup Location: Local Storage
On Android, your WhatsApp messages are stored on a dedicated WhatsApp folder on your phone's SD card or internal storage.
This backup can be found in the path below: File Manager > SD card (or Internal Storage if you don't use an SD card) > WhatsApp > Databases.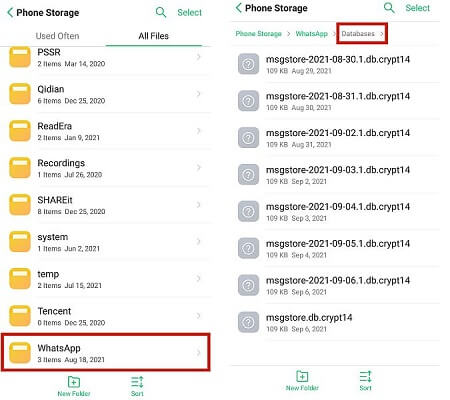 How to Backup WhatsApp Messages on Local Storage?
Before you can find your WhatsApp messages on local storage, you need to make sure it is backed up in the first place. You can open WhatsApp and follow the path below:
Step 1. Menu button (three vertical dots) > Settings > Chats > Chat backup.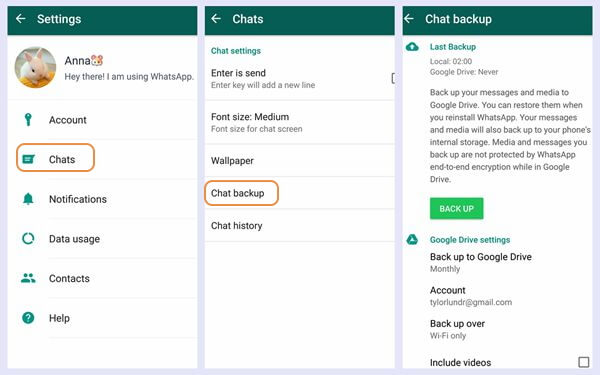 Step 2. Navigate to Back up to Google Drive, click Never. Then tap on BACK UP button, and it will back up your messages to the Databases folder in the path stated above.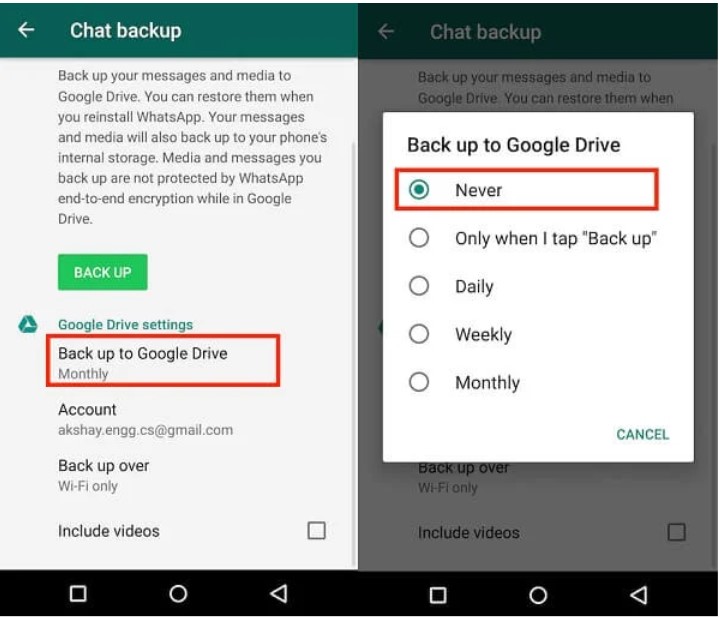 2. Android WhatsApp Backup Location: Google Drive
On Google Drive app, your WhatsApp messages are stored in the General folder for backups. Navigate to Menu (three horizontal lines at top left corner) > Backups and you will find the WhatsApp backup there.
One thing should be noted is that the Google Drive backups are encrypted and cannot be previewed. Therefore, you need an effective tool to read WhatsApp backup on Google Drive directly.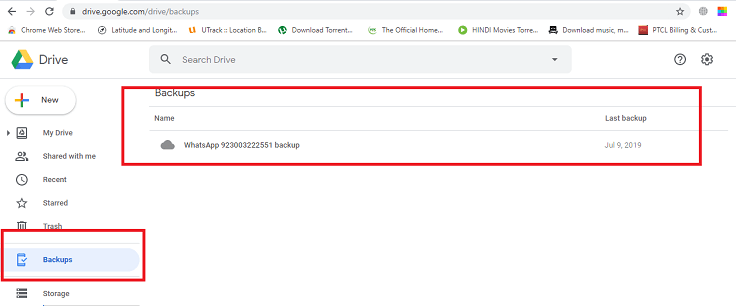 How to Backup WhatsApp Messages on Google Drive?
Unlike local storage, you have to enable auto back up for your WhatsApp messages on Google Drive. You can also decide to back up your WhatsApp messages manually by yourself whenever you want. Below are the steps to follow to do this:
Step 1. Activate your Google account on your Android and ensure you install Google Play Services.
Step 2. Open WhatsApp and tap the Menu button. Follow the path: Settings > Chats > Chat backup.
Step 3. Under Google Drive settings, select the Back Up to Google Drive option and set your desired backup frequency.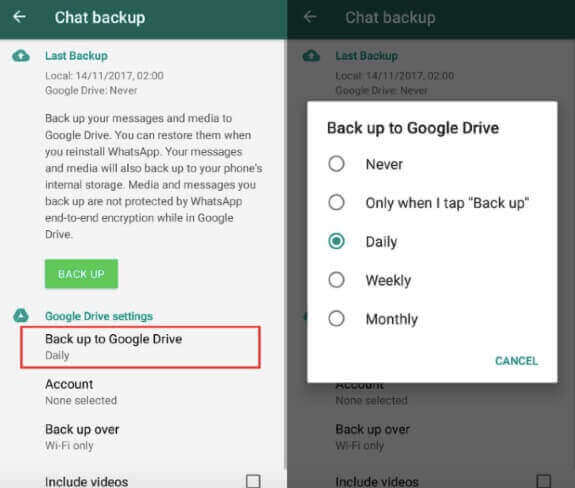 Step 4. Add the Google account you want to use for the backup. Lastly, tap the Back up over option to select your desired network for the backup.
[For iOS] Where Is WhatsApp Backup Stored On iPhone?
iCloud and iTunes are the two platforms where WhatsApp messages are stored on iPhone. It's easy to use them to back up and restore your WhatsApp messages when in need.
1. iPhone WhatsApp Backup Location: iCloud
The iCloud is the default cloud platform for WhatsApp backup on iPhone. For security's sake, your WhatsApp messages are stored in a hidden folder on iCloud Drive. These files are encrypted and can neither be accessed nor read directly.
How to Backup WhatsApp Messages with iCloud?
Creating a WhatsApp backup on iCloud is pretty easy and can be automated. Below is the procedure for doing this:
Step 1. Open the Settings app and tap on your Apple ID at the top of the screen.
Step 2. Select iCloud and toggle the iCloud Drive switch forward. Scroll down to the WhatsApp option and switch it on.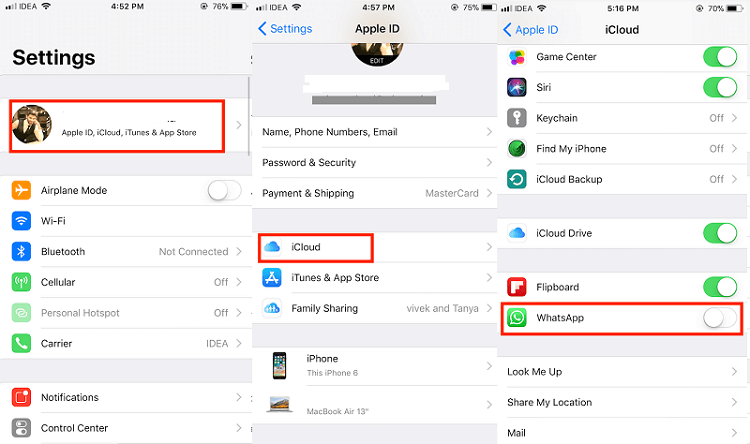 Step 3. Open WhatsApp on your iPhone, go to Menu > Settings > Chats > Chat Backup.
Step 4. Tap on the Back Up Now option to carry out the backup once manually or the Auto Backup followed by specifying the backup frequency to back up your WhatsApp messages automatically.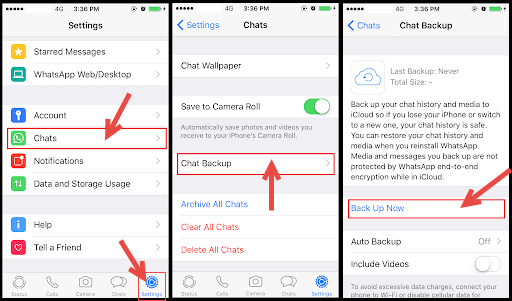 2. iPhone WhatsApp Backup Location: iTunes
iTunes is a PC program that is used to carry out administrative tasks on Apple devices. The WhatsApp backup data is stored in folders in iTunes. Differing from iCloud, encrypted backup data is not the default option available, but you also can choose to encrypt the backup data if you want.
However, the downside of this storage is that it does not store WhatsApp backups alone. Instead, it takes the backup of the whole iPhone data, which takes a lot of time.
How to Backup WhatsApp Messages with iTunes?
Below are the steps to create a backup of your WhatsApp messages on iTunes:
Step 1. Connect your iPhone to your PC via a USB cable and launch iTunes.
Step 2. Click on the iPhone icon at the top of the iTunes window. Now, click the Summary option on the left panel.
Step 3. Select This Computer and click the Back Up Now button and wait for the process to complete.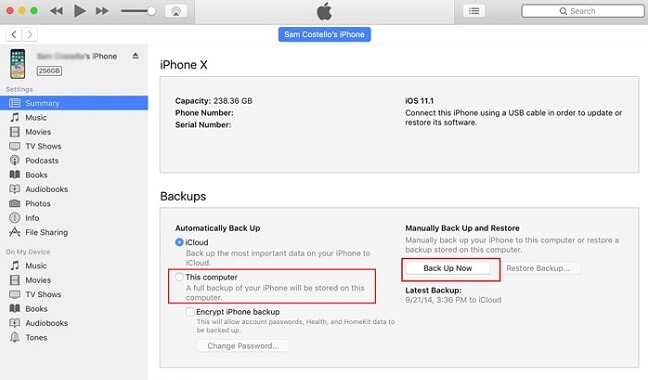 [For PC] Where Is WhatsApp Backup Stored On Computer?
WhatsApp Web and the dedicated WhatsApp PC app are different from the mobile version in that they cannot store their backup in a specific location. Instead, the backups are stored on cache files and logs, which are storage locations for the temporary data WhatsApp uses to aid your experience on PC.
How to Find WhatsApp Backup on PC?
Step 1. Open File Explorer and click on This PC on the left plane.
Step 2. Type WhatsApp in the search bar and press the Enter key to get started.
Step 3. Wait for the process to finish, and you will be shown the cache or log files if there is any available.
Note
This cache and log files are encrypted just like WhatsApp backup on mobile devices and, as such, cannot be read. Besides, you cannot back up your WhatsApp web or the PC app as they are more or less just reflections of the mobile app. All backup can only be taken on your mobile device.
Part 2. The Easiest Way To Backup WhatsApp For Free
Now, you have already known where whatsApp backup is stored. While it is true that you can't take a backup of WhatsApp Web on PC, you can actually store all your mobile WhatsApp chats safely on PC. Fortunately, this can be easily done with the help of WooTechy WhatsMover, which allows to back up all WhatsApp data for Totally Free and save tons of time. It allows you to read your backup outside the WhatsApp platform via its exportation feature. Furthermore, you can also restore the backup to any iPhone or Android device if needed.
As a popular WhatsApp backup tool, WooTechy WhatsMover provides the easiest and fastest way to backup WhatsApp. With just a few simple clicks, you can back up all WhatsApp data on your computer in minutes, including WhatsApp chats, contacts, photos, videos, emojis, documents and other attachments. Moreover, it has no storage limit and no OS limit. Best of all, it's completely free and 100% secure.
WooTechy WhatsMover - Best WhatsApp Backup Tool
5,000,000+
Downloads
Unlimited Free WhatsApp Backup: Backup all WhatsApp/WhatsApp Business data on iPhone and Android to PC for free, including chat history, photos, videos, emojis, contacts, without any storage limit

Seamlessly WhatsApp Transfer: Transfer WhatsApp/WhatsApp Business directly between iPhone and Android, including Android to iPhone and iPhone to Android, without limitation of phone system

Export WhatsApp Files at Any Time: Access, preview and restore WhatsApp backup files at any time, as well as export to HTML, PDF, CSV or XLS formats

Highly Secure: WhatsApp backup files will not be lost, overwritten or compromised. All WhatsApp privacy is protected and 100% safe

Easy to Use: The whole WhatsApp backup process can be completed in minutes with just a few simple clicks
How to Backup WhatsApp via Wootechy WhatsMover?
Step 1: Download and install WooTechy WhatsMover on computer, launch it and click Back Up WhatsApp on Devices. Then connect your device to PC with USB cable.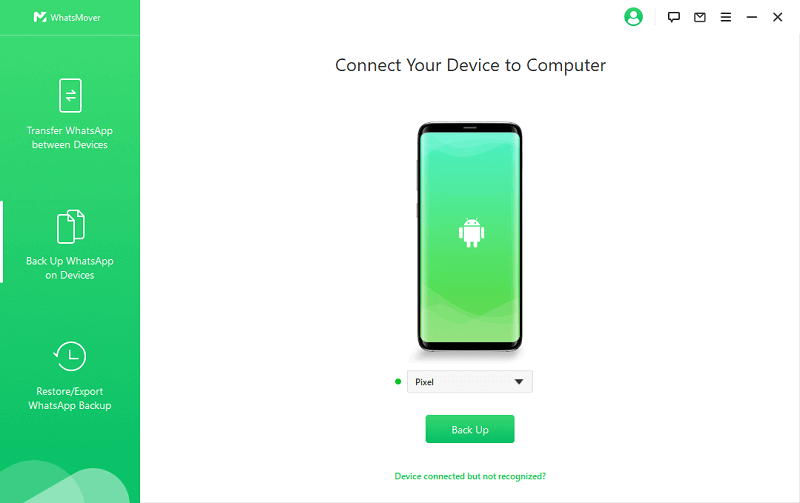 Step 2: Select your WhatsApp type and then click Back Up to start backing up your WhatsApp data.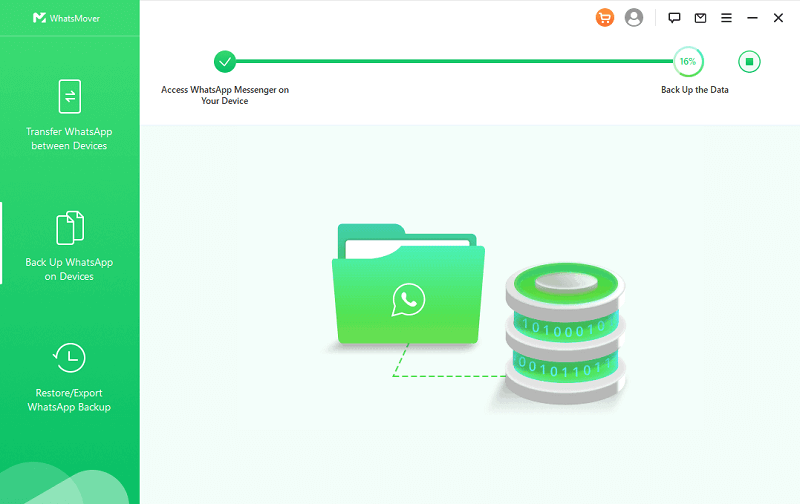 Step 3: Once the backup process is complete, click Done. Now your entire WhatsApp data is backed up on computer successfully!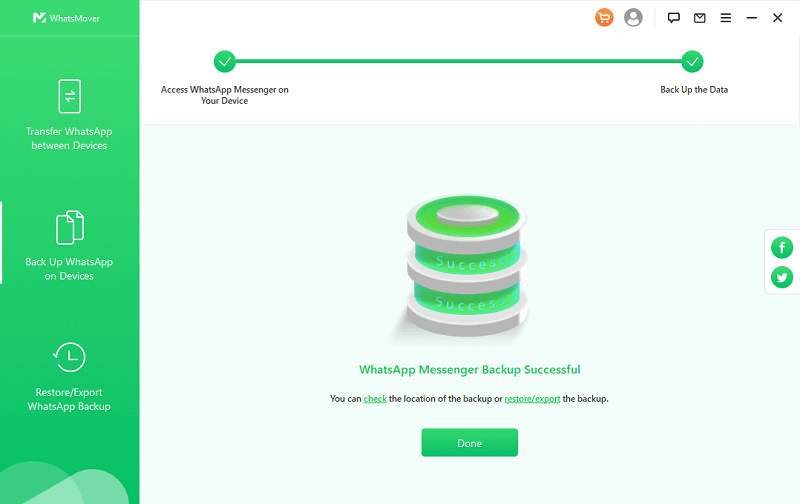 [Video Tutorial] How to Backup WhatsApp?
Part 3. FAQs About WhatsApp Backup Location
Q1. Are WhatsApp messages stored on SIM?
No, the SIM card doesn't contain any data except for your cellular details.
Q2. Does WhatsApp store messages on WhatsApp server?
No, WhatsApp messages are not stored on the WhatsApp server. WhatsApp only stores data such as phone numbers for login purposes. As mentioned earlier, your WhatsApp messages are stored locally on your device and Google Drive for Android users, while stored on iCloud and iTunes for iPhone user.
Q3. How to free up storage on WhatsApp?
To free up storage on WhatsApp, you can prevent auto-download of media files like audio, video, and images to help you select the useful ones. Also, you can delete some of the media files that have no long-term use to you. Lastly, you should limit the number of your WhatsApp groups to only the necessary ones.
Conclusion
Now you know where WhatsApp backup is stored on Android, iPhone and PC. If you are tired of the limited cloud storage and want to read the WhatsApp backups directly, we highly recommend WooTechy WhatsMover for you to backup WhatsApp. Not only does it ensure that you have a secure backup of your WhatsApp data on your computer, but it also gives you full control over this created backup. If you haven't backed up WhatsApp so far because afraid of trouble, then you can't miss this super handy WhatsApp backup tool anymore. Try it now!