As you use your phone and WhatsApp daily, you may want to upgrade your phone to the latest model or even switch brands, let's say, from Android to iPhone.
While this is a widespread scenario, it is more uncommon for apps such as WhatsApp to show you how to transfer all of your WhatsApp data. Like this user's worries:

I am a Xiaomi user, but I wonder to switch it to the forthcoming iPhone 14 device since I am fond of taking photos. However, I don't how to transfer my WhatsApp data from Xiaomi to iPhone, it's so annoying.
Suppose most of you tend to purchase the forthcoming iPhone 14. So what can we do to transfer WhatsApp from Xiaomi to iPhone? Fortunately, this article can give you the best alternative to get this done. Keep reading and check it out!
WooTechy WhatsMover -- Clear Video Guide to Transfer WhatsApp from Xiaomi to iPhone:
Part 1. Can I Transfer My WhatsApp Chats from Android to iPhone?
Absolutely yes, you can transfer WhatsApp from Android to iPhone. While it can seem harder to achieve this goal, it is far from impossible, since Apple recently has published an official method – Move to iOS to transfer WhatsApp from Android to iPhone.
Moreover, we have also researched the best practices so that you can get done with this process as fast as possible. For example, a perfect third-party app --WooTechy WhatsMover, is a good idea for you to get your aim done. Besides, you can also use thiss tool to transfer WhatsApp from iPhone to Xiaomi device.
We recommend sticking to the ways in this article as other apps and techniques will not work either. All of the methods listed are 100% secure and will not corrupt your data in any way.
Therefore, it's also just a piece of cake if you wonder to transfer WhatsApp from Xiaomi to iPhone.
Part 2. Part 2. How Do I Transfer WhatsApp from Xiaomi to iPhone?
We will start with all the available 4 alternatives to transfer WhatsApp chats from Xiaomi to iPhone and then move on to some less known and less efficient methods if you don't prefer the first method for some reason.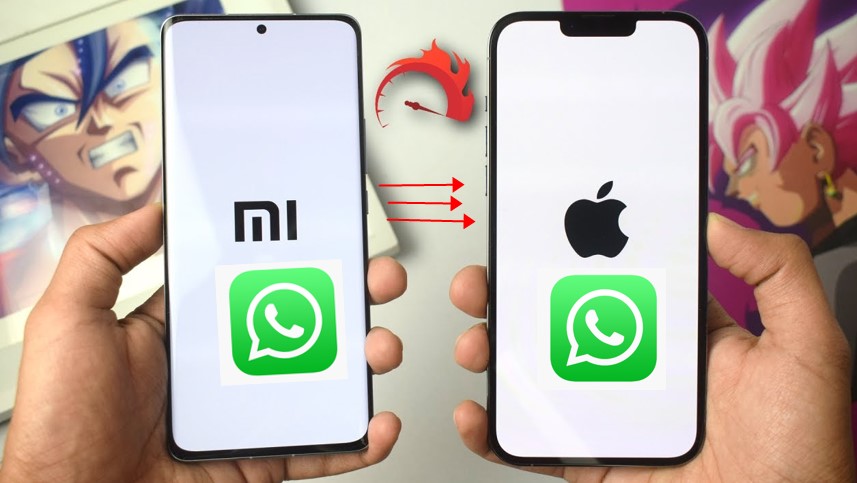 2.1 Transfer WhatsApp from Xiaomi to iPhone with Move to iOS App
Move to iOS App, was published recently, with the aim to transfer WhatsApp from Android devices to iPhone. This method will work availably to transfer WhatsApp from Xiaomi to iPhone. While this method works, it can be very confusing for beginners with so many complex steps, so we don't recommend it.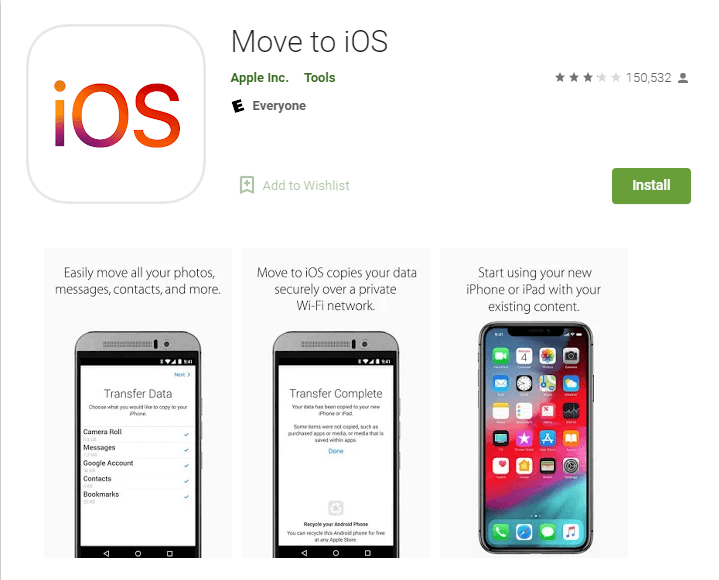 Cons
The whole operation is a little complex, so you need to be patient enough to wait it to complete.

It should be connect a stable WiFi network, you must start the operation again once the network is unconnencted.

Your iPhone must be a new phone or setted to factory settings, which can affect the use of other apps on your iPhone.
How to transfer WhatsApp chats from Xiaomi to iPhone using the Move to iOS app:
Step 1 Make sure the iPhone is factory reset; otherwise, this method will not work.
Step 2 Download the Move to iOS app on your Android.
Step 3 Go back to your iPhone and follow the steps until you get to the Apps and Data section. Click on Move Data From Android.
Step 4 A code will appear, which you will need to enter into your Android so you can confirm the proper phone is being used.
Step 5 Once you have paired the phones, your Android will connect to your iPhone through a temporary hotspot. You will be asked to connect to the iPhone's local network.
Step 6 After they are successfully paired, you will see many options in the Transfer Data section. Select WhatsApp from the list. If you have other apps you would like to transfer, now would be the time.
Step 7 WhatsApp will open up, and all you have to do is click Start for the process to begin.
Step 8 Both phones will show Transfer Complete when you are done.
2.2 Transfer WhatsApp from Xiaomi to iPhone with 100% Security
This method is the best overall and the one we recommend the most. WooTechy WhatsMover, as an official and professional WhatsApp data transfer tool, can easily and seamlessly transfer WhatsApp from Xiaomi to iPhone without any fassle.
In addition, all brands of Android devices like Xiaomi, Samsung, Huawei and more and iPhone devices, like iPhone 4 - iPhone 14 can be greatly supported, and also Android 13 and iOS 16 is allowed.
WooTechy WhatsMover – Your Best Choice to Transfer WhatsApp from Xiaomi to iPhone:
100.000+
Downloads
All Data Included: Support to transfer all types of WhatsApp data including messages, photos, videos, contacts, and other attachments from your old phone to a new one without any storage limitation.

100% Security: Ensure your WhatsApp data privacy and security during the whole transfer process with no data loss.

Simple Operation: Transfer WhatsApp/WhatsApp Business data between iPhone and Android devices in just 1 click.

Free WhatsApp Backup Function: Beside this WhatsApp transfer function, you can also be allowed to back up your WhatsApp data on iPhone or Xiaomi directly.
To transfer your WhatsApp data directly with WooTechy WhatsMover:
Step 1 Open Wootechy WhatsMover. Make sure you plug both phones into the computer using a working charging cable.
This step is crucial to make sure that your transfer doesn't corrupt. You may have to select Allow this device on your Xiaomi phone and Trust this computer on your iPhone device if it is the first time you connect it to your PC.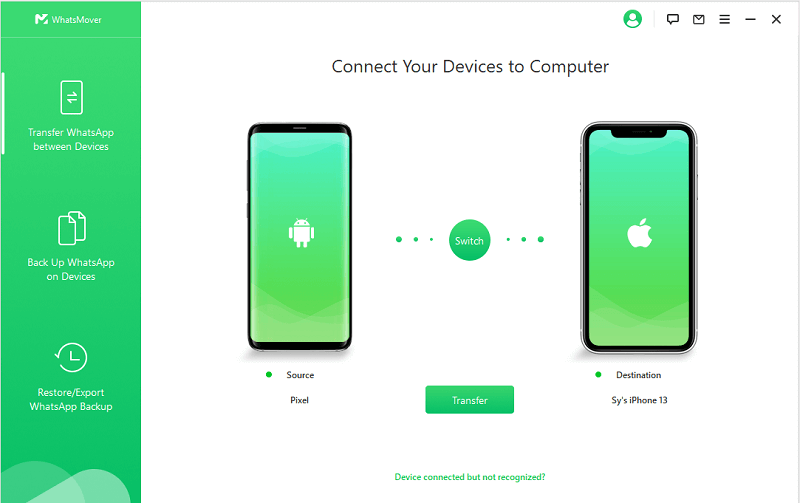 Step 2 Next, navigate to the Transfer WhatsApp between Devices from and ensure that the devices are correctly displayed (Source and Destination). This is another crucial step in making sure that no data gets overwritten.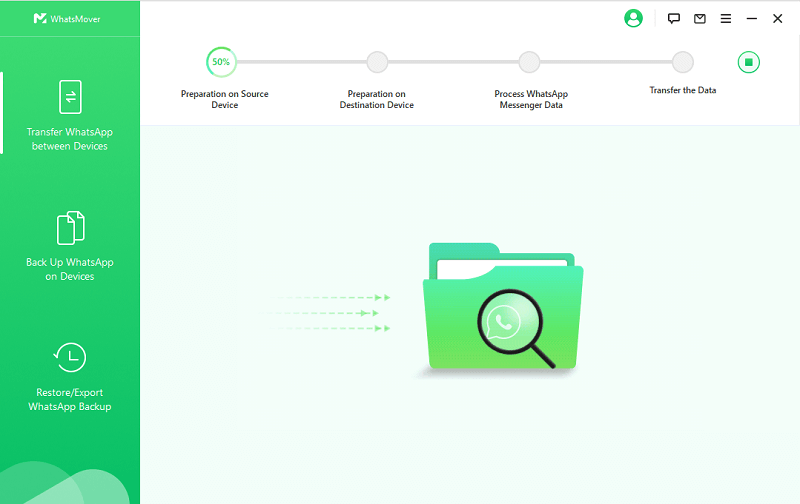 Step 3 Lastly, select Transfer and wait for it to finish. You are now done with the transfer and can use your iPhone as you please.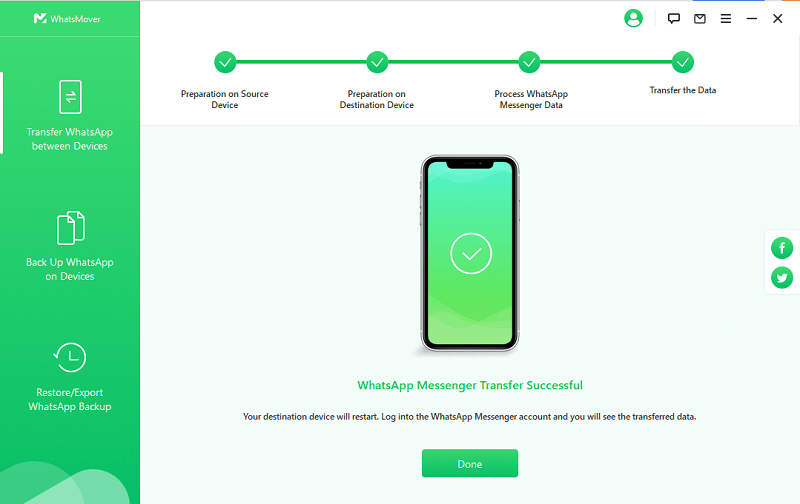 2.3 Transfer WhatsApp from Xiaomi to iPhone with WhatsApp Backup on PC
The third available method is to use WhatsApp back up on your PC, which can you achieved by WooTechy WhatsMover. Aside from the transfer function above, WhatsMover also supports to back up WhatsApp to PC and then restore the backups to your all models of iPhone devices.
This is an excellent option if you want to have the new data on your phone while also having a backup. However, this process will take a little longer but is manageable.
Step 1 Open WooTechy WhatsMover and connect your Xiaomi phone to PC with a cable.
Step 2 Instead of going to the Transfer section, go to the Back Up WhatsApp on Devices section. Here is where you will back up your Xiaomi phone to your PC.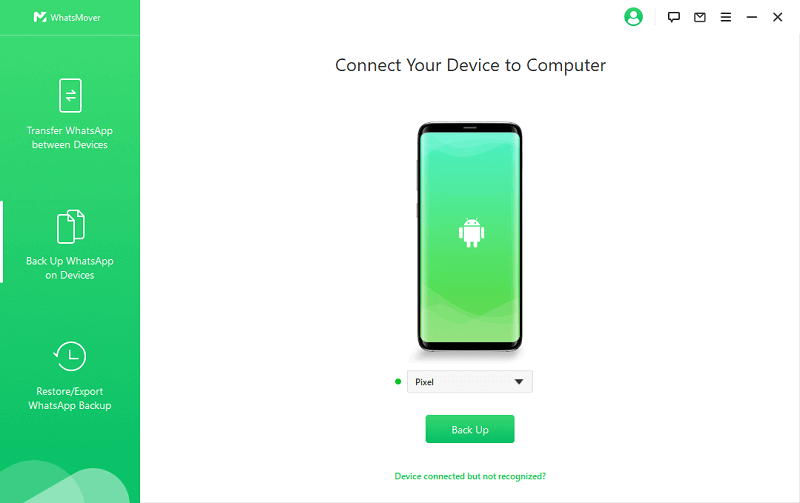 Step 3 Make sure that the Xiaomi phone is selected and hit Back Up icon.
Step 4 Wait for the process to finish and move on to the Restore/Export WhatsApp Backup section. Here is where you will transfer the backup from your Xiaomi to your new iPhone.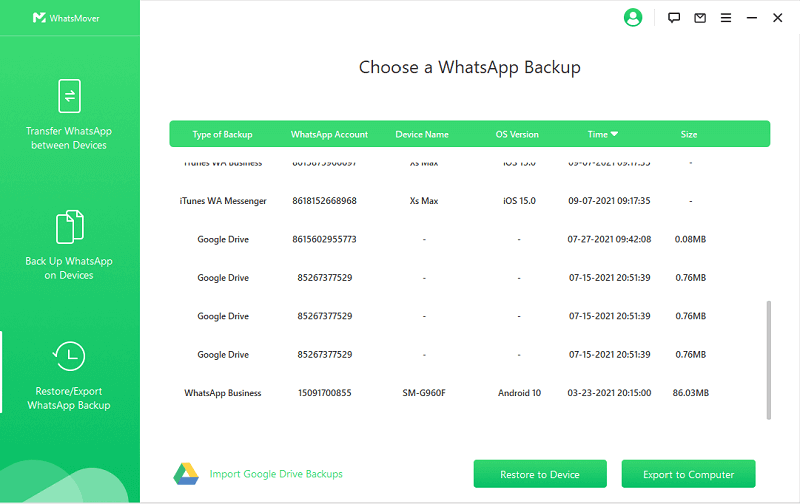 Step 5 Connect your iPhone device to the computer, In the Restore section, you will see your current backup, select the right one(along with the suitable device) and click on Next button. You can now use WhatsApp on your new iPhone, with all your data sencure.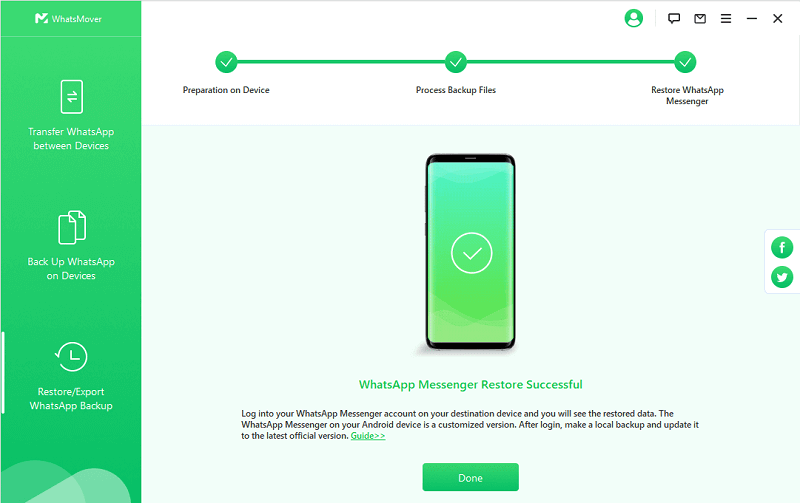 2.4 Transfer WhatsApp from Xiaomi to iPhone with Google Drive Backup on PC
Maybe, you will be curious about how can we use Google Drive to transfer WhatsApp messages from Xiaomi to iPhone, since Google Drive is the official cloud for Android devices, not support any iPhone device.
There is good news, however, WooTechy WhatsMover can get this difficult aim done. You can first log in your Google Drive account on this tool, and download the WhatsApp backups on your Xiaomi device you need, and then export them to your new iPhone device.
It's pretty easy to complete this process:
Step 1: Launch the WooTechy WhatsMover tool on your computer. select Restore/Export WhatsApp Backup option on the left side and click Import Google Drive Backups. Sign in your Google Drive account you used to back up your WhatsApp on Xiaomi phone with password.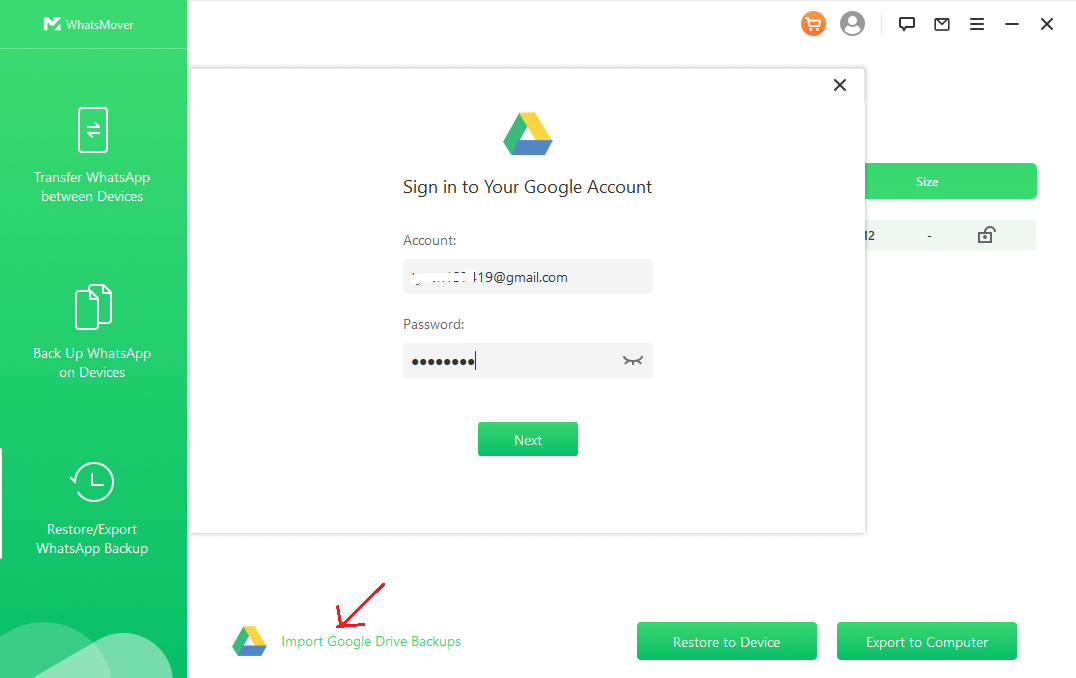 Step 2: Then you can see all the WhatsApp backups you backed up to your Google Drive on the screen. Choose the backup you want and tap on the Download button.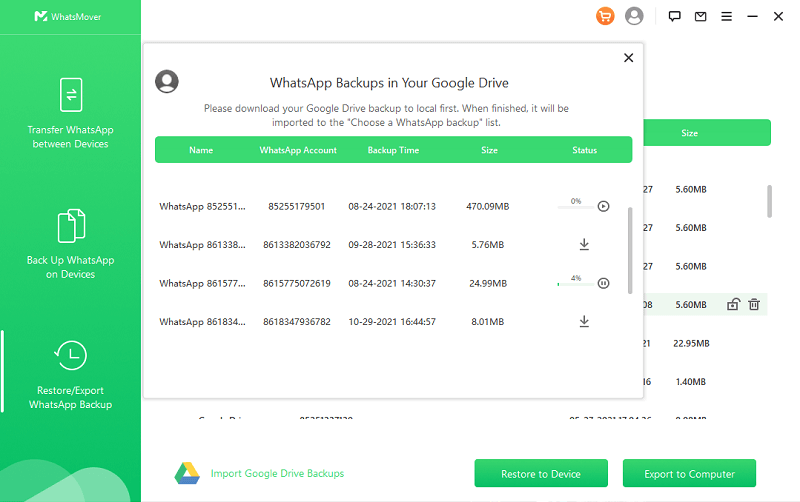 Step 3: Connect your new iPhone to the computer with a working USB cable, tap Restore to Device icon on the bottom left corner and tap on Restore button to start the process. Wait for a while, you can complete transferring the WhatsApp backup to your iPhone.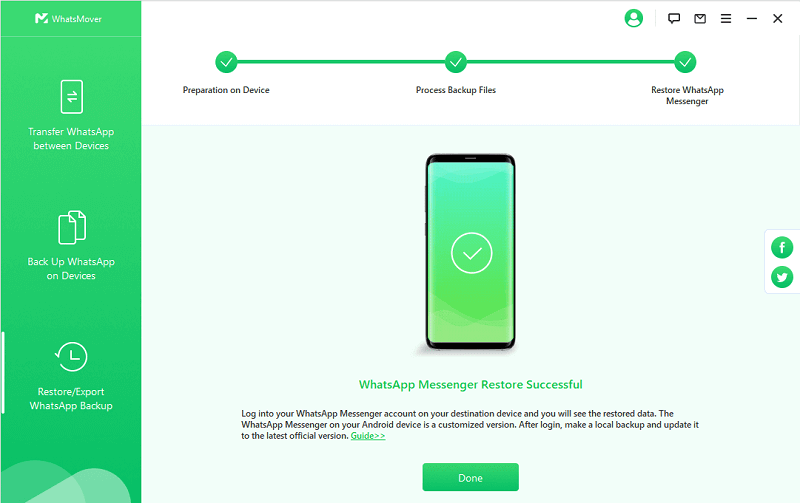 Well, this is WooTechy WhatsMover, bringing its perfect function for WhatsApp transfer, gives all the WhatsApp users the best use expeience with ease and convenience. Therefore, if you need to transfer WhatsApp from Xiaomi to iPhone, please never heisitate, just use this wonderful tool to get the aim done.
Part 3. Everything You Need to Know About iPhone 14
If you are trying to upgrade your iPhone and want to wait for the newest release, here is some helpful information about the iPhone 14. While nothing is set in stone, most of these leaks have been authenticated by credible insiders and can give the consumers a good idea of the upcoming model.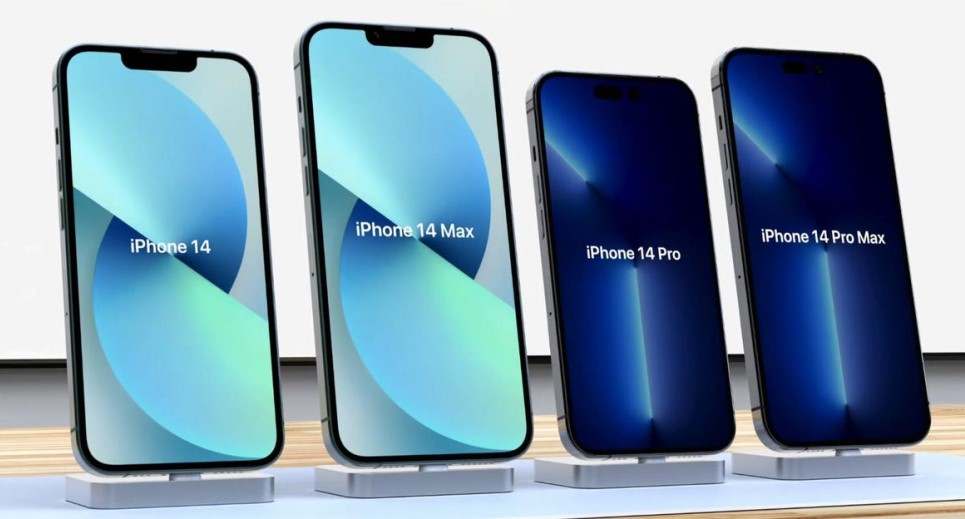 It is also rumored that the iPhone 14 will release in a few weeks (September 7), so we won't have to wait long.
Colors: Black, White, Red, Green, Blue, and Purple.
Storage: iPhone 14: 128 GB, 256 GB, and 512GB iPhone 14 Pro/Pro Max: 128 GB, 256 GB, 512GB, and 1TB
Size: 6.1-inch display for the iPhone 14 and 14 Pro, 6.7-inch display for iPhone 14 Pro Max
Prices: iPhone 14: $900+; iPhone 14 Pro/Pro Max: $1,100/$1,200+.
Specs: iPhone 14: 12MP Camera, A15 Bionic Chip, and 6GB RAM iPhone 14 Pro/Pro Max: 48MP Camera, A16 Bionic Chip, and 6GB RAM
Publishing Date: September 7th
Key Features:
Some notable features that could come into existence.

Removal of the notch design in favor of a hole-punched design.

Touch ID built within the glass.

Higher Quality Screen that supports more advanced versions of HDR.

iOS 16 improvements that skyrocket the efficiency and battery life of the new iPhones.

eSIM variant of an iPhone.
Conclusion
This article covered all the ways you could transfer WhatsApp from Xiaomi to iPhone. We gave you a beneficial WooTechy WhatsMover software that allows you to share your WhatsApp data between devices seamlessly.
We recommend keeping the software installed on your PC just in case you need it for further use because you never know when you will need to back up your data.