WhatsApp Business is a proper application for small businesses. You get to keep all your business affairs in the convenient premises of your trusted WhatsApp. However, you must have wondered how to backup WhatsApp Business data. And the following article shall hopefully answer every aspect of it.
Whether you are searching "backup WhatsApp Business on iPhone" or "backup WhatsApp on Android", the most well-rounded solution is using a professional WhatsApp management software like WhatsMover from WooTechy. Plus, we shall look into some other methods too.
Part 1. How Do You Backup Your WhatsApp Business Data?
There are a few tricks and methods at your disposal to backup WhatsApp business data. Firstly, you can use an app like WooTechy Whatsmover. This ensures the best result. Secondly, you might choose to back up your Whatsapp data on the iCloud or Google drive. Find these methods in detail below.
1

Back Up WhatsApp Business to PC Without Limitation

If you are looking to back up Whatsapp Business data to your PC seamlessly, your best option is to use a professional WhatsApp backup software such as WooTechy WhatsMover. It's totally free to back up your WhatsApp business data on Android and iPhone.
WhatsMover – The Powerful WhatsApp Business Backup Software
100.000+
Downloads
With unlimited and free storage, it backs up WhatsApp Business data to computer without any limitation.

With wide compatibility, it supports all iPhones and Android brands such as Samsung and Huawei.

With no data loss, it backs up your data in separate folders and it won't be overwritten or automatically deleted.

With a 100% safety rate, it takes a few clicks to back up your WhatsApp Business data.

With more functions than backing up, it also allows you to restore, export the backups and transfer WhatsApp Business data.
Follow the steps below to back up WhatsApp business:
Step 1 Open the program. Select Back Up WhatsApp on Devices. After that, connect your mobile devices to your computer. Allow USB debugging for Android phones, and trust the computer for iPhones.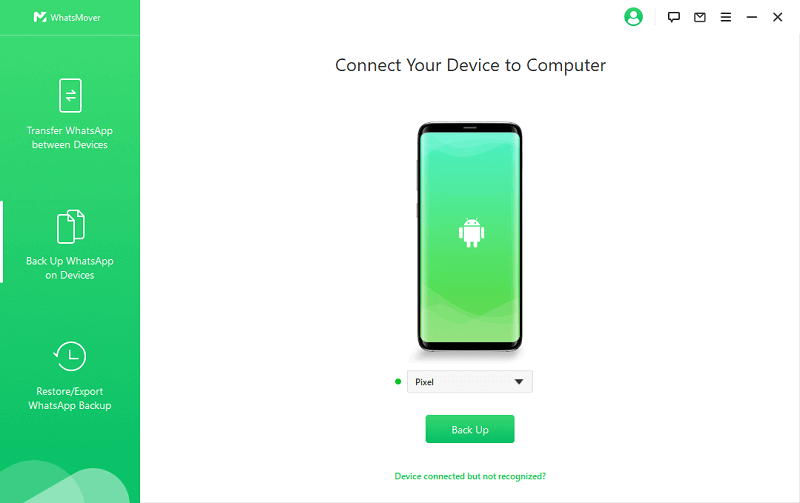 Step 2 Your computer will show a prompt on the screen that the app has recognized your phone. Now, click Back Up. Here, you can choose to back up WhatsApp Business.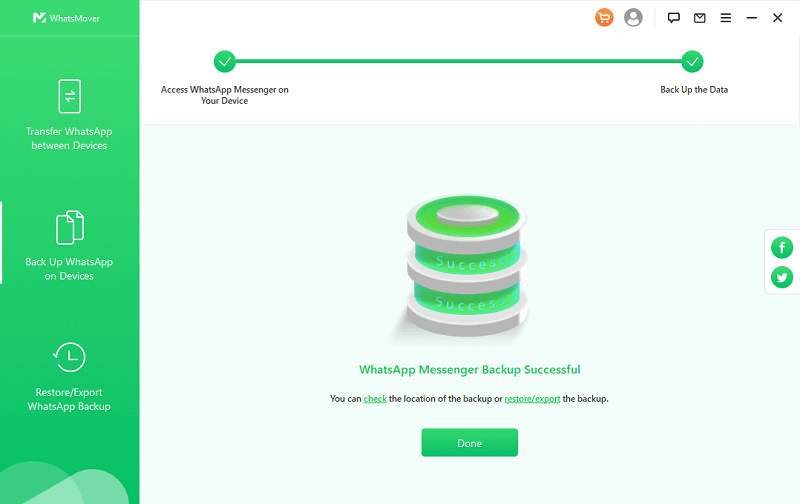 In the case of the iPhone, the process carries itself out directly. However, for Androids, it will first install a customized and safe WhatsApp application on your device.
That's it. It takes just 2 simple steps to back up your WhatsApp Business data when you are using WhatsMover. Moreover, the whole process doesn't take more than a minute or two. So, you will complete it before you even know it. Plus, this process takes care of all kinds of data, including WhatsApp Business chat backup.
2

Back Up WhatsApp Business on iPhone

If you are not able to use the third-party software for some reasons, then you can take the more complicated routes. For instance, iPhone owners can use iCloud for WhatsApp Business backup. However, Apple doesn't provide more than 5 GB of free space on iCloud. So, you may want to buy up some more space before proceeding.

As you may already know, the standard WhatsApp application can easily link to your iCloud Account. In the same way, you can back up the Business application too. Just follow the steps below.

Step 1 Open WhatsApp Business on your iPhone. Find the gear-shaped Settings icon and tap it.

Step 2 You will now see the list of settings for this app. From there, select Chat Settings. And then choose Chat Backup. Now, link your WhatsApp Business to iCloud from here.

Step 3 Tap Back up Now. This will create a complete backup of your WhatsApp Business interactions to the iCloud. You can also choose "Auto Backup" for an automatic daily or weekly backup of your data to the iCloud.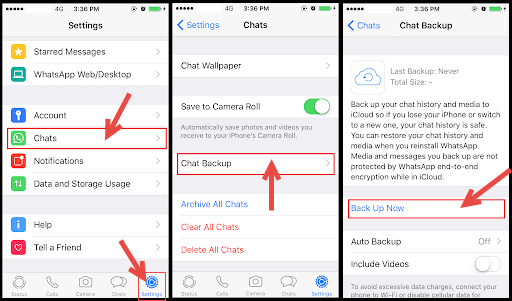 Restoration:
You can
restore the backed-up WhatsApp Business data
on your iPhone by reinstalling the app. Keep in mind that you have to use the same iCloud Account you backed up your data to. When you reinstall and launch the WhatsApp Business App, it will automatically identify the backup and restore it.
3

Back Up WhatsApp Business on Android

As you can back up your WhatsApp Business on iPhone with iCloud, you can do the same on Android with Google Drive. Here again, you first have to open the WhatsApp Business App on your mobile phone and go to "Settings." Then follow the steps as described below:

Step 1 From Settings, select Chats and then Chat Backup. You will be seeing a list of options on the screen now.

Step 2 Select Google Drive Settings. From there, choose your Google account and Tap on it. Check that the Google account is linked with Whatsapp. And if it isn't, then connect it.

Step 3 To back up WhatsApp Business data, tap on the Back up button. As with iPhone, here, too, you can go for an immediate backup and an automated periodical backup.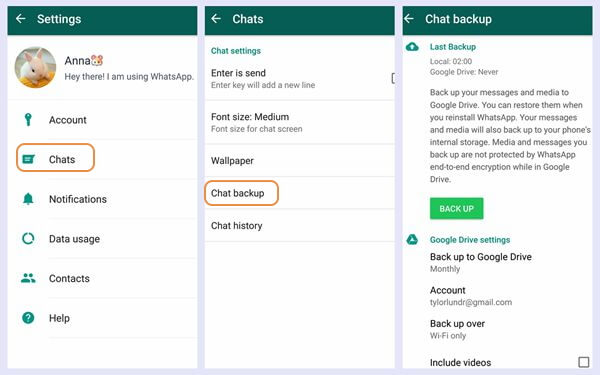 Restoration: Just like the former case of the iPhone, you can restore your backed-up data on Android too. To restore the WhatsApp Business backup on your Android, just reinstall the application. This will automatically detect the need for the restoration of a backup. Follow the screen prompts to complete the process.
FAQ. Where Are WhatsApp Business Backups Stored?
WhatsApp business backups are stored differently for iPhone and Android. In the case of the iPhone, your data doesn't store itself locally on the phone. Instead, it is stored according to your choice. And here, you have two options. You can either back up your WhatsApp data on iCloud or iTunes.
So, when you are an iPhone user, you will find your backed-up data on the site you chose to store. On the other hand, Androids can locally store your WhatsApp data. Here the file pathway is Sdcard > WhatsApp > Databases > Folders. However, you cannot access these folders without a File manager.
"Backup WhatsApp Android" is also available on Google drive. But it is kept hidden for security purposes. You shall first log in to your Google Drive to reveal the files. Then select Settings. Find and choose the "Manage App" option from the next panel.
You will then see an alphabetically arranged list of apps associated with Google Drive. Scroll down to find "WhatsApp Business." This is where your backup files are stored.
Backing up your business files is always a good idea. So that if your phone suffers from software damage or gets lost, you can always access your valuable data from the site you had selected.
Conclusion
Anyone running a small business from their WhatsApp needs to backup WhatsApp Business data. Otherwise, there's the risk of losing important files and chat histories in the event of an accident. And although there are a few tricks to do that, the best method is to use a professional tool like WooTechy WhatsMover for free and you won't have any concerns.