Encountered a SIM card problem with iPhone 14 or earlier iPhone models? Such as SIM Failure, SIM Not Valid, SIM Not Support, No SIM? If so, then be glad because your search ends here! This guide will show you why iPhone SIM failure and 6 simple & tested methods to solve SIM failure problem quickly. You will learn how to fix iPhone SIM failure issues within minutes!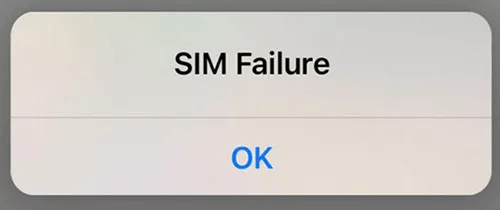 Part 1: Why iPhone SIM Failure?
Sim Failure is one of the most common iPhone SIM issues. This problem is quite annoying because it prevents you from making calls, sending or receiving text messages, even connecting to the Internet.
Why iPhone SIM card not working? Why iPhone SIM Failure? What Causes SIM Failure on iPhone? Here are 5 common major causes of iPhone SIM failure.
1. SIM Card Tray
SIM is connected to your iPhone through the SIM card. The most common cause for SIM failure on iPhone is moved SIM card or moved tray. If your SIM is not placed correctly on the tray or the tray is moved in both cases, you will face SIM card failure.
2. Damaged SIM Card
Another factor that aids in SIM card failure in iPhone is the damaged SIM card. If the SIM card that you are using is somehow damaged, it will not be detected properly, and it will cause a problem.
3. Malfunctioning of System
Not every time the SIM card causes trouble. Sometimes, it's the system itself. One reason for SIM failure is when the iPhone is problematic, it does not detect the SIM and causes the problem.
4. Problematic Software Update
Although software updates are supposed to provide a better and improved system, sometimes, the updates are glitchy and have bugs. In case you have installed any glitchy update, then most likely, you will have SIM card failure.
5. Active Plan
When you are talking about SIM card failure on iPhone, how can you forget to check your plan? You need to have an active plan with your wireless carrier for a properly working SIM card.
Part 2: How to Fix iPhone SIM Failure?
Well, you have already know the cause of iPhone SIM failure. Now comes the point - What to do if your iPhone says SIM Failure?
We tested and summarized 6 common and effective solutions, which will help you solve iPhone SIM failure problem with ease. Keep reading!
Method 1. Use Wootechy iSalvor to remove SIM lock
Have you changed your iPhone's SIM carrier? Then found that the new SIM carrier is not supported or invalid? If you see a message like "SIM Not Valid" or "SIM Not Supported" on your device, then the only thing you can do is to remove SIM lock and unlock SIM.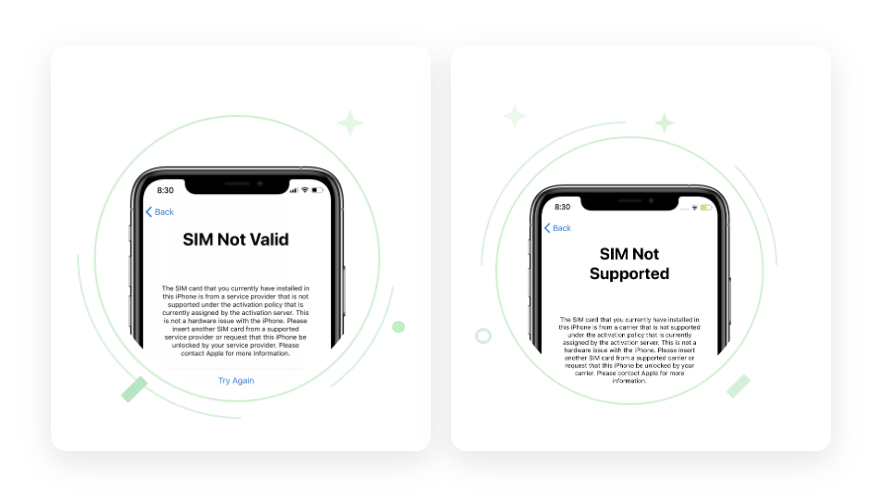 How to unlock the SIM card? How to remove the SIM card lock? The fastest and easiest way is to use the SIM lock removal tool WooTechy iSalvor. With just a few simple clicks, you can easily remove the SIM lock from your iPhone in a few minutes. After unlocking the SIM, you can use your iPhone without any restrictions or switch to another carrier, while all the features on your iPhone will remain unchanged. Let's see the power of WooTechy iSalvor!
Unlock iOS lock: Any lock on your iPhone, such as iCloud activation lock, screen lock, SIM card lock, can all be easily removed.
Support any carrier: Quickly unlock SIM no matter what carrier your SIM card is locked with.
High success rate: With advanced SIM unlocking technology, it has the highest success rate of almost all software in its class.
Easy to use: No technical requirements and the process is simple, anyone can use this tool to remove SIM lock from iPhone with one click.
Good compatibility: Support most iPhone models and iOS versions.
Full refund if unsuccessful: 30-day refund policy is always available. (although the high success rate makes this policy useless)
How to Unlock iPhone SIM with Wootechy iSalvor?
Step 1. Download and launch WooTechy iSalvor on your computer and select the Remove iPhone SIM Lock option.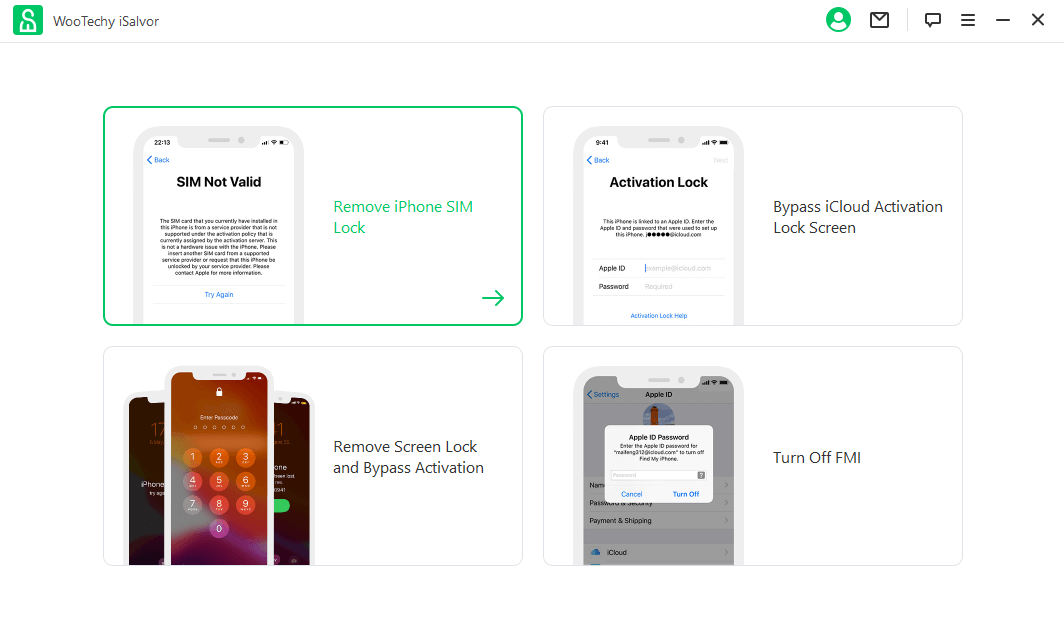 Step 2. Connect your iPhone to computer.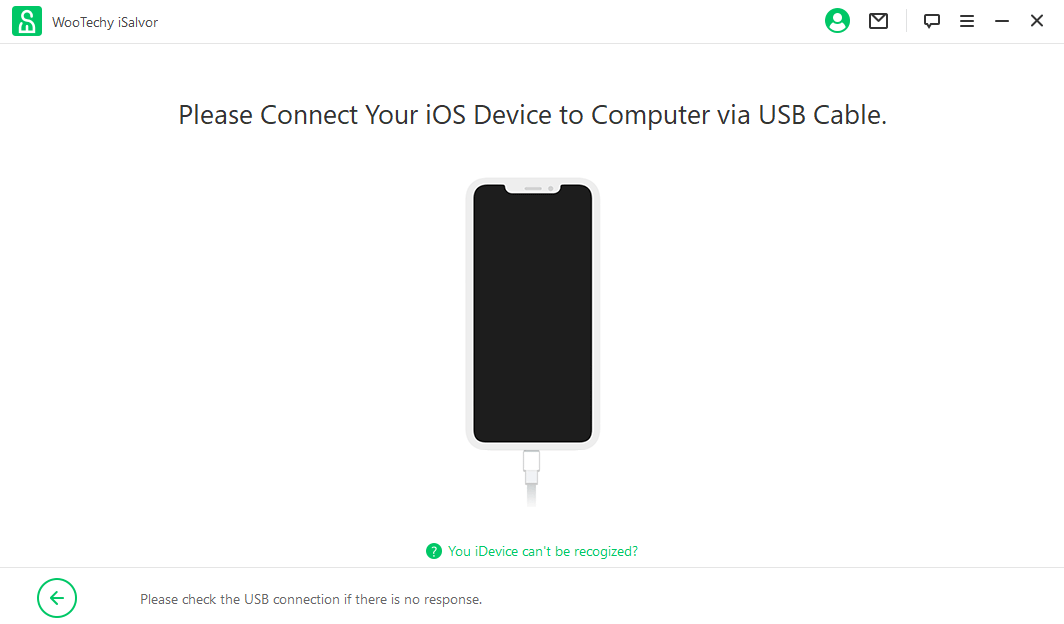 Step 3. Jailbreak your device. If you are using Windows, click the Jailbreak Tutorial for a detailed guide. If you are using Mac, then follow the on-screen instructions. After jailbreaking, click Next to continue.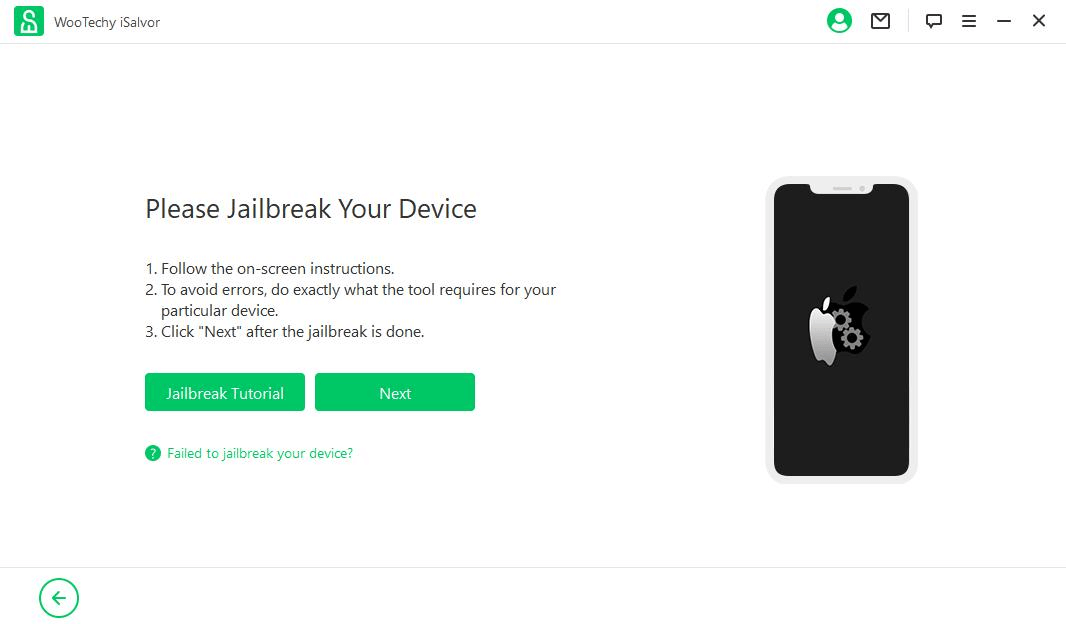 Step 4. Click Start and WooTechy iSalvor will begin removing the SIM lock on your iPhone.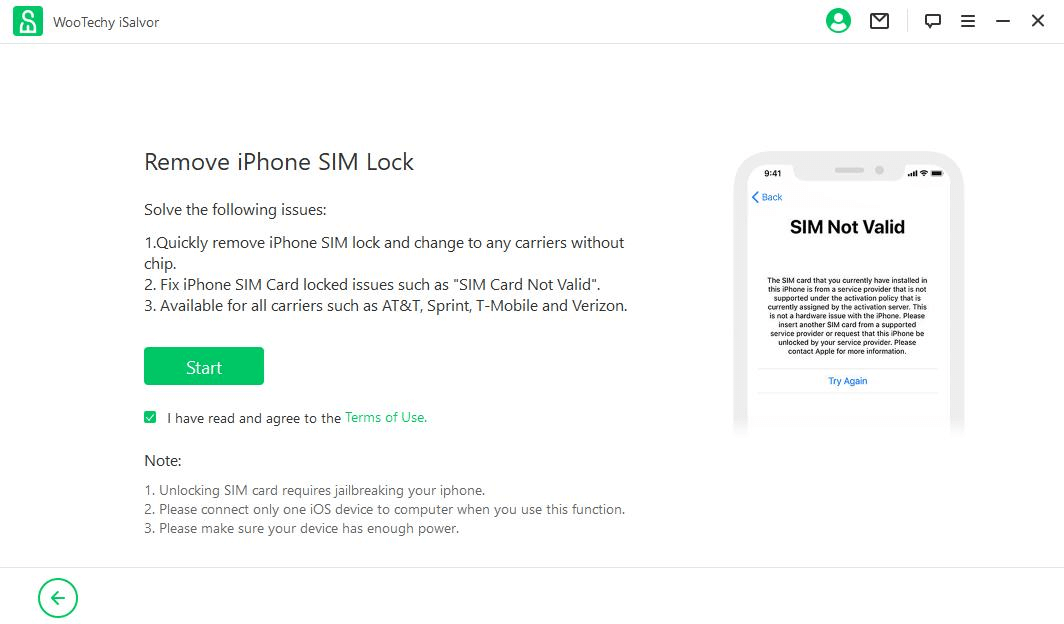 Wait for several minutes and you will see the successful message on the screen. Now your iPhone can be used with any SIM card.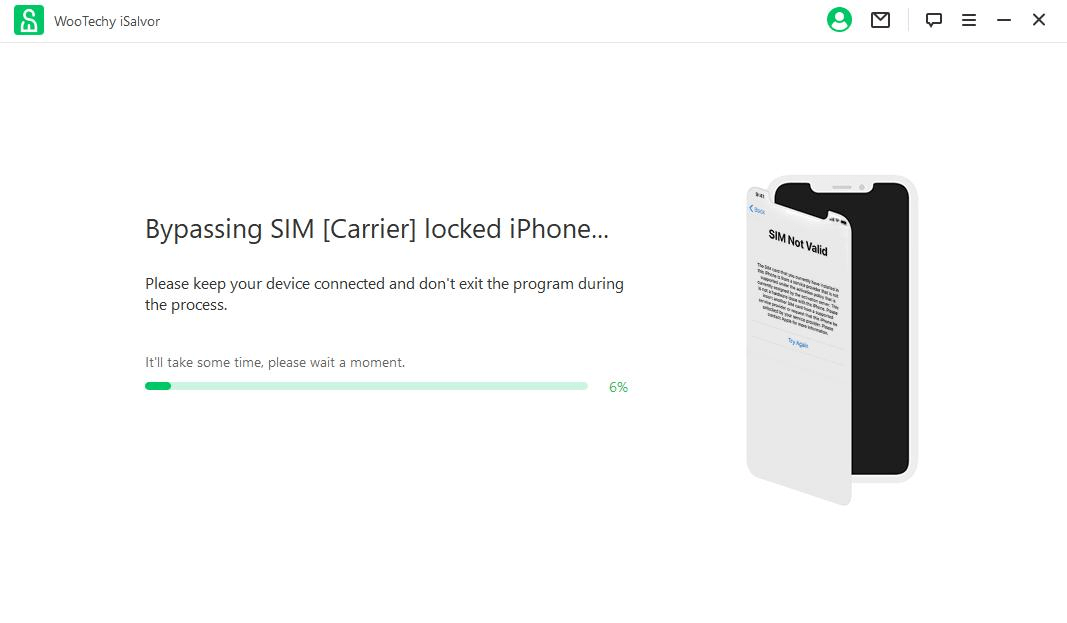 Method 2. Restart iPhone to Fix SIM Failure
The easiest way to fix a SIM card failure is to reboot your iPhone (this is also the easiest way to fix most iPhone failure problems). It doesn't matter how long ago it was, restart it again now! Often a simple reboot is all it takes to fix the problem.
How to reboot iPhone of different models?
iPhone X and newer: Press and hold the Volume Down button and the Side button at the same time until the Shutdown slider appears. Drag the slider and wait for iPhone to restart.
Other iPhone models: Press and hold the side/power button until the shutdown slider appears. Drag the slider and wait for the phone to reboot.
Method 3. Reinsert the SIM card to Fix SIM Failure
The most common cause of SIM card failure is that the SIM card is not inserted properly, or there are foreign objects such as dust on the SIM card or tray. Therefore, you can try to remove the SIM card and reinsert it again to see if you can get rid of this annoying problem.
If your iPhone has a SIM card tray, you can remove the SIM card tray from the device, wipe the SIM card and tray with a clean cloth, then make sure the SIM card is properly placed in the tray before reinserting it.
Method 4. Update Carrier Setting to Fix SIM Failure
If your service provider offers a new update, then your iPhone may no longer support the older version. In this case, you just need to update the carrier settings and the SIM card failure problem will be solved.
How to update carrier setting on iPhone?
Step 1: Go to "Setting" > "General".
Step 2: Open "About" and scroll down to Carriers.
Step 3: If there is an update, you will see an update option here. Just click "Update".
Method 5. Upgrade iOS to Fix SIM Failure
An overly outdated operating system on the iPhone can sometimes lead to SIM card failure issues. And Apple releases system updates that often solve some of the problems that affect its operating system, including SIM card failure. Therefore, you can update your iPhone to the latest iOS version to see if it can solve the problem.
How to update iOS?
Step 1: Make sure your iPhone is connected to the network.
Step 2: Go to "Setting" > "General" > "Software Update".
Step 3: If an update for iOS is available, click "Download and Install".
Method 6. Contact Apple Support to Fix SIM Failure
If after trying the above 5 methods, you still haven't solved the problem of SIM card failure, then your iPhone may have a hardware problem.
In this case, you need to contact Apple support team who will diagnose the problem and find a solution for you.
The point that has to be stressed here is to make sure you have tried the first method before contacting Apple support. Because believe it or not, it's the most effective and fastest method.
Conclusion
Now you must have got rid of the annoying iPhone SIM card not working problem by the above 6 methods and you can use your SIM card without any failures. If you want to remove iPhone SIM lock from different carriers, then you must try WooTechy iSalvor, which can quickly remove SIM lock from iPhone with just a few clicks. After SIM lock removal, you can use your Apple device without any restrictions and all the features will remain intact! Download and try it now!