If you own an Apple product, you should know that once your device is locked by activation lock, no one can unlock the device without the credentials. Even yourself.
However, if you really got yourself in an awkward situation where you forget your Apple ID or you get a locked device from a seller, then you should know it is possible to bypass iCloud lock through the iCloud activation bypass tool.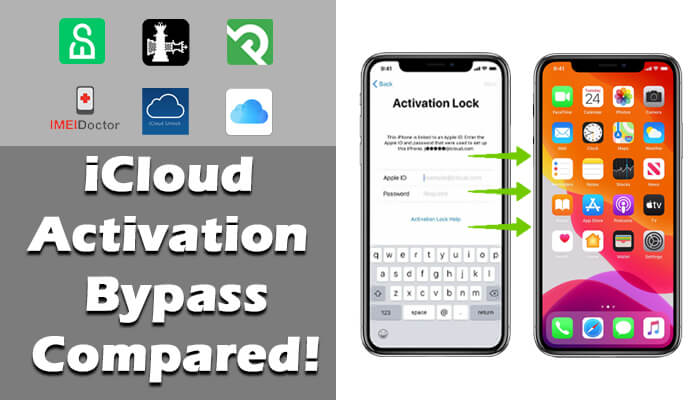 There are dozens of iCloud activation lock bypass tools and iPhone activation unlock softwares in the market, but not every of them can achieve this goal as you wish. Therefore, today we are going to introduce the best iCloud bypass tools as well as some online unlocking services. So, stay with us.
Part 1: Top 3 iCloud Bypass Tool
Using a dedicated iCloud activation lock bypass tool is the most reliable way to bypass iCloud activation lock on your Apple device. And you can choose any of the tools introduced in this article based on this comparison table.
| | | | | | |
| --- | --- | --- | --- | --- | --- |
| Product | Success Rate | In-App Jailbreak | Time Required | Supported Platform | Price |
| WooTechy iSalvor | High | Yes | 3 to 5 Minutes | Mac and Windows | Free Trial/$39.95 |
| iBypasser | High | Yes | 7-9 Minutes | Mac and Windows | Free Trial/$39.95 |
| iRemove Tools | Medium | No | 15 to 25 Minutes | Mac Only | $59.99 |
No.1 WooTechy iSalvor
The first iCloud activation lock bypass tool on our list is WooTechy iSalvor. Among all the similar tools on the market, iSalvor is probably the most promising and easy-to-use one. This application can help you get rid of the iCloud activation problem without any hassle. You don't need to be an expert to use the software because it's simple and straightforward. Within several simple steps, you can unlock your Apple device from the iCloud activation lock at home. Check some prominent features of it below.
Features of WooTechy iSalvor
Bypass activation lock without Apple ID and password.

Support various iPhone devices from 5S to the iPhone X regardless of their iOS versions.

Include one-click jailbreaking function and enable you to freely customize your device.

Remove the device from previous Apple ID completely for privacy safety.

30-day money back guarantee for highest safety.
How to Use iSalvor to Bypass iCloud Activation Lock:
It's safe to say that with WooTechy iSalvor, bypassing iCloud activation has never been so easy. You only need to download and install the software on Mac (Mac OS 10.13-10.15) or Windows (7,8,8.1, and 10). Then, follow three simple steps below to unlock your device.
You can also watch the video below to learn how to use WooTechy iSalvor.
Step 1: Launch WooTechy iSalvor on your computer, then click Bypass iCloud Activation Lock Screen to begin. Once done, connect your device to your computer with a lightning cable.
Step 2: Jailbreak the device. If you are using iSalvor on Mac, then it automatically provides the jailbreak package according to the device and help you through the jailbreaking process. If you are using iSalvor on Windows, you need to jailbreak on your own. Don't worry. iSalvor provides a detailed instruction for jailbreak on Windows, and all you need to do is following the guide.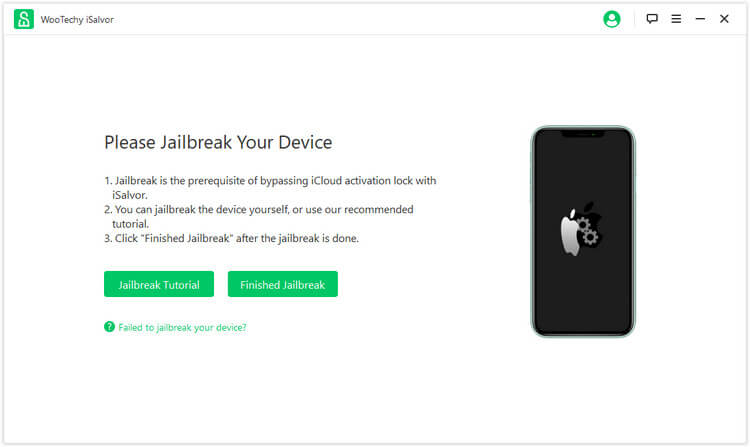 Step 3: Here comes the last step. You will see the device details on the screen. Check the model, IMEI, iOS, and every other information. Then, click the Start Bypass button.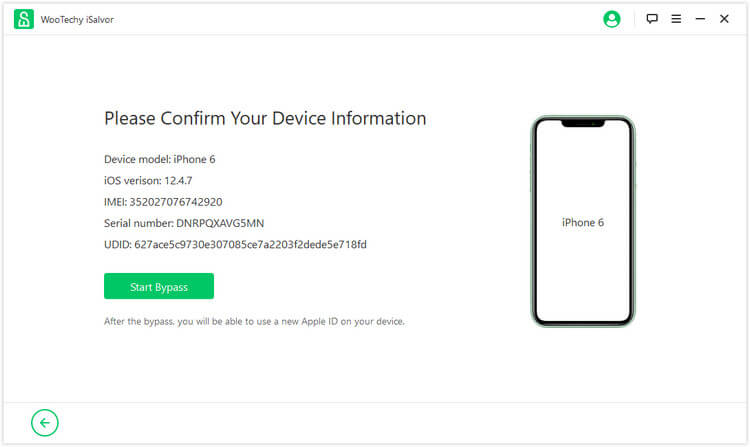 iSalvor will take only a few minutes to bypass the lock. Once the process is completed, you can regain access to the device without previous Apple ID or password.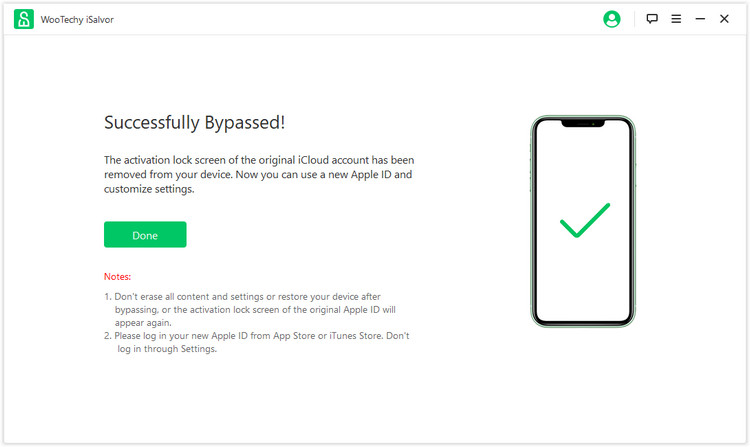 No.2 iBypasser
iBypasser is another iCloud bypass tool available on both Windows and Mac. Much like iSalvor, iBypasser has an intuitive user interface, and works for a wide range of Apple devices from iPhone 5S to iPhone X running iOS 12.3 and later versions, excluding iOS 15.
However, the customer service is not available all the time as it said. Many users have complained that their problem could not get solved in time. Besides, after the unlocking, you can not log in your new Apple ID directly. Instead, you need to do that via App Store or iTunes Store, which is not convenient in some way.
To use the iBypasser, you need to download and launch this software on your PC and choose the corresponding mode to bypass the iCloud activation lock. Then just follow the on-screen instructions to jailbreak your device and then finish the whole process.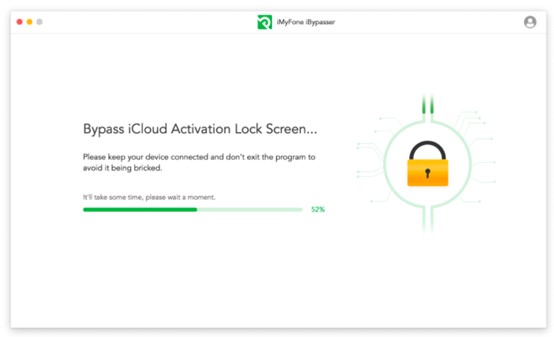 iBypasser does a great job in bypassing activation lock. We tested it on a Mac computer. It doesn't support all Apple device. While for the ones that it does support, the bypassing process was simple and fast. The interacting logic is very similar to WooTechy iSalvor. So if iSalvor doesn't work out for you, trying iBypasser would be a great choice.
No.3 iRemove Tools
iRemove Tools is an excellent tool if you want to remove the iCloud activation lock. No matter why your phone is locked, it will remove the lock without any hassle. The best thing about the software is that there are free versions for iOS 12.1 or lower, but if your phone has a new iOS from 12.3 to 13.6, then you need to buy it. What's more, the software has a "checking version" that you can use to check the compatibility for free.
However, you can not buy the software for multiple versions of device as the price varies based on the iPhone models. It can cost up to $69.99 for the iPhone X. So it can only be a cost-effective choice when you have an older version of iPhone, such as iPhone 5S, which only needs $29.99. Besides, iRemove is only compatible with Mac computer and have no built-in jailbreaking function.
To use iRemove for iCloud activation lock bypass, you need to jailbreak your device on your own. After that, launch this tool and connect your device to the computer. If your device is properly jailbroken, you should be able to see the device information on the program interface. Then click the Start Bypass button to finish the whole process.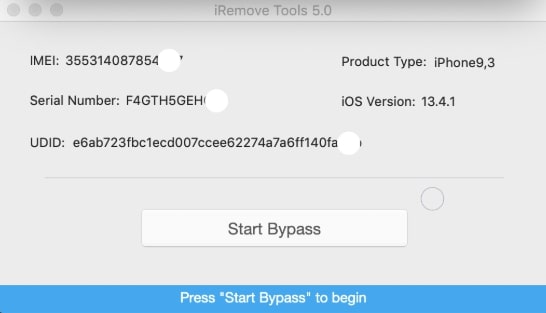 Part 2: Top 3 Apple Activation Lock Bypass Online Services
Besides dedicated iCloud activation bypass tools, there are also many online iCloud unlocking services that claim to be able to bypass the activation lock for various Apple devices. Because most online bypass services require an upfront payment, we did not try them out ourselves. All information below are based on the official introduction and online reviews. Please think twice before actually making the payment.
| | | | | | |
| --- | --- | --- | --- | --- | --- |
| Product | Upfront Payment | Time Required | IMEI Required | Accepted Payment | Price |
| IMEI Doctor | | 3 to 5 Days | | Visa, Mastercard | Starts at $28 |
| Appleiphoneunlock | | About A week | | Visa, Mastercard | Starts at $28 |
| IMEIUnlockSIM | | About A week | | Visa, Mastercard, PayPal, American Express | Starts at $10 |
No.1 IMEI Doctor
This is the simplest service that can remove the iCloud activation lock without any hassle. But it's not guaranteed that your lock will be removed successfully. You will receive an email about whether your device is eligible for the service or not after applying for the service. Furthermore, you need to wait for a few days if you want to get your device unlocked.
To use this service, acquire the IMEI number from your phone by dialing *#06#. You can also check the number on the back of your phone or box. Next, submit the IMEI number of your device and make the payment. Once you provide the details and complete the payment, you will receive a confirmation email. After that, you have to wait for a few days, and the company will get back to you with a final result.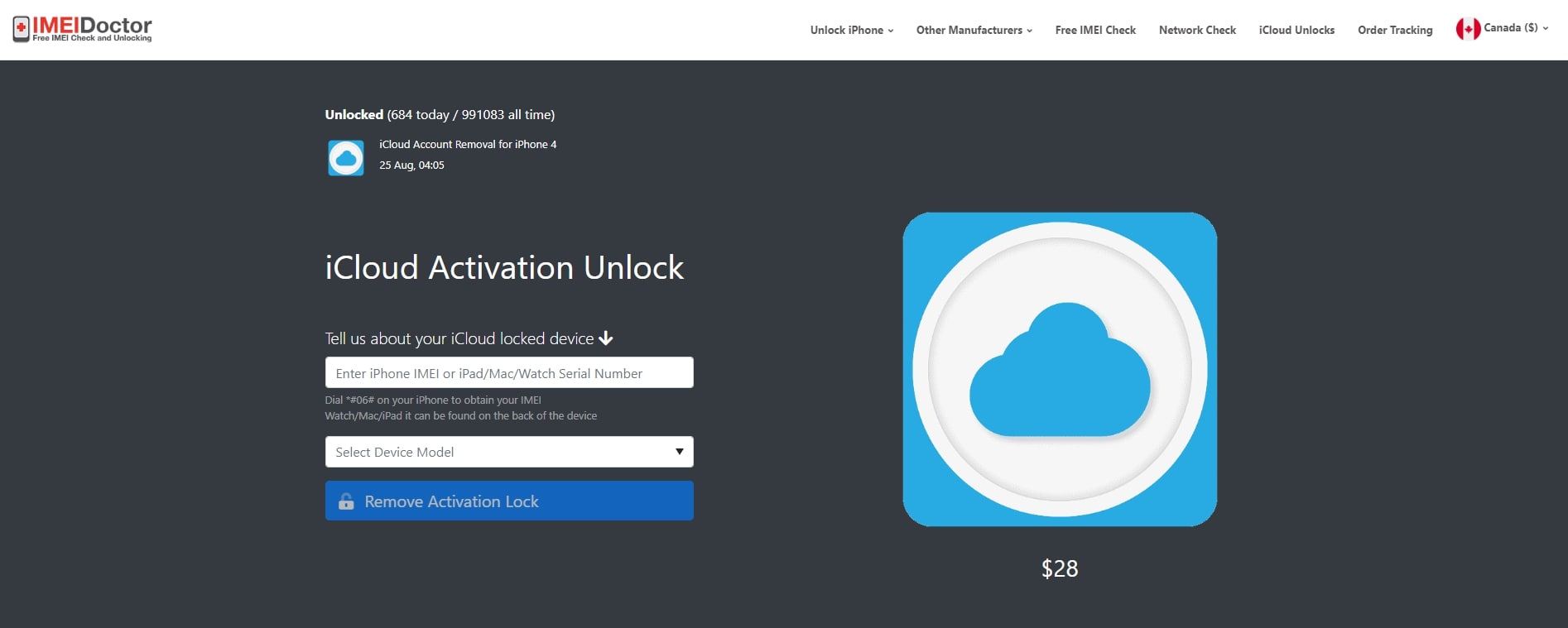 No.2 Appleiphoneunlock
Appleiphoneunlock is another online activation lock bypass service that supports a wide range of Apple models. They promise a 24-hour delivery and claim a permanent removal of the activation lock.
Like other similar services, Appleiphoneunlock also requires an upfront payment. It accepts credit card, but no information about money back guarantee is found on the website. The price starts from $28, but for newer Apple devices the price could be much higher, even more than $100.
Like IMEI Doctor, Appleiphoneunlock also requires the IMEI serial number of your Apple device. The process is also kind of similar. You provide the information of your device, make the payment, and wait for them to unlock your device.

Learn more about Appleiphoneunlock activation lock removal service here >>
No.3 IMEIUnlockSIM
IMEIUnlockSIM is an online service that claims to be able to remove the activation lock from ANY Apple device. On the website, you get to choose your device model, submit your IMEI number and then easily make the payment. What makes it different is that the time you wait for is a little bit longer than the 2 services above.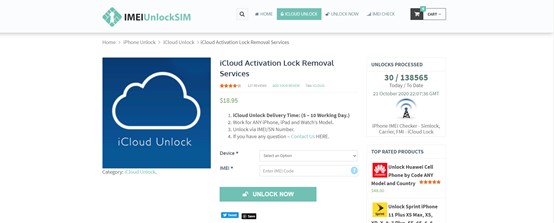 Tips and FAQs About iCloud Activation Bypass
Before you start to bypass the activation lock on your device, there are still some tips and FAQs you should know about.
Q

Is iCloud Activation Lock Bypass Legal?
If you are worrying about the legitimacy of iCloud activation bypass or the iPhone activation unlock software, then, worry no more, it is legal to bypass iCloud activation lock on your own Apple device.
However, if the Apple device that you are trying to break is not legitimately owned by you, you could get prosecuted. Not because of the act of bypassing activation lock, but because of property or information theft.
Q

What Happens After the Activation Lock Gets Bypassed?
Most legit activation lock bypass tools will erase your device after a successful bypass. Besides, the cellular function will also be disabled.
Because Apple's strict security measures, there is barely any solution that can bypass the activation lock without erasing data and disabling cellular function so far. Those services or tools that claim otherwise are highly likely to be scams.
Q

Does Jailbreak Bypass Activation Lock?
Most jailbreaking tools do not remove activation lock in the process. However, tools like Checkra1n allow you to remove activation lock with jailbreak. But the process would be highly complicated.
Q

Is There a Free Activation Lock Bypass Tool?
There used to be free online services or loopholes like bypassing activation lock via DNS for free a couple of years back. But as Apple keeps updating its security policy, there is barely any free ways for you to remove iCloud activation lock now.
You can keep up with the latest discussions in Apple communities or relative forums for new loopholes, especially when a new version of iOS gets freshly released. But even there are loopholes they will certainly be fixed within a very short amount of time. So, don't put too much hope on it.
Q

How to Tell if an Activation Lock Bypass Tool is Scam?
Always think twice before making a payment without trying out the services or software. Applications like iSalvor allow you to have a test run before the payment, which guarantees the safety of your money. Besides, it has a 30-day money back guarantee for dual protection of your money. However, many other applications or online services require an upfront payment, that's where you need to be extra careful for scams.
Q

Bypass Activation Lock: Online Service or Dedicated Software?
Based on our own experience and research, dedicated software is more reliable regarding to iCloud activation lock removal. On the other hand, online services usually require an upfront payment, and there is almost zero guarantee for the bypassing result.
Final Thoughts
We understand how frustrating it is to see iCloud activation lock on the phone when you don't know/remember the Apple ID and password. Fortunately, you can easily remove it with the help of iCloud bypass tool or service. However, there are dozens of so-called iPhone activation unlock software and Apple activation lock removal tool, but most of them are scams. So we have shared a few tools and services to get rid of this problem. And we recommend WooTechy iSalvor the most, which is such a powerful and reliable tool that is compatible with the most iOS versions. Now enjoy your device once again!