If you're stuck on the iCloud activation lock and looking for a workaround to bypass iPhone 6 activation lock with dial pad, then you've come to the right platform.
Over the years, activation lock has proved to be the most versatile security feature in Apple devices. But it can also land you in trouble if you've bought a second-hand iPhone only to find out later it's already locked by activation lock.
Before you start worrying, let me tell you that bypassing the activation lock is easier than you think if you use the right methods and that's exactly what this article is going to discuss. Without wasting more words, let's find out.
Part 1. How to Bypass Activation Lock on iPhone 6/6S with Emergency Dial Pad
One of the easiest methods to bypass the activation lock on your iPhone 6/6s is by using the emergency call feature of your locked device. Even on the activation lock screen, there's still the option of an emergency call.
This method has worked well for quite a few iPhone users and since it's totally free and just takes about 5-10 minutes, it's worth a shot.
Follow the below steps to bypass activation lock using emergency dial pad:
Step 1: Switch on your iPhone and choose your language and region to enter the activation lock screen. Here, tap the Home button 3 times to turn Voice Commands on and again tap three times to turn it off.
Step 2: Now, tap back button to go to the Start screen and then, tap on Home button. A pop-up window will appear; choose the Start Over option.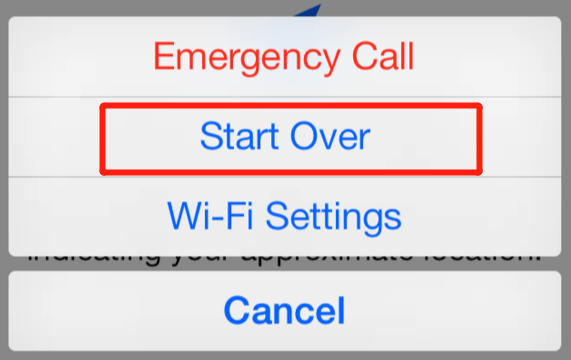 Step 3: After that, tap the Home button again and now choose the Emergency Calls option. On the dial pad, type "*#96274825*0000*1#" and tap the call icon 10 - 15 times.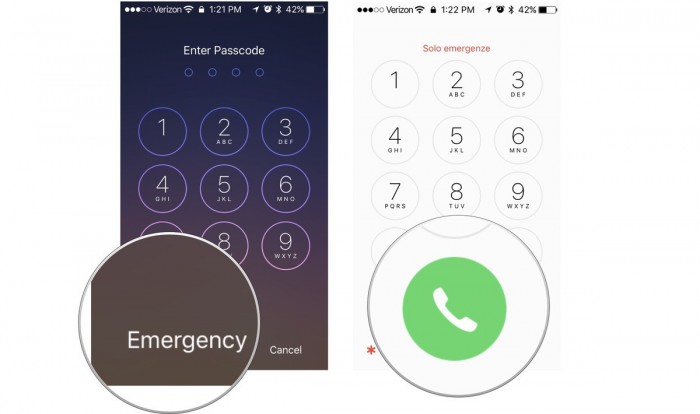 Step 4: Now, replace the last digit (1) with 2, and then again, tap on the call icon 10-15 times. Repeat the same process by incrementing the last digit from 1 to 9 and after you reach 9, enter 0 and do this for one last time.
Step 5: Finally, tap the back button to go to the main screen, select your language and region, and your iPhone 6 will show the bypass screen.
Step 6: Now, you need to choose the passcode and then follow on-screen instructions to complete bypassing activation lock.

The biggest pitfall of this method is that it's compatible with only iOS 12.1.4. In all other cases, it doesn't bypass the lock.
Part 2. 3 Better Options to Bypass Activation Lock on iPhone 6/6S without Emergency Dial Pad
Since the abovementioned method has very limited compatibility, we are presenting three even better alternative methods users can rely on to bypass activation lock. Rest assured, at least one will help you out.
1

WooTechy iSalvor

When it comes to activation lock tools, WooTechy iSalvor has no parallel. It is rightly considered as the most reliable software to activation lock quickly and safely. Regardless of what iPhone model or iOS version you're using, you can always fall back on iSalvor to get past the activation lock screen.

iSalvor has won numerous accolades for its users-intuitive interface, ease of use, and high efficiency in bypassing the activation lock screen. What's more, it doesn't cause any harm to your device.
Here is a video tutorial for you to learn how to bypass activation lock on iPhone 6 without dail pad.
Follow the below steps to bypass Find My iPhone activation lock on your iPhone.
Step 1: After installing iSalvor on your computer, launch it and hit on "Bypass iCloud Activation Lock Screen" on the main interface.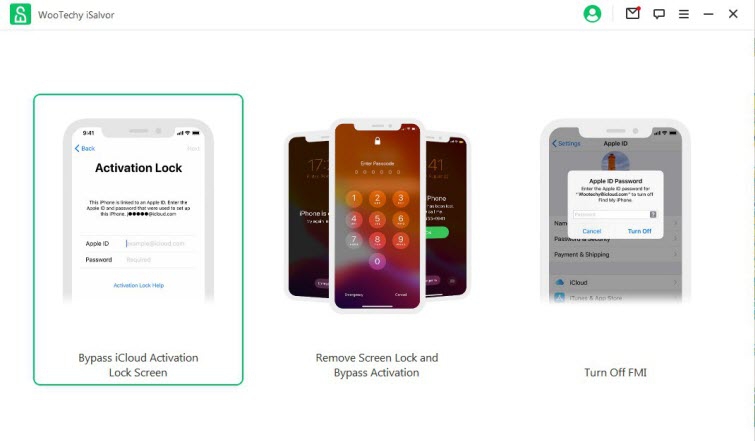 Step 2: On the next interface, click on "Start" to and connect your locked iPhone to it.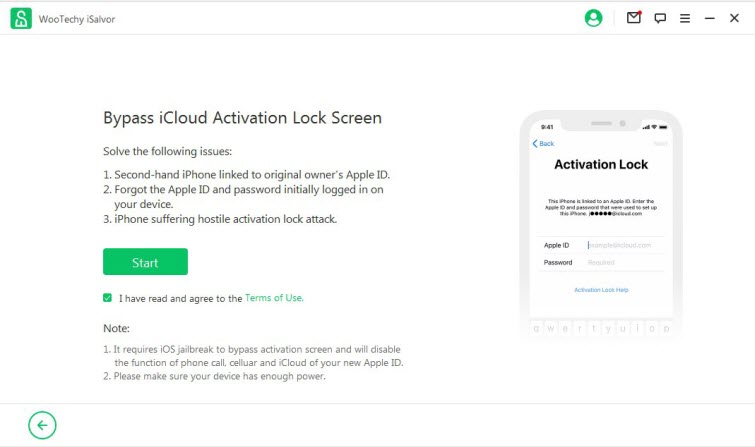 Step 3: Now, you need to jailbreak your device. The procedure is a bit different for Mac and Windows users.
For Mac Users:
iSalvor will determine the right jailbreak package for your device and download it. Click on "Start Jailbreak" when it's downloaded.

Now follow the on-screen instructions carefully to put your locked iPhone into the recovery mode and then click on "Next" to proceed.
For Windows Users
On Windows PC, you need to watch and follow the inbuilt "Jailbreak Tutorial" to enter into the recovery mode and then click on "Finished Jailbreak" to continue.
Step 4: Now, iSalvor will display your iPhone's details on the screen. Confirm the information and hit on "Start Bypass".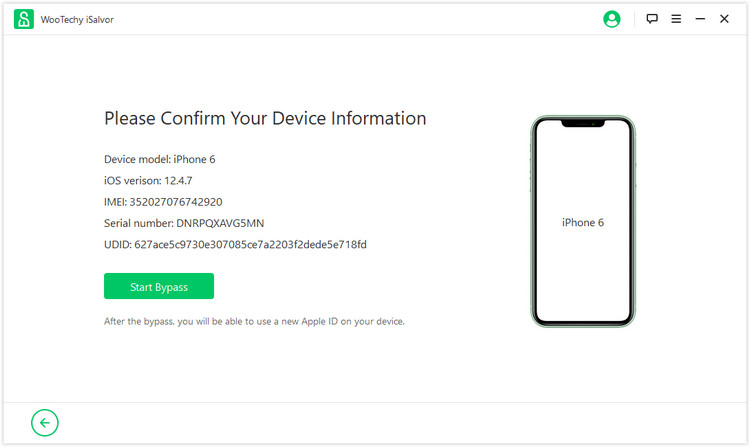 Hardly a few minutes later, iSalvor will bypass the activation lock. Hit on "Done" to exit and then start using your iPhone by setting a new Apple ID.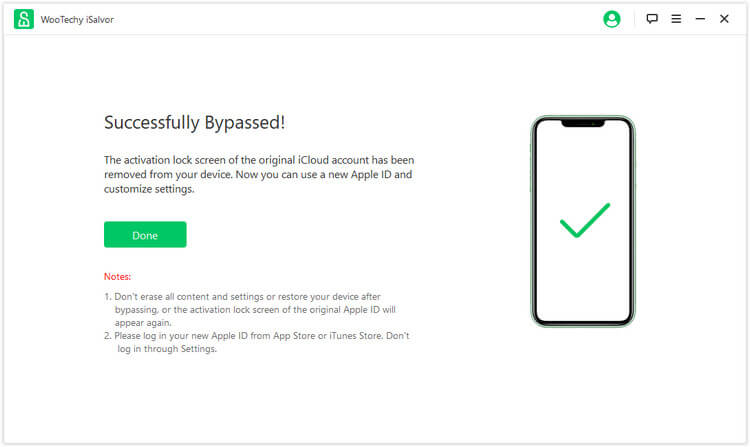 2

3uTools

Just like iSalvor, 3uTools is another well-known, multi-featured iOS tool that can assist users in bypassing the activation lock. Apart from being free, 3uTools is super-quick, trustworthy, and has a user-friendly interface which makes it a top choice even for novice iOS users.

Follow the below steps to remove the activation lock using 3uTools:

Step 1: Download and install 3uTools on your computer. After that, put your iPhone into the Recovery Mode and connect it to the computer via a lightning cable.

Step 2: On the 3uTools main interface, choose "Flash and JB" from the upper tab and then select "Easy Flash." The program will show a list of firmware packages compatible with your device. Choose a version and hit Flash.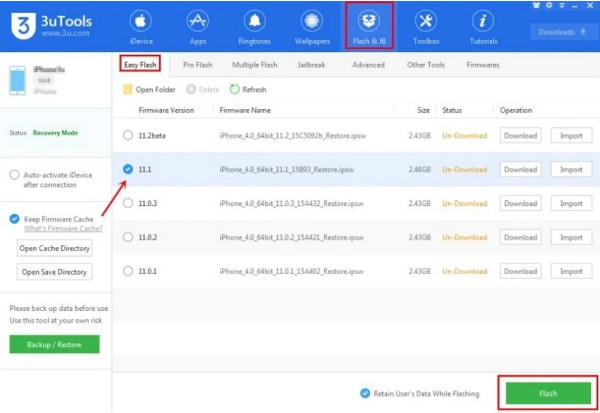 Step 3: Wait until the process is completed. Then reboot your device and you won't be restricted by the activation lock.
Does 3uTools really work?
Despite being free, 3uTools proves to be an effective tool in bypassing the activation lock in few cases. But again, it doesn't support many iPhone models and iOS versions, and often the software shows unexpected glitches during the process. So, you may give it a try but its efficiency is considerably lower than that of iSalvor.
3

IMEIUnlock Online Service

You can also remove the activation lock without installing any third-party tool. With just a few quick searches, you'll find numerous online iCloud unlock services to bypass the iCloud activation lock.

Our research shows that IMEIUnlock Online Service is probably the most reliable website service you can use to regain access to your iPhone – and obviously, you need to pay a fee for it.

The developers claim to bypass the activation lock in just two simple steps, which include:

Step 1: Go to the IMEIUnlock website and enter your iPhone's model, its carrier, and IMEI number. (Dial *06#) to get IMEI number)

Step 2: After filling in your iPhone's details, click on Checkout and pay them the required fees using your credit card. Within a day or two, you'll receive a confirmation email that your device is unlocked.
Does IMEIUnlock Online Service really work?
We have tried this method on several different iPhone models and almost none of them were unlocked even after waiting for 10-14 days. We concluded that it's not worth your money and time.
Part 3. Tips Before Buying a Used iPhone to Avoid Activation Lock
You must have realized that bypassing the activation lock is a time-consuming process and in most cases, you have to rely on a paid third-party software to remove it.
That's why you should follow the below tips while buying a second-hand iPhone to avoid getting stuck on the activation lock screen.
1. Check the activation lock is disabled on iPhone
First things first, you should make sure that the owner has logged out of iCloud or the activation lock is turned off on the device. To check that in person:
Turn on your iPhone and enter your language and region.

If the device asks you to enter the Apple ID and password, then activation lock is enabled.

Ask the owner to log in and then disable the lock by going to Settings > General > Reset > Erase All Content and Settings.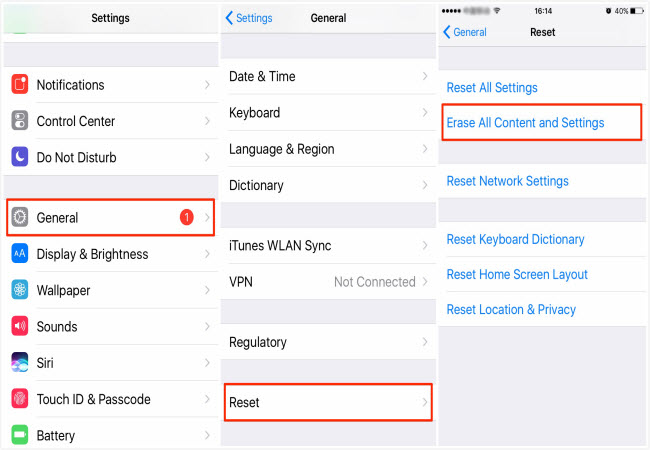 Apple also allows users to check and remove the activation lock status remotely. So, if the owner is not present, then ask them to follow the below steps to disable the lock:
Go to iCloud.com and login to their account. Then, go to Find iPhone and select All Devices.

Now, choose your device and hit on Erase [device]. Click on Next when it's erased and then hit on Remove from Account.

Finally, restart your iPhone and start using it..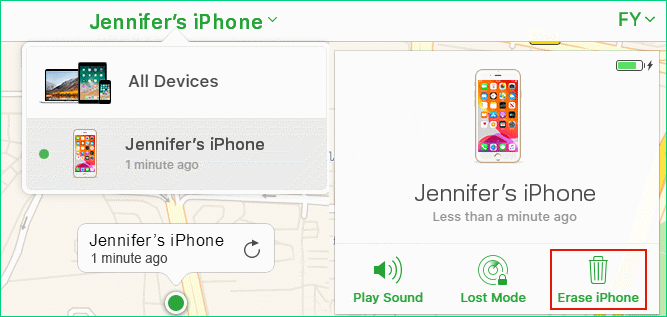 2. Verify the device is not stolen and carrier locked
Before finalizing the deal, ensure that the second-hand device is neither a stolen one nor it's carrier-locked. That's why always ask the owner to show the original purchasing receipt of the mobile along with the original box.
Remember, a carrier-locked iPhone can only be used with that carrier. To make sure your device is not carrier unlocked:
Simply insert your SIM card into it and make a call. If the iPhone connects with your SIM card, it's most likely unlocked.
Conclusion
After reading this blog post, you'll no longer be wondering about how to bypass the activation lock. The first method is simple and free but only works if you're running iOS 12.1.4 on your iPhone. But we recommend users to use WooTechy iSalvor to bypass the activation lock can in matter what iPhone and iOS version you're using!