As smartphones have become an essential part of lives, we get to encounter a lot of problems when it comes to its safety. Luckily, Apple heard its customers and released a simple yet working solution for this issue. The California Based World's one of the biggest technology company released "Find My iPhone" and Activation Lock feature.
It's not necessarily a new feature and has been with us for ages. However, most of the iPhone users are totally unaware of what their device is capable of.
Today we are going to have a closer look at this feature. Including what it does, how to set it up, how to remove it, and what to do if you accidentally lock yourself out.
Part 1: Find My iPhone Activation Unlock – Explained
Find My iPhone is a great feature to protect your device from anyone else. Using this iPhone feature, you can lock, locate, or even wipe your iPhone remotely.
However, turning on Find My iPhone will automatically turn on the Activation Lock at the same time. And this is also something you should pay attention to.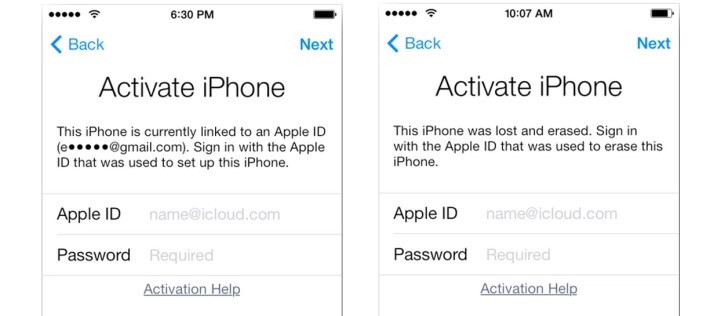 This activation lock will demand a password every time someone tries to unlock it or even turn it off. if you're stuck on Activation Lock, or you just simply don't remember the password of your Apple ID, worry not, we will talk about how you can bypass Find My iPhone activation lock later in this article.
But for now, let's start from the beginning and talk about how to Unlock the device using Find My iPhone feature.
Part 2: How Does Find My iPhone Activation Lock Work?
Now let's see how Mind My iPhone activation lock works. Including how to set it up, and how to use it to "find your iPhone".
1

Prerequisite:
Find My iPhone is a free app released by Apple to iOS 5 and up device. It is available on almost every Apple product and it can be downloaded using the App Store. In addition to that, an Internet connection must be available for normal working of the app.
2

Activate Find My iPhone from Settings:
The second step incorporates activating the app itself. Here is how to activate Find My iPhone.
Go to Settings > Click on Apple ID > iCloud > Then turn "Find my iPhone" option on. You can also turn on the "Send Last Location" in case your device gets lost.

The process is as simple as it sounds. Now, you have successfully enabled the Find My iPhone option on your Apple device. This feature will let you pinpoint your device in just a second.
Along with this feature, the Activation Lock is also activated on your device that locks your Apple ID so that no one can use it.
3

"Find Your iPhone":
Once your device is gone, don't go into a mental breakdown. Because now is the right time to solve this mess. This step will contain everything you need to do to locate your device.
Find Your iPhone Using iCloud Web
This method is pretty straightforward. You just need to visit iCloud Home and Click on the Find My iPhone icon. The site will also ask for your iCloud information if not entered already.
Therefore, after taking these measures, you can simply grab whichever device is stolen and report it lost, wipe it up, and lock the device.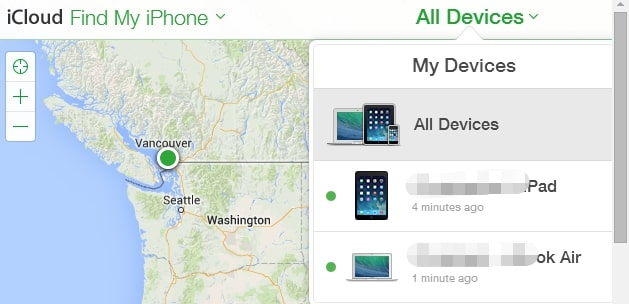 Find Your iPhone Using iPad or Another iOS Device
Open the app and enter your iCloud credentials. Once you're logged in to the device, you will be able to report it lost, wipe and erase the data, or lock the device. There might be some other options available such as playing a sound on the device.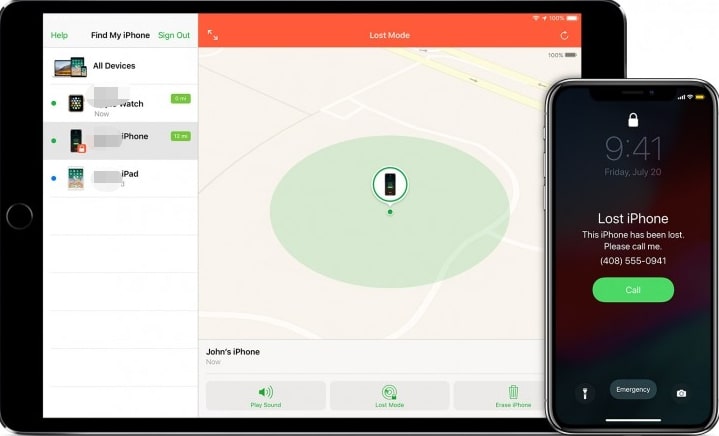 Therefore, after taking these measures, you can simply grab whichever device is stolen and report it lost, wipe it up, and lock the device.
Part 3: Remove Find My iPhone Activation Lock
After you've found your device, you will have to unlock the activation lock. It will simply demand your iCloud ID and Password to process the whole think. As simple as that, you have just recovered your lost Apple device and you're ready to use it.
If you want to remove activation lock when it's on, you need to have the credentials of your Apple ID, and go to Settings > iCloud > "Find my iPhone" to turn it off.

Part 4: Locked Out by Find My iPhone Activation Lock?
This is a problem a lot of iPhone users and generally Apple's consumers go through every day. It's when they forget Find My iPhone Activation Lock credentials. The deepest darkest fear of an Apple user.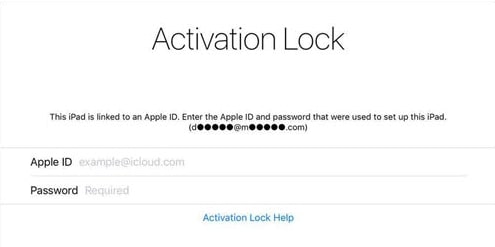 If we talk about Android, it's fairly simple to bypass their activation lock and most of the Android devices don't even have any activation lock features.
However, the whole Apple ecosystem is respect due to the fact that their devices are so secured. Unlocking find my iPhone would mean removing the activation lock. If you go to the offline market, they will charge you A LOT for just unlocking a device that's yours.
WooTechy iSalvor – Bypass Find My iPhone Activation Lock(iOS 15 Supported)
WooTechy iSalvor is a tool that will let you bypass the activation lock easily. The three-step process is very simple and totally affordable when it comes to its working.
If you want to unlock Find My Phone activation lock without entering you iCloud password, iSalvor is just the right solution for you. Fingers crossed, with no password or Apple ID, you can easily unlock your device even if you're not technical.
Features of Wootechy iSalvor
Supports all iPhone devices from 5S to the latest iPhone 13 and all iOS versions including the latest iOS 15.

Bypass activation lock jailbreak without Apple ID.

Includes one-click jailbreaking function and enable you to freely customize your iPhone

Disconnect the device to previous Apple ID completely
Things to Keep in Mind
If you bypass your Apple device using iSalvor, it will be jailbroken. You can't access call or cellular data. However, for daily usage, it would be a perfect device. Better something than nothing.
iSalvor works hard to provide its customer a sense of satisfaction and a working solution for their faulty Apple device. If your device does not get pass the activation lock, you can use the same tool again and again until it unlocks Find My iPhone activation lock screen.
Step by Step Process to Bypass Activation Lock
Watch a video in 1:38 to learn how to bypass Find My iPhone Activation Lock with WooTechy iSalvor first.
Here are the detailed steps that you need to follow to unlock your Apple device and have it in a working state.
Step 1: Download and Open iSalvor
Download and Install the iSalvor Tool on your Windows or Mac device. iSalvor supports a winde range of Apple devices. If you are not sure whether your device is supported or not, you can download and try it for free.
Step 2: Follow the On-Screen Instruction
Open the tool, then attach your iDevice to your Windows or Mac. After that, iSalvor will guide you through the activation lock bypassing process and all you need to do is clicking "Next". The bypassing process including jailbreaking. But don't worry. iSalvor has the jailbreaking process integrated in the program so you can easily follow the instructions to finish the process if you are using Mac. On Windows, you will also have a detailed guide for the process.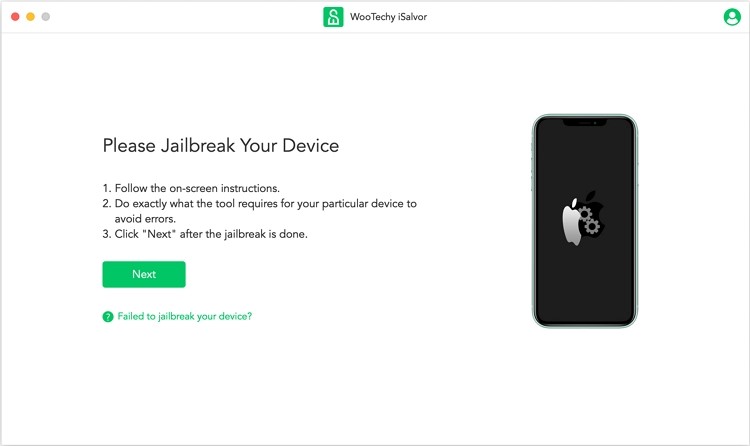 Step 3: Wrapping it Up
After jailbreaking, you can see all of your Apple device information on the screen. After checking all information, just click on "Start Bypass". The whole process will take a couple of seconds and you will receive "Successfully Bypassed" message on the screen.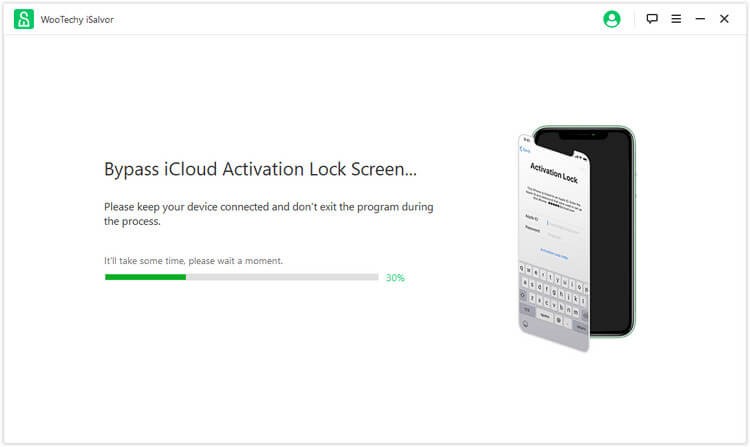 To Sum Up…
Find My iPhone Activation lock is a great feature to protect your data and privacy. But it could also be frustrating when you are locked out of your device by the lock. When you have this feature on, make sure not to FORGET the credentials. In case you do forget, iSalvor is a great way for you to unlock the Find My iPhone activation lock. Now it supports the newly released iOS 15. Just download and give it a try!
Finally, if you have any issues or questions with iSalvor, we're always here to help.