When it comes to the security of your Apple ID account, Apple takes things very seriously. As a result, you can know for sure that your account and privacy are always in good hands, but on the other hand, the strict security measure may also result in disabling of your own account and causing you some troubles.
If you are experiencing an "Apple ID disabled" or similar Apple ID problems, why not take a look at today's article where we introduce you several effective ways to bypass Apple ID activation lock and solve all kinds of Apple ID problems.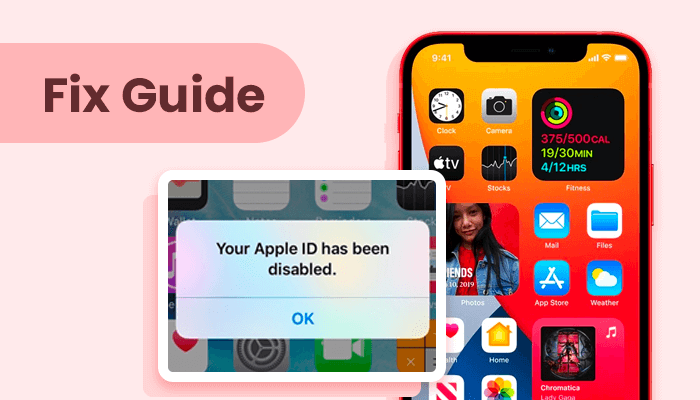 In the content below, you will see how to easily unlock Apple ID by resetting your Apple ID password. If you don't have necessary information for resetting your password, and you happen to have an activation lock on your device, you can also bypass activation lock directly without any account information.
But for now, let's get to know a little bit more about the activation lock and disabled Apple ID first.
Part 1: About Activation Lock and Apple ID
Why is Your Apple ID Disabled?
If you can't remember the correct password of your Apple ID, and tried too many times with wrong passwords, then your Apple ID may very much likely get disabled, leaving you no option but to reset your password. Under this circumstance, you can't get into your device even if you have suddenly remembered the correct password. You can only reset the password with the original Apple ID information.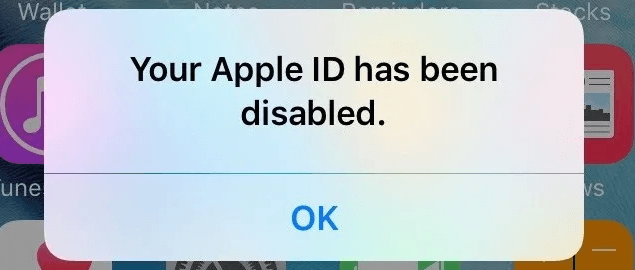 The situation is even worse if you happen to have an activation lock on your device.
What is Activation Lock?
The activation lock is a feature that is intended to forestall any other person from utilizing your Apple devices (iPhone, iPad, or iPod) if it's at any point lost or taken. The Activation Lock turns on naturally when you turn on Find My [device]. This feature helps to keep your gadget secure, regardless of whether it's in an inappropriate hand, and can improve your odds of recovering it.
However, this useful security insurance can also cause some problem for us as well.
One of the most common situations is that when you buy a second hand iPhone or iPad, and the user does not have the original activation lock removed. In this case, your device would be locked by the activation lock, and you can not have access to it unless you have the information of the original Apple ID.
Another scenario that happens to a lot of people is when you restore your own device, only to find it is protected by activation lock. This usually would not be a problem because all you need to do is input the password to unlock it. But if you don't remember your Apple ID password, it could also cause dramatic inconvenience.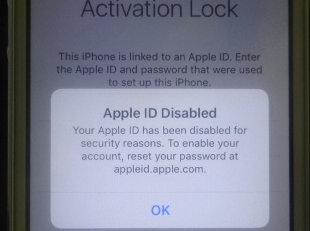 It could be tricky to bypass activation lock, especially when you have a disabled Apple ID logged in. However, bypassing activation lock when Apple ID disabled is not impossible. You can either reset the Apple ID and remove the activation lock, or directly bypass activation lock without any Apple ID information. We will get into both solutions now.
Part 2: How to Unlock Apple ID When it's Disabled?
When your Apple ID is disabled, you find it difficult to log in even with the correct password until you reactivate the account. There are multiple ways in which you can unlock Apple ID by changing the password. Now let's have a look at them.
Unlock Your Apple ID on Another Device
In most cases, when your Apple ID gets disabled, or when the device is locked by the activation lock, you will not be able to use or operate the device. Under this circumstance, you can use another Apple device, whether it's another iPad or iPhone of yours, or your friends or family's device, to unlock your own Apple ID. Here is how:
Step 1: download the Apple Support app in App Store.
Step 2: Launch the app, scroll down and tap Apple ID.
Step 3: Tap "Forgot Apple ID Password", then tap "Get Started". After that, tap "A different Apple ID" and enter the Apple ID that you need to reset the password for.
Step 4: Then tap "Next" and follow the steps on your screen until you receive confirmation that your Apple ID password is changed.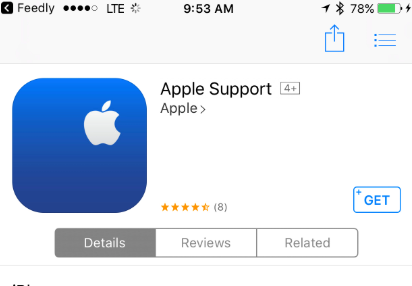 Unlock Your Apple ID on Apple ID official website
Reactivating your disabled apple ID will require you going to the Apple website to do this. Follow the steps below to by-pass unlock your apple ID.
Step 1. Go to Apple ID's official website and click "Forgot Apple ID or password"
Step 2. Enter your Apple ID.
Step 3. Select the option to reset your password, then click continue.
Step 4. Choose how to reset your password.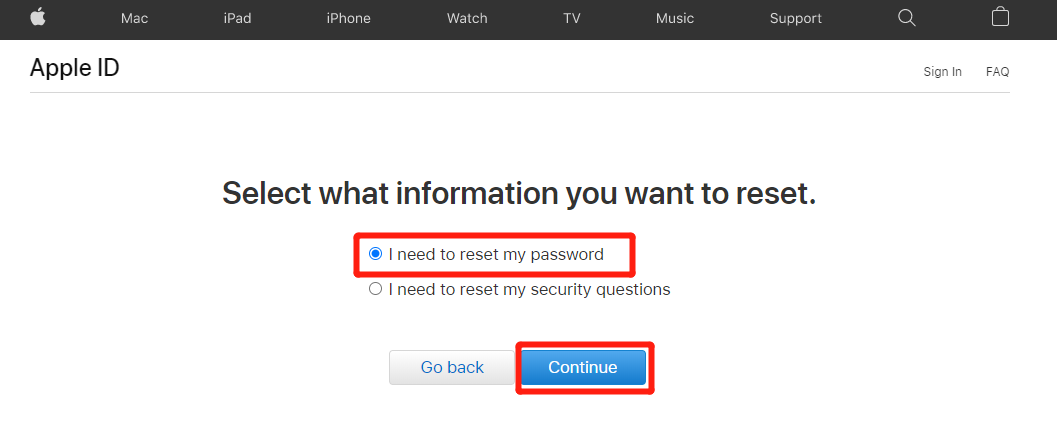 After resetting the Apple ID, you can use the new password to remove the activation lock on your device.
So what about if you can't reset your Apple ID? Now let's move on to the solution which allows you to directly bypass activation lock.
Part 3: Can't Unlock Apple ID? Bypass Activation Lock Directly
If you can't unlock your iPhone by the methods introduced above, whether it's because you don't remember the password of your Apple ID, forget the answers to the security questions, or some other reasons, then your last choice is to bypass the activation lock using a third-party software.
Bypassing the activation lock with a third-party application can help you remove the activation lock on your device without password or any other Apple ID information. The most recommended application to do the job is iSalvor. As a professional activation lock removal product, iSalvor is capable of removing the activation lock on your device without any Apple ID information, and you don't need to worry about the disabled Apple ID as well.
With iSalvor, your device can be unlocked almost immediately and you get access to customize your device as you wanted. Now I'll show you how you can easily remove the activation lock without unlocking the Apple ID using iSalvor.
Features of WooTechy iSalvor
Supports all iPhone devices from 5S to the latest iPhone X.

Bypass activation lock jailbreak without Apple ID.

Includes one-click jailbreaking function and enable you to freely customize your iPhone

Disconnect the device to previous Apple ID completely
Step 1: Download the right version of iSalvor according to your operating system with one of the links above, and install it on your computer.
Step 2: On the homepage of the application, click "Start", and then connect your device with activation lock to your computer.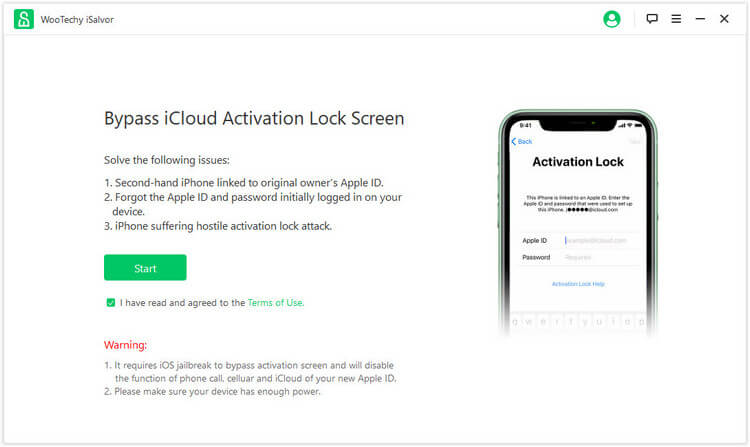 Step 3: Then iSalvor will automatically download a proper jailbreak package for your device. Once it's downloaded, you can then install it within the program and proceed.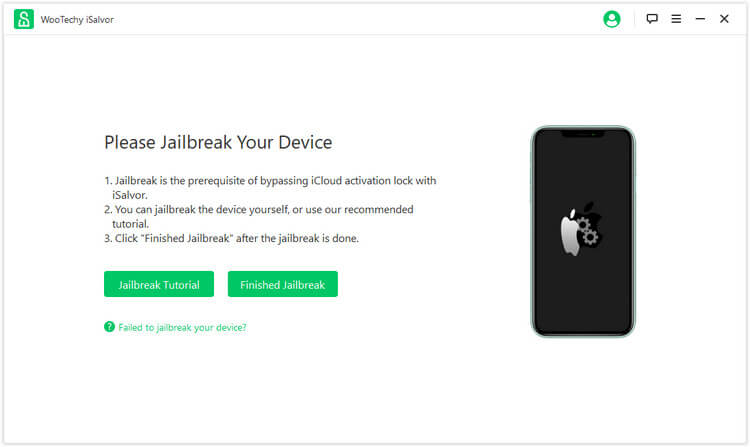 Step 4: Once the package has done installing, click "Start Bypass", and the program will start bypassing the activation lock. After a few minutes, you will have the activation lock removed and regain the access to your device.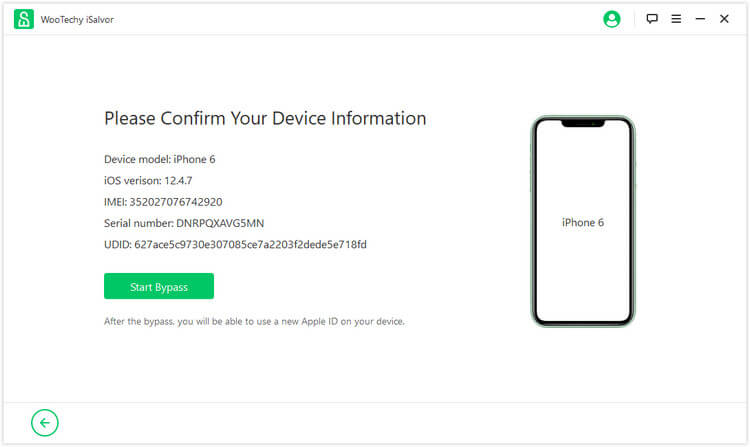 To Sum Up...
The apple Activation lock is an incredible security measure to keep intruders from accessing your device in case of a theft. It is however unfortunate that you could have your apple ID disabled if you accidentally entered your password wrongly repeatedly in a row. Situation would be even worse if you happen to have an activation lock on your device. This article provided solutions to not only recover your disabled Apple ID, but also bypass the Activation Lock when you can't recover the Apple ID. We hope you find it useful to regain access to your device.