It has been a full seven years since Apple first announced its iCloud activation lock feature. Heralded at the time as an innovative way to cut down on smartphone theft, the activation lock has proven to be both good and bad.
On the one hand, it was successful at reducing smartphone thefts. On the other hand, it has erroneously blocked legitimate users from using their devices. If you buy an iPhone or iPad with the lock on it or forget your old iCloud account info, it is unusable without some workarounds. One of those workarounds is iCloud Assistant Pro.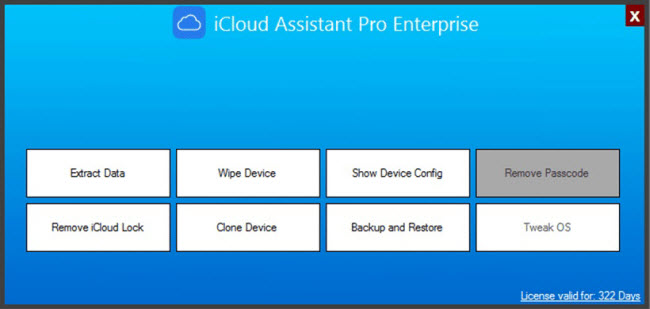 Fortunately, as is the case with most technology, some brilliant developers have figured out how to bypass this lock and let you into your device! Let's take a look at iCloud Assistant Pro and one of its competitors, WooTechy iSalvor. We'll see which one is better for your iCloud unlocking needs!
Full Review of iCloud Assistant Pro
1

What Is iCloud Assistant Pro?

iCloud Assistant Pro is a software package that should, in theory, remove the iCloud account from your phone, thereby getting around the activation lock.

The iCloud activation lock is a safeguard against theft. When someone steals an iOS phone, the owner of that phone (meaning, the person whose iCloud account is on the phone at the time) can choose to lock the device. The only official way that someone can bypass this lock is to enter the iCloud account's credentials.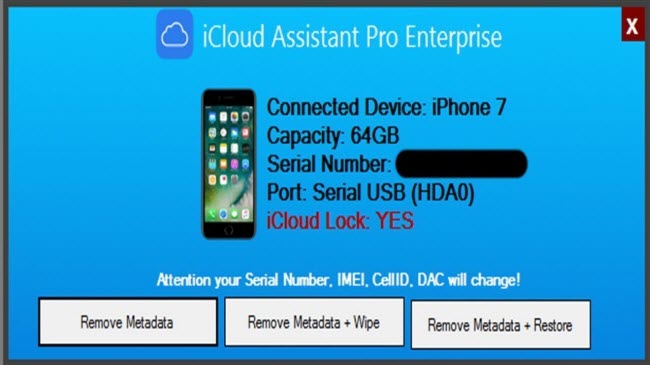 While this works in theory, there are many situations where the iCloud activation lock has problems. If you buy a second-hand device or forget your account's credentials, you could see the activation lock. In both of these cases, legally, you should be able to get into your phone. But, unfortunately, the software stops you.
iCloud Assistant Pro removes that lock. The precise mechanism by which it does that removal is unknown (the developers know, but they've never posted it online!). However, as end-users, all we need to know is that it works - and it does, with some caveats.
2

Pros and Cons of iCloud Assistant Pro

Benefits of iCloud Assistant Pro:
It works. If you have a supported phone or tablet, there's a decent chance that this software will work, which means that this software can get you out of your predicament.

You don't need iCloud access for this software to work.

iCloud Assistant Pro is intuitive enough that even non-tech people should be able to use it.
Significant cons of iCloud Assistant Pro:
It only works with iOS versions 7 through 11. According to these statistics, that limitation means this software only works with approximately 2.5% of all iOS devices.

There isn't an official site for this tool. It's notoriously hard to find online.

Some people report issues with this tool. Some have called it a scam, while others allege it doesn't work. However, given its limited iOS version support, it may just be that these people are using iCloud Assistant Pro for devices that have a higher iOS version than it supports.
3

Is It Risky to Download iCloud Assistant Pro?

It's worth going over the second point again. The fact that there isn't an official site for the tool should raise red flags. The lack of an official site means that you'll be downloading it from some random file storage site online. The version you get could have viruses and other malware in it. There is some risk with downloading iCloud Assistant Pro!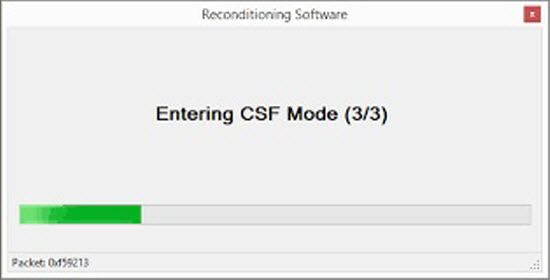 4

Is There Any Free Trial for iCloud Assistant Pro?

There are also no official free versions. Some sites might claim to be willing to crack the software using a fake key. However, these methods seemingly don't work, and they're very often illegal in your jurisdiction.

If the proposition of downloading this program from an untrustworthy file share and sending money to some guy to unlock it makes you wary of this solution, you're not alone. Most people would hesitate to use iCloud Assistant Pro!

Fortunately, a better program will get you using your iPhone or iPad in the shortest time possible!
iCloud Assistant Pro Alternative - The Top iCloud Bypass Tool
WooTechy iSalvor is the best iCloud unlocking solution on the market today. Unlike iCloud Assistant Pro, WooTechy iSalvor supports iOS versions 12.3 and above (approximately 97% of all devices). You can rest assured that what you're getting is free of viruses and other malware. This software even comes with a free trial download to see if it can unlock your device.
Why Should We Choose iSalvor
Bypass iPhone activation lock without hardware, SIM card, Apple ID, iTunes, or passwords..

Support iPhone 5S to iPhone X running on iOS 12.0 and later versions, including iOS 14.8.

The bypassed device cannot be tracked or erased through the previous Apple ID credentials.

Removing the activation lock with iSalvor is only a few small steps - more straightforward even than iCloud Assistant Pro.
If you think that WooTechy iSalvor could be of use for your iOS device, here are the steps to use it.
Step 1. You'll want to grab WooTechy iSalvor from the official download link. Install and run it once it downloads. You'll see an intro screen. Click "Start".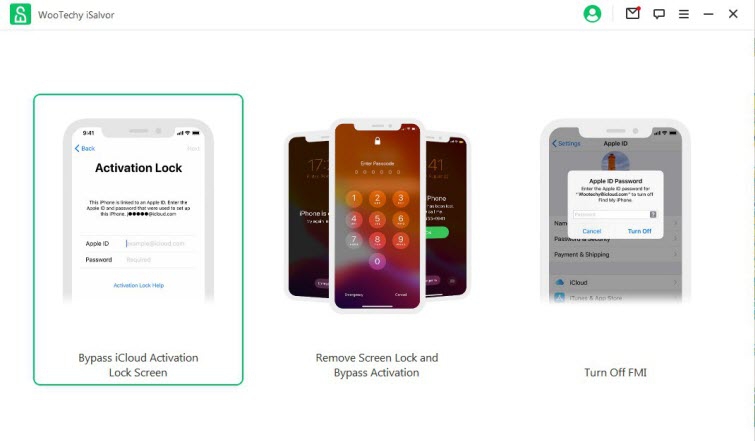 Step 2. Connect your iOS device to your computer.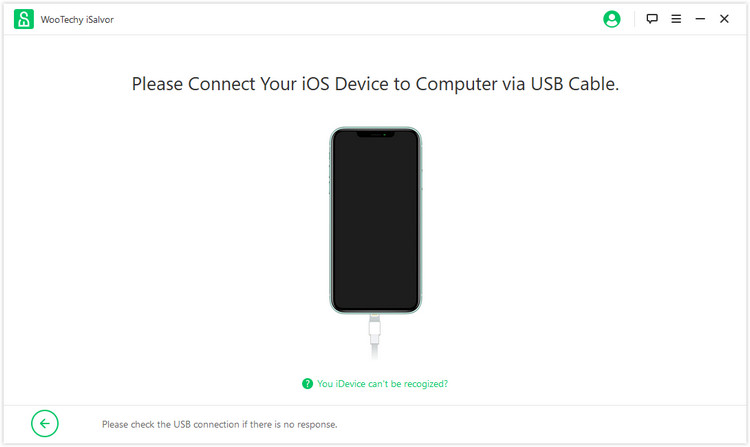 Step 3. Jailbreak your device by click "Jailbreak Tutorial". Please note that WooTechy iSalvor will guide you through this process and provide you with everything you need to successfully jailbreak your iPhone or iPad. These steps vary if you are on Windows or Mac OS X.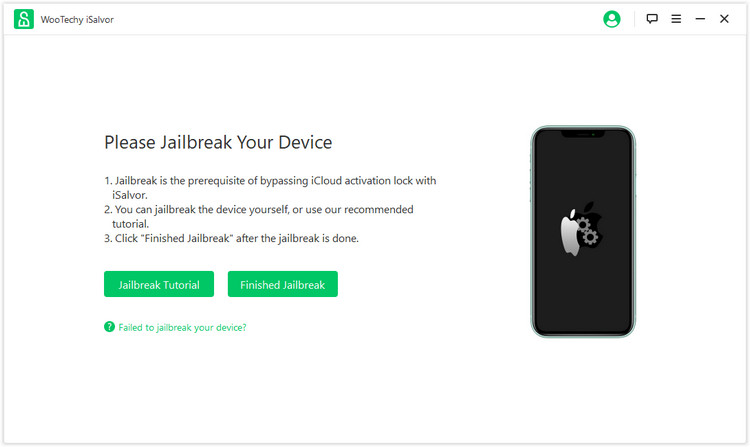 Step 4. You'll see a screen indicating that you are ready to begin the activation lock removal process. Click "Start Bypass".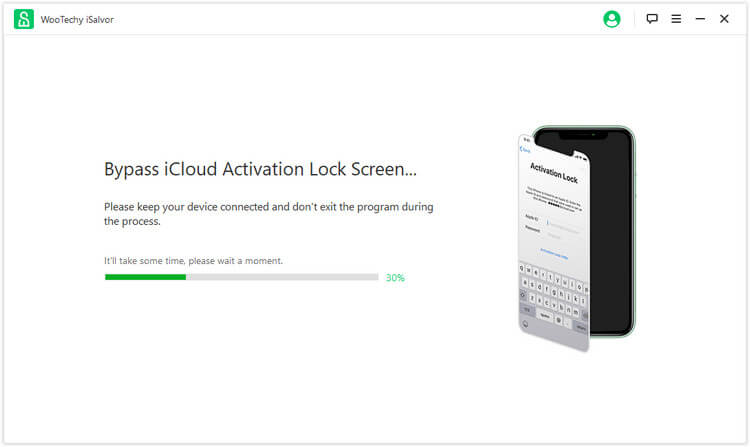 Once the process finishes, your phone will be free of the activation lock! You may now use it again!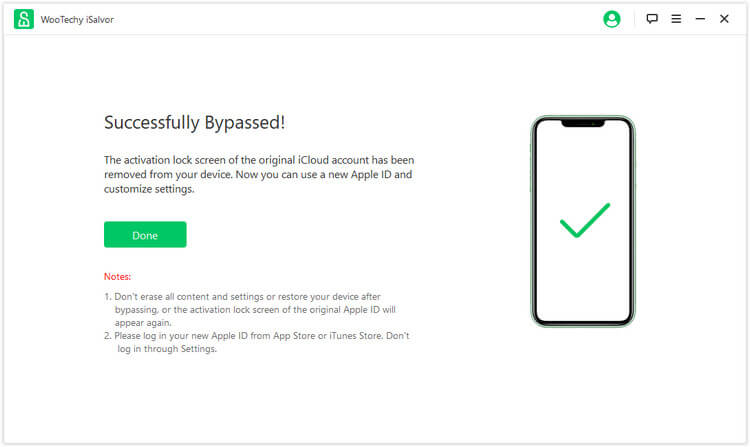 Watch the video tutorial to bypass activation lock on your iOS devices.
As a reminder, WooTechy iSalvor works with iPhone 5S through iPhone X. It works with iOS 12.3 and higher, with the sole exceptions of 12.4.5 and 12.4.6.
Tips: How About iCloud Unlock Services? Are They Reliable?
When people look for iCloud activation lock removal services, there are a few ones that commonly pop-up. iCloud Assistant Pro is one of them. The online iCloud unlock websites, like AppleiPhoneUnlock, always appear as well. At first, they look fantastic. Purportedly, all you need to do is give them your device's IMEI and payment, and they will do something on the backend to unlock your device.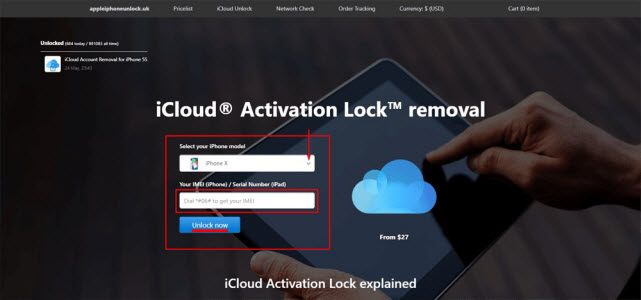 Unfortunately, most of these are scams. The way they operate is conceptually quite simple. They take the money and your IMEI. They pretend to work on it a little bit. Then they come back and say, "hey, your phone is a special complex case, we're going to need an extra $50 to finish it".
If you decline to pay, they'll issue a credit to your account for the initial payment. If you do pay, these sites will take the money, pretend to work, and then give a flabbergasted response about why your phone is so unique that nothing can unlock it.
Of course, again, they'll issue a credit to your account. The result is that you're out real money, with a bunch of useless credits on account.Do not trust these sites. Especially when WooTechy iSalvor makes it so easy to bypass the activation lock!
Conclusion
While many sites might talk about the iCloudin download, it's not the best tool to bypass the activation lock. WooTechy iSalvor is a much more sophisticated, robust tool that can unlock the vast majority of devices out there today. iCloudin has the right concept, but it only works with iOS 9 and below. That fact is a significant limitation that renders it useless for most tasks. If you want the best tool to bypass the activation lock, try WooTechy iSalvor today. Download the free trial to see just how easy it is to start using your iOS device again!