User Problem
"Is there any good software to unlock iCloud activation lock? iCloud unlock services are numerous online thereby making it hard for me to choose the right service, and the first one I bought online wasn't closed to what the vendor advertised. Please, I am looking forward to your feedback on the right iCloud removal service to use. Thanks!"
In response to the inquiry above, we will discuss 5 best iCloud unlock services on iPhone/iPad/iPod touch. And if you don't find the one you want, in the end, we will also introduce a better alternative to all these iCloud unlock services. Read on.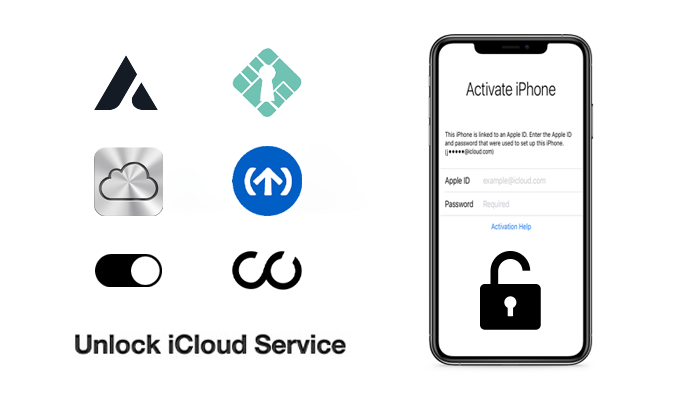 Whichever iCloud unlock service you choose, the
IMEI and serial number
of your iPhone as well as the
down payment
are needed. And waiting time varies from 24 hours to more than 10 days.
1. AppleiPhoneUnlock
AppleiPhoneUnlock is an essential online service for removing iCloud activation lock from iPhones or iPads. It's a well-known service that promises a lot of unlocking services to its users but it doesn't always work for recent iPhones and iPads.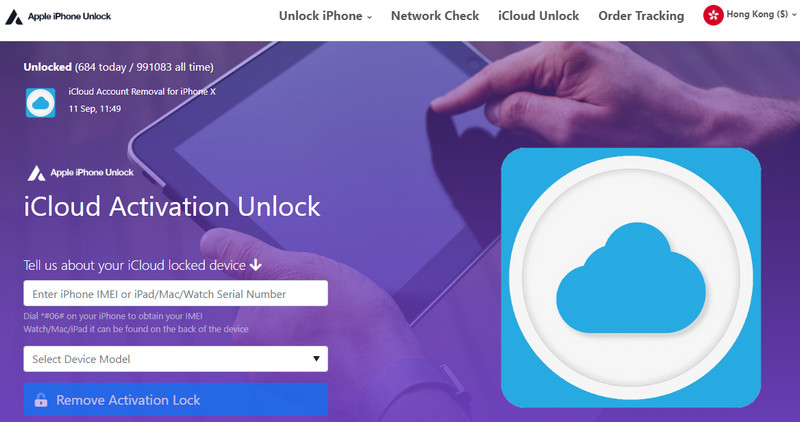 Why or Why Not Choose AppleiPhoneUnlock
Powerful functions: Bypass iCloud activation lock and delete your iPhone or iPad from the previous iCloud account.

Moderate waiting time: After submitting your IMEI and serial number, making a payment, you need to wait 72 hours before your device to be unlocked.

Limited compatibility: Only support iPhone 7 or lower models of iPhone, running on iOS 13 or earlier version.

High price: This iCloud unlock service charges at least $28 once for iPhone and iPad unlocking.
User Reviews of AppleiPhoneUnlock
Here are some reviews about AppleiPhoneUnlock from the website Trustpilot:
The Positive Review
"Fantastic! Fantastic, able to unlock my phone pretty quick."
The Negative Review
"What else can be done? What else can be done, more than the time they had estimated to give me a solution and nothing has passed. They do not reply to messages or update the unlock status."
2. iRemover
Are you still searching for a reliable iCloud removal service for unlocking the iCloud activation lock? iRemover is another one we are going to introduce to you. Compared to AppleiPhoneUnlock, it stands out by supporting more recent iPhone models. However, the instructions on how to use this unlock service is not well spelled out.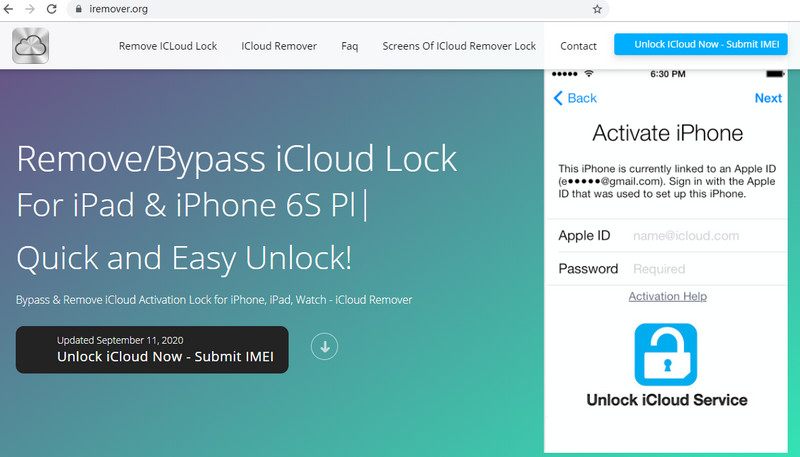 Why or Why Not Choose iRemover
Additional function: Besides bypassing iCloud activation lock, it also helps disable "Find My" on iOS/iPadOS devices.

Great flexibility: This service works from any location worldwide.

Better compatibility: iRemover is compatible with iPhone 4 to iPhone XS Max running iOS 7 to iOS 10.

Long waiting time: Once making a payment, you need to wait 1 week for them to finish the unlocking.

No clear user guide: Its guide can be downloaded to local while you can only do that after the payment, and the instructions are much more complex.

No fixed price: There is no specific price for this service. You'll be charged depending on the specific situation.
User Reviews of iRemover
Here are some reviews about iRemover from the website Trustpilot:
Positive Review
There is NO positive review or rating for this service.
Negative Review
"The biggest scammers ever! The biggest scammers ever don't fall for it"
3. IMEI Unlock SIM
IMEI Unlock SIM is an online service that was previously known for unlocking SIM carrier locks on iPhone. However, with the growing need for iCloud activation lock bypass, this company has diversified into creating the iCloud unlock service for iPhone users.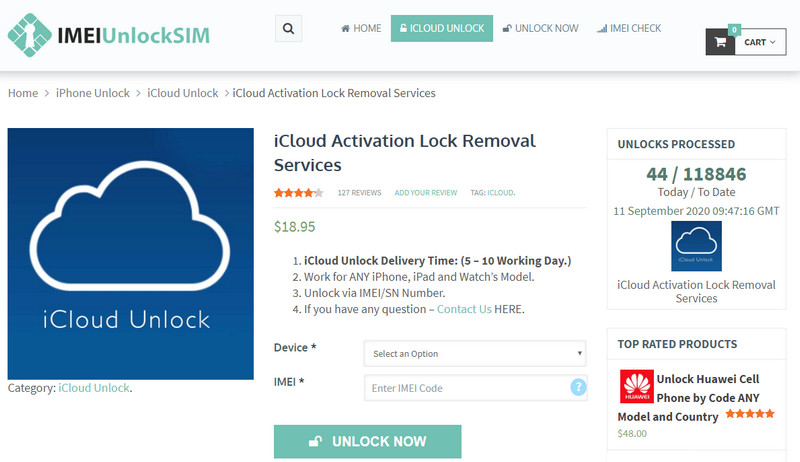 Why or Why Not Choose IMEI Unlock SIM
Various functions: Unlock both the iCloud activation lock and Carrier lock from iPhone.

Wide range of supported devices: This service works on most recent iPhones, iPads, and Apple Watch.

Long waiting time: You need to wait for 7 to 10 days after paying for this service.

No fixed price: There is no specific price for this service but the price can range from $18.95 to $49.85.
User Reviews of IMEI Unlock SIM
Here are some reviews about IMEI Unlock SIM from the website Trustpilot:
Positive Review
"Great service, by far the cheapest I've come across."
Negative Review
"Biggest scam ever they said 5 to 10 days this is already 12 days they should be reported"
4. iPhoneApprovedUnlock
iPhone Approved Unlock is an activation lock removal service for iPhone and iPad. Its function is similar to services that have been discussed. And what makes this service outstanding is that its waiting time is shorter than services mentioned above. However, it only supports very new iPhone models.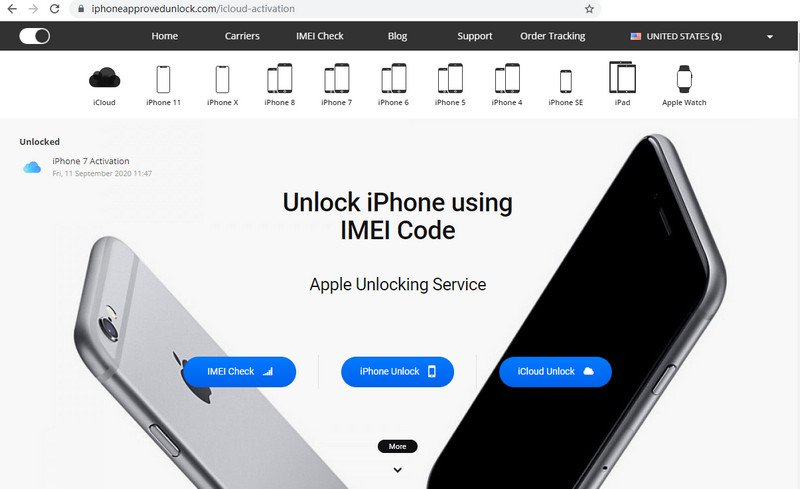 Why or Why Not Choose iPhoneApprovedUnlock
Addition function: Erase the iPhone before disabling Find My Phone.

Short waiting time: Unlock the iCloud activation lock on your iPhone within 24 hours.

Limited compatibility: It only supports iPhone SE to iPhone 11 Pro Max.

No money-back guarantee: The service costs $26 with no money-back guarantee.
User Reviews of iPhoneApprovedUnlock
Here are some reviews about iPhoneApprovedUnlock from the website Trustpilot:
Positive Review
"The best. The fastest service online, I recommend to everyone."
Negative Review
"They charge me 26 dollars send me an email saying my phone is unlocked but is not unlocked so, they just take my money."
5. Direct Unlocks
The last iCloud removal service that will catch your eye is Direct Unlock. This service boast that it can unlock the iCloud activation lock within 24 hours. However, its advertisement can be seen everywhere online, making many people doubt its authenticity.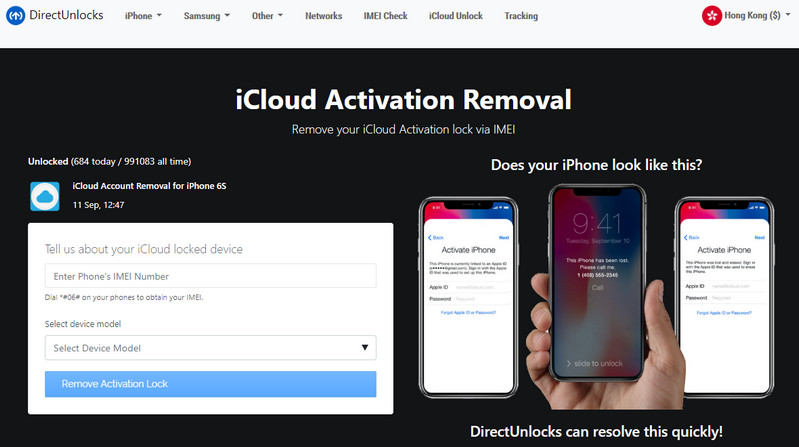 Why or Why Not Choose Direct Unlock
Shortest wating time: Able to unlock the iCloud lock in 24 hours.

Clear guide: Offer a user-friendly guide on how to access the service.

Lowest compatibility: It only offers iCloud removal services for iPhone 6 running iOS 10/11.

Rampant advertisement: Testimonials on the website look fake.

No fixed price: The service doesn't have a specific cost. You may also incur some hidden charges.
User Reviews of Direct Unlock
Here are some reviews about Direct Unlock from the website Trustpilot:
Positive Review
"Excellent service unlocking iPhone in 2 days."
Negative Review
"Not reliable, there is a hidden fee need to pay more than expected."
A Better Alternative to iCloud Unlock Services
Many clients have complained about inconsistency with each iCloud unlock service. And some of them have no access to their IMEI and serial number, or are unwilling to wait for a long time to unlock the device. Hence, if you're having any challenge unlocking your iCloud activation-locked device, then why not try using WooTechy iSalvor?
WooTechy iSalvor is a powerful tool for bypassing the iCloud activation lock on iPhone/iPad/iPod touch. You can run this software on your Mac or PC to unlock your device in mere minutes. Most importantly, there is no need for any information of your device. Therefore, everyone can use it under any circumstances. Hence, iSalvor is the perfect alternative to those iCloud unlock services above.
Why Choose WooTechy iSalvor:
Powerful functions: Efficiently unlock iCloud activation lock and remove screen lock at the same time.

Highest compatibility: Support iPhone 5S to iPhone X running iOS 12.3 to iOS 14.8.

Easy to use: It has the use-friendly interface and detailed user guide, making everything possible in several clicks.

Money-back guarantee: It has a fixed price and the 30-day money back guarantee.
Steps to Bypass Activation Lock using WooTechy iSalvor
Here, you will find the video that shows how to use WooTechy iSalvor to bypass Apple activation lock on iPhone, iPad, or iPod touch.
Step 1. Download, install, and run WooTechy iSalvor software on your computer. Once the software is open, click the Bypass iCloud Activation Lock Screen button.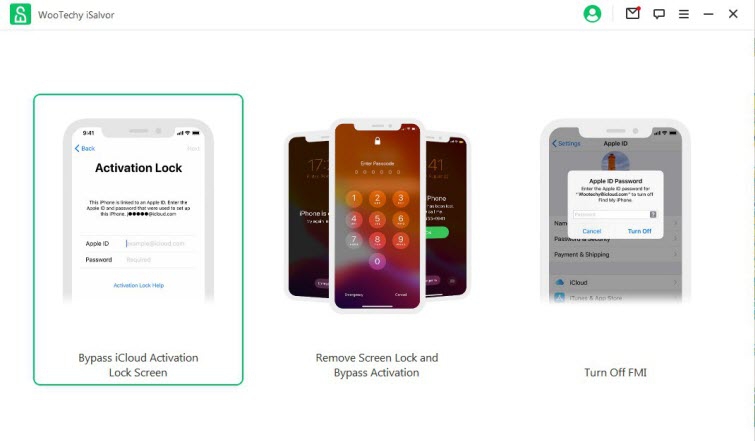 Step 2. Connect your iOS device to your computer. We recommend you use the original iPhone lightning cable.
Step 3. You'll need to jailbreak your iOS device before continuing with the bypass process. Click the link for an iOS jailbreak tutorial on Windows computer. And for Mac users, you can directly download the jailbreak package provided by the software.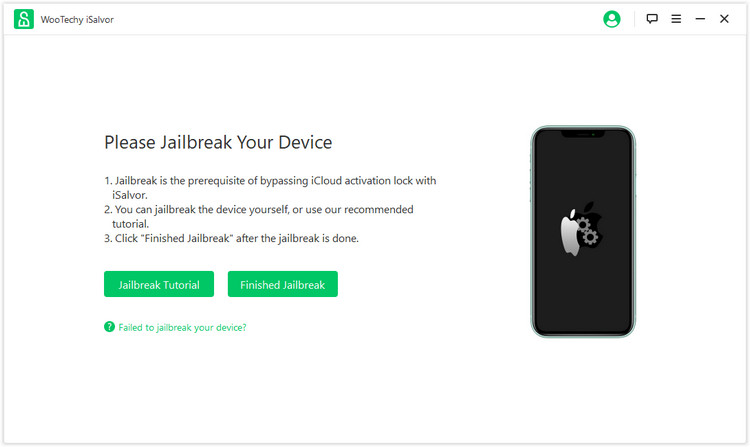 Step 4. Check your device model, iOS version, IMEI, serial number, and UDID and choose Start Bypass.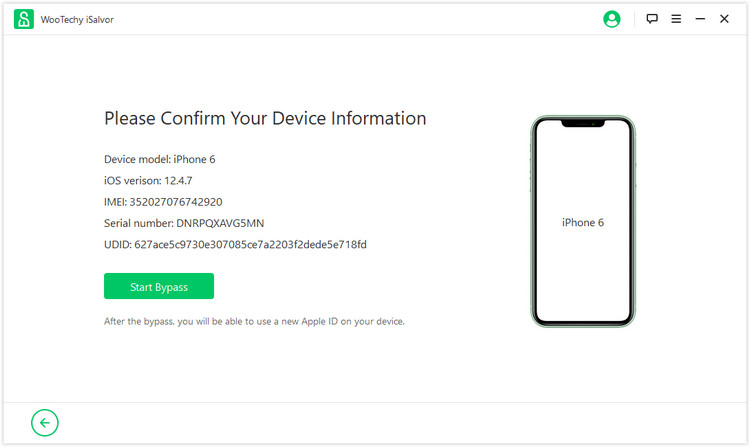 iSalvor will start bypassing the Apple activation lock on your device. Once done, you'll see Successfully Bypassed on your screen. Click Done to finish the whole process. Now you can enter the device without any passcodes and sign in with a new Apple ID.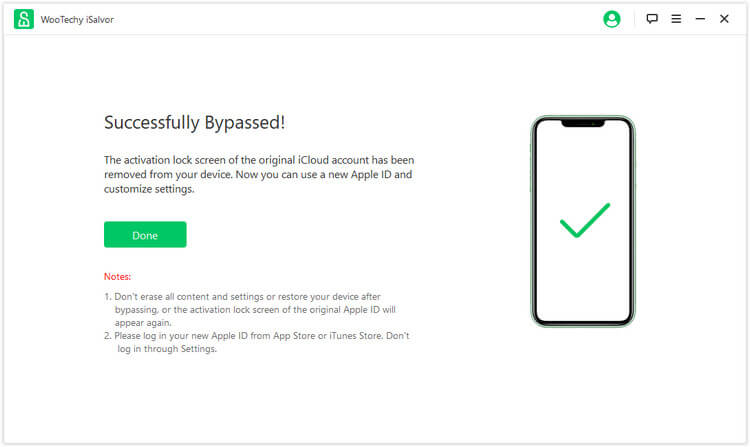 Conclusion
This page offers comprehensive review about 5 iCloud unlock services and one best alternatives. If you are stuck at iCloud activation lock, you can choose any of them based on your needs. Here, you are recommended to use the WooTechy iSalvor activation lock bypass tool which has highest compatibility and requires nothing but a USB cable. Just download and give it a try!