Perhaps more than any demographic of smartphone users, iPhone owners are often caught in certain lock situations. This activation unlock could arise whether you buy your new iPhone into a lock or buy a second-hand iPhone that's yet to be unlocked. When these issues arise, iPhone users scramble around professional fixers or even third-party applications to try and resolve the situation. While the professional fixes are super expensive, the third parties differ in their work and the results they produce. In this article, we'll introduce Ultfone Activation Locker. You'll understand how the service works, its features and how to use it. Let's get into it!
Part 1. Full Review of Ultfone Activation Unlocker
In this section, you'll get to know all about the Ultfone Activation Unlocker free download application. You'll find out what features it has, how to download it, as well as the advantages and disadvantages of using it.
1.1 What Is Ultfone Activation Unlocker
The Ultfone Activation Unlocker application is an online tool created by Ultfone to help iPhone users bypass the iCloud activation lock. This will help the user overcome the situation without knowing or recollecting the Apple ID and password. For second-hand iPhones with the existing ID still tied to the former owner, the Ultfone Activation Unlocker can do a job and acquire a new version of software to remove the lock.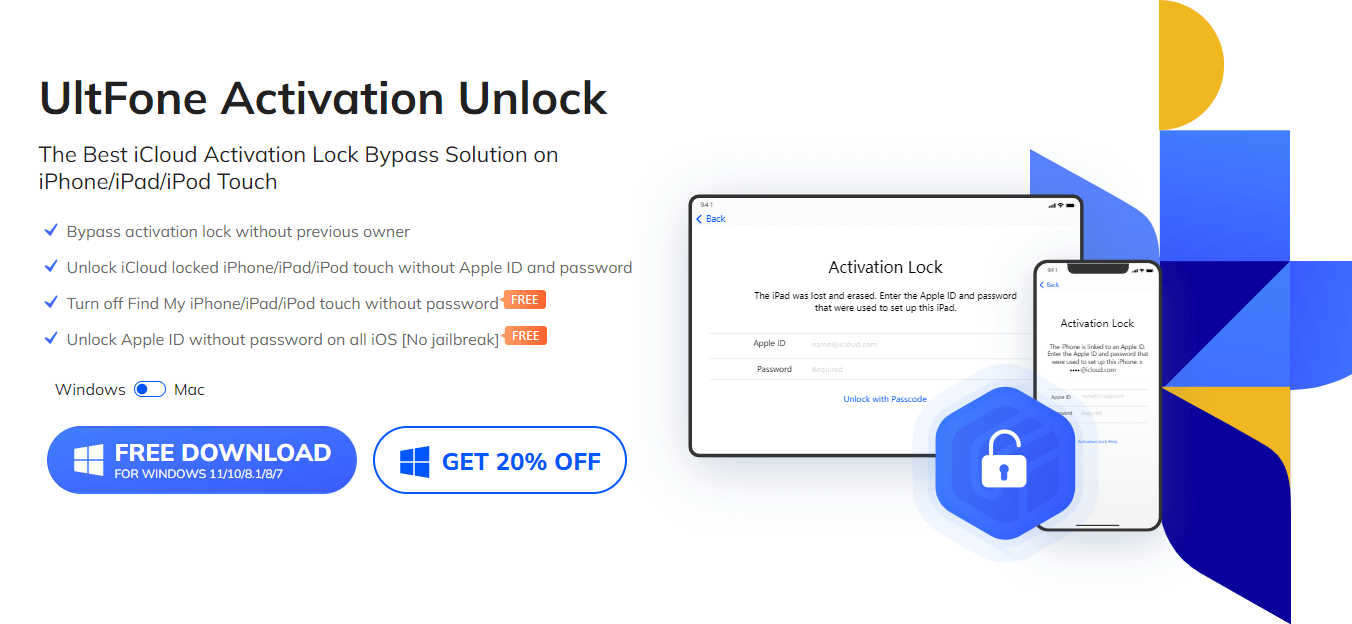 Key features of the Ultfone Activation Unlocker include:
With the software, you can acquire a new Apple ID and download new apps from the App Store via WiFi.
It can bypass the existing activation lock and eliminate Apple ID without a password.
It makes it impossible for your new Apple ID to be tracked by the old ID.
The Ultfone Activation Unlocker can activate an iPhone without the previous owner's Apple ID.
It makes it impossible for the former owner to lock the device remotely.
1.2 How to Download and Use Ultfone Activation Unlocker?
Visit Ultfone's official site to carry out an Ultfone Activation Unlocker free download. Note that it has to be the original software because the cracked versions on the internet aren't of any help.
Once downloaded and installed, these steps guide you through the process.
Step 1: Run the Ultfone software on your PC or Mac and connect your iPhone using a quality lightning cable. Click on the Start button to begin. The screen will display the agreement terms and conditions. Read carefully, then proceed by hitting the Next button.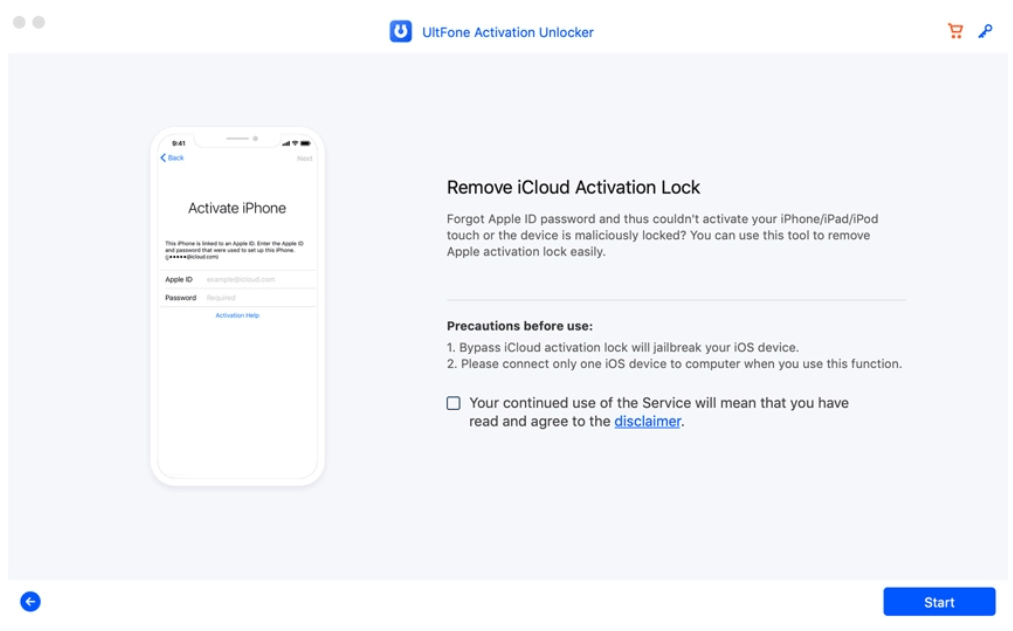 Step 2: The Ultfone Activation Unlocker software will initiate a jailbreak process. Immediately the tool is ready, hit the Start Jailbreak button and carefully follow the instructions as they pop up.
Step 3: At this stage, there should be a page of device information on your screen. Confirm that the information is yours, then click on the Start Remove button. Be patient while the task is completed. Once done, the software will display a message saying the lock removal was successful. Now you can access your Apple ID via the software interface.

Warning
: Don't carry out a flash firmware or factory reset on the device. If you do this, you'll only lock it once more. Also, keep off the iCloud account in the Settings menu if you don't want to compound issues.
1.3 Pros & Cons of Ultfone Activation Unlocker
Pros
It's a rather easy way to unlock your iCloud. The steps involved are straightforward and can be understood by anyone, regardless of their understanding of how iPhones work.

The Ultfone Activation Unlocker software supports lock removals in iPhone models from iPhone 5s to iPhone X.

Once the lock is eliminated, the software immediately grants you access to all the features on your device besides calling and cellular data functions.
Cons
Cellular data and call functions may fail to work after activation lock removal. This makes it complicated software to use.

Your device can be locked again if you restart, upgrade or reset it after the bypass is completed.

Because you need to jailbreak the device, it may place it in a permanent state of insecurity and leave it prone to external attacks.
1.4 Is Ultfone Activation Unlocker Free Download?
Yes. Ultfone Activation Unlocker is available for free download from the official Ultfone website. However, the Ultfone Activation Unlocker feature will have to be paid for.
1.5 Is Ultfone Activation Unlocker Safe?
Ultfone Activation Unlocker does a decent job. However, compared to other alternatives, it is not safe enough. For a safer option, we'll recommend iSalvor.
Part 2. Ultfone Activation Unlocker Doesn't Work? Try This Alternative!
If you have tried Ultfone Activation Unlocker and it's not giving the desired results, it might be time to try out a better alternative in Wootechy iSalvor. iSalvor is an online tool for unlocking the activation lock on your iPhone. You can use it to efficiently bypass iCloud activation lock in a few minutes.
What makes iSalvor stand out:
75.000.000+
Downloads
Wootechy iSalvor offers the iCloud activation lock screen bypass. With this feature, you can easily bypass the activation lock on your Apple device.

They also offer the Remove Screenlock and bypass activation feature with which you can unlock your device after it has been locked either by a screen lock, in disabled or stolen mode.

They also provide a feature to help you turn off the Find My Device on your device and completely erase it from your device without needing a password.

In addition to each of these services, Wootechy iSalvor provides multiple options for different OS types to make the services seamless and compatible with your device.
Here's how it works:
Step 1: Download the iSalvor and install it on your Mac or PC. Select Remove Screen Lock and Bypass Activation.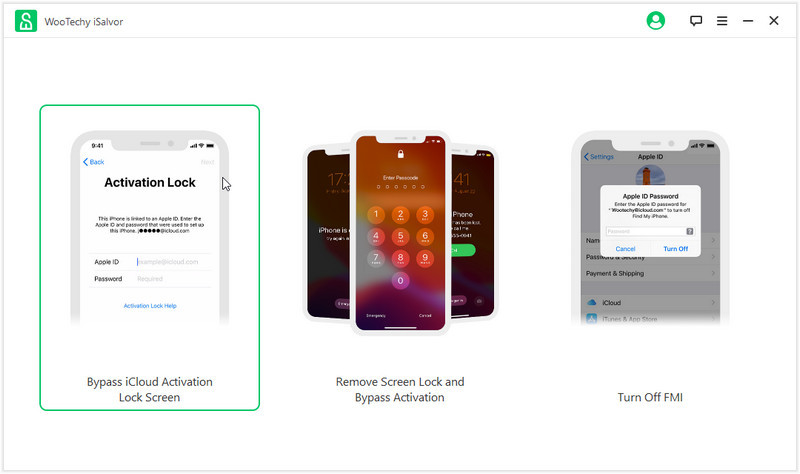 Step 2: Connect your device to your PC and click the Start button.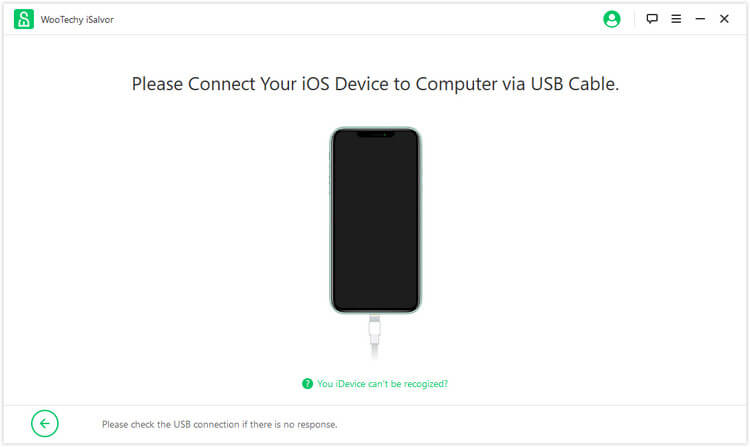 Step 3: The software requires iOS jailbreaking to bypass the iCloud activation lock screen. If you are using macOS, jailbreaking can be done automatically. If you are using Windows, a jailbreak tutorial is given.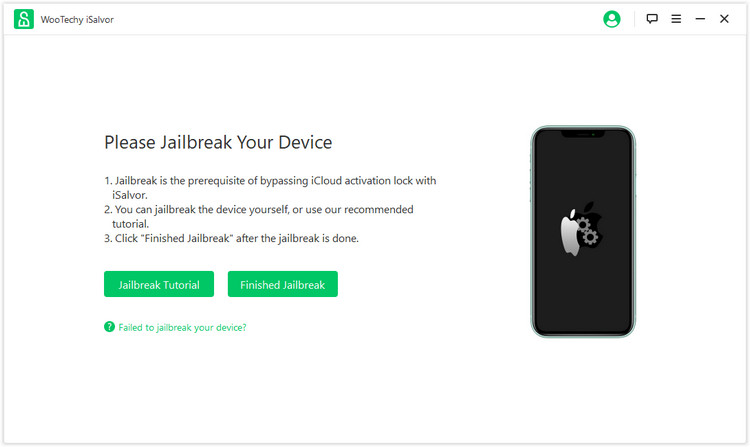 Step 4: Once the device is ready, you will be shown device information. After you click the Start Bypass button, it will only take a few seconds to bypass the iCloud activation lock. When the process completes, the previous ID and password will be removed. You can enter the device and set your new login credentials.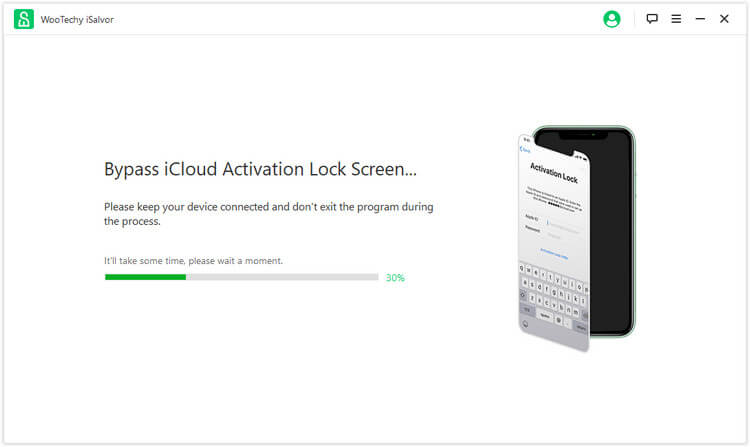 For more information, you can watch the video tutorial below:
Part 3. Comparison Table Between Ultfone Activation Unlocker and WooTechy iSalvor
| | iSalvor Bypass iCloud Activation Lock | Ultfone Activation Unlocker |
| --- | --- | --- |
| Compatibility | Works with iOS 12 and above. | Works with iPhone 5s to iPhone X. |
| Safety | Safety is assured. | Not very safe. |
| Speed | Speed is consistent. | Speed is inconsistent. |
| Performance | It is consistent and gives good results. | It is inconsistent. |
| Success Rate | Satisfactory success rate | Not so good. |
| Pricing | $39.95 | $35.95 |
Conclusion
For many iPhone users, choosing a tool to bypass the activation lock on their devices is not easy. This article lets you sift through the details you need to hear to make the best decision for your device. After comparing the Ultfone Activation Unlocker and iSalvor, the best decision is to head over to Wootechy's official website and download iSalvor for free. iSalvor will give you control over your device to bypass the activation lock and give you a seamless user experience.