Whether you're just looking for a bit of privacy or trying to get the most out of location-based apps like Pokemon Go, a fake GPS app can be an extremely useful tool. In this article, we'll look at what these apps do and compare some popular examples to help you choose the best fake GPS app for you.
Part 1. What Is A Fake GPS App?
Fake GPS apps, also known as location spoofers, are applications that disguise your location. When using a fake GPS location spoofer, you can calibrate your location to appear anywhere in the world. This new location will show up in all your location-based apps including Find My, iCloud, Tinder, and Snapchat. Some will even include advanced features like being able to plan a fake route so that your GPS location moves as if you were travelling.
However, it can be tough to find a reliable fake GPS app. The Google Play store offers a variety of options for Android but the quality is unreliable. Many of these apps are inaccurate and buggy. Plus they're often riddled with invasive ads.
For iOS users, getting a decent mock location app requires jailbreaking their phones and getting an app through Cydia. The most reliable option is to get a desktop application as they don't require any modifications to your phone and are compatible with iOS or Android phones.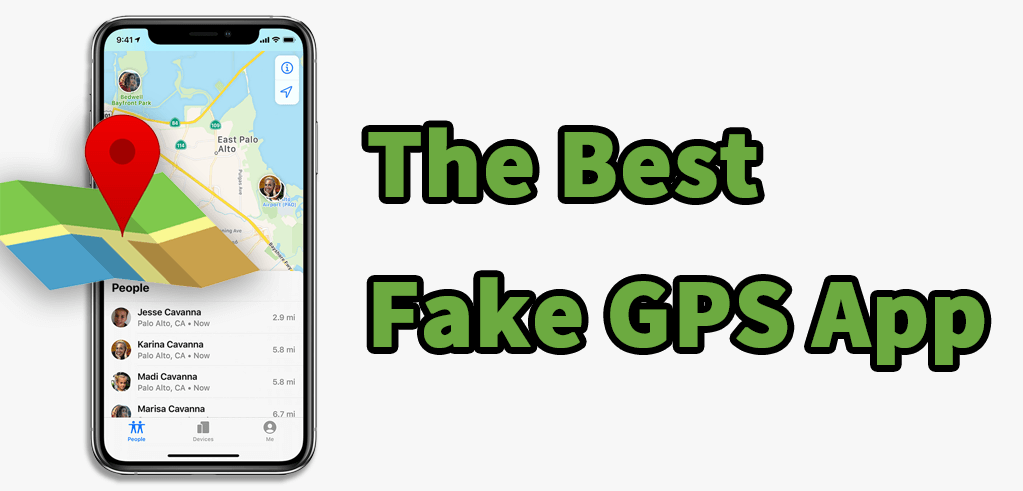 Part 2. What Is The Best Fake GPS App?
It can be hard to choose the best fake location app as there are so many options and a lot of them are poorly made and riddled with ads. To help you save time and money, we'll compare three popular location spoofer apps and look at their pros and cons.
| Application | iMoveGo | GPS Emulator | Location Handle |
| --- | --- | --- | --- |
| Compatibility | All devices (Including iOS 15) | Android Only | iOS only (not iOS 15) |
| Setup Time | 3 minutes | 10 minutes | 60 minutes |
| Jailbreak/Root required? | No | No | Yes |
1. iOS & Android Location Changer iMoveGo
iMoveGo is a desktop-based fake GPS app that with 1 click can accurately move your location anywhere in the world without being detected. As it runs from your computer it is easy to set up and works with iOS (including iOS 15) and Android devices. It also includes options to simulate movement with a lag-free joystick mode as well as the ability to create a virtual route for your GPS location.
iMoveGo works with all location-based apps including Pokemon Go, Find My, Google Maps, Snapchat, and Tinder. You can try it out for yourself by downloading the trial version for free.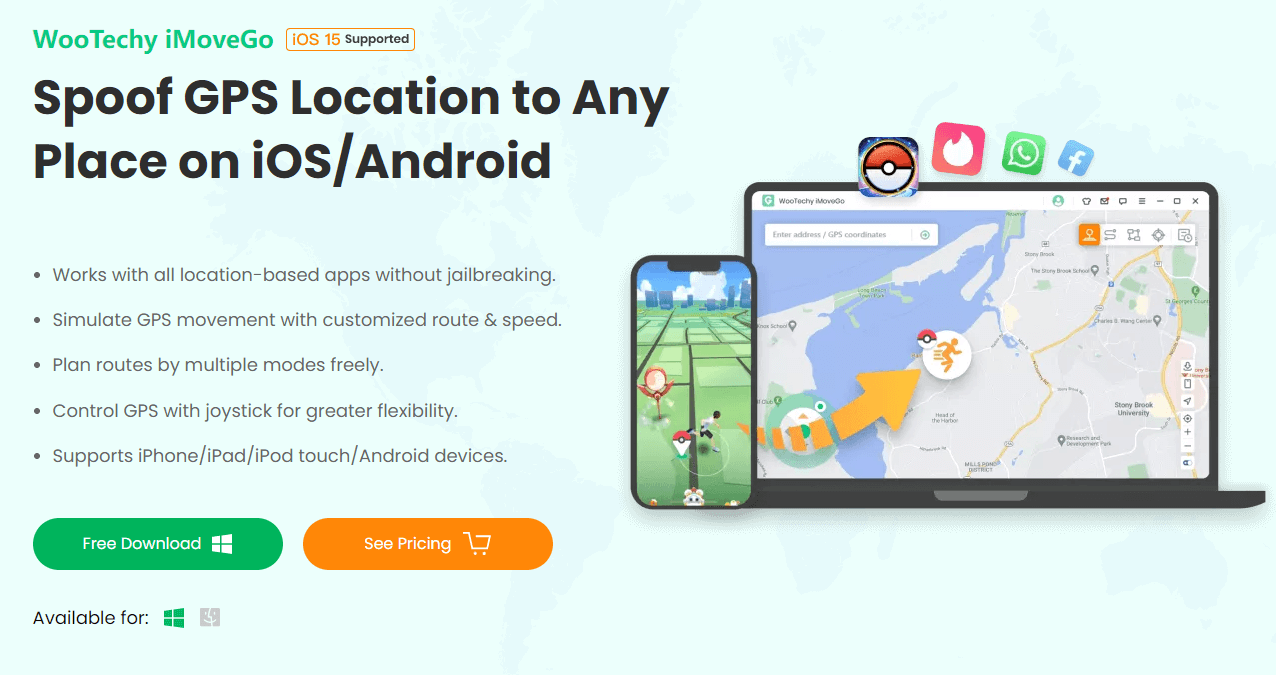 Pros:
Simple "plug and play" setup
Reliable and accurate location change without glitches or bugs
Advanced features, including "Realistic Mode" which simulates walking/runing/driving
Doesn't require modifying your device
Compatible with all Android and iOS devices
Works on every location-based app
Cons:
Requires a computer
How To Use Fake GPS App iMoveGo
Step 1. Download and open the iMoveGo application. Plug your phone into your computer via USB. After connecting with USB successfully for the first time, you could connect your phone to the computer via Wi-Fi next time.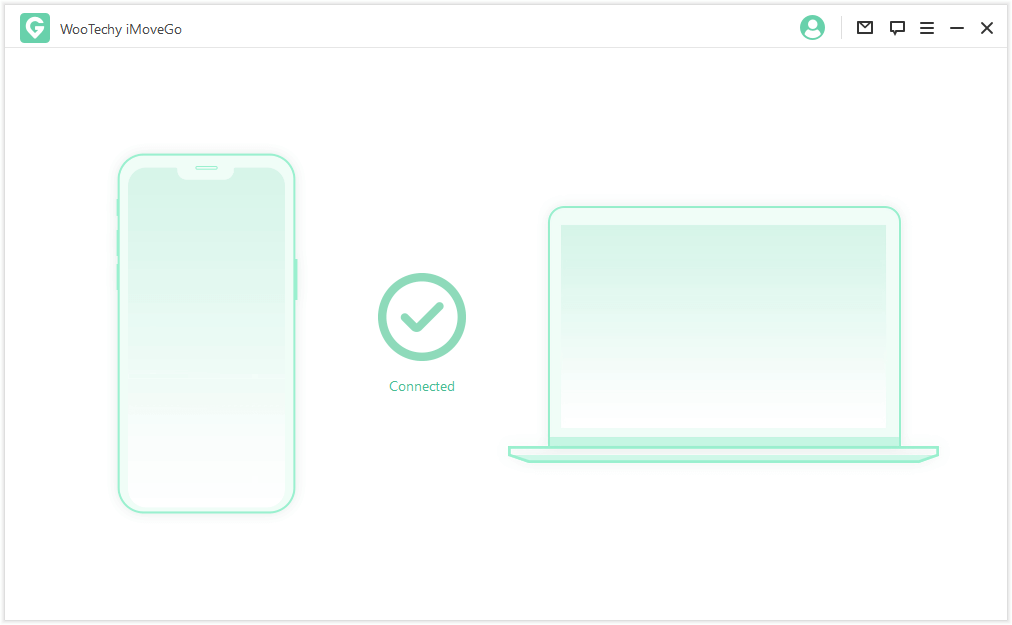 Step 2. Enter any address or GPS coordinates you desire. From here, you can change your location in a matter of seconds.

Step 3. You can choose from a few different methods:
Teleport Mode: Click on the map or enter a location to move your GPS signal to.
Create A Route: Click on spots on the map to act as waypoints for your journey. You can adjust movement speed and the number of times the journey occurs.
Joystick Mode: Directly control the movements of your fake GPS signal in real-time.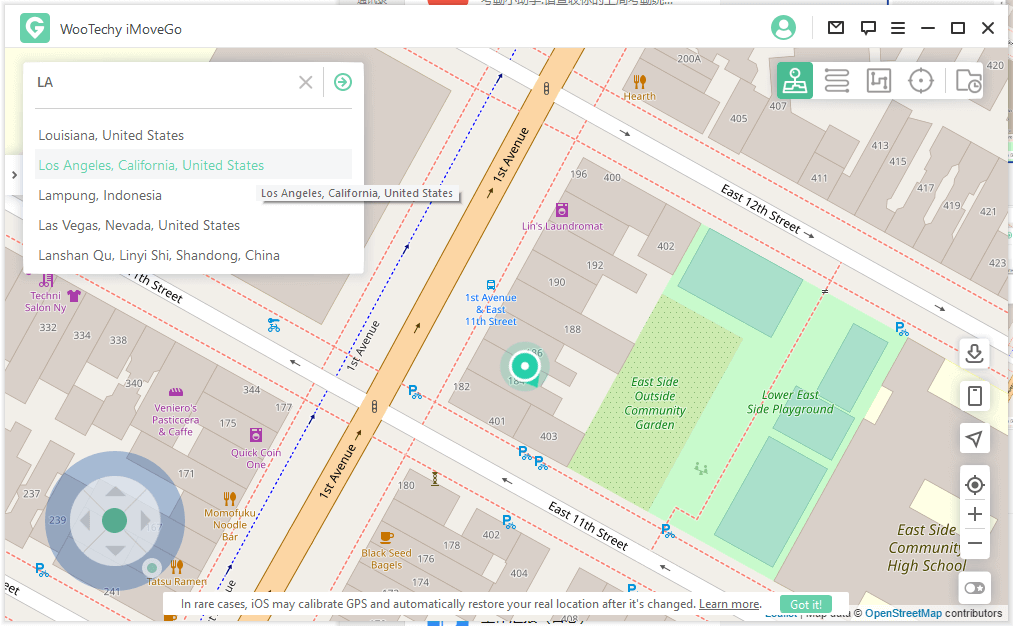 2. GPS Emulator
GPS Emulator is a free location spoofer app available on the Google Play Store for Android phones. The free version comes with some quite intrusive ads that can be bothersome but you can purchase the Pro version to remove them.
The app also appeared to have some compatibility issues with the latest Android updates that cause the GPS to reset to the original location. As of the latest update on the 15th January 2022, this appears to have been addressed.
The app is fairly simple and intuitive to use, you simply tap on the map or enter a location to select where you want to move your GPS to. Installation does require a few extra steps as you need to access the developer tools on your phone to set it up.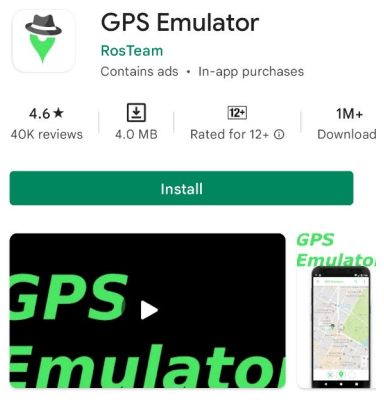 Pros:
Free (if you don't mind ads)
Doesn't require a computer
Simple to use
Cons:
Prone to bugs
Ads can be annoying
GPS movement feature doesn't work in the background
Locations are not very accurate
Fake location doesn't last for very long
Doesn't work with AR games like Pokemon Go
How To Use Fake GPS App GPS Emulator
Step 1. Download the app from the Google Play Store. Open the app.
Step 2. Select a location by tapping on the map or entering a location.
Step 3. Press the green button at the bottom of the screen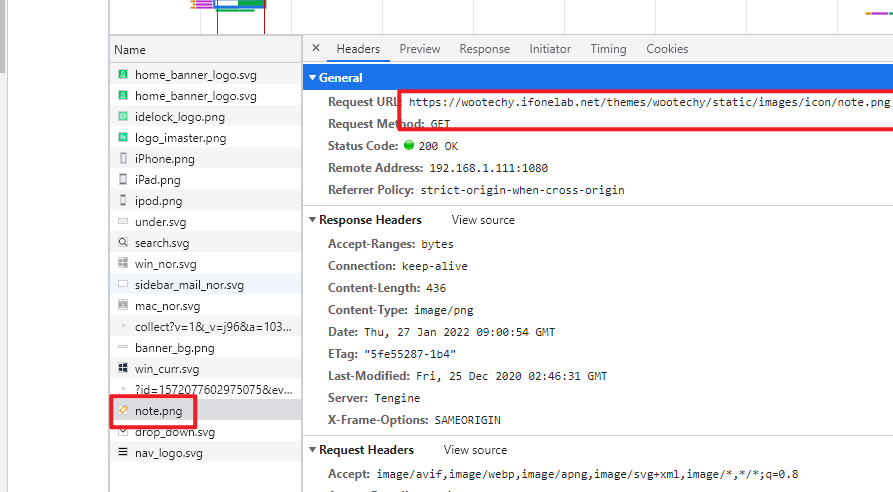 Step 4. A prompt will appear asking if you want to set GPS Emulator as your mock location app.
Step 5. Make sure you have developer options enabled. Go to developer options and tap "Select Mock Location App" to set GPS Emulator as your fake GPS app.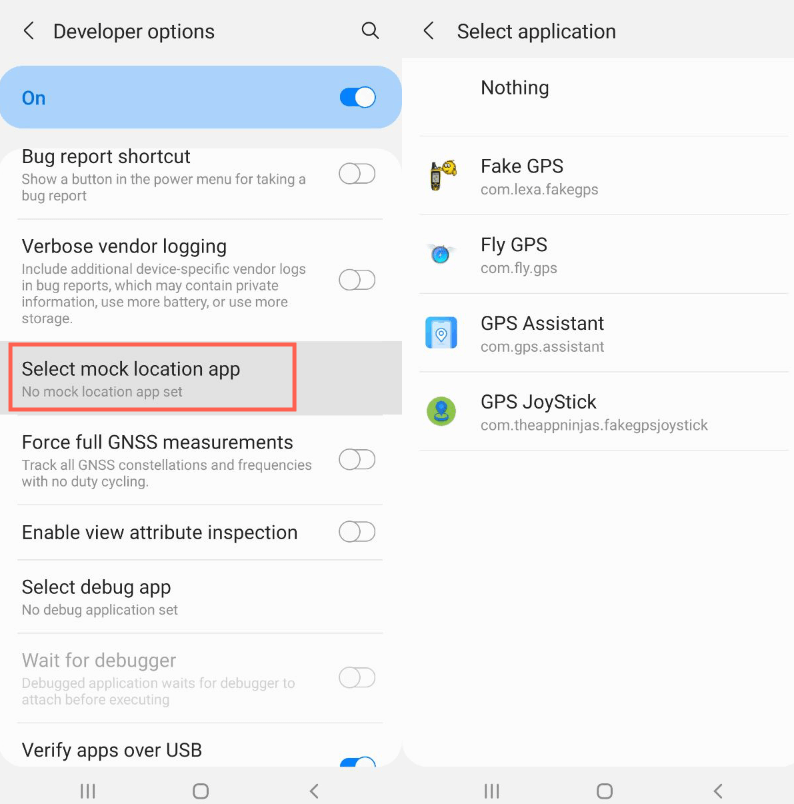 Step 6. Return to the app and press the green button again to change your location.
3. Location Handle
Location Handle is a location spoofer for iOS that can be accessed by jailbreaking your iPhone.
Jailbreaking is a process by which users modify their iPhones to bypass their built-in restrictions. This allows them to access third-party apps (known as "tweaks") that are not available on the App Store and perform other modifications on their device.
While it does offer a range of new options to iOS users, jailbreaking is not 100% safe. It can cause issues with battery life and can crash your device. Jailbreaking also voids the warranty on your iPhone meaning you won't be able to get support from Apple if your phone breaks.
Location Handle comes with four modes to spoof your location: Normal, Offset, Automatic, and Manual. The app lets you set your location to anywhere in the world and will even move your GPS signal around the virtual location as you walk. It also includes a joystick feature to move your location manually.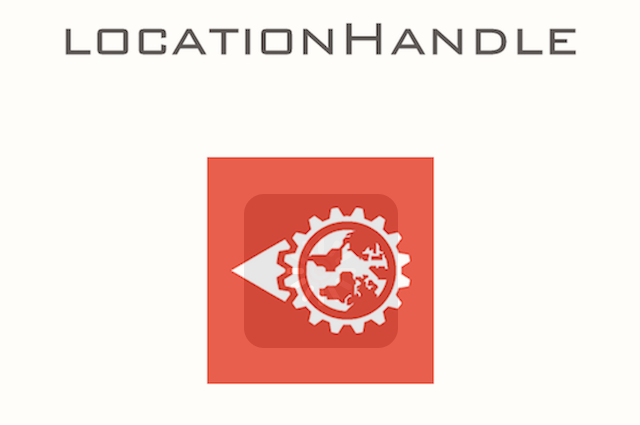 Pros:
Cheap
Different modes of location spoofing
Doesn't require a computer
Cons:
Requires jailbreaking your phone and breaching the terms of service
Not compatible with iOS 15 as there is no way to jailbreak it
Not compatible with Android
Joystick feature lags a bit
How To Use Location Handle
Ensure you understand the risks of jailbreaking your phone before doing so.
Step 1. Jailbreak your phone.
Step 2. Install and open Cydia
Step 3. Search for "LocationHandle". Install the app. It will now appear on your Home screen.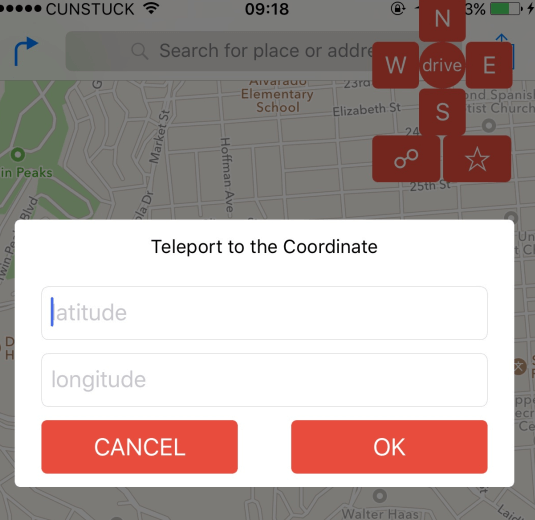 You can only enter coordinates, but it does allow you to save your favorite locations. Note that this app is very outdated, it's only available for iOS 9.3.3 at the latest. Use at your own risk.
Conclusion
There are many factors to consider when choosing the best mock location app to use. If you're looking for a simple and reliable way to change your location without being tracked, then a desktop application is your best option. Unlike other apps, desktop GPS location changers don't require any risky changes to your phone and can provide the most consistent and accurate service without glitches that reveal your true position. You can try it out for yourself by downloading the free trial version of iMoveGo.