It's widely accepted that most users on Tinder prefer to have fun with short-term dating than long-term relationships, which is perfect for a holiday! The problem is the app doesn't let you match with anyone outside of your immediate geographical location. To help you work around this problem, this article provides you with 3 solutions for changing / faking Tinder GPS location.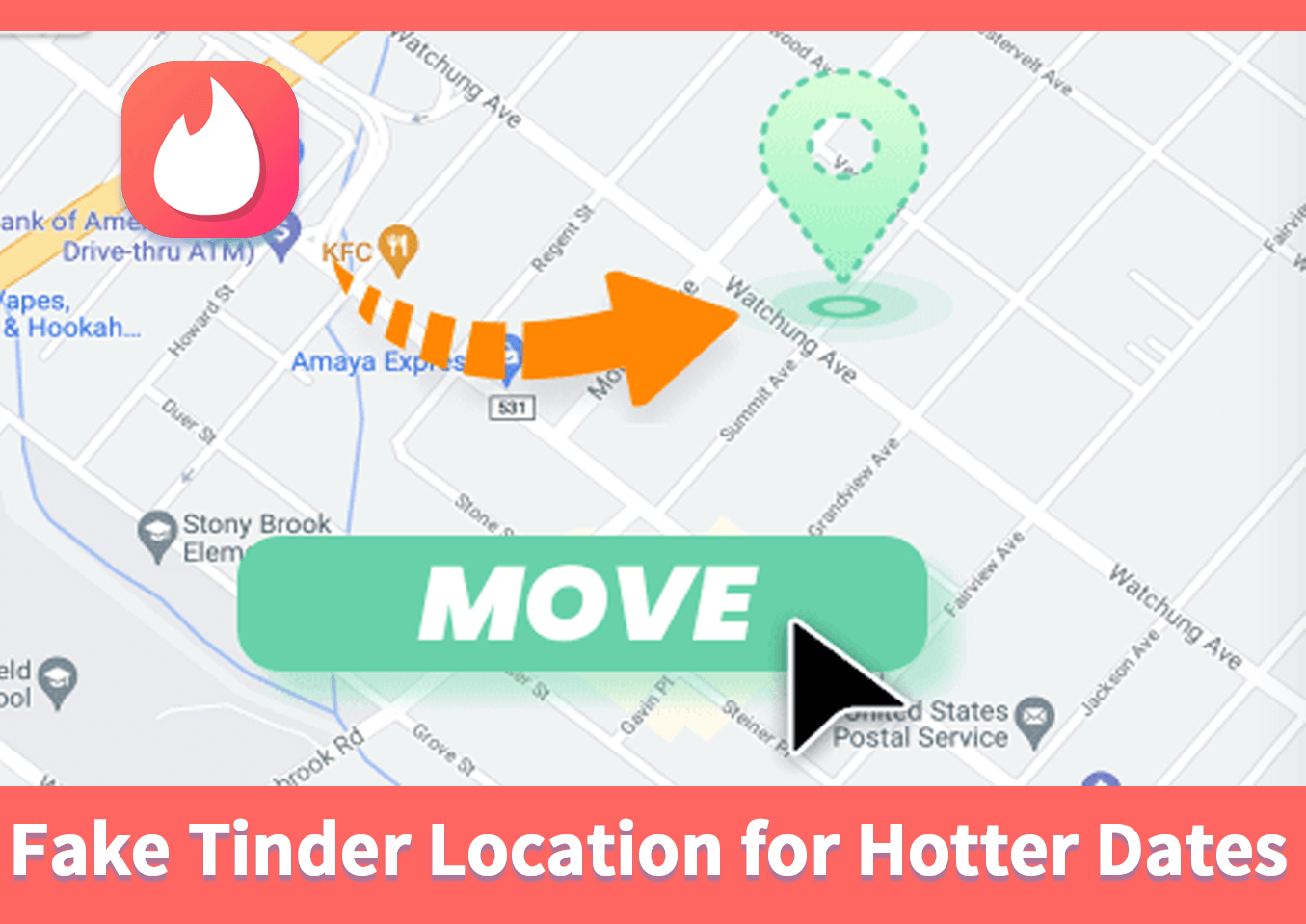 Part 1. How Does Tinder's Location Work?
Tinder only accesses your location when you open it up, which triggers the location feature inside it. Therefore, if you have changed places, your location on the app will not change until you have opened it.
There are two location options for Tinder that can be changed in your settings. The first is to allow Tinder to access your geo-location when the app is open, and the second option is to never let Tinder access it.
Can I Use Tinder with My Location Hidden and Not Allowing Tinder to Access It?
The answer is
yes
, it is possible. However, seeing as Tinder is a location-based dating app, you must be prepared for inadequate or irrelevant matches, defeating the app's purpose.
When you choose the second option, the app pings your new location only when the app has been opened. Your previous location data that is stored on the app is thrown out and replaced with your new GPS location.
Part 2. Why Would a User Want to Use Fake Tinder Location?
There are two main reasons why someone would want to change their location on Tinder:
Looking for holiday-dates: First is because they have planned a holiday to a new location and is looking to pre-organize a few dates a head of schedule to have a good time.

Run out of matches: Second reason is a user may have run out of options or matches in their own hometown and is looking to broaden their search parameters to find and connect with new people.
Whatever your reason might be, what's more important is how you can fake your GPS to trick Tinder into thinking you are somewhere you are not.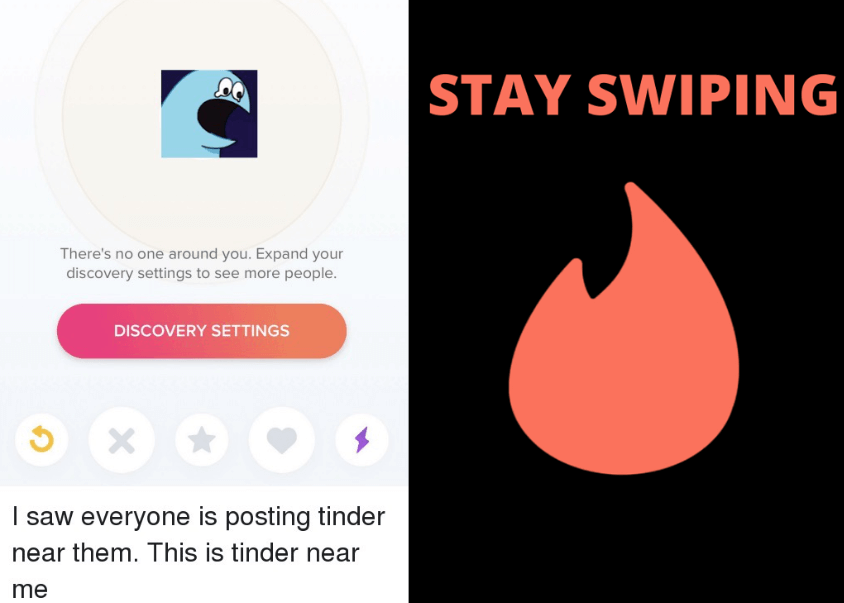 Part 3. How to Change / Fake GPS Location to Everywhere for Tinder?
We'll provide you with three ways to change your location on Tinder. One of those methods has been reviewed by several users as the best solution to get a fake GPS location on Tinder. To not waste your time, we'll start with that as your first option.
| | | | | |
| --- | --- | --- | --- | --- |
| Apps and Metrics | Supported OS | Price | Guaranteed to work everytime | Ease of Use |
| iMoveGo | iOS & Android | $9.95/month $59.95/lifetime | | |
| Tinder Passport | iOS & Android | up to $60/year | No | No |
| NordVPN | iOS & Android | $143/year | No | |
1

Fake Tinder GPS with Location Changer

An unavoidable issue with faking your GPS location when using a mobile device on Tinder is the fact that you have to find a way to bypass the device restrictions preventing you from installing anything insecure on your phone. Well, we found that just as annoying as you do, so it is highly recommended to use a piece of brilliant software that allows you to entirely skip the jailbreaking/rooting step and go right into GPS spoofing your location on Tinder.

Location Spoofer iMoveGo allows you to change your location on Tinder without subscribing to Tinder+ and above. This fantastic software will enable you to teleport your geo-location to anywhere you want on the map.
Its key features include:
Teleport your GPS location to anywhere in the world, and even simulate your GPS movement at a customed speed.

A free trial, which means you get to see first-hand how powerful this software is.

It works for both iOS and Android, which means almost everyone with a phone can use this software.

You don't have to jailbreak/root your device, which means you don't expose your device to hacking when changing your location.

Works for all location-based apps, which means you can fake your GPS location on Tinder, Bumble and any other apps that use your location.

Privacy security measures are in place, which means your personal information will not be shared or exposed.
Steps to Fake Tinder GPS with iMoveGo
Step 1. Install iMoveGo and connect your iPhone or iPad to your computer using a USB cable or WIFI connection. Unlock your device, and be sure to tap Trust when it prompts.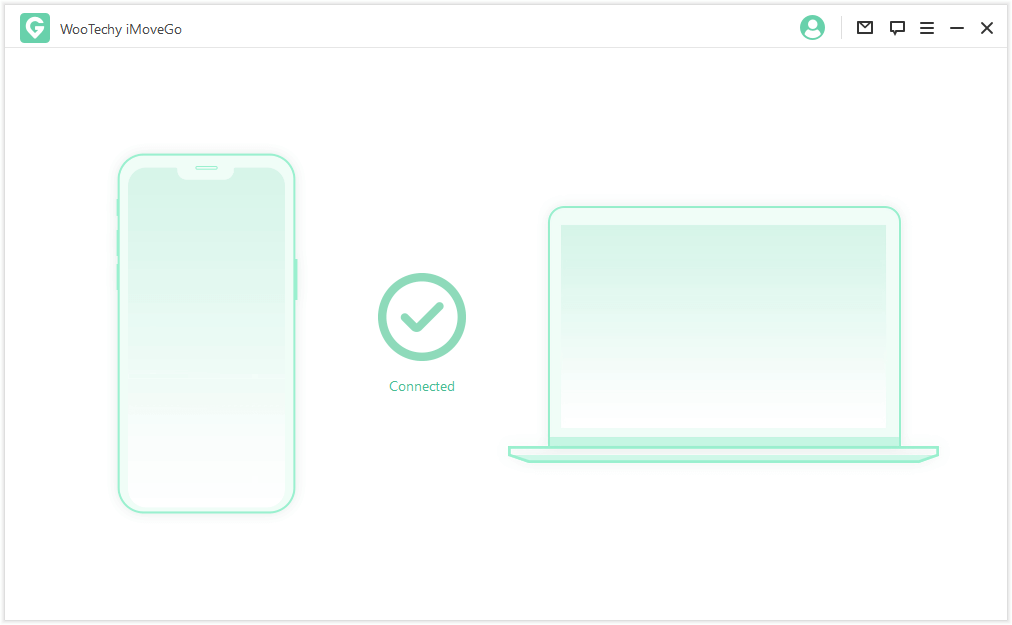 Step 2. Select a new location using the Teleport Mode (the 4th icon). Once you have a destination selected, click the Move option.  You can even create a customized route with Multi-Spot Mode or Two-Spot Mode.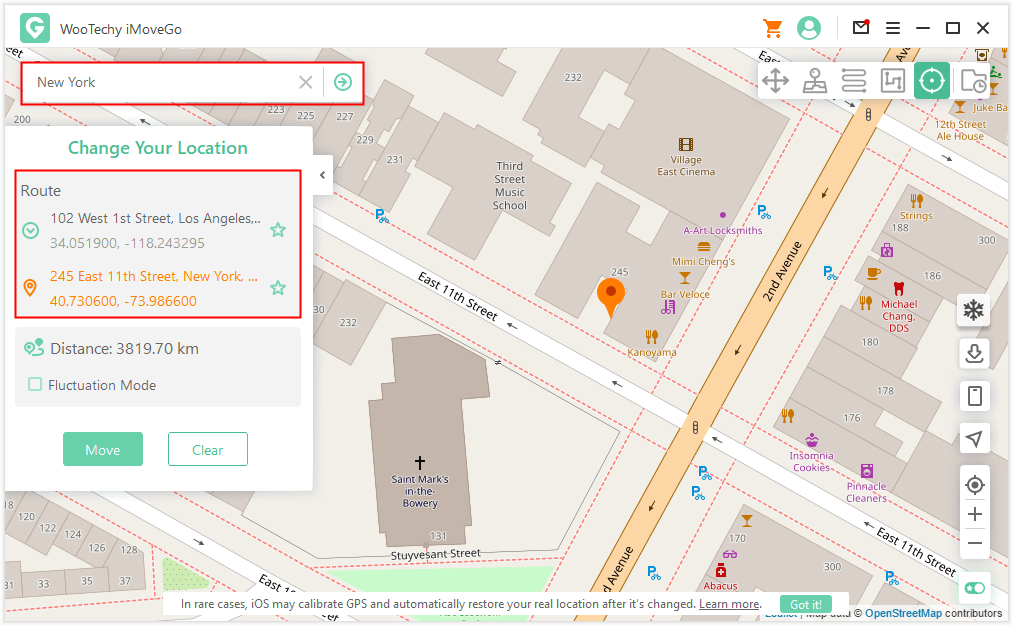 Step 3. iMoveGo will change your location or complete the movement as planned. The changes will be updated to Tinder timely.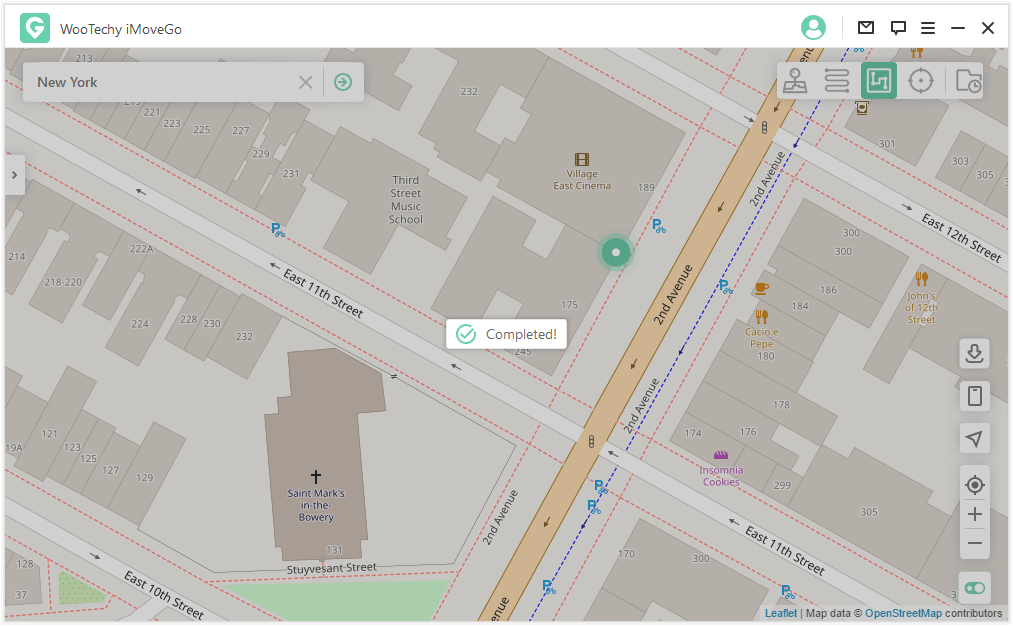 Now you can unlock more profiles on Tinder.
2

Purchase Tinder Subscription (Tinder Passport)

As mentioned above, if you want to hide your location from Tinder, you can simply go into your setting and deny Tinder from accessing your location. However, since this will affect Tinder's ability to give you the right type of matches based on your location, this option won't be ideal for most people.

Therefore, your second option would be to upgrade your Tinder subscription to anything from Tinder+ all the way up to Tinder Platinum. This gives you access to the app's premium feature known as your Tinder Passport.

To use this feature, after you upgrade, go to your device settings and look for Locations(iOS) or Swiping in (Android). You can add a new location to search for new matches. The last 5 places you changed to will be available for you to toggle between.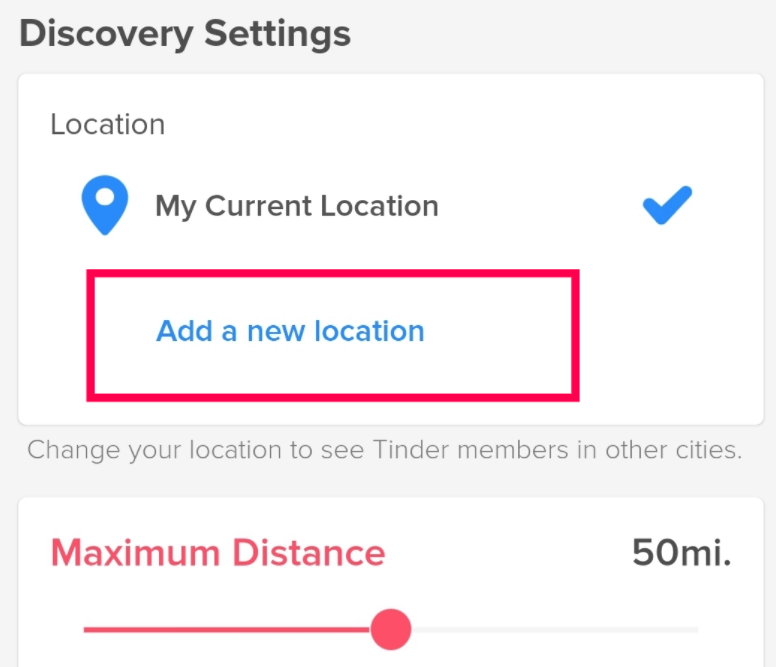 This approach has three main disadvantages to it:
Tinder Passport shows the actual distance between your match and you. This can be a bad thing as users might not like the fact that you are actually not from the same city, thereby reducing your chances of getting a good match.

When you change your location on Tinder, the matches you have liked will only see your profile for 24 hours.

Lastly, if you are a frequent traveler and happen to change your location a few too many times, the app starts to malfunction on you. Tinder hasn't officially reported this, but several users have taken to online forums to warn others about this problem.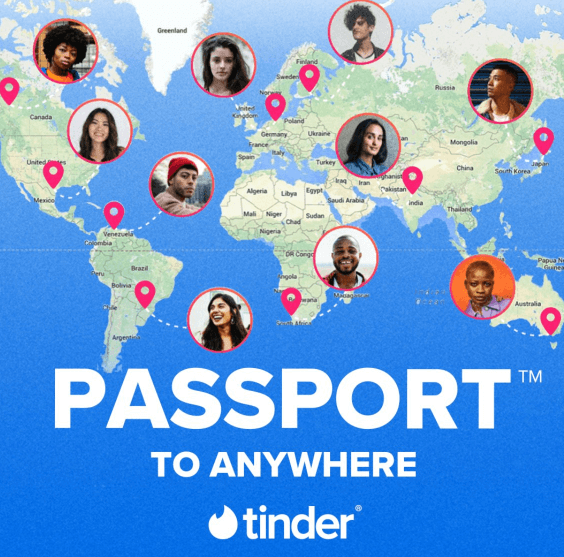 3

Use Tinder Location Changer from Google Play [Android Only]

There are many Fake GPS location apps you can download from Google Play. Normally, this type of apps are filled with intrusive ads and your experience will be terrible. However, to use them as an alternative choice of Tinder location changer, follow these steps:
Install a location spoofing app such as Fake GPS Location on your device.

Enable the developer options on your device by opening Settings and scrolling down to Systems. Next, click on 'About Phone' and rapidly tap on the build number until it unlocks the developer options. Click back and click on the Develop options item.

When you are inside the Developer options menu, toggle the button on top to make sure it is on. Then, select the location spoofing app that you have downloaded.

Pick the location you want to change to, and you are good to go.
Tip:

Use Tinder Location Changer with VPN

VPNs have the capacity to spoof your IP address while using Tinder, but cannot fake your Tinder GPS location. Normally, we enable VPN to mask the truth that we are using location changer. And you need to be careful with which one you choose to use. Free VPNs sell your private information to marketing companies, some VPNs don't have the most robust security to protect your confidential information and other VPNs may not have servers in enough locations to give you the freedom of choosing any location you want.

NordVPN is a fantastic choice with over 5000 global servers in close to 60 countries. The app provides lighting, fast connections, great customer support and have next-gen encryption for data security. The thing that might deter you from going with a VPN are that a reliable app like NordVPN comes with higher pricing plans.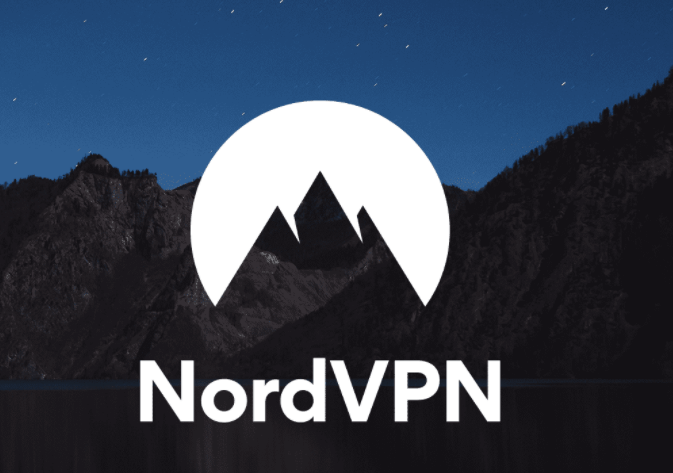 FAQs About Tinder Location
Q1. How Do You Not Show Your Location on Tinder?
To do this, you need to upgrade your subscription. You can edit your profile in the extra section in Tinder Plus or Tinder Gold, but not for free users.
For Tinder premium user: Go to your app settings, select Add a New Locations and Don't Show My Distance to hide your real loation.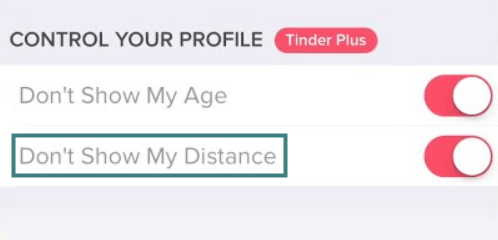 Q2. Can Fake Locations Be Tracked on Tinder?
With each new update, Tinder comes up with new ways to track fake GPS spoofing apps to shut those accounts down. Using iMoveGo is a foolproof way to have a fake GPS location on Tinder.
Conclusion
To recap, the fact that Tinder is a geo-location-based app that uses a small radius around your current location can be quite limiting. You have three possible ways to forgo these restrictions. iMoveGo as the Best Way to Fake Tinder GPS, is a desktop software that works perfectly to fake your GPS location on any geo-location apps for iPhones and Androids. Upgrading your Tinder subscription to Tinder+ or above is your second option. However, this comes with its limitations too. Lastly, you can install android location changer with a VPN to spoof safely on Android phones. However, these app are more likely to be banned by Tinder as they a not that reliable and power like desktop application.