Google account provides an unlimited range of features, some of which are often restricted in different countries. Those features can either be fun to use or enhance the functionality and productivity at your end. However, there seems to be no solution to use those unless you are in that country. You may use those options to learn how to change country in Google Play Store.
Part 1. Things You Must Know Before Changing Google Play Country
Although the Google Play change country process will let you access the unavailable apps in your country, things are not that simple. There are a few things that you must be very careful about before beginning this process, and those include:
If you often use paid services on Google Plan and have an account balance, your previous country account balance will become unusable once your country location changes.
It is not an immediate process, as when you change the settings, the Play Store may take up to 2 days to change your location.
Changing to another country will result in more than a few features at the cost of losing several previous useful features.
You can only change these settings once a year, so be careful with this feature.
Part 2. How to Change Country in Google Play Store on Android Settings
Most Google Play users want to change their location from their smartphones. So, we will begin with the Android settings method. Below are the detailed steps that you must carefully follow for this method to work:
Step 1. Open the Play store and tap on your account icon. Now tap on Settings and then go to the General section.
Step 2. Select the Account and device preferences option and go to Country & Profiles.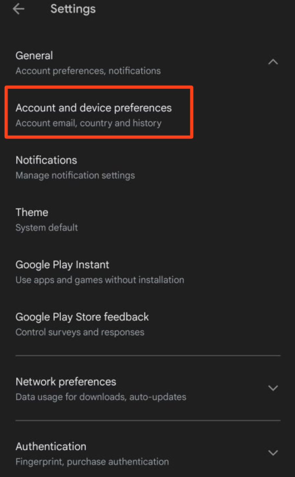 Step 3. You will see the current location, so tap on switch country and verify by tapping on continue.
After you verify, the process will be complete, and the Play store may start showing any important messages regarding payments in the new country. Remember that once you complete the process, you may need to wait for at least 48 hours before seeing any changes effective. Additionally, you can only do this once a year, so when you change country, it can be done again after 365 days.
Part 3. How to Do Google Play Change Country from Computer
You may also use the Google Play website on your PC to change your computer's country. The experience is like that on Android devices, as you will change the account location from its settings.
Although there are no third-party applications involved in the process, you will need credit or debit cards from both countries to do this process. So, here is how you can change the country from a computer on Google Play.
Step 1. Open the Google Play website on your PC.
Step 2. Tap on your account icon on the right top and then on Payments.
Step 3. In the methods, add a card from your previous country. You may skip this step if you have already added a card.
Step 4. Now go to Settings and click the country/region option. Enter new payment details.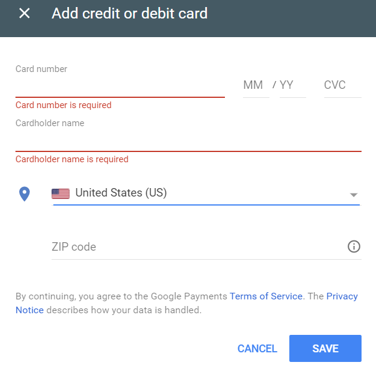 Now you will be done with this process. However, it may not show the new location instantly as it may still follow the 48-hour updating rule and the 365 days restriction from changing the country again.
Part 4. How to Change Google Play Country by Using VPN
Another easy method the change the country on Google Play is by using a VPN application on your android device. Remember that there are all types of free and paid VPN apps available. So, select a reliable one that maintains your security and privacy and offers an easy experience.
You may try VPN Proxy Master for its easy experience, free usage, good performance, and, most importantly, a long list of countries to select the servers. Follow the steps below to change your country:
Step 1. Go to Google Play Store and download the VPN Proxy Master application.
Step 2. Start the app, and on the top right corner, tap on the flag icon.
Step 3. Select the server from the country you want to switch to and wait for the app to establish a connection.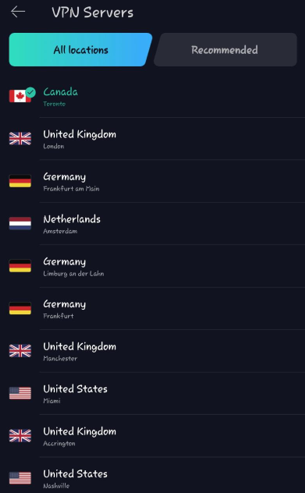 As soon as you see the successful connection message, the country will be changed, and now you may access all restricted features.
Part 5. The Safest Way to Change Google Play Country with iMoveGo
All the methods discussed above surely work, but each has a catch. For instance, one needs to wait hours to see the effect, while one needs an additional VPN app always working on your device. These solutions may not offer you the best experience so go for the safest way to change the country with iMoveGo, your best location spoofing tool.
Key Features of iMoveGo
75.000.000+
Downloads
It supports Android smartphones, tablets, iPhones, and iPads.

Works flawlessly on Macs and Windows PCs.

You can use any location in any country effortlessly.

Instant effect and instant reversal, as well.

Protect your privacy as no third-party app is involved.
With its extensive feature list, iMoveGo brings a simple and easy experience. You begin installing it on your PC, and once the tool launches, you can follow these steps.
Step 1. Unlock your device and connect it to your PC using a data cable. The program will ask you to identify your device.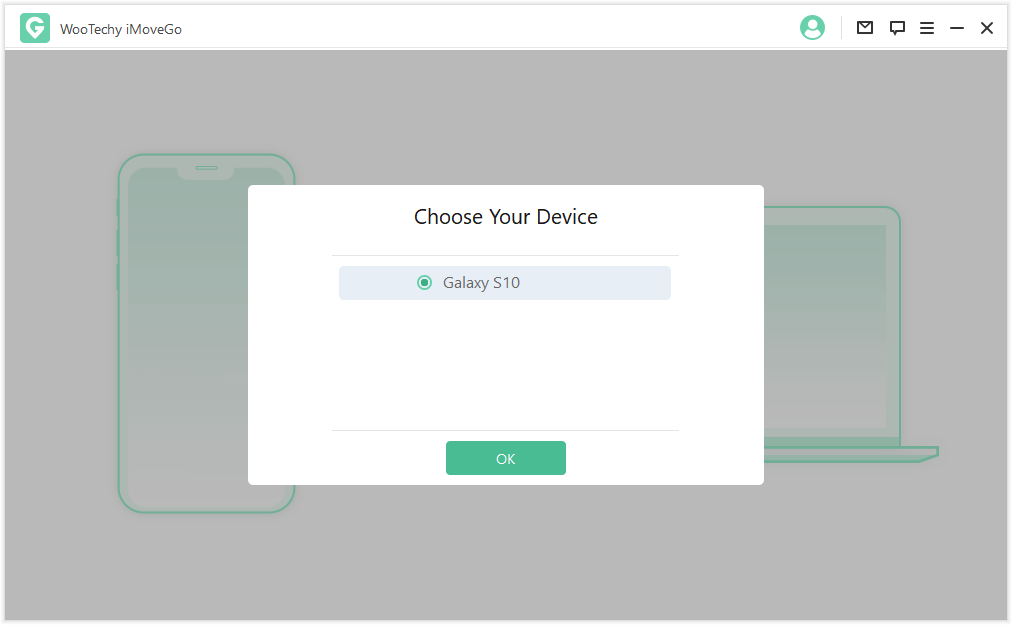 Step 2. Turn on USB debugging on your Android, and it will give you a clear steps guide.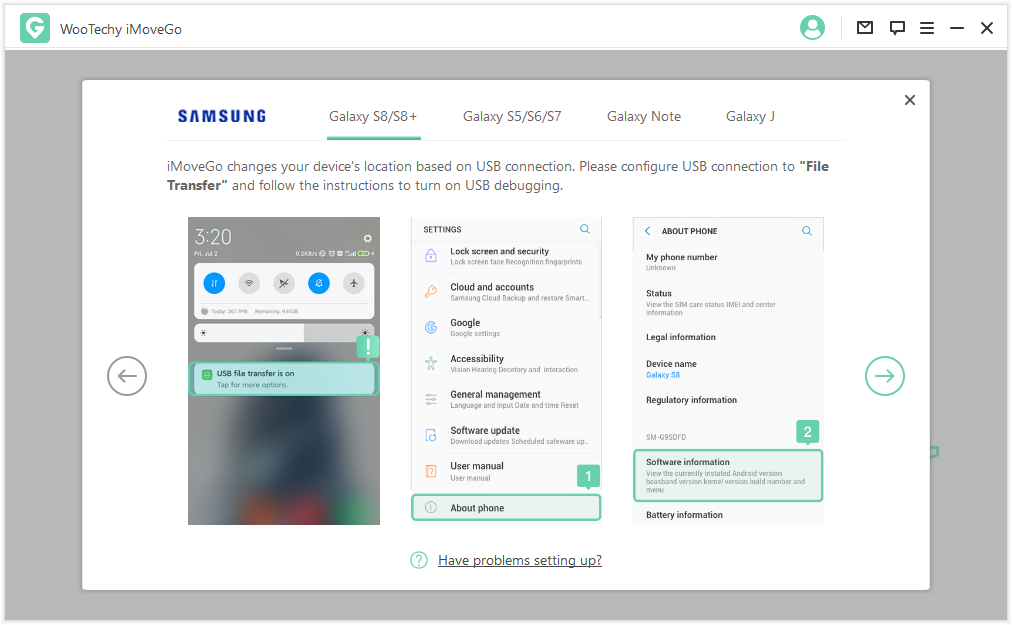 Step 3. Choose your location mocking mode. For changing Google Play country, you may select Social mode.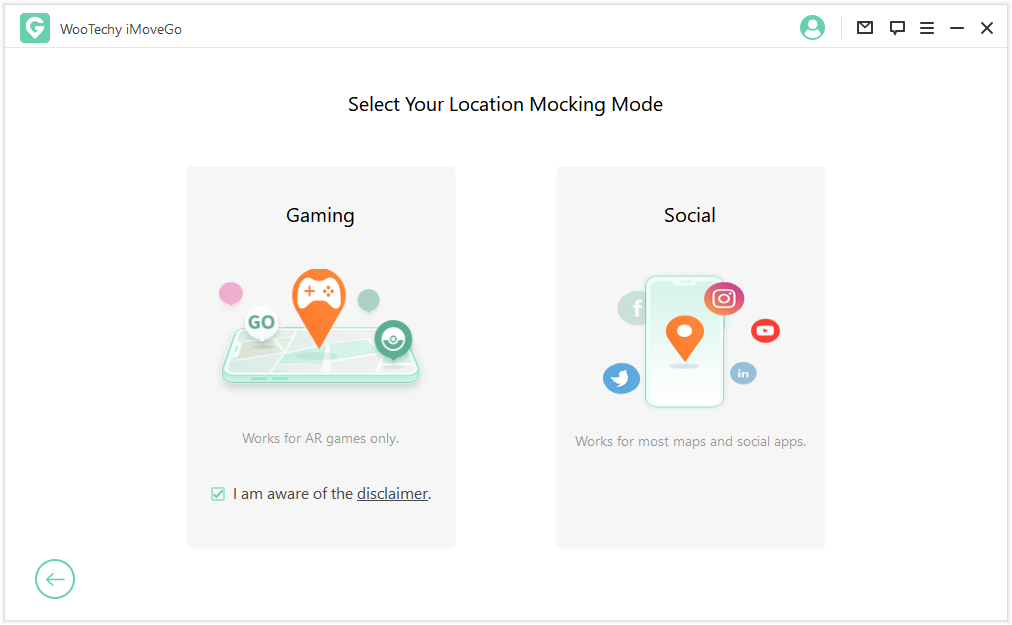 Step 4. Go to the right-top section of the iMoveGo interface and select Teleport mode. Enter any location of your target country and click Move.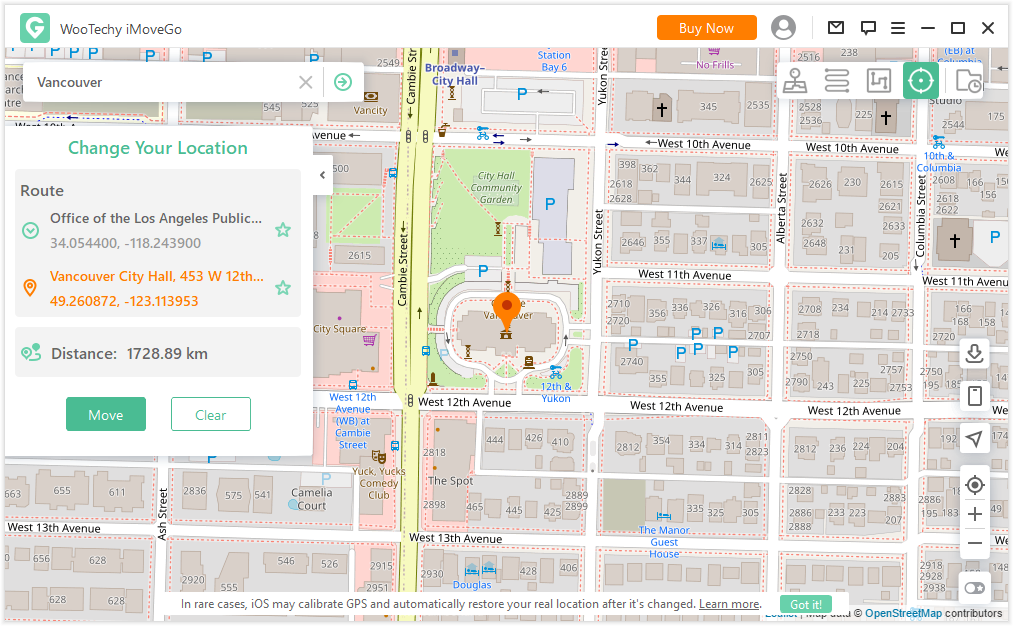 Instantly, you will see that the real-time location services on your device are reading location details from the one you've set. So, it is an instant experience.
Conclusion
There could be several cases where you want to change Google play country location. As there are different methods to do this, you can choose the most efficient one depending on your requirements. For a better experience, always select the option that provides instant effect and easy reversal without waiting hours or days.