If you've tried a mock location on Android before, you've probably encountered Fake GPS Joystick & Routes Go. Many use this app to share fake locations on apps like Snapchat or have enhanced gaming experiences in Pokémon GO.
While some have been fortunate, many who use this app report that it is too complicated to set up. Others are blocked by various errors. Whatever the case, it's not fun to run into roadblocks. However, having a proper tool will help you get rid of the trouble and spoof your location freely. Therefore, we will offer you the entire Fake GPS Joystick & Routes Go review and offer you the best alternative.

Part 1: How Do I Use Fake GPS Joystick & Routes Go?
Fake GPS Joystick & Routes Go is an Android apk that you can download onto your phone, buy it from the Google Play Store here. (US$3.99)
Within the app, there are several different modes, the two most important ones are Fake GPS Joystick and Fake GPS Go Routes. These modes help you play Pokémon GO in a mock location, either navigating the map freely or setting up a custom route ahead of time.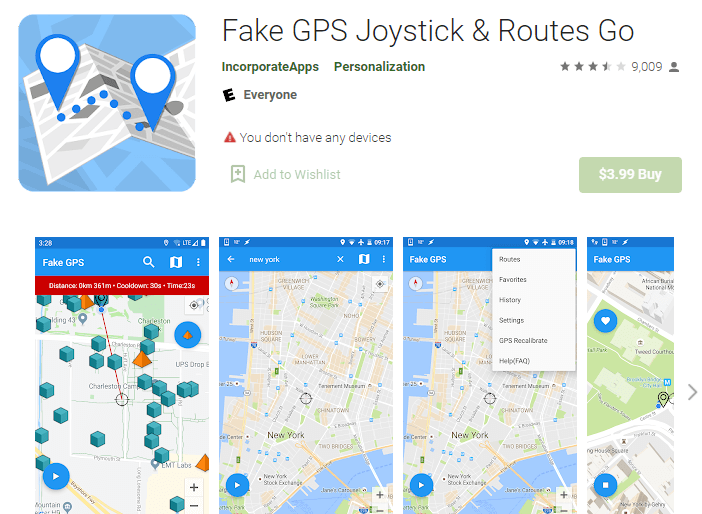 Here is a step-by-step guide to using Fake GPS Joystick:
Step 1. Open the app and you will see the map loaded.
Step 2. In the map section, select a false location by long pressing the map on your route.
Step 3. If it is your first time using the app, you will need to allow the app to access your phone settings. Make sure the "Allow mock location"option is selected.
Step 4. Go back into the Fake GPS Joystick app and click on "Start" button to continue your routing.
Step 5. If you encounter any issue, the developers recommend you read their FAQ carefully. You can find the FAQ in the settings bar in the upper-right corner.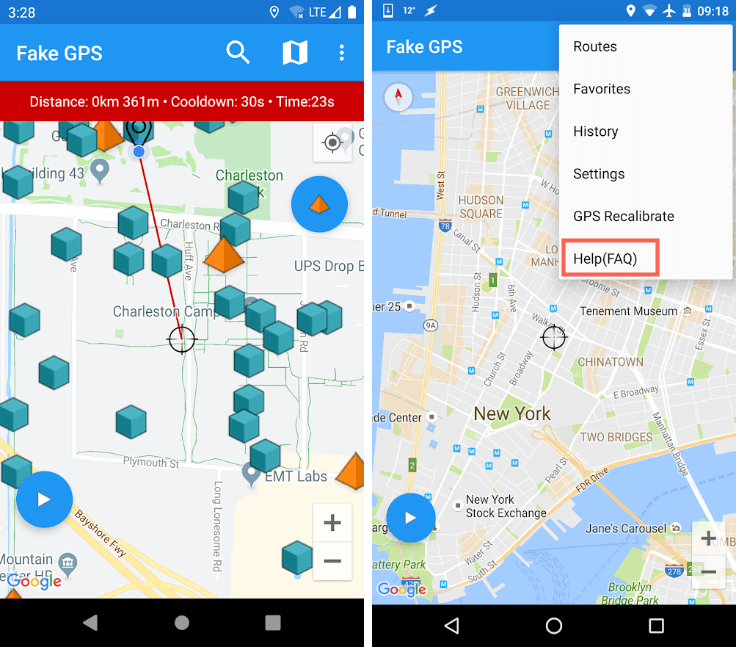 Note
The main reason why they ask you to read the FAQ is that for the Fake GPS Joystick to work with Pokémon GO, you need a rooted device. Once you figure out how to root and unlock your device, you should install the Fake GPS apk file as a root program.
Unfortunately, Niantic, the developers of Pokémon GO, have caught onto some of these location hacks. As a result, they've found ways to counter apps like fake GPS by detecting whether you are using a rooted location program. That means some users have received the "GPS Signal Not Found" error while others have gotten banned. You probably want to avoid both outcomes and preserve your in-game progress. Let's check if it's worth using Fake GPS Joystick & Routes Go.
Part 2: Full Review of Fake GPS Joystick & Routes Go
There's a lot of discussion regarding whether Fake GPS will deliver on its implied promise of location spoofing for Pokémon GO. Together we'll weigh the pros and cons of the app.

Pros
It's more secure than many Google Play Store apps, while most free mock GPS apps you find on the Google Play Store can't really work.

Fake GPS Joystick & Routes Go is a mobile app. It doesn't require to work with a PC.
Cons
Low compatibility - Fake GPS Joystick & Routes Go is only available for Android users.

Poor cutsomer service - The developer requires you read the FAQs carefully before emailing or adding a review.

Require rooting - They require users to root their Android device and then install the Fake GPS app from the root, which is a challenge for any non-technical user.

Fake GPS not stable - You'll need to constantly switch between the two apps.

GPS Signal Not Found issue - Pokémon GO could detect that you're using a rooted device and throw "GPS Signal Not Found (Error 11)" at you.
Part 3: Is There Any Better GPS Joystick for Pokémon GO?
When you need a GPS joystick app for Pokémon GO, you should prioritize simplicity. You can choose a secure desktop location changer that lets you fake your location without hassle like iMoveGo.
iMoveGo allows you to spoof GPS location so you can share fake location with your friends or play Pokémon GO from your home. The joystick function enables you to move flexibly from anywhere at any pace so you can fool anyone into thinking you're on a journey.
Here's how it compares to Fake GPS Joystick:
| License Type | Requires Root | Risk of getting banned | Set up requirements | Free Trial before buying |
| --- | --- | --- | --- | --- |
| Fake GPS Joystick | Yes | High | Long, you must read their entire FAQ and root your device. | No |
| iMoveGo | No | Low | Takes only 2 minutes to set up | Yes |
Key Features of iMoveGo
75.000.000+
Downloads
Teleport your GPS location to anywhere in the world.

Move Automatically in Pokémon GO & control movement using keyboard.

Works well on all location-based apps, such as Find My and Snapchat.

Spoof location on up to 5 devices at one time.

Compatible with both iOS and Android devices. (Including iPod/iPad)

Free trial is available for every user.
Video guide of how to use iMoveGo:
Step 1: Download and Connect
Download the app. Once finished, the app will tell you to plug in your device. And when you use iMoveGo next time, you could connect your phone via Wi-Fi and don't need a USB cable.
Step 2: Get Your Device Prepared
iOS users can skip this step. Move to step 3.
However, if you use Pokémon GO on an Android device, Follow the instructions on your screen, and select Gaming Mode.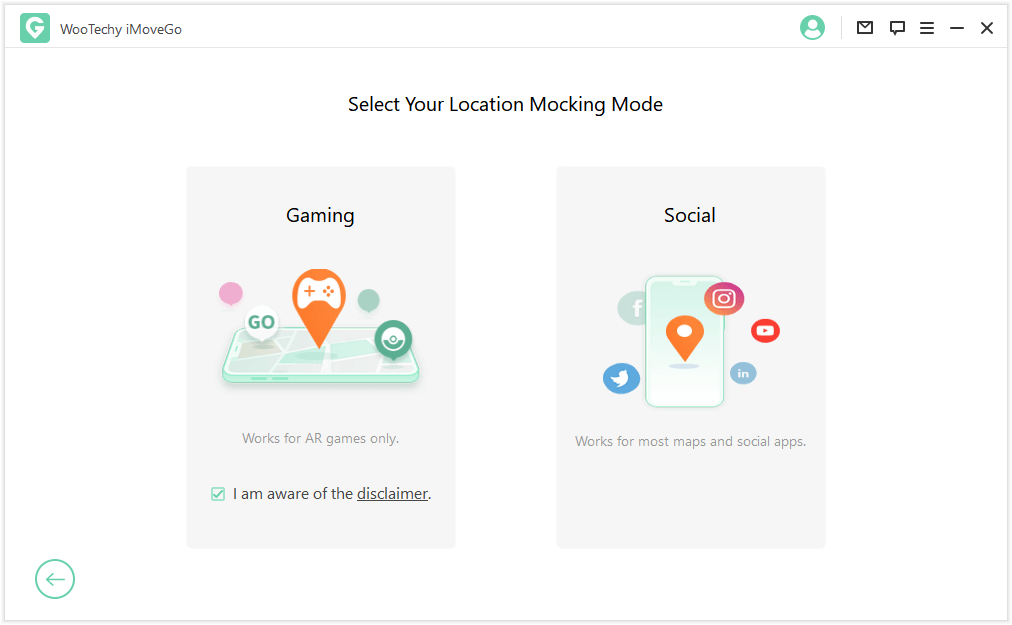 Step 3: Mock Location
With your device connected, the desktop app will load a map. Enter Teleport Mode by selecting the third icon on the right-hand side of the screen. Then, enter your desired location in the search bar on the left.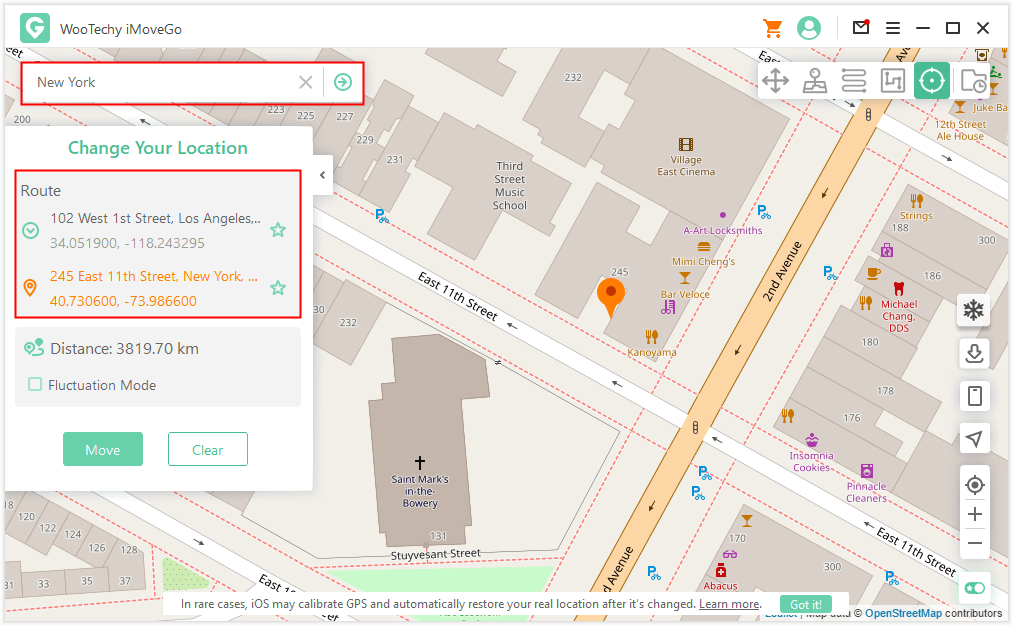 Step 4: Enable Joystick Mode
Use Joystick mode to play Pokémon GO. A widget that says Move will show up on the left of the map. Adjust your speed of movement on the map. To move around, use the arrow keys.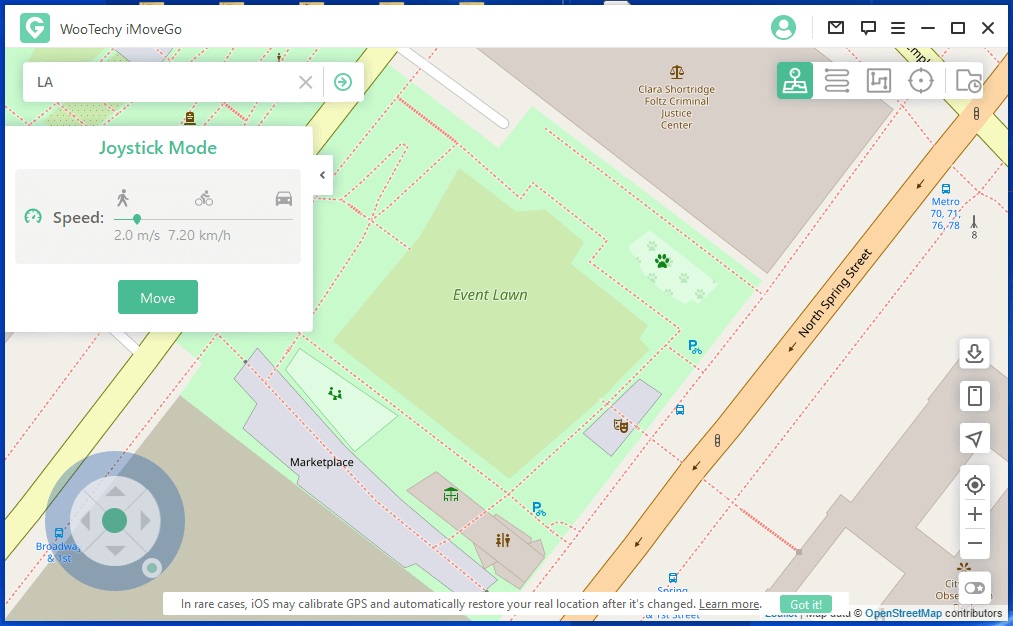 You must not move from place to place too quickly, so make sure your speed is realistic; Pokémon GO will detect and ban users who move too quickly.
Our Verdict
You'll find that iMoveGo's joystick mode is the best choice for spoofing your location in Pokémon GO. With its remote desktop functionality, you'll never need to worry about your account getting banned. It is not recommended to root or jailbreak your phones which might cause severe issue, get started with iMoveGo in only a few minutes.
The Best Mock GPS App
From our comparison, it's clear that iMoveGo is a superior mock GPS joystick app to alternatives like Fake GPS Joystick & Routes Go. Both options let you set routes and move around the map. However, only iMoveGo provides the speed and reliability you need. Start using iMoveGo today to get rid of any trouble while faking GPS location.