The feature of creating and using funny Instagram locations has always been a favorite among many users. This feature was not available on other socializing apps like Facebook in a such simple manner. Funny locations on Instagram post or story may act like a cherry on the cake, so getting as many funny Instagram location ideas as possible is a great idea.
Part 1. Can People See Your Location on Instagram?
When you post something with adding location tags on your Instagram account, people may see the locations you use. So, if you are a frequent poster, your followers may be able to guess where you currently are, but it does not include live and accurate location access. Instagram does not share any precise location data with anyone and is kept private.
Users also have access to disable the location access to this application completely. So, nobody gets to see your location unless you are sharing it. People will only see that specific location with your post when you share your location.
Part 2. 9 Funny Locations on Instagram You May Want to Try
Here are the top 9 funny locations you may want to try on your Instagram posts.
1Euphoria
With millions of Instagram models, Euphoria can be the perfect location tag for your pictures with makeup looks and fashionable dressing. HBO's Euphoria has become a trend over the past few years, and if any of your pictures have a trippy vibe to them, you can use this location tag with that image.
2Planet Earth
This location tag may not be the funniest, but it is a funny way to add a location to nature-inspired images. It goes well with sunsets, beaches, hillsides, valleys, etc. if you are going for a vacation or a trip, remember to use this location tag.
3Making Magic
Making Magic location tag works in several scenarios. It is great for celebrities to give a teaser about something they are working on. Similarly, mothers-to-be can give their followers a hint about their upcoming babies by using this location tag.
4Bikini Bottom
If you are at the beach, this classic SpongeBob reference will be the best. It is a perfect location to add to a picture near the sea, as all the SpongeBob fans will understand it in a moment, and your post will get a hilarious touch because of this location tag.
5Shine Bright Like a Diamond
Rihanna's lyrics inspire this location tag, which is great for showing off your new jewelry or expensive accessories. It is best used for selfies or happy images where you want to flaunt your shine inside out.
6Error 404. Location Not Found!
Say that you don't want to put any location in your post but want to fill that part in. In such a case going for this location tag will be a perfectly humorous idea. It may not steal the spotlight from your image, but it will surely get some attention.
7Drink Drank Drunk
The perfect Instagram location tag to use after that wild night out with your friends. It is good for those drunk photos but if you have some cringe-worthy photos that you want to add to the Instagram dump, consider using this location.
8Santa's Workshop
As the kids believe that Santa's workshop is located at the north pole, you can use this location when posting an image. However, there are no hard and fast rules about location usage, as you can also use the location tag with other images.
9Booty Camp
It can be a funny location tag that you may use for your night out with the girls. You can also replace it with the Girls only Club or any other location, but the Booty Camp stays on the list for hilarious girls' night out location tags.
Part 3. Can I Change to Any Cool Locations in the World on Instagram with Location Spoofer?
You may find some funny locations on Instagram, but sometimes those need to be better for your posts. Similarly, sometimes you may want to get a different location or a custom one. For that, you may use the WooTechy iMoveGo. It is your best location spoofer tool that works on all devices. With this location spoof tool, you may get fake GPS locations for any application that uses location services.
Key Features of iMoveGo
75.000.000+
Downloads
It supports all Android and iOS tablets and smartphones.

You can play location-based games while staying at your home.

Access any services or features that are geo-restricted in your region.

Customizable GPS movement.
WooTechy iMoveGo allows you to change Instagram location on your device to any cool place in the world without being physically present. Below are the steps you may follow to try it yourself:
Step 1. Download, install, and launch iMoveGo on your PC and connect your smartphone to it.
Step 2. While you connect your smartphone, you may need to grant access by tapping the trust or allow button.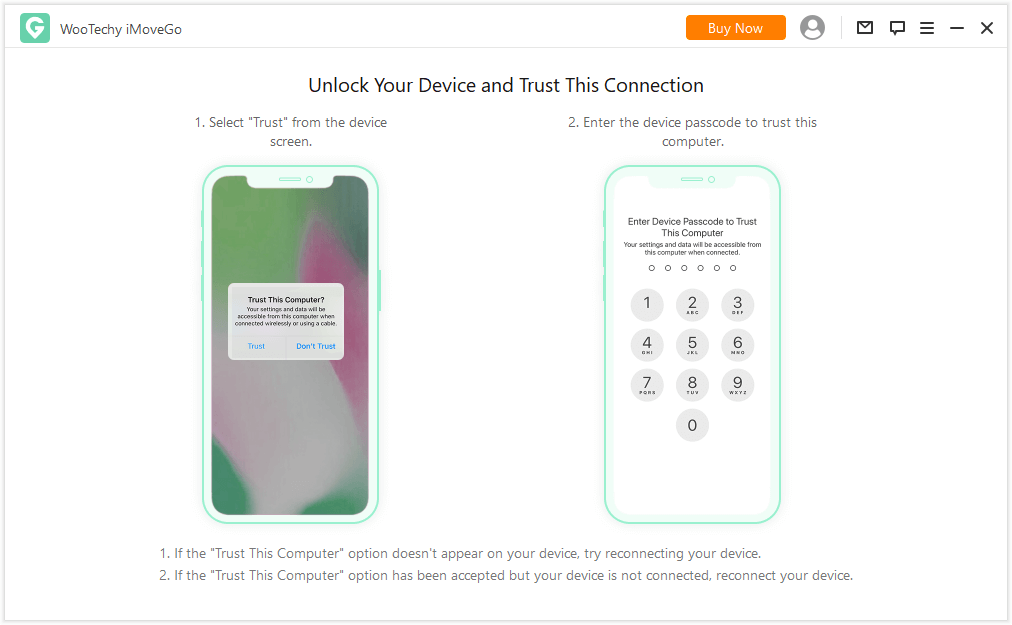 Step 3. You need to go for teleport mode from all the location modes on the tool.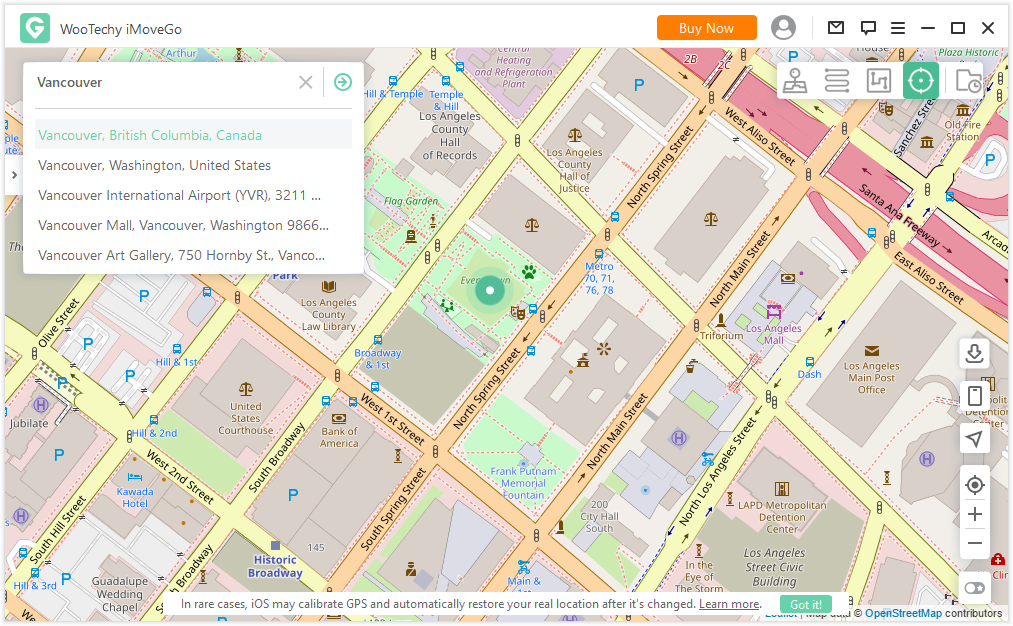 Step 4. Select any location on the map that you want to spoof and click on the move. You can search the location by its name or manually place the map pin to a certain location.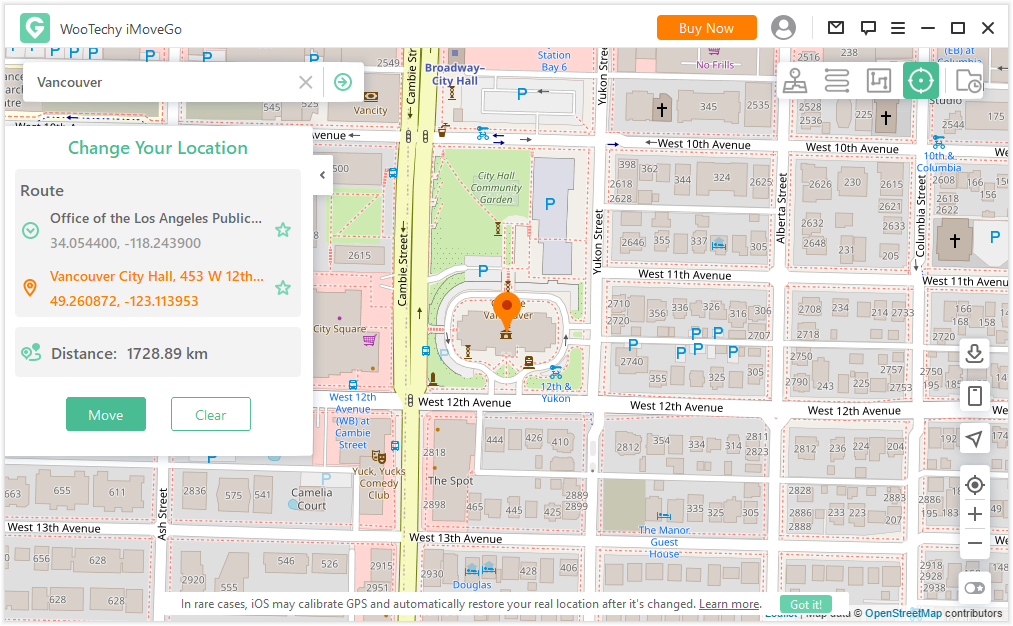 Now your smartphone will show that specific place's current location instead of your real location.
Conclusion
Whether you want to add a humorous touch to your images or fool your friends around, going for cool and funny locations on Instagram tags will be the right idea. Using these funniest locations on Instagram may be fun, but it will be much better if you spoof the location and put the precise location tag of some other place.