Tenorshare iAnyGo is a popular location changer for Pokémon Go and other apps on iOS. However, you might have noticed some pitfalls. For instance, many complain that it charges Mac users more for the same licesen and it doesn't support Android.
Whether you're looking for alternatives on Android or iOS, you shouldn't have to use an expensive app. We'll review the features of iAnyGo and walk you through the Top 3 iAnyGo alternatives. Then, we'll tell you which one is the best for changing locations on your phone.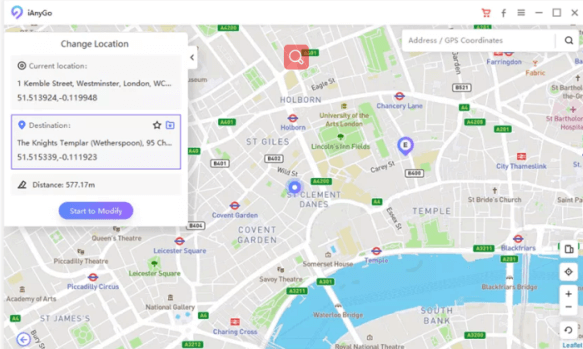 Part 1: Full Review of Tenorshare iAnyGo
A desktop location spoofer, iAnyGo claims to offer one-touch location spoofing that works with any iOS device. The new GPS location will work with most location-based app, and it's compatible with the latest iOS versions. Aside from fixed location spoofing, iAnyGo also allows you to simulate fake routes. You can collect Pokémon on your way from one place to another using their single-spot or multi-spot mode. You can also explore the map without a route as the tool includes a GPS joystick.
Pros:
They offer users several flexible route simulation options to help you play games like Pokémon Go.

iAnyGo allows user to import GPX files that downloaded online.
Cons
iAnyGo is only compatible with iOS devices.

Won't support older macOS versions that earlier than 10.13.

Mac users should pay much more money than Windows users to buy the same license.

Doesn't have a lifetime license for Mac users.

Many users report that they have been offered a free trial in exchange for leaving a positive review of iAnyGo.

iAnyGo doesn't offer feature that allows users to check history.

Part 2: Top 3 iAnyGo Alternatives
Since there are several alternatives to iAnyGo, you might find yourself lost when you try to pick the right one. Don't worry, we've got you covered. Note that each of these options are desktop apps that require you to connect your device to your computer.
Applications
iMoveGo
Dr.Fone
iTools
Compatibility
Android & iOS
iOS
iOS
Pros
Straightforward interface
History records & favourite
Cheapest

Nice UI design
Contain various tools other than location spoofing

Contain various tools other than location spoofing
Cons
Only offers location spoofing
Must download a large toolkit
Expensive
No lifetime plan
In app ads, banner
Expensive
Must buy the whole toolkit
Price
$59.9 Lifetime plan
$9.9 Monthly plan
Same price for Mac users
$59.9 Yealy plan
$9.9 Monthly plan
Mac users must pay extra $10

$34.95-$69.95
unclear license
Rating
4.8/5
4/5
3.5/5
While all three of these options work reasonably well, you can also see immediately that iMoveGo offers the most flexibility. Especially since it lets you change locations on both iOS and Android devices.
1. iOS & Android Location Changer iMoveGo
Made by Wootechy, iMoveGo is a location-changing app that allows you to connect any iOS or Android device and spoof its location. It also includes helpful features like Routes so you can simulate two-spot or multi-spot journeys from one location to another. Furthermore, you can use the joystick mode to move around the map at any speed you wish. You can also import and export GPX files to use and save the best routes for collecting Pokémon. Let's look at the steps to faking your location on this app.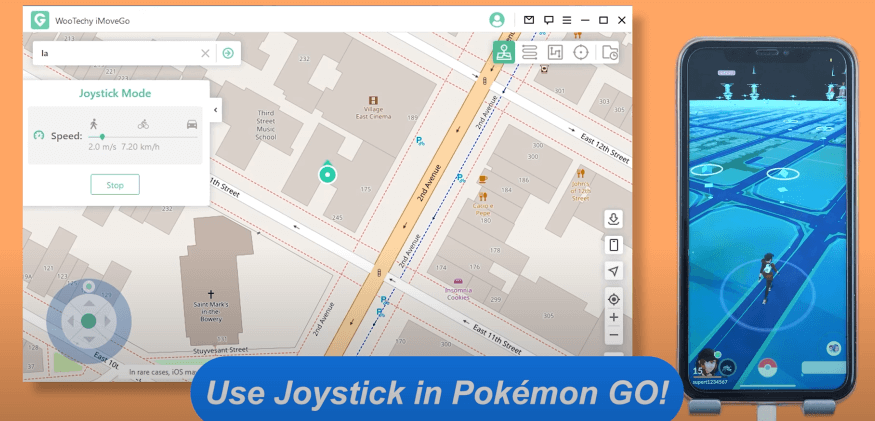 Step 1: Download iMoveGo. Afterward, plug in your device.
Step 2: A map will appear on your desktop. Now, you can search for a location in the search bar by typing in an address or GPS coordinates.

Step 3: After you've selected a location, a panel will appear on the left. Click "Move" to confirm your choice.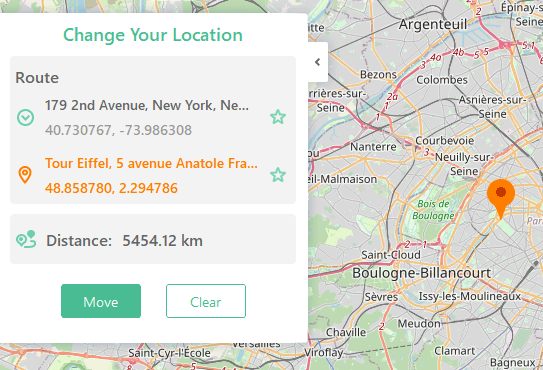 Finally, you can confirm that you've switched locations by opening a location-based app like Google Maps on your phone. You might also want to move your device around the map to help you collect Pokémon. In that case, you could switch to Joystick mode or Multi-spot mode.
Pros:
iMoveGo only took me a few minutes to complete the whole process on location spoofing.

Most location spoofers only focus on one system, but iMoveGo covers you on both iOS and Android.

With 2-spot and multi-spot mode, you can simulate GPS movement for your Pokémon GO trainer.

Advanced GPS Joystick feature allows you to control the movement freely with your keyboard.

iMoveGo allows you to save your favourite spots and check your historical records.

If iMoveGo doesn't satisfy your standards, you can get your money back within 30 days of purchase.
Cons
You must connect a computer to your mobile device like any other apps in this list.

Only offers location spoofing while Dr.Fone and iTools offer features like backup, file transfer.
2. Dr.Fone Virtual Location – iOS toolkit Features
One of various products Dr. Fone offers, Virtual Location provides 1-touch location spoofing from your desktop to iOS devices. Apart from fixed location faking, Dr. Fone offers standard modes like GPS joystick and multi-spot mode. They advertise that, unlike other apps, their joystick and other route faking modes are extremely stable. The joystick provides optimal flexibility, allowing you to move 360 degrees in all directions. Finally, they also allow you to import and export GPX routes which help you save and use custom routes in the future.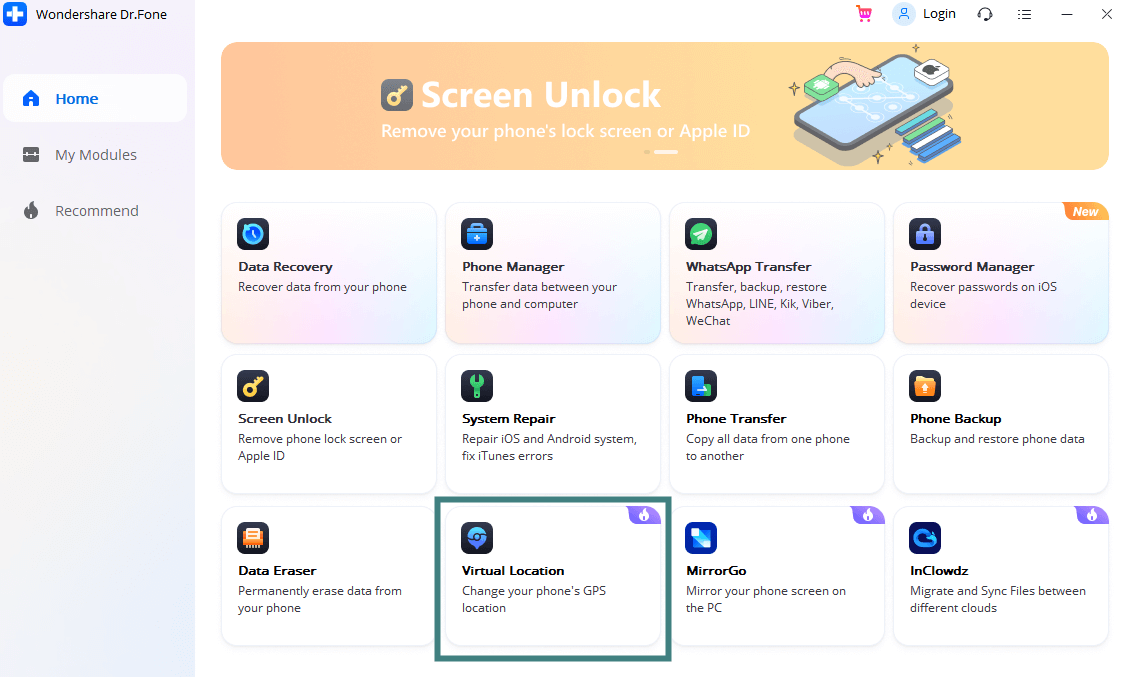 Pros:
Dr. Fone is known for being relatively stable, you won't have to fear losing your in-game progress as the result of a crash.

There are more than 10 apps in the whole toolkit such as Data Recovery, Phone Transfer. (Require extra payment)
Cons
It doesn't support Android.

A subscription to Dr. Fone's virtual location costs you $59.95 per year ($69.95 for Mac users), which is far more expensive than other alternatives.

While the app itself might be stable, it takes up a lot of storage on your desktop which could make your other apps slow down.

No lifetime license available. You have to pay the expensive yearly subscription if you need long-term usage.
3. ThinkSky iTools Virtual Location
Yet another toolkit app, ThinkSky iTools includes Virtual Location as part of its many offerings, such as data recovery, iOS recovery. Unfortunately, you need to purchase the entire toolkit just to be able to switch your location on your phone. If you find their file backups or media transfer tools useful, then maybe you'll appreciate the full range of tools this app offers.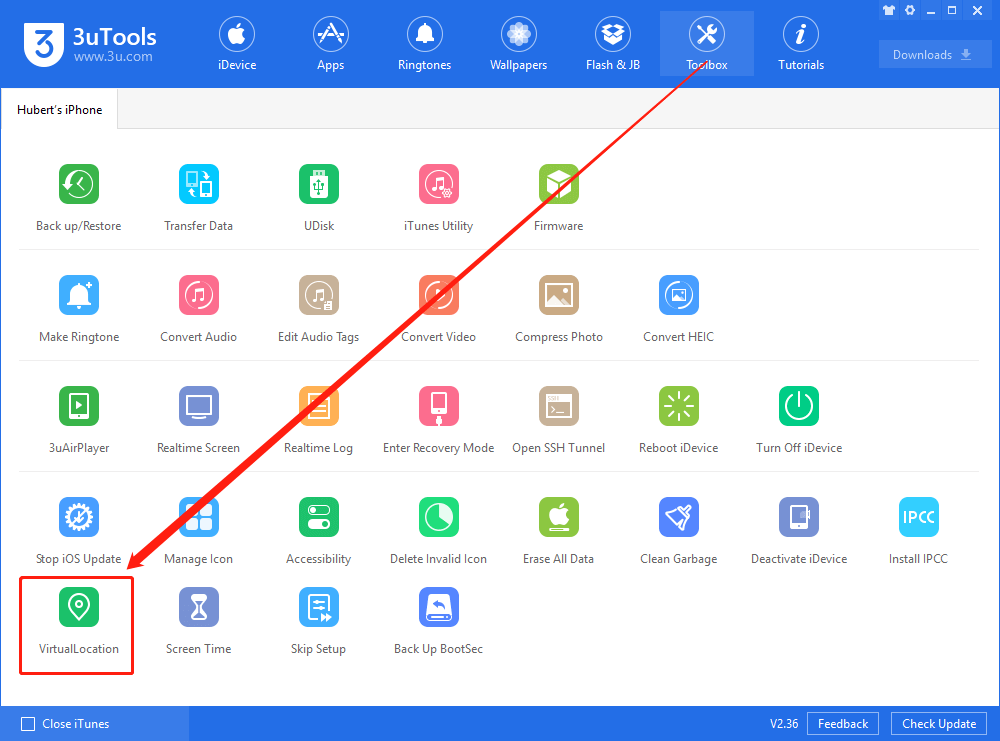 Pros:
iTools offers several tools you might need to help you complete tasks and play games on your iOS device.

While the desktop app only connects with iOS devices, you can still use the desktop app both on PC and macOS.
Cons
You must purchase the entire toolkit to use the any single feature.

Users often get stuck/ report crashes when going into the Developer mode.

Takes up too much storage. It might cause lag with the 300 MB of storage.

For the desktop app to work properly, you must first download iTunes.
The Best iAnyGo Alternative
We reviewed 3 alternatives to iAnyGo, iMoveGo provides the most versatility and value for the price. Both for Android and iOS devices, iMoveGo offers all the qualities you demand from a location-spoofing app. You can access all the features such as fixed location spoofing, fake routes, and joystick for the rest of your life with only a $59.95 plan. (Same price for Mac users) Not to mention, you get free updates and customer support.
Don't settle for halfway solutions. To change your device's location, download iMoveGo for the most agreeable experience.