Ingress Prime is a popular augmented reality game developed by Niantic, the makers of Pokemon Go. It is the discovery of exotic matter that agents must find in order to protect the fate of the universe. Players of Pokemon Go and Wizards Unite will recognize many of the locations in Ingress Prime as they were the foundation for the rest of Niantic's AR based gaming. If you want to enjoy playing Ingress Prime without leaving your home, you can use a location changer with a joystick feature to move around the game.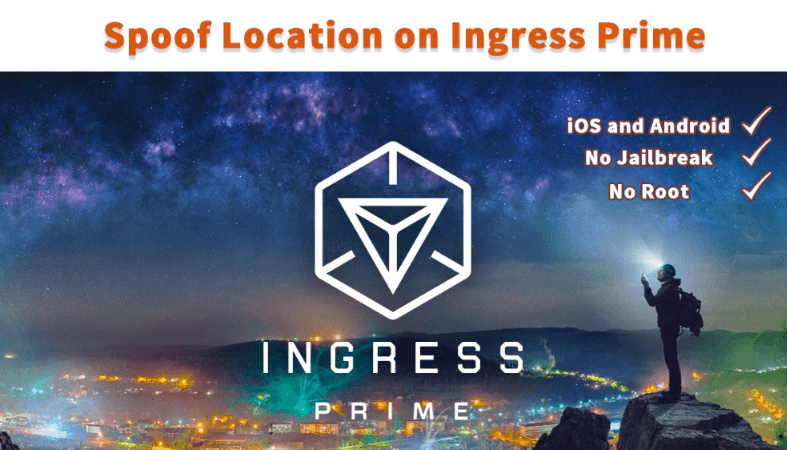 Can I Play Ingress Prime with Joystick at Home?
Yes, there are ways we explain below to playing Ingress Prime with a joystick that will let you stay static while your agent moves around the game world. However, you should always keep in mind there are some risks when spoofing your location in Ingress Prime.
Niantic can issue any of three warnings to players to inform them they have been tracked using a GPS spoofer.
The first warning is a temporary ban for a week.
The second warning is a 30 day ban.
The last, worst-case scenario is a permanent ban from Ingress Prime.
[3 Working Methods] Ingress Prime Spoofing
If you are looking to enjoy Ingress Prime joystick hack on your iOS device or mobile device without all the hassle of multiple applications, you should try location changer. Here are 3 options to complete Ingress spoofing:
1

Spoof Ingress Prime Location with Joystick [iOS and Android]

GPS location spoofer iMoveGo allow you to access Ingress Prime with GPS joystick without restrictions to your actual physical geographical location, all with a 1-click option. In addition, this software allows you to customize your movement speeds and keep historical records of your movement when faking your GPS.
Key Features of iMoveGo
75.000.000+
Downloads
Teleport your GPS location to anywhere in the world.

Simulate GPS movement for your Ingress avatar along customized routes.

Works well on a full range of location-based apps, such as Life360, Pokémon GO, Tinder and Facebook.

Spoof up to 5 iPhone/Android devices at one time. (Including iOS 15)

Free trial is available for every user to get initial experience.
Step 1: Install and launch iMoveGo on your PC and click on Get Started when ready. Connect your mobile device to your PC via a USB cable and enter any passcodes needed to access your device. After you connecting using USB successfully for the first time, you could connect via Wi-Fi next time.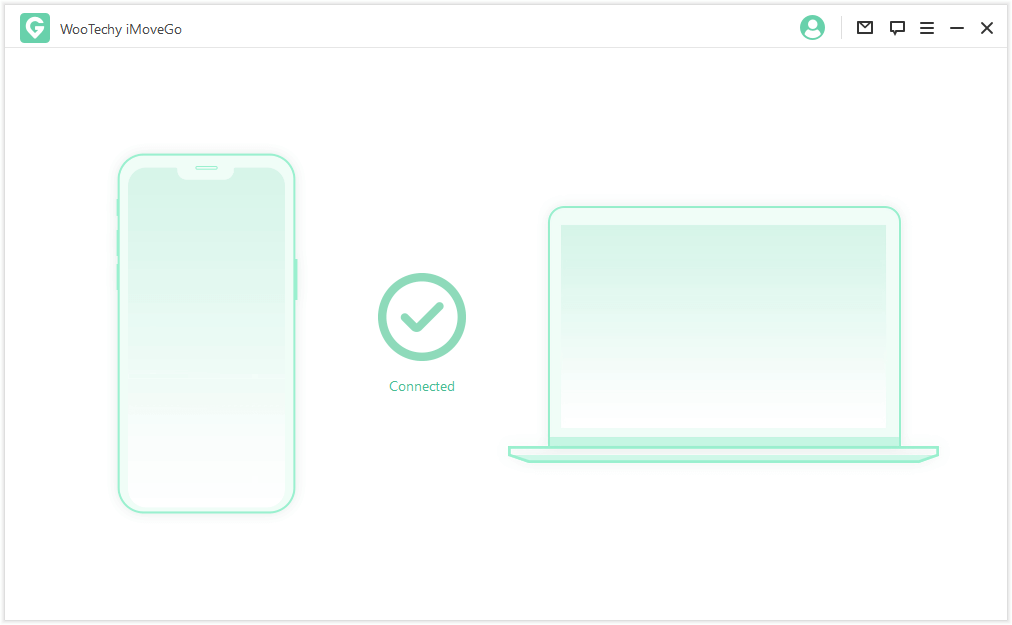 Step 2: Once a global map has loaded, click on Teleport Mode and input your desired location by zooming in or out on the map.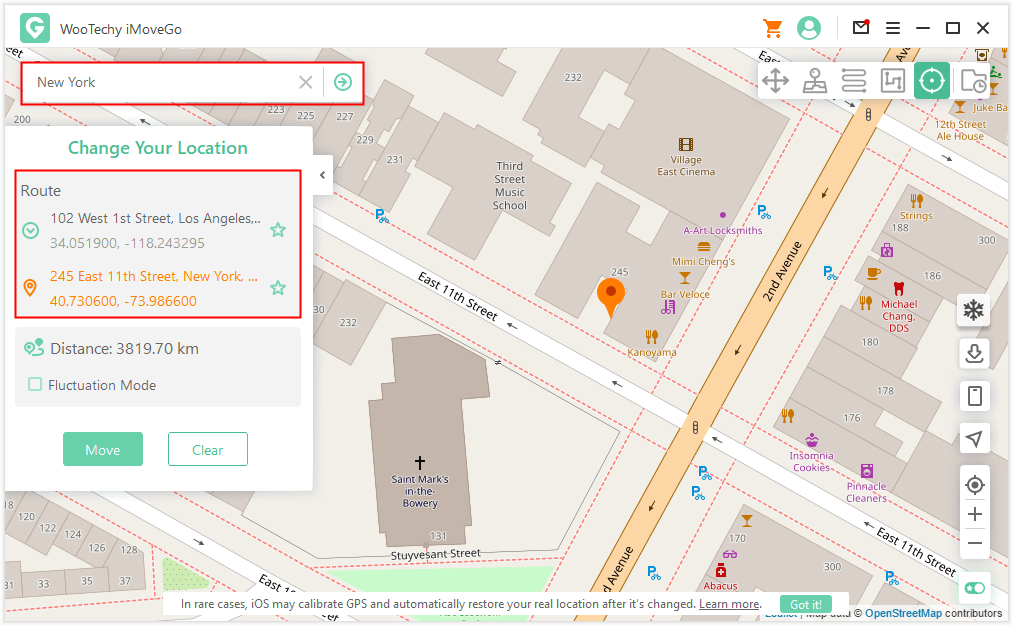 Step 3: Click on Move when you're ready, and all your location-based apps on your phone will change to the location you have designated.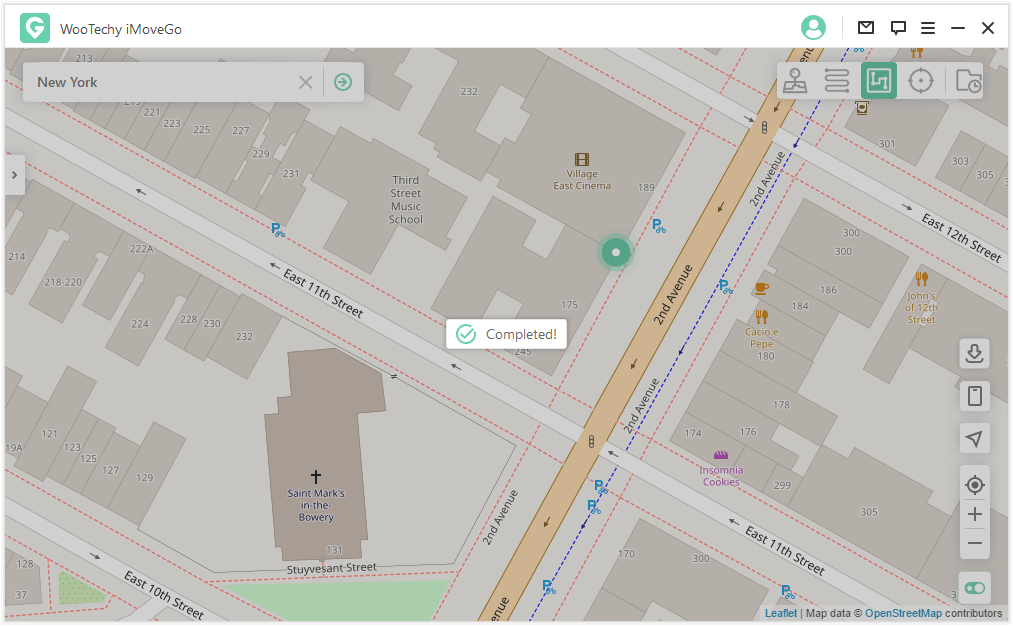 It's just that simple. No jailbreaking or rooting is required.
2

Spoof Ingress Prime Location with Fake GPS Location [ Android Only]

Another popular option to play Ingress Prime with joystick is to use Fake GPS Location- GPSjoystick for your Android device. This app makes your device think you are located in another area and has a handy joystick feature that allows for a more versatile playing experience. This method is not user-friendly as you should follow different guide to setup your phone according to various version you are using.

Step 1: Download and install Fake GPS Location-GPS Joystick from Google Play.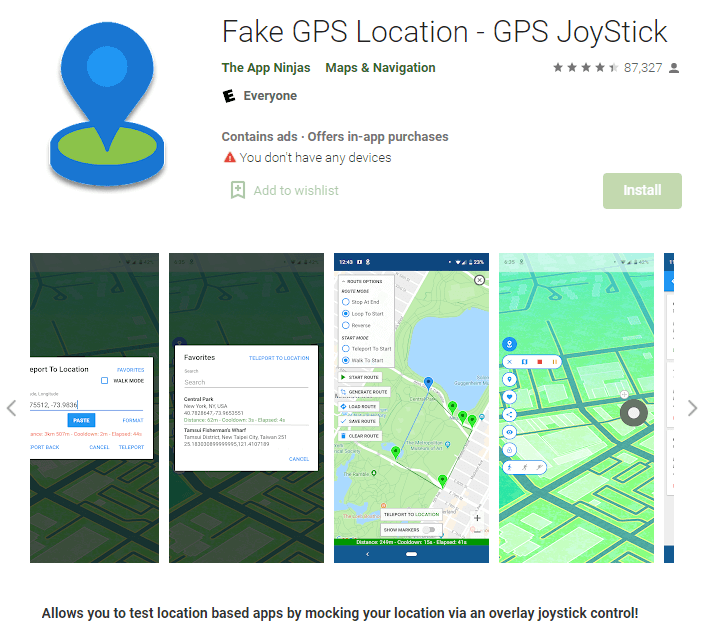 Step 2: Enable Developer Mode by going to Settings, then About Phone. Under Software information, tap on Build number seven times.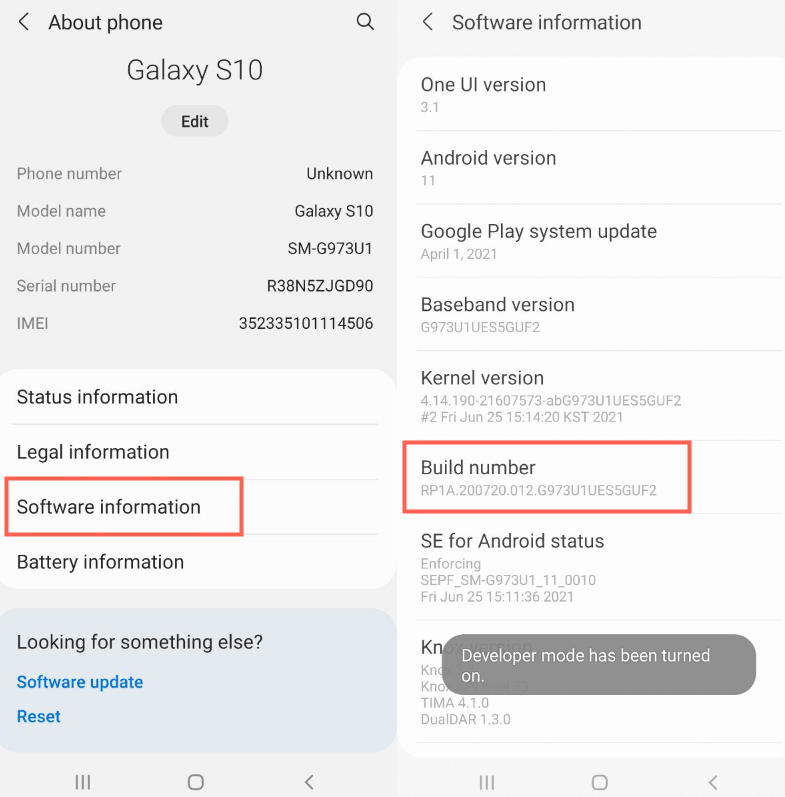 Step 3: Go to Developer Options under the settings and Select Mock Location App by setting it to GPS Joystick.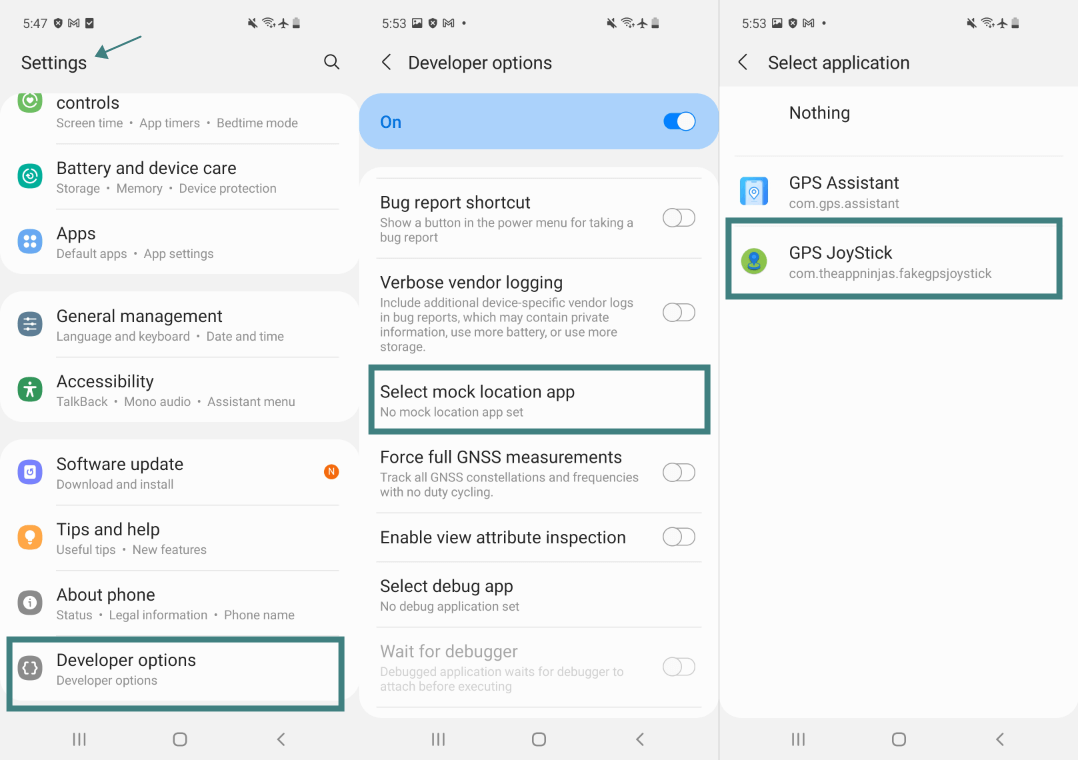 You should now be able to play Ingress Prime joystick without having to actually physically travel anywhere. However, if you are using a new Android phone like Samsung S21, this app might not work perfectly for you. Enhanced Android phone will frequently refresh the location settings to your real GPS location.
3

Spoof Location on Ingress Prime with BlueStacks [on PC]

If the Fake GPS Location app can work perfectly on your android phone, try using Android Emulator on your computer. You can download Fake GPS Location and set up the system to work with your keyboard or mouse. You will need to download an emulator that allows you to play a mobile game on a static PC. This is a more time extensive and confusing method than using a simple solution like iMoveGo.

Step 1: Download Fake GPS Location-GPS Joystick APK on PC.

Step 2: Download and install the latest version of the BlueStacks Android emulator.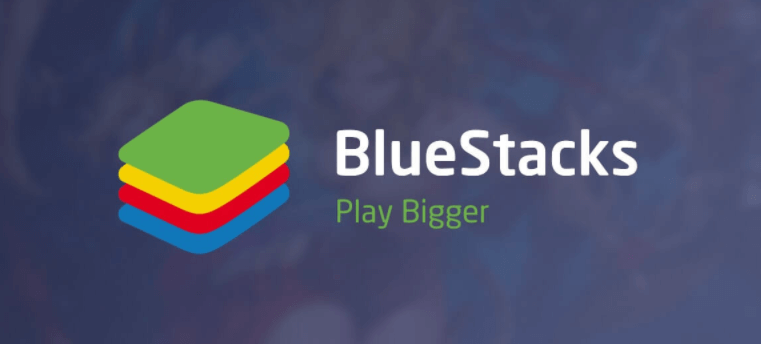 Step 3: Open BlueStacks on your PC and click on the downloaded APK to install.
Step 4: Return to the main tab on BlueStacks and click on the installed app icon to start playing.
There are other emulators in the market, but this is the one we've found to be the most reliable.
Tips on Preventing a Ban in Ingress Prime
If Players don't mind the rules, they will sometimes get banned when playing Ingress Prime with location spoofing because Niantic will detect they are faking their location settings. The first thing Niantic will do is issue a ban for up to 7 days if they think you're cheating in some way. After that, if you continue doing whatever it is they suspect you of doing, you'll face a permanent ban.
Some essential tips to avoid a ban in Ingress Prime are:
Use a trusted piece of spoofing software like iMoveGo from your PC more than an app service that may need frequent updates or has potential location conflicts.
Make sure any mobile app you do use cannot be traced easily.
Don't jump locations too fast. Let the natural cool-down process take its time, so you don't pop up in Orlando, Florida in one moment, then Tokyo, Japan in another.
Limit the use of location fakers to 2-3 times per day.
Stick to software that doesn't require rooting or jailbreaking so your device stays protected.
Once you do move to a different location, use the joystick feature, so the movement seems more natural.
If you do get a temporary ban, cool off using a spoofer for a little while to make it seem like you've listened.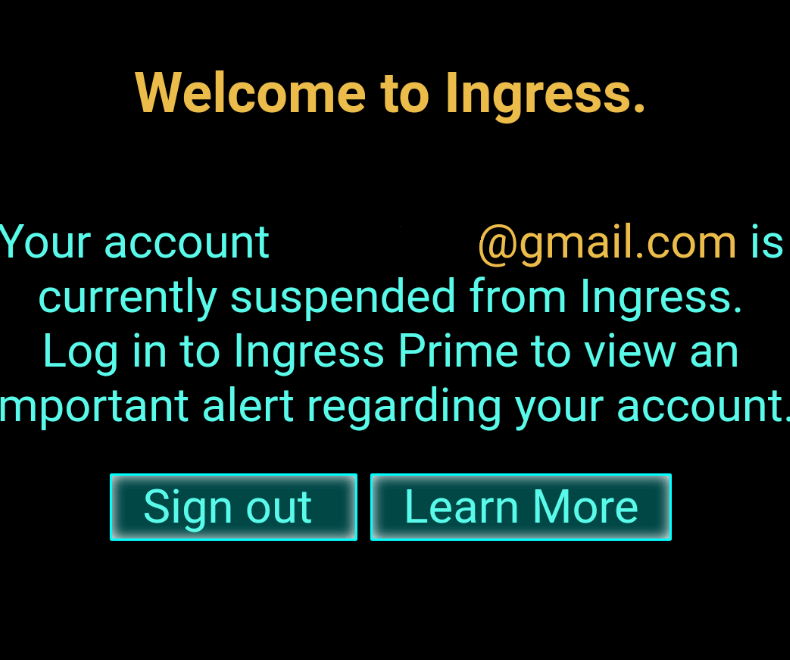 Conclusion
When you want to hack all the portals from anywhere around the world, you need a better solution than spending endless time and money physically traveling to those locations. That is why using an Ingress Prime joystick spoofing solution like the ones we mentioned here are a lot easier. They'll get your agent out and enjoying the post apocalyptic world while you enjoy a nice cup of tea at home.
For those users that need to stay at home, installing a trusted and reliable location spoofer like iMoveGo allows for all the gameplay they want without the location restrictions. iMoveGo has a free version available on their website, so you can explore all the features and benefits of playing Ingress Prime without having to physically move. Once you experience the smooth gameplay, upgrade to the premium version to add even more fun to your gaming.