I would like to know if what my co-worker explained to me is correct: my employer can actually track my movements through my company-provided phone or the app I was told to install. If so, how does this work and what can I do to stop them from tracking me? I prefer not to give them too much access to me.
Employees who use company-issued phones or laptops are often worried that their employers might be tracking their location. It's a reasonable fear because many companies do track the location of their employees for protecting the company's assets.
So, if you're using a company-issued smartphone or have the company's tracking app installed, can your employer track your personal phone location? If so, then how? And what can you do to stop your company from tracking your personal phone location in that situation? In the following article, we will answer all of these questions.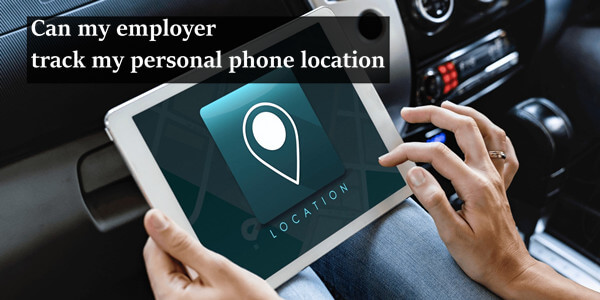 Part 1. Can My Employer Track My Personal Phone Location
Yes, your company can track your whereabouts if you've installed the company's tracking app on your personal phone or if your company-issued phone has GPS tracking or location services enabled.
Thanks to today's digital technology, a number of businesses are able to operate remotely. As a result, companies have made it a priority to keep tabs on their employees' locations by using GPS devices in vehicles and an array of spyware tools on smartphones.
Employers often ask their employees to install company-provided apps on their personal devices. These apps can then be used to track your location. Additionally, if your company-issued phone has GPS tracking enabled, your employer can also use that data to track your movements.
Furthermore, a work profile or MDM toehold in your phone gives an employer access to your device and the ability to install an app and track anything. And when your phone is connected to the company network through its encrypted virtual private network (VPN), the employer can also access your data there.
Part 2. Is It Legal for A Company to Track Your Personal Phone
It's usually fine for your employer to monitor your company-issued phone for keeping the privacy of some information of the company. But it's illegal to track employee's personal phone location and other personal information. if you haven't given this permission.
In order to protect its proprietary business information from accidentally leaking out, a company might install a GPS tracker on any cell phones it provides to employees. That way, the employer can track not only its employees' whereabouts but also the workers' productivity and know whether they are sticking to their job duties.
However, if a company wants to track its employees' personal cell phone without them knowing, then it will be illegal, and doing so could get the company into legal trouble.
Part 3. How Do I Stop My Employer from Tracking My Phone [Change GPS]
Well, if you want to stop your employer from tracking your personal phone, you can use the WooTechy iMoveGo – GPS location changer. It can help you change your location to anywhere in the world instantly.
If you want to pretend that you're in a different city or country, then it can help. Also, it can simulate your movement on any location-based apps. This feature will help you spoof your location in a more real way.
The software is available for both Android and iOS devices and offers a free trial so you can try it out before you buy it. And it's also easy to use. You could change your location with only one click.
Notable Features of iMoveGo
75.000.000+
Downloads
Enables you to teleport to anywhere you want and simulate GPS movement.

Simulate GPS movement with the customized speed and route you set.

Works well on all location-based apps, like Google maps, Pokémon GO, Find My and so on.

Supports the latest iPhone/iPad/iPod Touch/Android.

GPS joystick enables you full control over movement.
Video Guide on How to Use Location Changer:
Here are step-by-step instructions for both iOS and Android users to create a fake location using iMoveGo:
Step 1. First, you'll need to download and install the iMoveGo on your computer. Once you've launched the tool, connect your device to your computer through WIFI or a USB cable and click Get Started.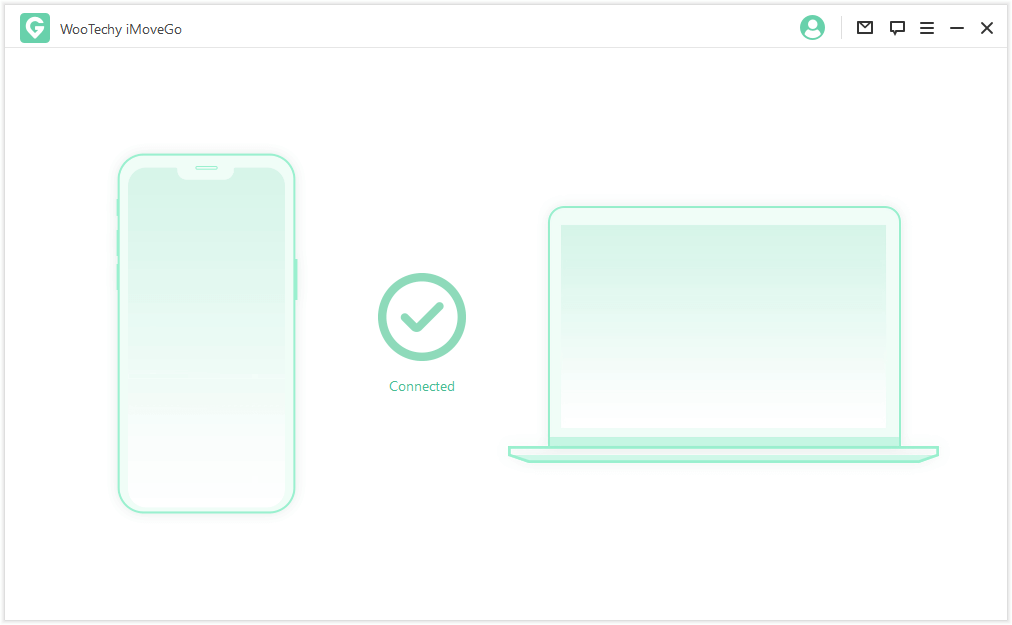 Step 2. Next, you'll see the full map. Click on Teleport Mode, which is the fourth option on the upper right side of the map. Next, select a desired location and click on Move.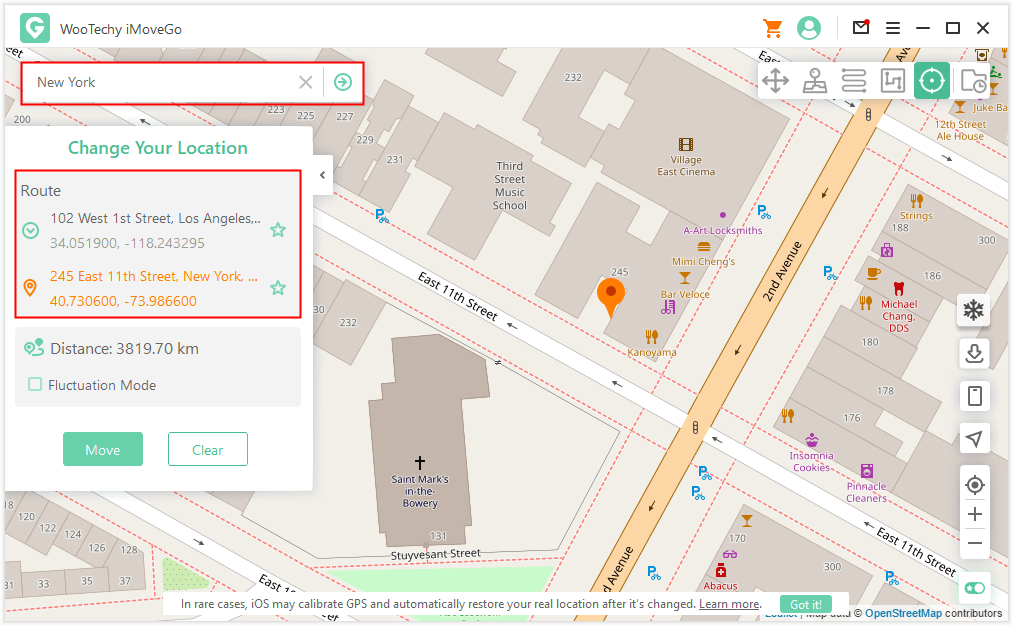 If you need to spoof your location to stop your employer from tracking you in a more real way, we recommend using the two-spot mode and the multi-spot mode to simulate your movement. In some case, this way can help you avoid being suspected.
Here is a step-by-step guide to use two-spot mode to simulate movement with iMoveGo:
Step 1. Select the second option - 2-spot mode or the third one - Multi-spot mode at the top-right corner. Select a location(s) on the map as your destination. You could either enter the address at the search bar or mark a point on the map. Then set up the speed by dragging the sidebar. Then just click Move and you are good to go.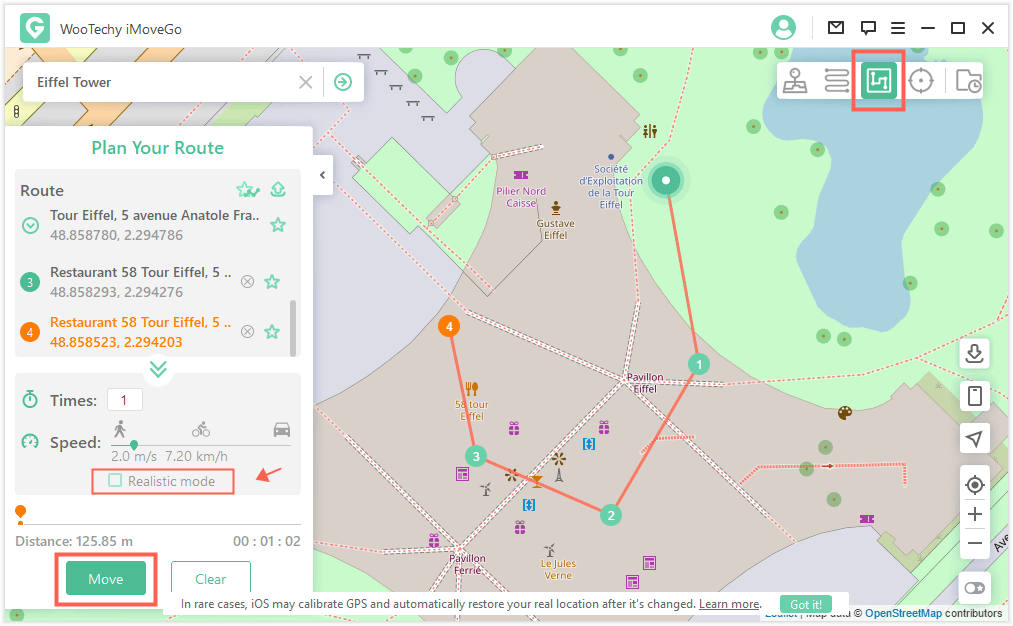 Conclusion
In today's modern world, it's not uncommon for companies to track their employee's work devices and location. There are also many handy tools available that let employers track the GPS location of their employees. Hopefully, by reading this article you will now know what your employer can track without your consent, how they do it and what you can do to stop them from tracking your personal phone location.
WooTechy iMoveGo makes it easier for you to stop your employer from tracking your location. Not only can you fake your GPS location with this tool, but you can create custom routes to simulate walking or driving. So, if you're concerned about employer monitoring, give WooTechy iMoveGo a try.