iOS 17 iMessage
With the launch of Apple WWDC 2023, Apple is introducing significant updates to the Messages app on iOS 17, making it one of the most extensively revamped built-in apps for the iPhone. These changes aim to enhance the user experience, streamline communication, and introduce new features that provide peace of mind to users.
Among those, one of the biggest changes is sharing your location with your family or friends on iMessage. And many people are wondering if does iMessage location show when you're active. In this article, we will explore all the information about iMessages location on iOS 17, the tips to change location on iMessage, as well as other changes and features coming to iOS 17 iMessage.
Part 1: An Overview of iOS 17 iMessage Location Update
In iOS 17, Apple has introduced a new feature called "Check In" in the Messages app. This feature allows users to let their friends and family know that they have arrived at a specific location or share their current location.
With this feature, your family or friend can keep track of your real-time location and get a notification when you arrive at a specific spot. If you stop making progress toward your destination, the Check In feature will send you a check-in message. If you don't respond within 15 minutes, it will notify your contact with helpful information such as your location, route, iPhone's battery level, and cell service status.
What Dates Will Be Shared in iOS 17 iMessage?
Location: Apple Check In can share your current location with your contact, which helps them know where you are and when you arrive at your destination.
Route: The feature can also share the route you took to get to your destination, giving your contact a better understanding of your journey.
Battery Level: Apple Check In has the capability to share your iPhone's battery level with your contacts, providing them with an indication of your device's battery life.
Signal Strength: Additionally, the feature can share your iPhone's signal strength with your contacts, which helps them assess the quality of your cellular connection.
How to Use iMessage Check In on iOS 17?
Now, the iMessage Check In feature is available on iOS 17 beta. You can follow the below steps to use this feature.
Step 1: Open the Messages app on your iPhone running iOS 17. Start a conversation with the contact you want to share your location with or select an existing conversation.
Step 2: Tap the "+" icon next to the text field to access additional options. Swipe up or tap "More" to reveal additional features.
Step 3: Select "Check In" from the list of options. Choose the data you want to share along with your Check In message, such as your current location, route, battery level, and cell service status.
Part 2: Does iMessage Location Show When You're Active?
The answer is yes. Once you are active on your iPhone and have a valid internet connection, such as Wi-Fi or cellular data, the iMessage location will show up. This is also the reason why so many people are looking for ways to stop sharing location without notifying iMessage.
Part 3: How to Change Location on iMessage
However, sometimes we do not want to share or send our iMessage location to others, as it can potentially expose individuals to risks. Or, sometimes we simply want a little personal space without being tracked in real time. So, how to hide or change the iMessage location without anyone knowing? Wootechy iMoveGo is your perfect option.
iMoveGo is a GPS location changer developed by WooTechy that allows users to modify their GPS coordinates on both iOS and Android devices (including the latest Android and iOS versions) without the need for jailbreaking or rooting. With iMoveGo, you can fake your GPS location on various location-based apps such as iMessage, games, dating apps, social media platforms, and more. It supports popular apps like Pokemon GO, Wizards Unite, Snapchat, Tinder, Grindr, Bumble, Facebook, Life360, Find My, Chrome, Telegram, and many others.
Here are some highlights of iMoveGo:
Fake/Change GPS Location: Change your GPS location to any desired location, allowing you to access geo-specific services, protect your privacy from online tracking, and play location-based AR games at home without physically moving.
Simulate GPS Movement: You can simulate walking, cycling, or driving at a fixed or variable speed using customized routes. You can also pause or continue the movement at any time.
Control GPS with a Joystick: iMoveGo provides joystick control for greater flexibility in moving around. You can tweak your directions freely with 360-degree movement.
User-friendly Interface: iMoveGo offers an intuitive and easy-to-use interface, making it simple for users to change their GPS location and simulate movement without technical expertise.
To use iMoveGo to change your location on iMessage, follow these steps:
Step 1: First, you need to install the iMoveGo software on your computer. It works both on Windows and Mac. Once the installation is complete, launch the software.
Step 2: Now, connect your iPhone to the computer. There are two options to connect your iPhone or iPad to your computer.
Option 1: Connect your device using a USB cable. Unlock your iOS device and click "Trust" when prompted. You may need to enter your device's password to complete this step.
Option 2: Connect your device via Wi-Fi. After the initial USB connection, you can choose to connect your iOS device to the computer over the same Wi-Fi network in the future.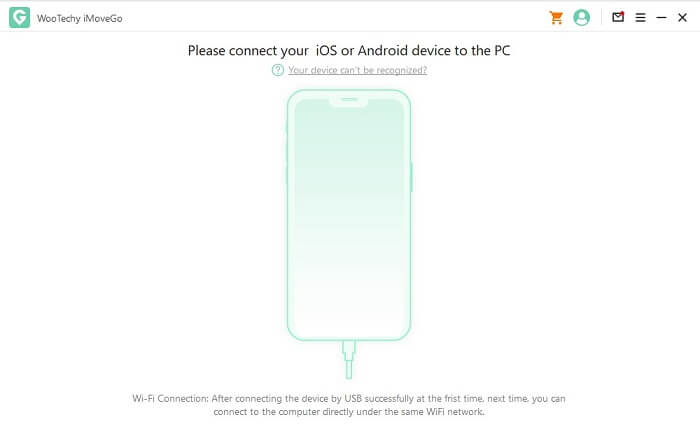 Note:
Make sure your computer and iOS device are connected to the same Wi-Fi network, and keep the iOS device screen on when connecting to Wi-Fi.
Step 3: Once your iOS device is connected, launch iMoveGo on your computer. The map will load, and in the upper right corner, you will find the 5 transfer modes. Choose "Teleport Mode" option.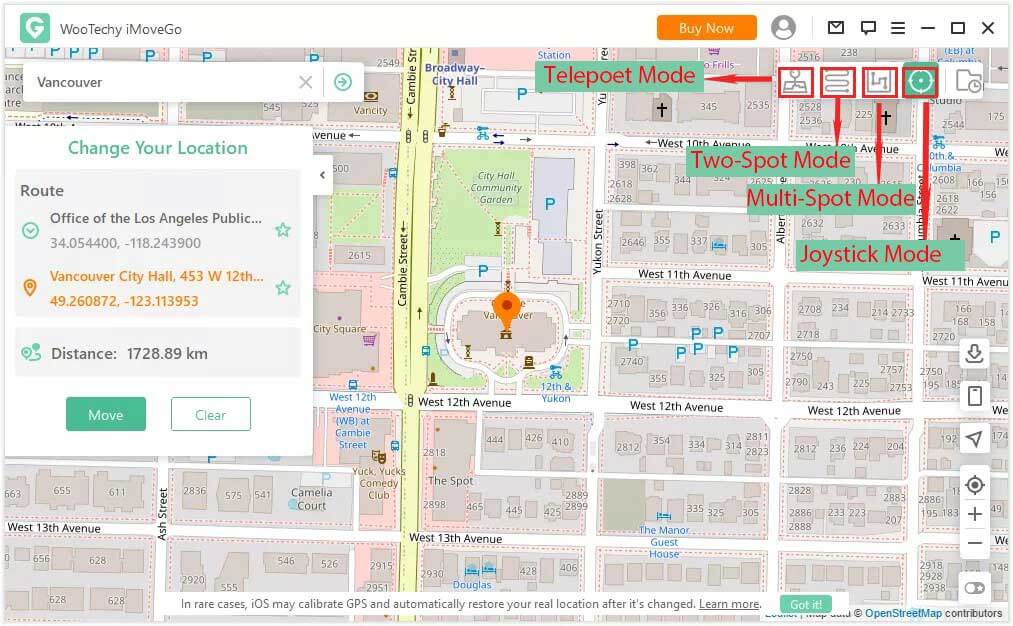 Step 4: In Teleport Mode, you can select the location you want to change to. You can manually find the location on the map by zooming in and out, or you can use the search bar to enter the name of the location. Once you've selected the location, click on the "Move" option.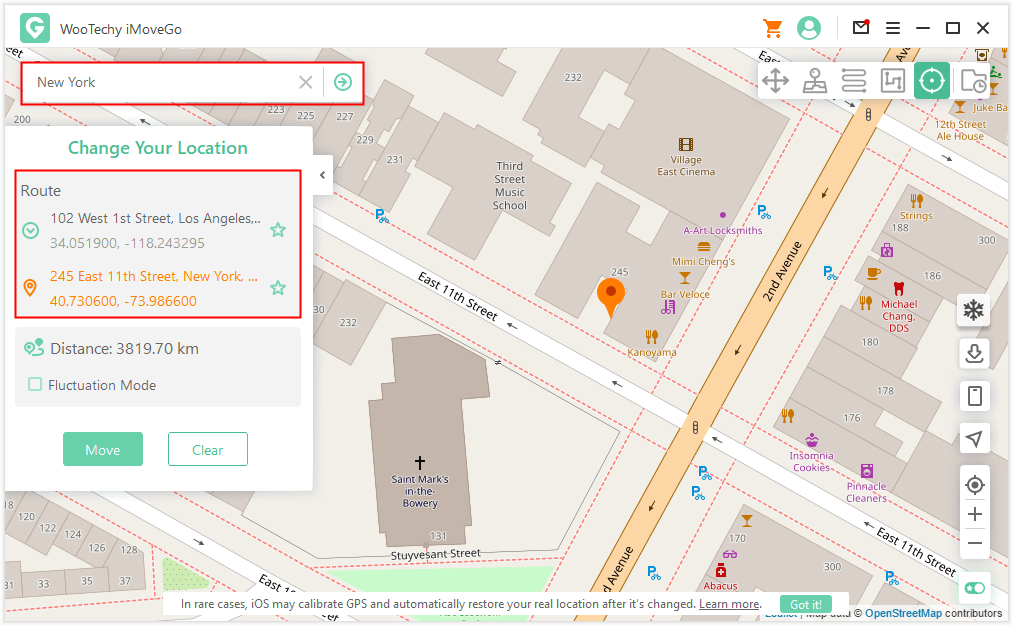 Your current location will be instantly changed to the chosen location. This change will apply to all location-based apps on your iOS device including the iMessage. To revert to your actual current location, you will need to restart your iOS device.
That's it! By following these steps, you can use iMoveGo to change your location on iMessage. Now, you can try and make your iMessage location appear as another location you desired without physically moving.
Part 4: Other 8 Changes and Updates on iOS 17 iMessage
1. Easier Access to iMessage Apps
In iOS 17, accessing iMessage apps will become more convenient and less cluttered. Instead of the previous side-scrolling view, iOS 17 introduces a Plus button next to the text field. Tapping this button will display a vertical list of frequently used apps, while a "More" button expands the list into a scrollable roll call of all available apps, ensuring a cleaner interface for better message visibility.
2. Swipe to Reply
Replying to specific messages within a conversation will become quicker and more intuitive in iOS 17. Users will be able to swipe right on a message to directly reply to it, eliminating the need for tapping and holding the message for the reply option to appear.
3. Catching Up on Busy Conversations
For users involved in busy group chats, iOS 17 introduces a catch-up feature that helps navigate through rapidly updating conversations. This feature enables users to quickly jump to the latest unread message in a busy conversation, ensuring they can catch up without scrolling extensively.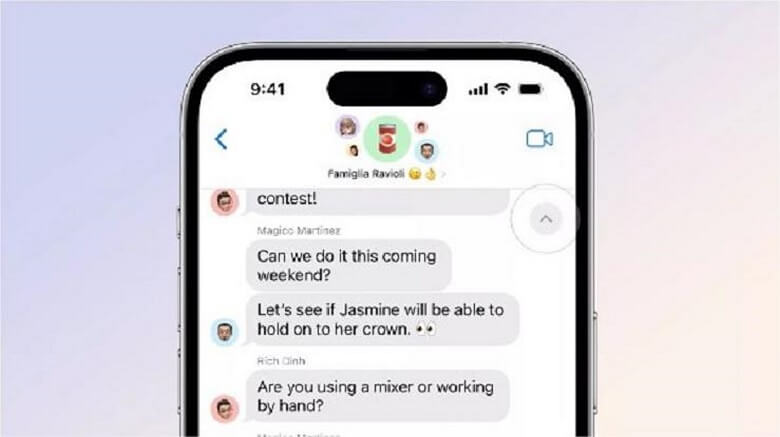 4. Contact Posters
iOS 17 brings a fresh and personal touch to the Phone app with Contact Posters. Users will have the ability to customize their appearance and choose eye-catching typography, font colours, and beautiful treatments for photos or Memojis. This new feature allows users to express themselves and brings a completely new look to incoming calls. Contact Posters will also be available for third-party calling apps, providing a consistent experience across various communication platforms.
5. Live Voicemail
With Live Voicemail, iOS 17 users can now see real-time transcriptions of voicemails as they are being left by the caller. This feature provides the opportunity to pick up the call while the voicemail is being recorded, enabling faster responses and improved call management.
6. Stickers Experience
Enhancing the visual aspect of conversations, iOS 17 introduces a new stickers experience in iMessage. Users will have access to an expanded library of expressive stickers, allowing them to add personality and creativity to their messages.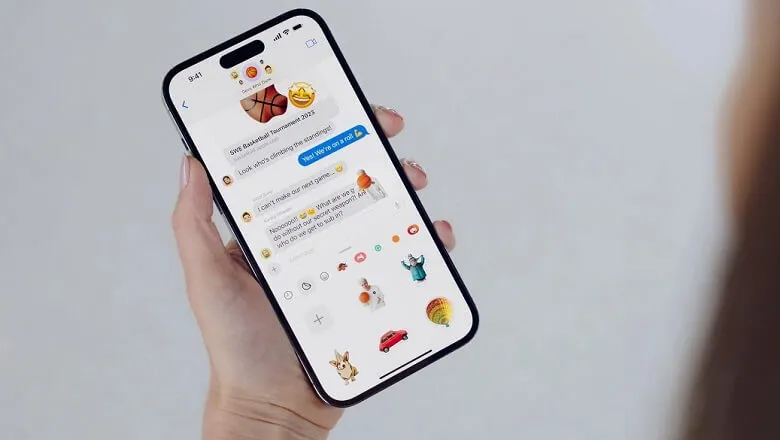 7. Intelligent Text Input:
The text input experience in iOS 17 becomes smarter and more accurate. Autocorrect receives improvements, making typing faster and reducing errors. This enhancement ensures a seamless and efficient messaging experience for users.
8. Journal and StandBy:
iOS 17 introduces two new experiences for iPhone users. Journal is an app that enables individuals to practice gratitude, while StandBy provides glanceable information when an iPhone is set down and charging. When the device is in StandBy mode, it displays essential information such as time, date, battery level, and notifications in a simplified and easy-to-read format.
Conclusion
iOS 17 brings significant changes to the Messages app, enhancing the communication experience for iPhone users. Notably, the new update also introduces a "Check In" option, allowing users to inform friends and family about their arrival or share their current location.
And if you do not want to share your location with others, changing your location on iMessage can be useful in various situations. By using Wootechy iMoveGo, you can easily fake your location anywhere you want on various location-based apps, including iMessage, Pokémon GO, Tinder, and so on. You can even customise the GPS route and speed. Download it and get a free trial!