Are you tired of dealing with frustrating location issues on your iOS device? With every new release of the iOS system, many people experience the location is wrong on the iPhone or non-displayed, and basically, iOS 17 is no exception.
Well, you're not alone! Many iOS users have been struggling with this problem, but fret not because we've got the ultimate solution for you. In this article, we will delve into the ins and outs of fixing the iOS 17 location issue, including the earlier versions, and help you regain control over your device's location accuracy. So, if you're ready to bid farewell to those pesky location glitches, read on!
An Overview of iOS 17
Exciting times lie ahead for iPhone users as Apple gears up to release the highly anticipated iOS 17! Having been unveiled at the WWDC 2023 conference, this next-generation operating system is expected to bring a host of new features and enhancements to your iPhone experience. And the iOS 17 Beta is expected to release in July. From improved lock screen widgets to the possibility of app sideloading, iOS 17 is poised to revolutionize how you interact with your device.
The new operating system is also expected to introduce improvements to iMessage, possibly enhancing the way you connect and communicate with your contacts. Additionally, there have been iOS 17's rumours of greater customization options, including a redesigned control centre that offers a more intuitive and personalized user interface. These features, among others, promise to elevate your iPhone experience to new heights.
Location Issues with the iOS History Versions
While iOS versions have introduced various features and improvements, occasional location issues have arisen as well.
For example, developers have reported encountering location service problems specifically with the release of iOS 15. These issues seem to be related to the "Significant Location Service," which may not function as expected in iOS 15. This is why so many people's iPhones significant locations not working. Developers have described the behaviour as "extremely strange."
And in iOS 16, the most prominent problem is that the location is wrong on the iPhone, leading to incorrect directions, inaccurate geotagging of photos, and unreliable location-based apps. It also caused frustration, confusion, and potential inconvenience, making it essential to address and resolve these issues promptly.
How to Fix/Change Location Issues including iOS 17
Tip 1: Essue the Correnct iPhone Location Setting
When it comes to resolving location-related problems in the earlier versions, essentially iOS 17 will be the same. The official Apple Support website offers instructions on how to troubleshoot location-related issues on iOS devices. It suggests ensuring that Location Services and Location Access for Maps are enabled in the Settings app under Privacy & Security. Or, resetting network settings on your iPhone is one way to address problems like "iPhone Significant Locations Missing." This process can be initiated through the device's settings menu. It's essential to follow proper instructions and perform these steps carefully to avoid unintended consequences.
Tip 2: Manually Change Your iPhone Location to Anywhere As Long As You Want
If your iPhone location is still not working, or you want to change your phone's GPS location to another place so that people think you are there, you should set your location manually. For this, you have to get the help of some location solutions like Wootechy's iMoveGo.
WooTechy iMoveGo is a location changer designed to change the GPS location or fix the location of your iPhone without the need for jailbreaking or root access. With iMoveGo, you can change your location to anywhere as long as you want, and safely simulate movement by drawing routes or using a joystick for better control.
It offers a range of features that make it a reliable and convenient option for changing your location. Check out the key features below.
Key Features of iMoveGo
75.000.000+
Downloads
Compatible with both iOS and Android devices, including the latest version.

Instantly change your location to anywhere in the world with virtually no distance error.

Available for all location-based apps such as AR Game, Tinder, Grindr, Instagram, or Find My.

Support to adjust the GPS routes and speed.

Offers different modes such as Teleport Mode, Jump teleport Mode, Two/Multi-Spot Mode, and Joystick Mode.

Support to change the GPS of up to 10 devices at once.
As well as being powerful, iMoveGo is also very easy to use. You only need to follow the below steps.
Step 1: Download and install the iMoveGo software on your PC for free from the WooTechy website. Launch iMoveGo and click on "Get Started" to begin.
Step 2: Connect your iPhone to your PC using either a Wi-Fi or USB connection. Ensure that your iPhone is unlocked, and trust the computer when prompted. If using a USB connection, make sure to enter your device's password.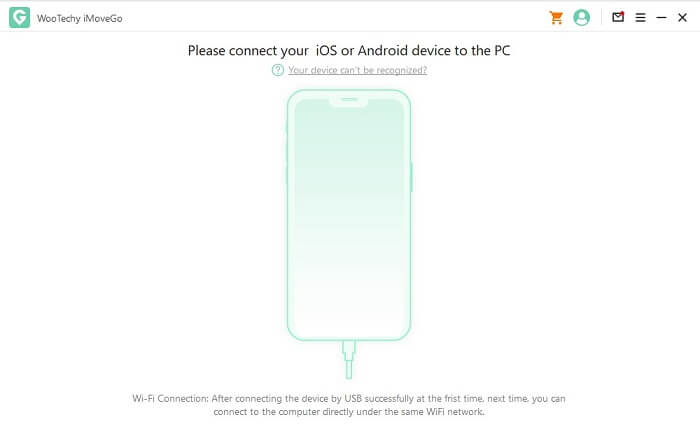 Step 3: In the iMoveGo software, choose the desired location spoofing mode. For instance, choose "Teleport Mode," and enter where you want to change the location to. Then, click on the appropriate button to start spoofing your iPhone's location using iMoveGo.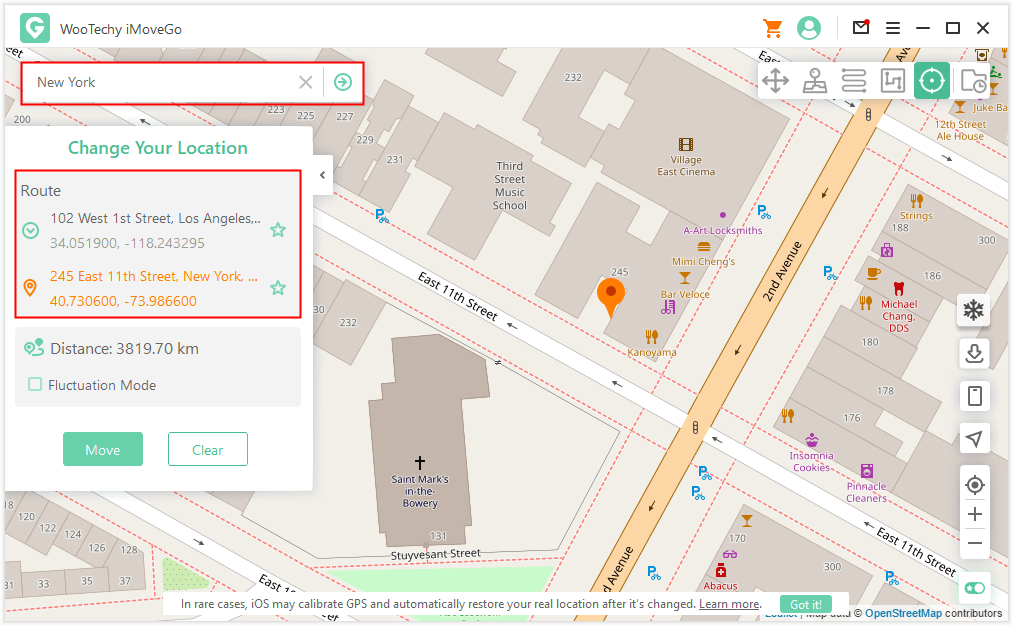 Additionally, you can also simulate GPS movement using the Two/Multi Spot Mode, where you can create routes or customize the speed.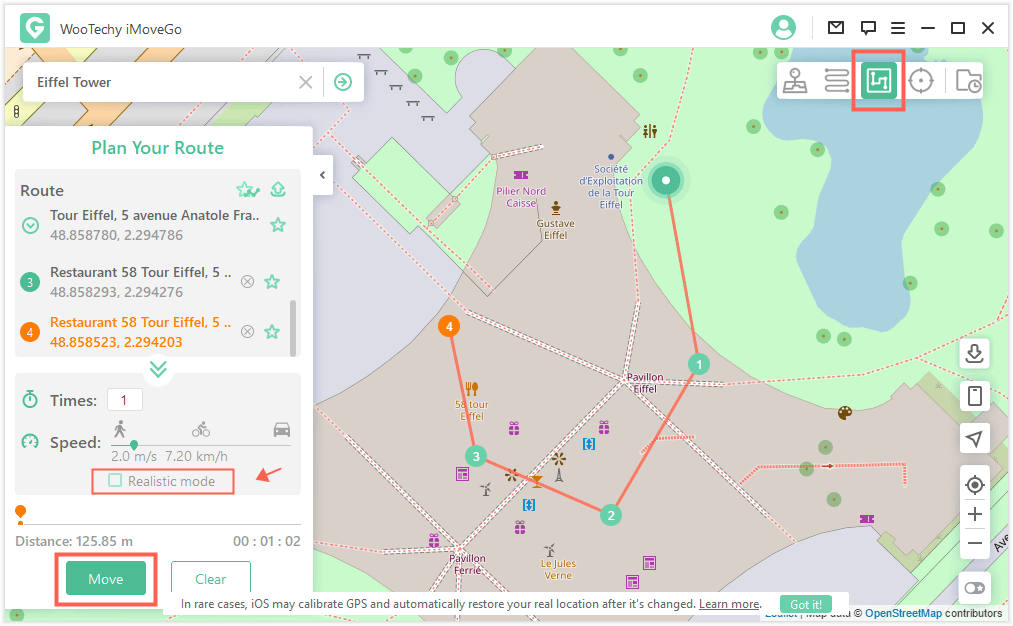 Extra Tip: Check if Your Location Has Been Changed
Verify that your iPhone's location has been successfully changed by opening any location-based app on your device, or directly opening your Map. It should reflect the new spoofed location set with iMoveGo.
Remember that if you wish to revert to your actual current location, you will need to simply restart your iOS mobile device.
You can download iMoveGo for free to experience its easy-to-use features.
Hottest Questions about iOS 17
1

When will iOS 17 be released?

iOS 17 and the new iPhone 15 will be released in September 2023. Before that, iOS 17 Beta will be released in July 2023. Like iOS 17, new updates in iPhone 15 will also be seen.
2

How to Get iOS 17 Beta Version

When iOS 17 becomes available, you can follow these general steps to obtain it:

Step 1: Visit the Apple Beta Software Program website and sign up to become a member. This program allows users to test pre-release versions of Apple software, including iOS.

Step 2: Once the iOS 17 beta is released, you can download the beta profile from various sources. One option is to visit the Apple Developer website or the BetaProfile.dev website.

Step 3: After downloading the iOS 17 beta profile, you need to install it on your device. Go to "Settings" > "Profile Downloaded" > "Downloaded profile". Tap on the downloaded profile and click on "Install." You may be prompted to enter your device's passcode to complete the installation process.

Step 4: Once the beta profile is installed, you should receive notifications for beta software updates. Go to "Settings" > "General" > "Software Update" to check for and install the iOS 17 beta updates as they become available.

Note: It's important to note that beta versions of software can contain bugs and may not be as stable as the final release. It is recommended to install beta software on non-primary devices and back up your data before proceeding.
3

Which iPhones won't support iOS 17?

Apple dropped support for the iPhone 6S and iPhone 7 models for iOS 16, which debuted in 2022 alongside the iPhone 14 models, so neither of these devices will work with iOS 17. And chances are the iPhone 8 won't support it anymore either.
[Conclusion]
iOS 17 introduces exciting new features and enhancements to Apple's mobile operating system. However, like any software update, it may come with its own set of location-related issues. To address these issues, it is important to stay updated with the latest iOS 17 bug fixes and patches released by Apple.
Additionally, utilizing reliable tools and services, such as WooTechy iMoveGo, can help users overcome location-related limitations and enjoy a seamless experience on iOS 17. By using it, you can instantly change your location to anywhere. You can get the application for free and see if it can meet your needs.