Monster Hunter Now is a new mobile game in the Monster Hunter series, and it's a great way to get into the franchise if you're new, or if you're just looking for a more casual Monster Hunter experience. With its simple controls and streamlined gameplay, Monster Hunter Now is easy to pick up and play, but it still offers plenty of challenges for experienced hunters.
In this article, we will provide some Monster Hunter Now tips and tricks to help you get started with this game and improve your hunting skills.
Part 1: What should a beginner do first in Monster Hunter Now?
As a beginner in Monster Hunter Now, there are three critical activities you'll need to prioritize to make the most of the game during your early gameplay.
Clearing Quests
Focus on clearing quests so that you can advance your character quickly. You will gain Hunter Rank Points (HRP) and Zennies, and essential consumable items will be rewarded upon successful competition of quests and special quests.
Furthermore, quest completion can also earn you advantageous rare materials. Your main objective before proceeding should be to obtain a Hunter Rank of 11. This achievement unleashes higher-tier monsters and allows you to redeem referral codes available when you hit Hunter Rank 6.
Collecting Materials
You can gather materials as rewards from quests or hunt monsters that drop essential materials. The materials collected are vital for upgrading your weapons and armor, enabling you to hunt stronger monsters. In return, you get better loot and increased Hunter Rank Points per hunt.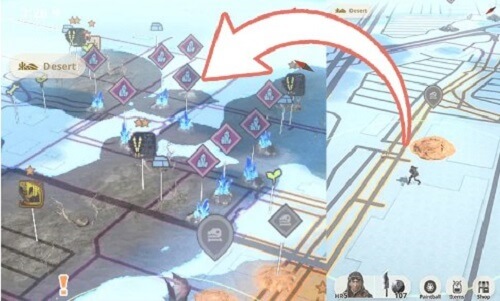 By frequently upgrading your weapons and armor, you will stay ahead of several hunters in the game and enhance your combat capabilities. Special skills can also be unlocked at various levels using armor sets.
Grade 2: unlocks special skills
Grade 4: unlocks equipment skills
Grade 8: unlocks equipment skills
Choosing Your Playstyle
Discover your playstyle by choosing your preferred primary weapon and armor set that matches your gameplay preferences. As a novice, this move saves zennies and materials because you'll focus on one or two weapons that fit your playstyle, especially for beginners.
Focusing on these crucial actions gives you a strong foundation for your gaming experience in the Monster Hunter Now world.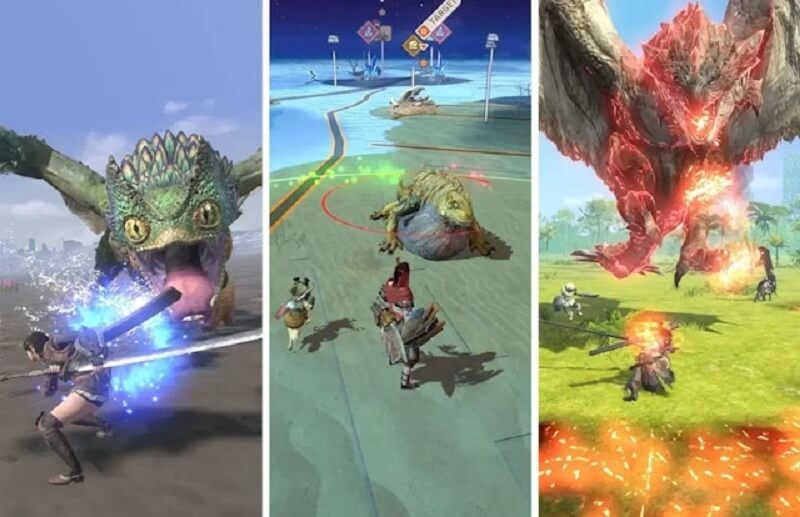 Part 2: Monster List in Monster Hunter Now [with Monster Location]
While on your hunting adventure, you'll notice that you'll face different monsters, each with unique features, strengths, and weaknesses. Here is a list of the monsters you'll encounter and their characteristics.
| Monster | Locations | Weaknesses | Materials Dropped | Element |
| --- | --- | --- | --- | --- |
| Great Jagras | Forest, Swamp, Desert | Fire/Poison Great Jagras | Scale, Hide, Claw, Mane | Fire, Thunder |
| Great Girros | Forest, Swamp | Water | Scale, Fang, Tail, Hood, Primescale | Paralysis |
| Diablos | Wildspire Waste | Fire | Ridge, Tailcase, Marrow, Fang, Shell | Water, Ice |
| Kulu-Ya-Ku | Forest, Desert, Swamp | Water, Ice | Scale, Hide, Beak, Plume, Primescale | Water |
| Tobi-Kadachi | Forest, Swamp | Water/Poison | Scale, Claw, Pelt, Membrane, Primescale | Thunder |
| Pukei-Pukei | Forest, Desert, Swamp | Thunder | Scale, Shell, Tail, Sac, Quill | Poison |
| Legiana | Forest, Desert | Thunder, Fire, Poison | Hide, Tail Webbing, Plate, Gem | Ice |
| Barroth | Desert, Swamp | Fire/Poison | Shell, Claw, Tail, Scalp, Ridge | Water |
| Anjanath | Forest, Desert | Water | Scale, Fang, Tail, Nosebone, and Primescale | Fire |
Secret Tips: How to Quickly Teleport to a Specific Monster Location
If you're looking to quickly teleport to a specific monster location in Monster Hunter Now, or explore more spots to get materials, you can use a location spoofing tool: Wootechy iMoveGo. This location changer allows you to instantly change your GPS to any location in the world, letting you to go to new zones in Monster Hunter Now without physically moving.
Besides, the multiplayer mode can only support gameplay with other hunters if you're 200 meters apart. This pass requirement limits enthusiastic gamers who want to play with other gamers worldwide.
In such a case, we use Wootechy iMoveGo to spoof the GPS location to any place, inviting friends from any city to play the game together without distance limitation.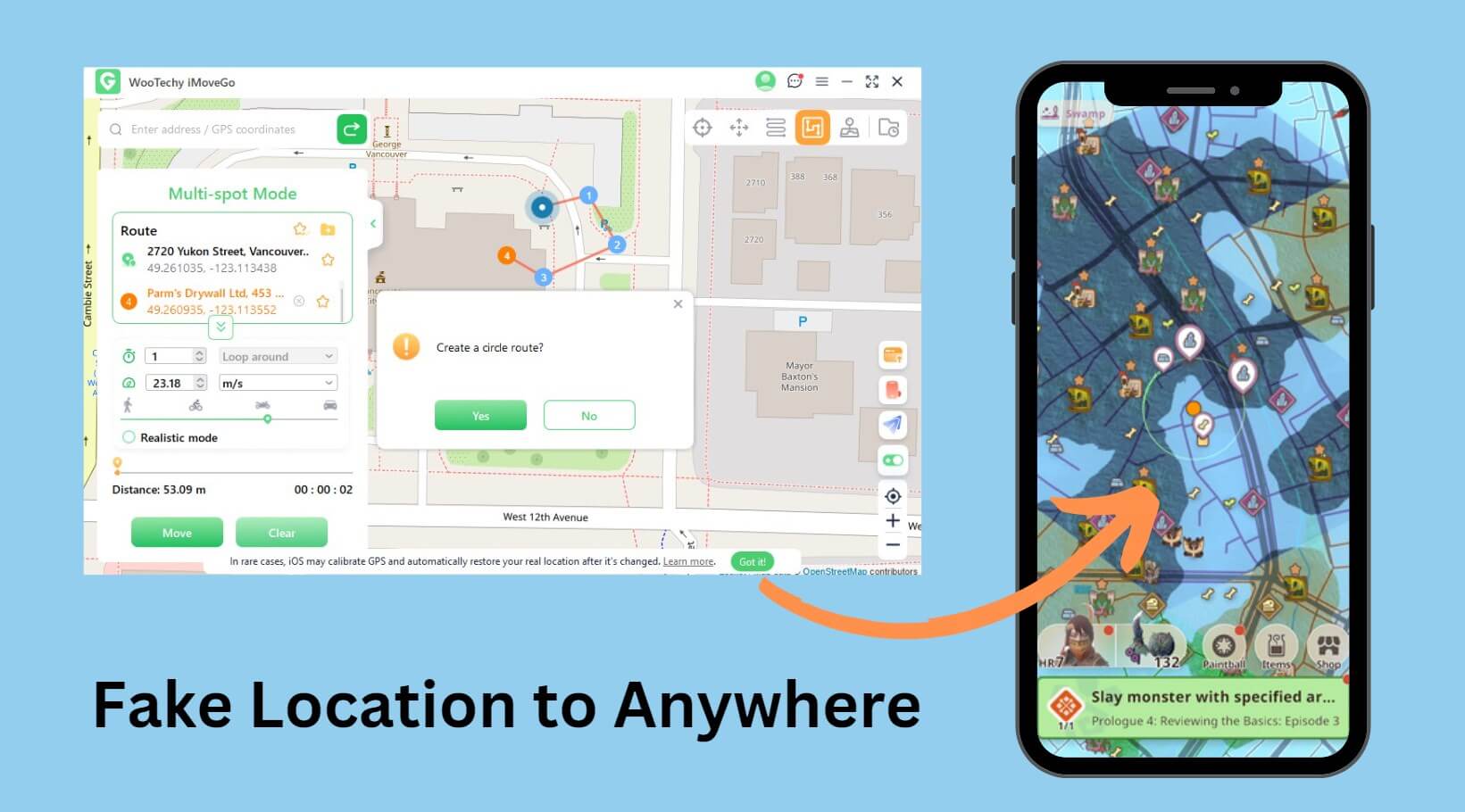 iMoveGo: The Safely Monster Hunter Now Location Changer

75.000.000+

Download

The GPS spoofer supports all location-based apps rather than just Monster Hunter Now, such as Pokemon Go, Find My, social platforms and dating apps.

It simulates natural GPS movement, i.e., cycling, walking, and driving at various speeds and routes .

Grants access to geo-specific services not accessible in your region .

It is compatible with all Android and iOS versions and devices, including the latest iOS 17 and Android 14.

Safeguards your data privacy against online tracking and data mining.

Allows importing or exporting GPX files and saving favorite routes when hunting.

For enhanced flexibility, you can control your GPS with a 360° joystick.
To spoof and mask your location successfully, follow these steps:
Step 1. Download and install Wootechy iMoveGo on your computer.
Step 2. Begin by connecting your mobile device to your computer using a cable. Connect your phone and computer to the same network and keep your screen active when connected to Wootechy iMoveGo via wifi.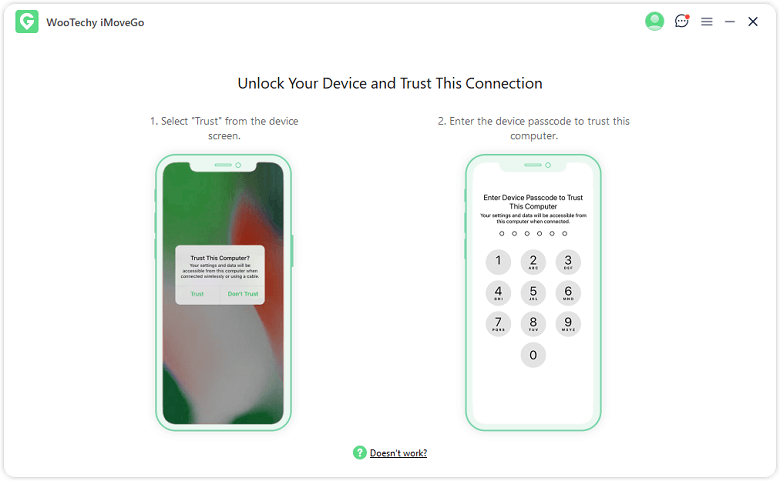 Step 3. Load the map fully and use the top right side of the dashboard to select teleport mode.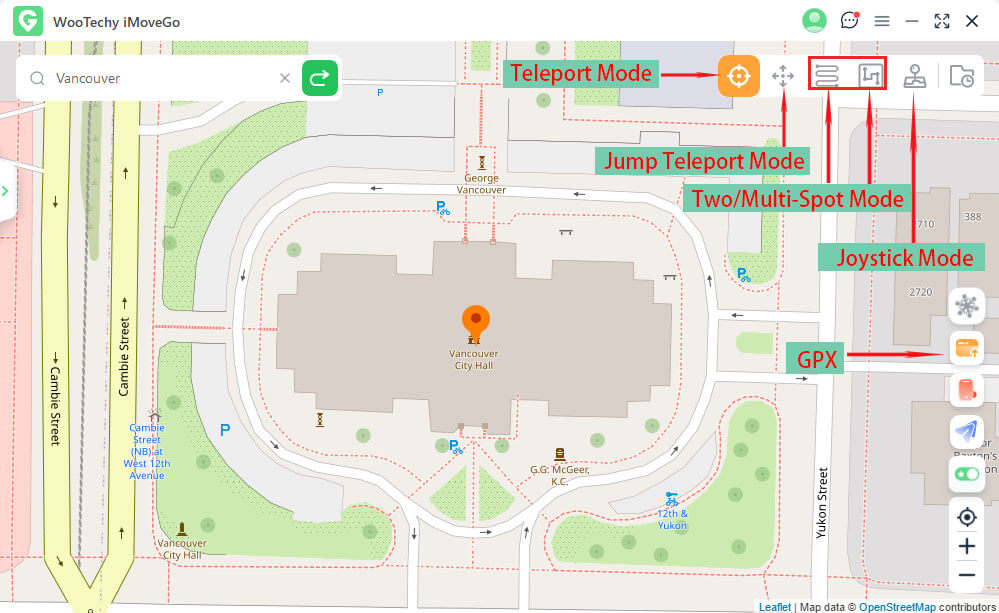 Step 4. Select the location you want to fake and click on Move. Your location will change, but you must restart your device to revert to the original location.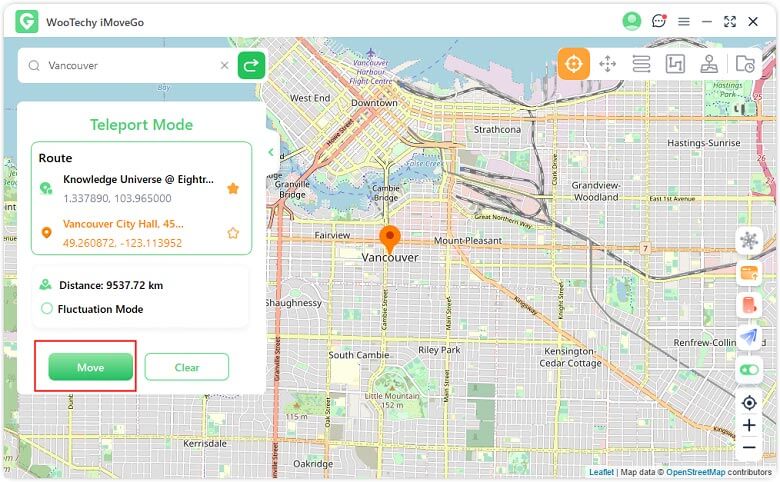 Step 5. Launch the app and enjoy seamless hunting from your comfort zone.
These steps will allow you to enjoy Monster Hunter Now without leaving your home. Try it free and see if Wootechy iMoveGo meet your needs.
Part 3: 5 Tips and Tricks for Playing Monster Hunter Now
As a newbie in this game, it can be a bit challenging. However, this guide will provide tips and tricks for veterans and new players. Or, you can get started with the basic Monster Hunter gameplay.
1. Use paintballs to mark targets
In the game, paintballs mark monsters for later hunting. Regular paintballs are pink and are used to mark enemies by hand during gameplay. However, blue palico paintballs can mark monsters even when the app is closed.
You have two days to hunt the monsters you marked before the paintball timer runs out. Pick a marked beast from the list and fight it immediately at your convenience.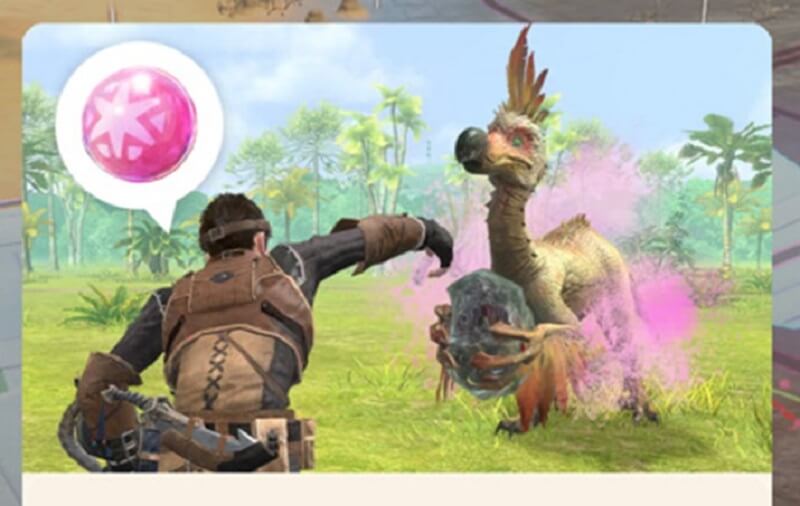 2. Try various weapons
Your choice of weapons in Monster Hunter Now plays a key role in your hunting style and success. you'll begin your hunt with a sword and shield, but more weapons are unlocked as you complete various chapters.
For your information, these are the weapons that are currently available in the game.
Great Sword: Slow but powerful weapon that can deal massive damage to monsters.
Long Sword: fast and versatile weapon that can be used to attack monsters from a distance or up close.
Sword and Shield: It is relatively easy to learn and use.
Dual Blades: Unleash a flurry of attacks on monsters.
Hammer: Deal blunt damage to monsters.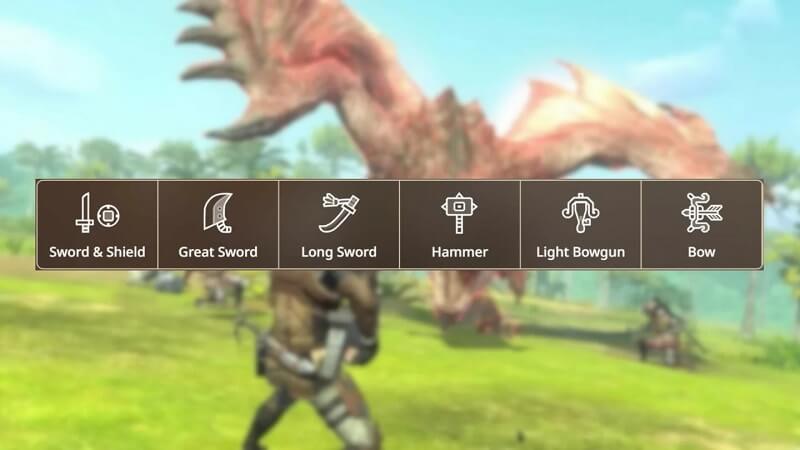 3. Join Monster Hunter Now Multiplayer
Multiplayer lets four hunters track monsters as a team. But this mode is limited that the 4 hunter can't be more than a certain distance away from each other. If you are not be the same place with your friends, Try to use iMoveGo to control your location flexibly.
Then, when you complete a quest in multiplayer, you will receive more rewards than you would if you completed it solo.
4. Gather Materials
Monster Hunter Now is all about preparation and strategic planning. The most crucial aspect is gathering materials that will be useful in upgrading your weapons.
All items collected from battling giant monsters or harvesting from the environment play a vital role in the game. Gather every material you encounter. Don't overlook any. Manually hunt large and small monsters.
Mining iron ore or collecting parts from enormous monsters is paramount in any hunter's reality. You can also leverage your palico, which automatically collects resources from nodes that you come across.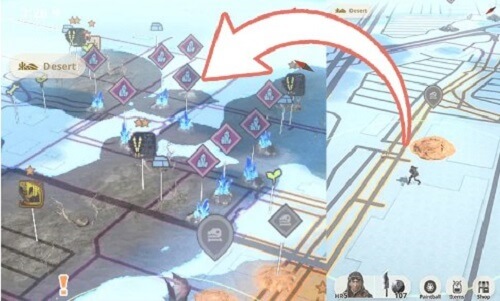 5. Upgrade your armor set
Armor sets provide protection and enhance your abilities while hunting. Upgrading your armor in Monster Hunter Now should be a priority because your armor is your lifeline in the game. The gradual upgrades require resources, so gather as many zennies and materials as possible.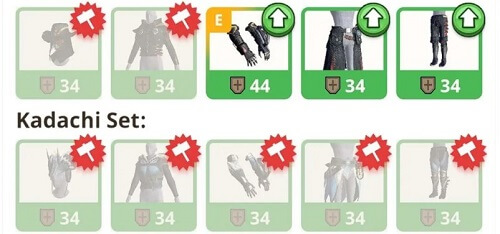 Conclusion
As you play augmented reality games, you'll enjoy the thrill of killing monsters, gathering materials, and making weapons. This article has a collection of tips on acing Monster Hunter Now. For hunters who want to reach new heights, we revealed a secret game-changer: Wootechy iMoveGo.
By changing your GPS location, this tool lets you explore different places. It supports location-based apps and geo-specific services, making it ideal for iOS/Android hunters to play Monster Hunter Now in anywhere.