Location changer is helpful when you play Pokémon Go or Tinder, want to match people in other parts of the world, or don't want to be tracked. Today, I'm bringing you 5 easy Tinder location changers.
1Wootechy iMoveGo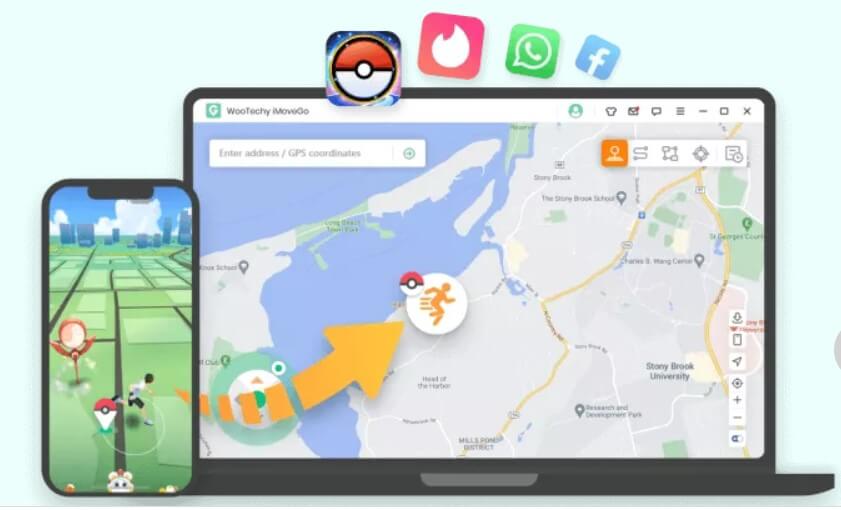 Location Spoofer Wootechy iMoveGo is an excellent location changer for Tinder that works equally best on all other applications. The platform will teleport you to anywhere around the world with its following features:
GPS teleportation works with a simulation where you can adjust the speed and the direction.
The trial period allows exclusive access to how the application works. It is a powerful platform with location-changing capabilities.Available on both android and iphones.
No need to jailbreak or root your phone!
iMoveGo works well on all applications that require location access. You can use it on Pokémon Go, Tinder, and Bumble.
The application does not release your private information to third parties. The protocols are secure and do not facilitate hacking or exposing attempts.
In addition, you can keep a Favorite List of all the previous locations visited in the past. The applications maintain historic records too.
The application offers two-spot routes, multi-spot routes, and GPX route files.
Key Features of iMoveGo
75.000.000+
Downloads
Change your location to anywhere in the world.

Simulate GPS movement with a customized speed.

Works well on all location-based apps, such as Snapchat, Find My and even Pokémon GO.

Spoof location on up to 10 devices at one time.

Compatible with both iOS and Android devices. (Including iPod/iPad)

Free trial is available for every user.
2Tenorshare iAnyGo
The first location changer we present to our loyal audience is the Tenorshare iAnyGo. We understand customizing your iPhone requires jailbreak. Thankfully, iAnyGo does not require a jailbreak to experience its advantages. The location changer works perfectly without any iPhone backdoors.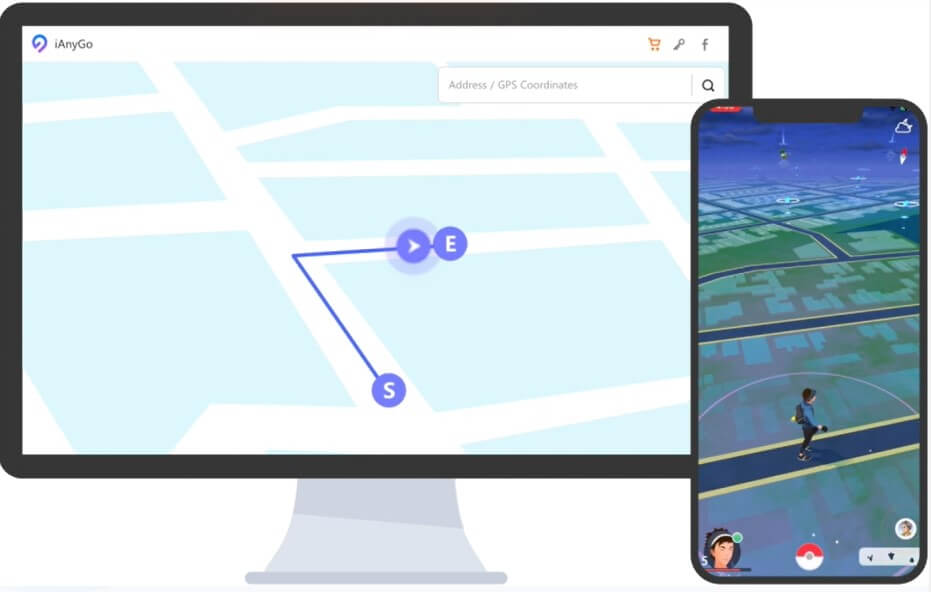 iAnyGo offers a one-click solution to virtually travel anywhere around the world. It will change the iPhone location instantly. However, it also works on all Apple devices just as well. After successfully downloading and installing iAnyGo on your preferred Apple device, follow the instruction to enter the false location in three easy steps.
Features
iAnyGo is the ideal location changer for playing games. You can interact with an international lobby while sitting from your home. The location changer works perfectly for single and multiple routes.
iAnyGo will also work on social media too. You can easily spoof your location to purchase products, get ads, and date. iAnyGo is also a location changer for Tinder. Interact with the singles in your area for your happy ever after!
iAnyGo will protect your location from nosy individuals. It will safeguard your phone from "Find My App" for added security.
iAnyGo also offers advanced features. The user can enter exact coordinates to spoof the location. Furthermore, you can also save false locations from previous entries too.
3iToolab AnyGo
The second location changer on the list is iToolab Any Go. Even though the name may sound similar, the application and manufacturer are two different identities. You can change your location to anywhere worldwide with just a single click. iToolab AnyGo is mostly used for video gaming and social media.
The application provides multiple modes to track movement with its GPS feature. It will teleport you between locations. Other features include GPX route mode, two spots, and Joystick control mode. Furthermore, you can also adjust the movement speed to make the location changer look realistic. When the joystick mode is activated, AnyGo will monitor the movements expertly. The GPS skillfully moves around from one location to another. The feature saves time and makes playing games like Pokémon Go more enjoyable.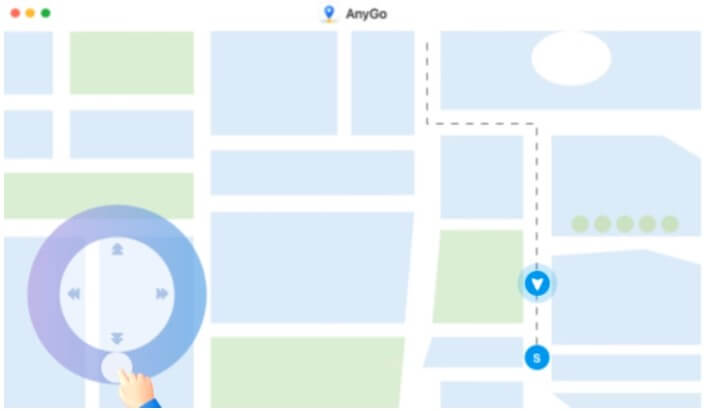 AnyGo also offers the surprising feature of importing location from your contacts. Your friends can forward locations with the GPX route. Lastly, you can rename and save locations. Keep it in the records tab to use later in the future. You can save the preferred locations in the Favorites tab for easy access.
iToolab AnyGo use is not limited to one or two devices. The platform works expertly on multiple devices at the same time. As a result, you can choose different locations on each terminal to enjoy location-based games. Simultaneously, you can use the false location on other applications as well.
4iMyFone AnyTo
iMyFone AnyTo is also a reliable solution to change your location. This location changer offers a simple-to-understand user interface with straightforward instructions. The platform works equally best on android and apple devices, where you can spoof the location with just one click. Once the fast location is set, share the location with your friends on social media. You can use the feature to surprise or make them jealous with a vacation to a breathtaking beach resort.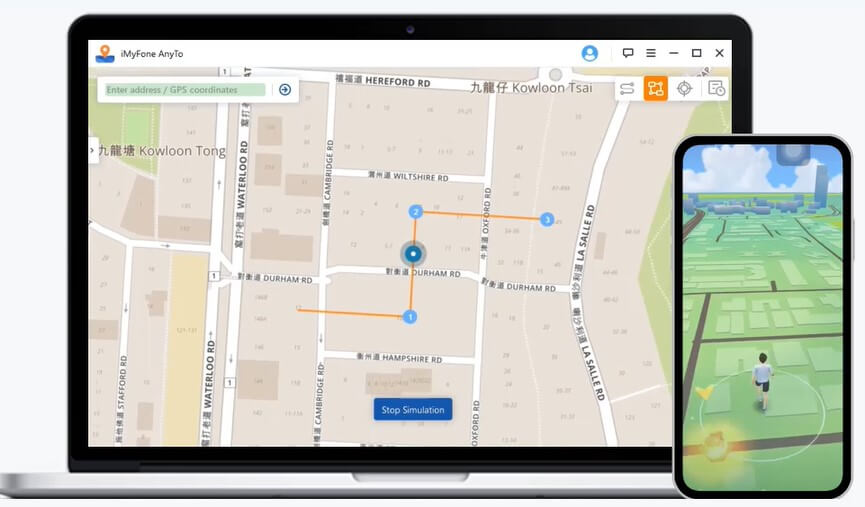 iMyFone AnyTo will protect your actual location by presenting the false one. Thankfully, the platform offers an option to hide the area from nosy people in your social circle. Now you can freely browse the town without wondering who is tracking your moves.
iMyFone AnyTo also celebrates gaming. Furthermore, the software will also provide a custom route for in-app gaming, such as in Pokémon Go.
It is a reliable location changer for Tinder so that you can match with attractive individuals outside your usual radius.
The user can input exact coordinates to jump from one corner of the world to another.
The location changer offers a realistic approach where one can pause and resume movements to imitate driving and walking.
Maintain an extensive record of previous movements to reapply them in the future.
5Dr. Fone Wondershare
Let's continue learning about the best location changers with the next option. Dr. Fone Wondershare will instantly teleport you to any location in the world. It will bounce you from place to place without having it look too fake. The feature makes it an excellent location changer for Tinder with its one-click service. Once Dr. Fone Wondershare is active in the background, all applications on your phone will start believing you are traveling an international continent while you are at home physically. The software has revolutionized the location changer competition.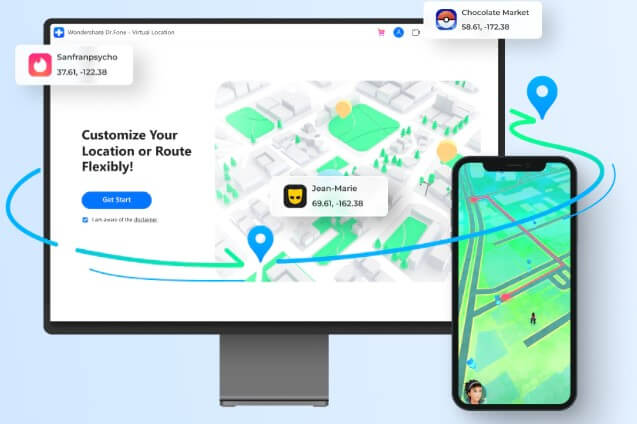 It makes playing games very easy too. You can play Pokémon Go or other games requiring location access on your Apple device. In addition, you can choose from a single spot or multiple routes. Wondershare provides a completely customized approach such as walking speed, pausing locations, and other spoofs to mimic a false place. The software does not contradict coding or result in application malfunctions. Everything continues to work perfectly and appears natural too.
Wondershare will help you access the locations which are not possible in your area. The joystick imitates free movements according to the false GPS location. The joystick will easily eliminate 90% of the stress while you teleport.
Lastly, you can also import routes directly to the software. As a result, you can create an entire outdoor plan, and everything is in your control. The course will factor in the security and previous selections for optimal results.
| Software | One quarter | One month | One year | Devices |
| --- | --- | --- | --- | --- |
| Wootechy iMoveGo | $ 6.66 per month | $9.95 per month | $59.95 per month one-time purchase | Five Devices + 1 PC |
| iToolab AnyGo | $ 19.95 for three months | $9.95 per month | $39.95 per year or $69.95 Lifetime | Five Devices + 1 PC |
| iMyFone AnyTo | $ 9.99 per month | $ 14.99 per month | $ 4.99 per month or $89.99 lifetime | Five Devices + 1 PC |
| Dr. Fone | $ 6.66 per month | $ 9.95 per month | $ 4.99 per month | Five Devices + 1 PC |
| Tenorshare iAnyGo | $ 19.95 for three months | $9.95 per month | $39.95 per year or $69.95 Lifetime | Five Devices + 1 PC |
Why do you need a location changer?
Access to blocked Apps
Location changer will help you bypass advertisements based on geographical locations. The geo-blocks will eliminate the feelings of defeat and exhaustion. They are worth the experience as internet users worldwide have access to the same content. The location changer will also overcome content copyrights too.
You can watch moves, play games, and browse for attractive singles without worrying about location. You can browse the content whenever you feel like it.
Unlimited browsing
A location changer will also allow unlimited internet access. A lot of different governments block websites due to political or religious reasons. As a result, it prevents the free flow of information and entertainment. The problem is more annoying if you are constantly traveling. Therefore, a location changer will remove such restrictions so you can enjoy content on the go. Find relaxation by watching your favorite YouTube channel or browsing Twitter on your work break.
Security
Location changers are a preventative measure too. Once the location is changed, it blocks the device and applications from observing what you actually do. For example:
The web browser will no longer keep track of the website and webpages you browse
The messages stay encrypted and prevent the transfer of sensitive information
Search intent and search results remain hidden
The downloaded files are stored separately to maintain privacy.
User privacy
Advertisers and websites are constantly studying user browsing and purchasing pattern. Experts argue this is a huge violation of privacy which can be protected with location changes. The software will prevent your IP address and cookies from being released. It hides your digital footprints and keeps the web traffic secure.
Location changes are a fast-lane approach to optimal privacy. They provide peace of mind your online interactions are not accessible to malicious parties. Sometimes opting for the incognito mode is not enough. The location changer will hide the files and websites, preventing prying eyes from nosing in.
Wootechy iMoveGo FAQ
Does iMoveGo require jailbreak on the device?
iMoveGo does not require jailbreaking. The software is very easy to use and credible when changing locations. Excellent results are guaranteed on social media apps and AR gaming.
How does the iMoveGo trial version differ from the full version?
The trial version comes with limited features. However, the complete version allows the users to experience the features fully. You can enjoy the three modes and maintain a log of previous locations in the full version.
Is a VPN different from Wootechy iMoveGo?
The VPN will change your IP address on the computer or phone. However, iMoveGo is a location changer for Tinder that changes the GPS coordinates. IP address and GPS coordinates are two very different variables.
What to do if iMoveGo is not working on Apple devices?
Plug the device into the computer again. Launch iMoveGo for the second time.
Ensure the USB cable is not compromised. You can use a different USB cable to establish a connection.
Try the DFU or the Recovery Mode if the device still does not connect.
Does the virtual location change after disconnecting the phone from the computer?
The virtual location does not change. Once the area is altered, it will remain the same until the user restarts the device or clicks on "Reset Location" on iMove Go.
Does iMoveGo allow the user to pause the location?
Whenever the user wishes to stop their movement, they can click "Pause."
Click on Continue when the movements resume.
Tap on Stop when the user has completed their course.
As it is clear from the discussion above, there are many reasons to use a location changer. When it is available with one to two clicks, why not try it to experience the benefits? The location changers mentioned above will expertly hide your location, allow access to blocked applications, and much more.
Don't forget to use Wootechy iMoveGo to prank your friends! The service provider offers a 30-day money-back guarantee if you are dissatisfied. iMoveGo supports iOS 15 on iPhone, iPad, iPad touch, and android devices.