This is an incredibly popular search item because so many users do not want to be forced outside to enjoy playing AR-based games like Pokémon Go or to view social media without all the attached location data that allows others to spy on them.
That is why we gave UltFone iOS Location Changer a try to see if it holds up to the hype and makes good on the promise of spoofing your location data.
What is UltFone iOS Location Changer?
Most of the time, when you try to change the location settings on your device, you have to jailbreak it first. That often results in being restricted from any manufacturer's warranties or getting the updates you need for your apps to stay secure and usable.
UltFone location changer does not require jailbreaking your device. With this custom software, you will be able to change your location data and stay within Apple's iOS ecosystem.
The UltFone iOS location system uses a one-click efficient solution to masking your actual physical location and allowing you to appear from anywhere else in the world.
Features of UltFone iOS Location Changer:
Play games that require your physical movement in the real world without actually moving.
Set the speed of your in-app movement and make location-based teleportation.
Works with iOS devices, including the latest iOS15 build version.
You can use two-stop or multi-stop settings.
Keeps a historical record of your movement in case you need to use the same route again.
How to Use UltFone iOS Location Changer
We found the interface to be pretty basic during our UltFone iOS location changer review, but that could be a really good thing for those who do not want a complicated process.
Step 1: Download the application and install it on your PC/Mac. Select the type of mode you want to use and then click on Enter.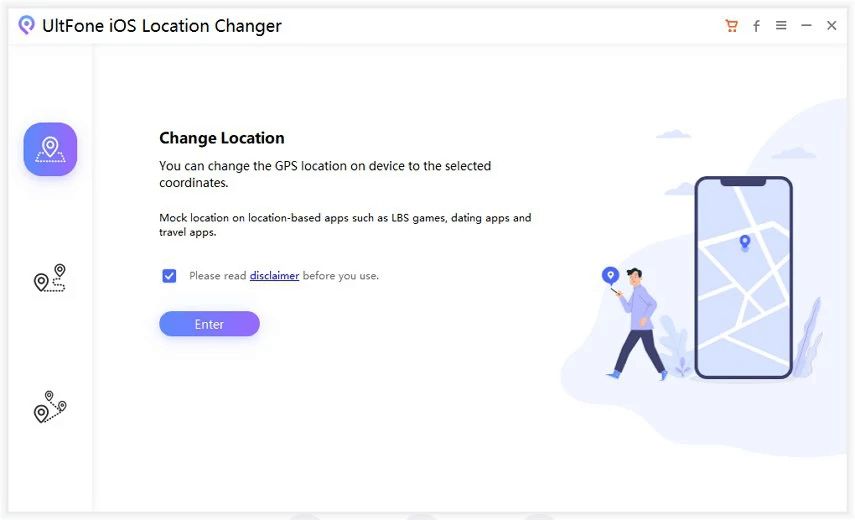 Step 2: Connect your iPhone and be sure to unlock and select Trust this Device when prompted.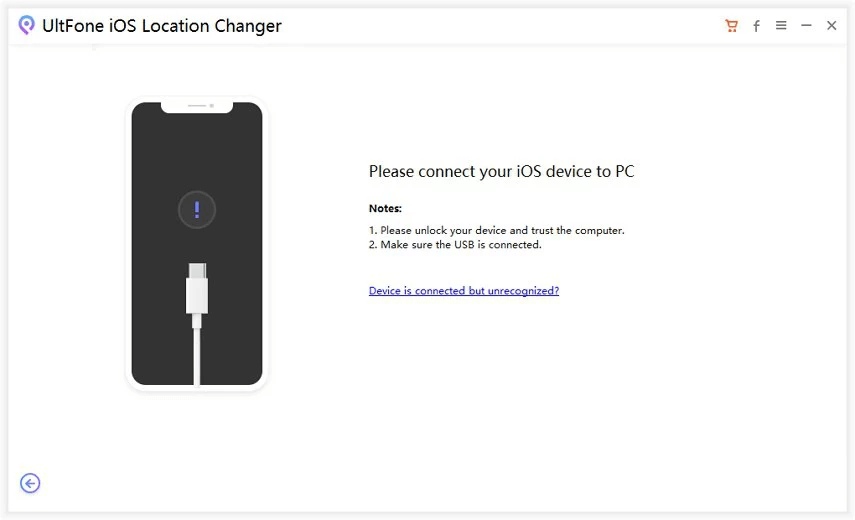 Step 3: Start to move based on the mode you previously selected.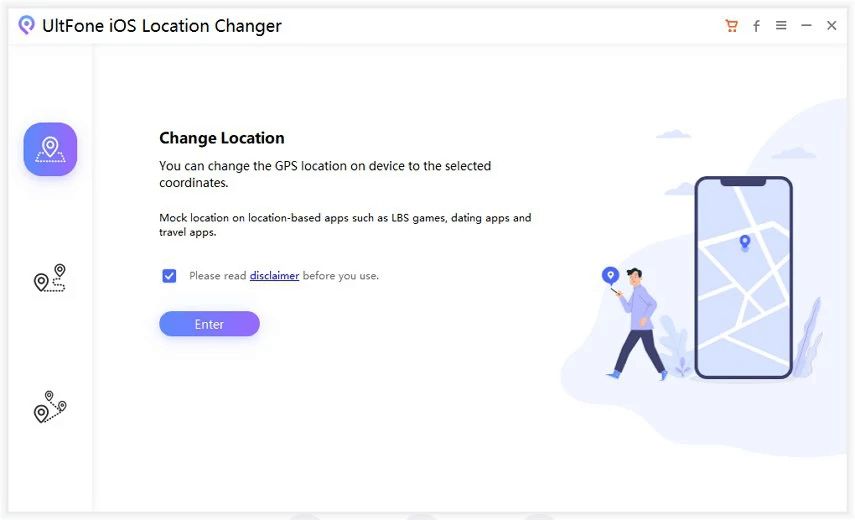 UltFone iOS Location Changer Review 2022
This is not a bad program at all. If it had all the features we would like to see in a competitor for other programs we use, it would rank a lot higher. The interface is relatively easy to use, and it is nice to not have to jailbreak your device when installing the program.
There are two big problems preventing us from recommending UltFone iOS location changer download. They are the lack of Android support and not having a joystick feature.
Android users are just as prolific as iPhone users. This software program does not currently work on an Android or PC and is therefore useless to that market.
The joystick feature is a big deal for anyone that enjoys gaming. Without the ability to manually move your character in-game, you lose out on being to explore new territories fully. Instead, you have to stick to pre-determined routes and that can get boring quickly.
Cons
Not very versatile to use in AR-based or geolocation locked games like Pokémon Go.

There is no GPS joystick feature for controlling your location in real-time or in-game.

You cannot purchase a lifetime license, which means you may end up spending quite a bit over the long-term.

Mac users pay more money than Windows users for the software.
iOS Location Changer Not Working? Try iMoveGo as a Better Alternative!
With iMoveGo location changer from WooTechy, you do not have the same restrictions as UltFone iOS. This is a powerful piece of software that works with both Android and iOS devices of all build versions and does not require jailbreaking.
Here is a quick comparison between UltFone iOS Location Changer and WooTechy iMoveGo:
Applications
UltFone iOS Location Changer
WooTechy iMoveGo
Compatibility
iOS Devices
All Android & iOS Devices
Available for
Windows users only

Windows &mac OS users

Pros:
Spoof GPS Location
Easy Interface
Uses Routes
Simulates Real-Time Speed




Spoof GPS Location
Easy Interface
Uses Routes
Simulates Real-Time Speed
Joystick for Movement
New: WiFi Connection
Works with all devices
Can be used In-Game

Rating
4.2/5
4.8/5
WooTechy iMoveGo also includes an in-game joystick on top of the same other modes offered by UltFone. That means games like Pokémon Go are a lot more enjoyable because your exploration is not so restricted.
You can install iMoveGo for free in the same way you use UltFone, but the price point is way more reasonable and not based on what OS your desktop or laptop is using. Best yet, iMoveGo is preparing an update to its software where you will no longer need to connect a USB wire to your PC to get it working. Everything will be done over WiFi instead.
There are plenty of other features, including saving your historical data, realistic movement, and customized speeds inside iMoveGo that make it a far superior GPS spoofing and faking option compared to others.
Location Spoofer iMoveGo Video Guide:
Text Guide:
Install iMoveGo onto your PC. Plug your phone into your computer and launch iMoveGo. Next, you can connect you phone to the software via WiFi without using USB cables.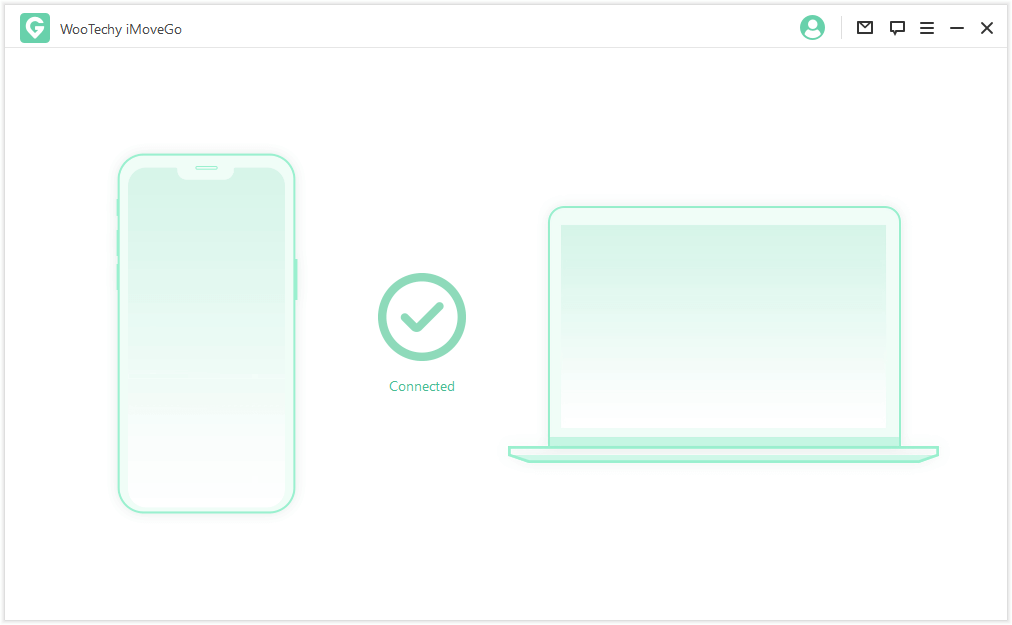 Enter any address or GPS coordinates you desire.

Create a route by selecting Multi-spot/2-spot mode. Next, click Move.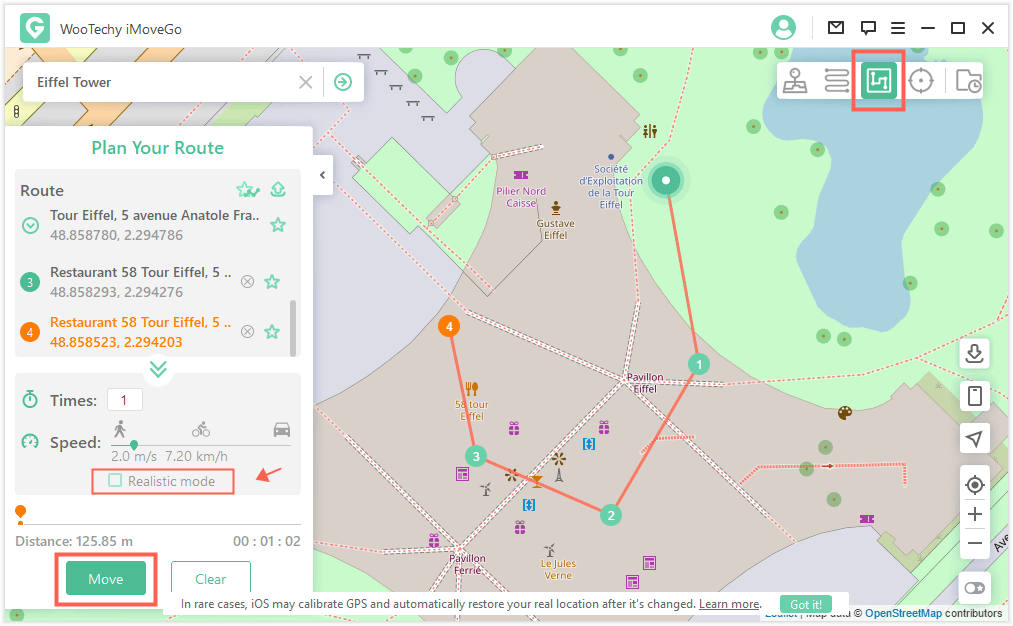 Simply open the Maps, Find My or Pokemon GO on your phone to check if your GPS location is moving as you wish.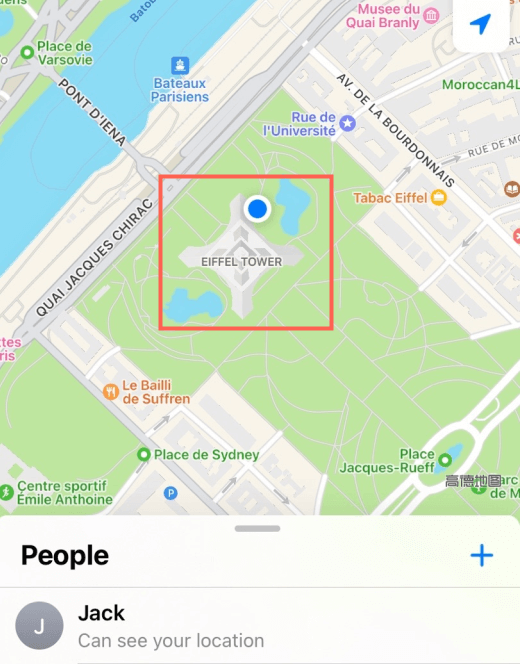 Conclusion
UltFone iOS Location Changer offers a lot of advantages and the software is easy to use and install. However, the lack of Android support, higher price tag, and missing joystick control for in-game use with entertainment like Pokémon Go make us suggest using iMoveGo location changer from WooTechy instead. This is just a way more comprehensive software application with a proven history of success and a more affordable price tag. Just download iMoveGo and give it a try.