Today, many people consider putting their phones on silent mode rather than loud. However, the nature of your work, schedule, and maybe studies may determine how you'd want your notifications to be, especially with an iPhone.

My iPhone keeps beeping these days, I don't know why this problem happen suddenly. What's worse, the iPhone beeps loudly while charging. Since this is the first time I meet this issue, I have no idea about it. Anyone can help?
The fact also remains that your iPhone can unnecessarily be annoying with beeping sounds; if your iPhone keeps beeping unnecessarily, you must come to the right place. This chapter can give you the full guide about why iPhone beeping and how to fix it.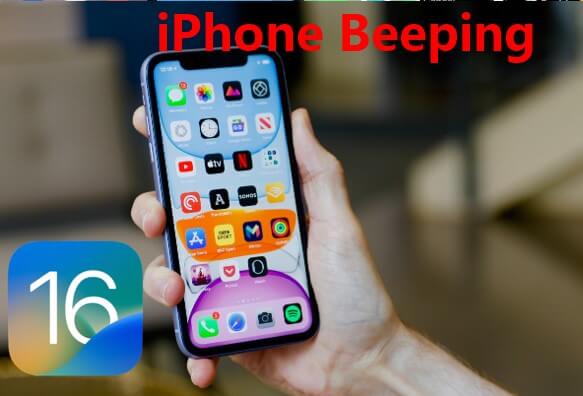 Part 1. Why Does My iPhone Keep Making A Beeping Noise?
If your iPhone keeps beeping out of control, it could be for these reasons. Some of them are unknown to some iPhone users, and they include the following:
1. AMBER Alert: This kind of alert is for notifying others when a person is kidnapped or at the point of a dangerous risk. This kind of alert can result in unnecessary and awkward sounds that will make it difficult for you to focus on your day's work.
2. Random app sound notifications: Obviously, your iPhone applications run, and you can't do without notification beep sounds from some of these applications, and this also contributes to unnecessary iPhone beep sounds.
3. Ads playing in the Safari App: When on a call with other iPhone users or just doing some random stuff on your iPhone, if you notice your iPhone beeping, it could be a background app playing in the Safari app. Originally, the Safari app permitted MP3 files to continue playing in the background even when you don't, or you're not using the app.
4. Software Glitches. iPhone beeping also indicates that your device has something wrong on the systems.
5. Hardware Bugs: When you unintentionally press the home button, you may experience iPhone beeping sounds.
Part 2. How Do I Get Rid of My iPhone Beeping Problem
Getting rid of iPhone beeping sounds isn't difficult, only if you can locate the problem and apply the right fix, then you can troubleshoot this iPhone beeping issue in root.
1

Check the Notification Settings

Start by opening "Settings" on your iPhone to check if you have turn on the certain notification settings
Click Notifications. On this page, you would have access to various apps that can send notifications to the device.

Check for all the apps that say Sounds, Badges or Sounds. Some of these apps could beep during phone calls on iPhone, even without an on-screen notification.

You can change the notification of such apps by clicking it and selecting your personalized notification preference.
2

Check If There Are New App Updates

If your iPhone beeps while making calls, charging, or doing other things, you may have to update some apps to resolve the problem. You should consider checking if the iPhone needs updates if these beeps persist.
Head to App store and check the upper right-hand corner to click your Account icon.

Go to the section for listing app updates. Click the Update button in front of each app to update to the latest version of it, or you can rather click Update all to update all apps at a time if you want to.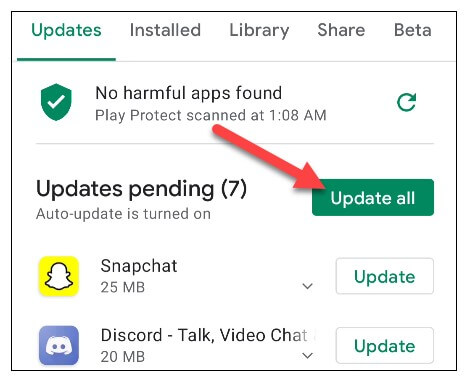 3

Close All Tabs in Safari

If you notice your iPhone is making an awkward beeping noise, some tabs in Safari may be playing an MP3 in the background. So, consider closing all tabs to fix the recurring iPhone beeping sounds.
Open the Safari app on your Apple mobile phone. Then click and hold the tab switcher icon.

A pop-up will display. Then Click on Close All X Tabs.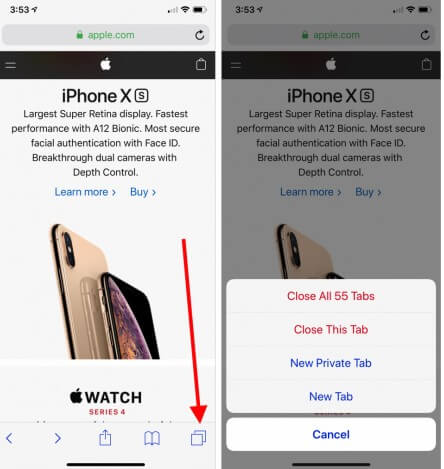 Note
X means the number of tabs opened on the Safari app.
Click the Click All X Tabs again to complete the task.
4

Force Quit All Running Apps

Aside from the Safari app, many other applications can contribute to the beeping noise on your iPhone during calls and other activities you may perform on your device. If you desire to end all running apps on your iPhone, you should perform the following steps to fix the iPhone beeping issue.
First, double-click the Home button on your iPhone. This will start the app switcher on the device.

But, if there's no Home button on your iPhone device, go to the home screen and then swipe up from the button to the middle of the screen. With your finger on the home button, swipe up the apps.

Once you have done this, the apps will not show in the app switcher again.
5

Restart Your iPhone

If you discover that a software bug causes the frustrating beeping noise, the best way to get this fixed is to restart your iPhone. Don't think twice about doing this when it happens.

For iPhone 8/X/11/12/13/14:
Press the Volume + icon and Side icon simultaneously.

Continue holding the buttons until a Slider shows on your device's screen.

Move the slider across the screen to turn off the iPhone.

Wait for some seconds to see that the iPhone is turned off completely. Then turn on the iPhone to see if the iPhone beeping sound has been dealt with it not.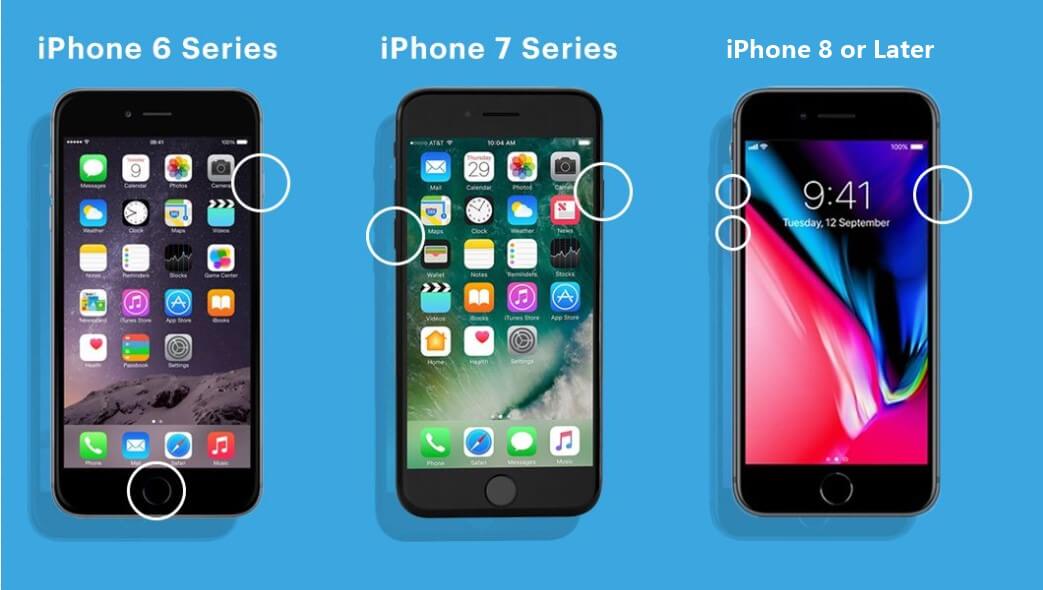 6

Remove Any Additional Keyboards

If your iPhone device keeps beeping all the time, then try removing any additional keyboards
Select Edit beside the keyboard you wish to remove.

Then, you should click the Delete and the Done button.
7

Update to the Latest iOS Version

Since the older iOS version cannot support your iPhone's normal operation in some case, then it leads to your iPhone beeping, so you should update your iPhone device to the latest iOS version:
Then click General > Software Update. If there are updates for you, you will find them there.

The thing to do is just to click Download and Install to download the updates.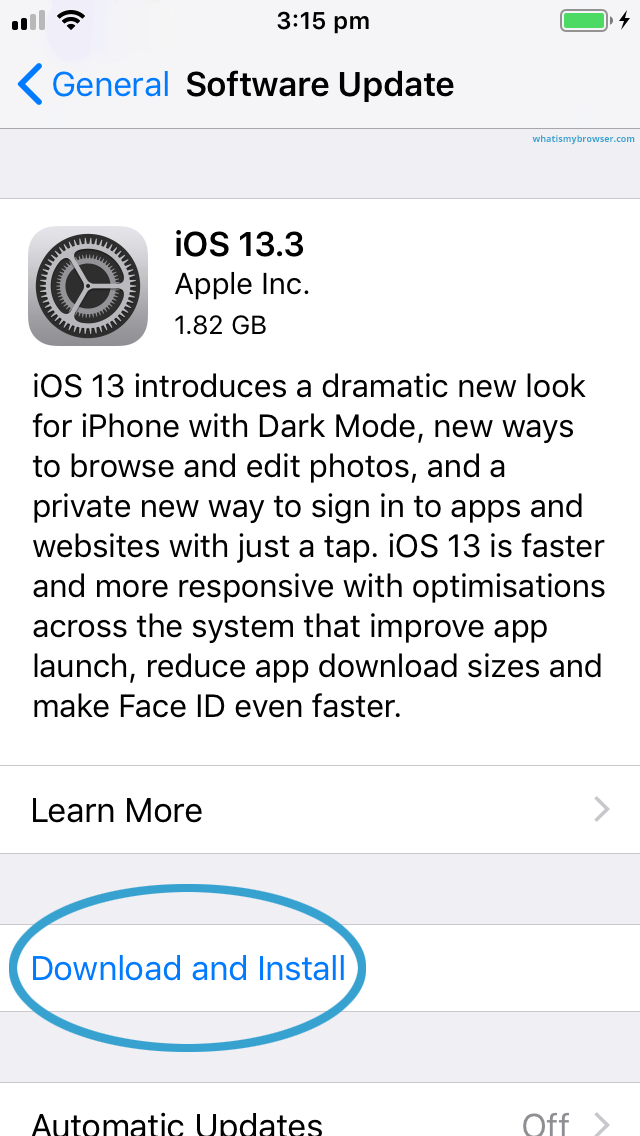 Note
You should keep your iPhone charging and make your iPhone under a stable WiFi environment. Then be patient to wait the process to complete, it will take about 30 minutes.
Part 3. Ultimate Method to Fix iPhone Beeping Problem in Root (No Data Loss)
If you have used all the methods referred above, but it still fails to fix the iPhone beeping issue. Then iPhone software bugs should be the most possible reason that leads your iPhone beeping. In this case, there is still a final but useful alternative to help you before going to Apple Support Store.
That's to use a professional and useful ios system recovery tool to fix the iPhone beeping problem. Then WooTechy iPhixer should be your first option to get this done. iPhixer is an official and professional iPhone repair tool, which is created by a world-known team.
This tool aims to fix all kinds of iPhone/iPad software problems with a high success rate and without any data loss. Since Halloween is coming, this tool is the lowest price for the whole network, just pick it up!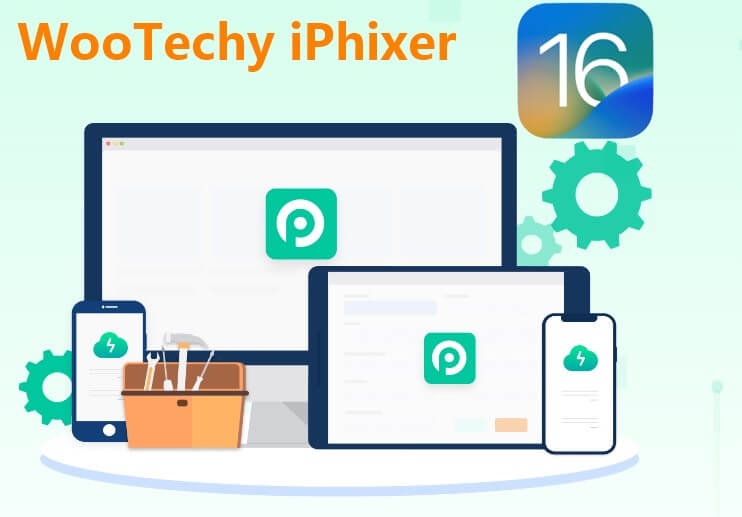 Why Can You Choose WooTechy iPhixer to Fix iPhone Beeping Errror:
75.000.000+
Downloads
Able to repair various iPhone software probelms, including iPhone beeping, iPhone blinking Apple logo, and iPad software glitched like iPad boot loop.

In a short time, you can finish repairing your iPhone/iPad software issues without causing any data loss.

Allow all iPhone users to exist or enter recovert mode for 100% free without costing any cent.

iPhixer aviods any data loss and promises no errors like 4015/4003, which is the most useful alternative to iTunes.

With 3-4 simple and easy clicks, you can complete the whole repair process, which is really time-saving.
Easy steps to fix iPhone Beeping Problem via WooTechy iPhixer:
Step 1 Open your WooTechy iPhixer tool on the PC and connect your iPhone device to the computer using a USB-C lightning cable. Check that your device is unlocked for it to be recognized. Select the Standard Mode and click Next.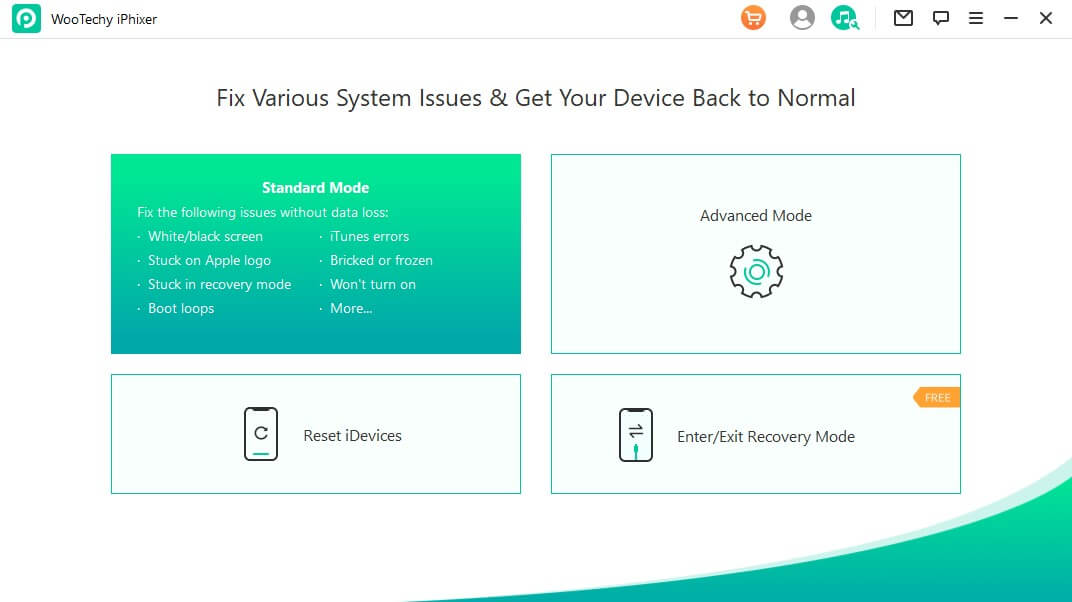 Step 2 The next step is to download the firmware. For this, you will have to select the device model and firmware version from the given dropdown menu and click Download.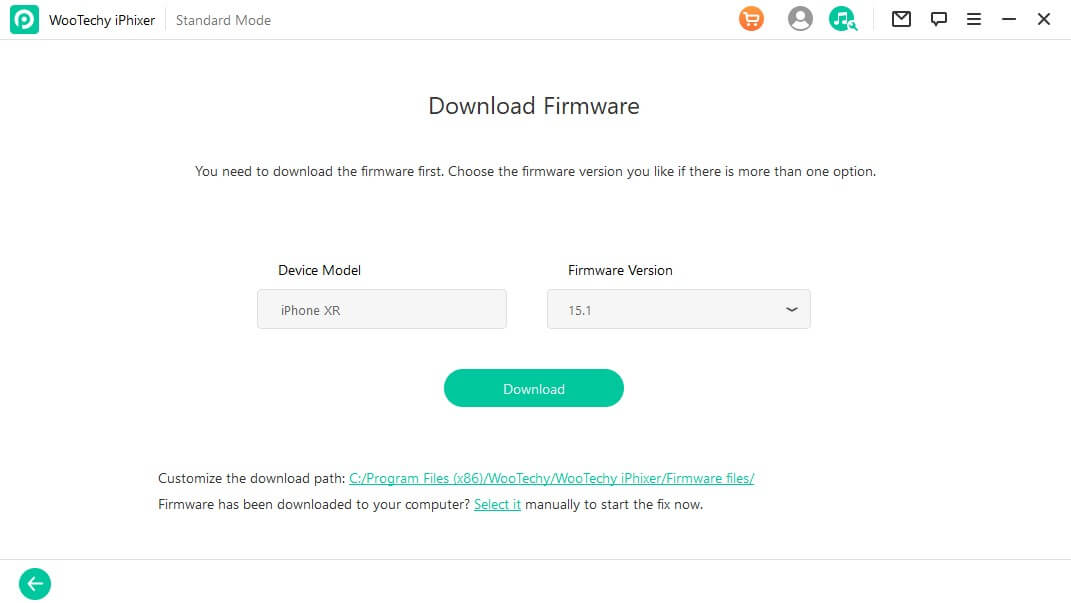 Step 3 Once the firmware has been downloaded, you can commence the repairing process by clicking Start. During the repairing process, make sure you don't disconnect or use your device; otherwise, it will mess up your device and further complicate things.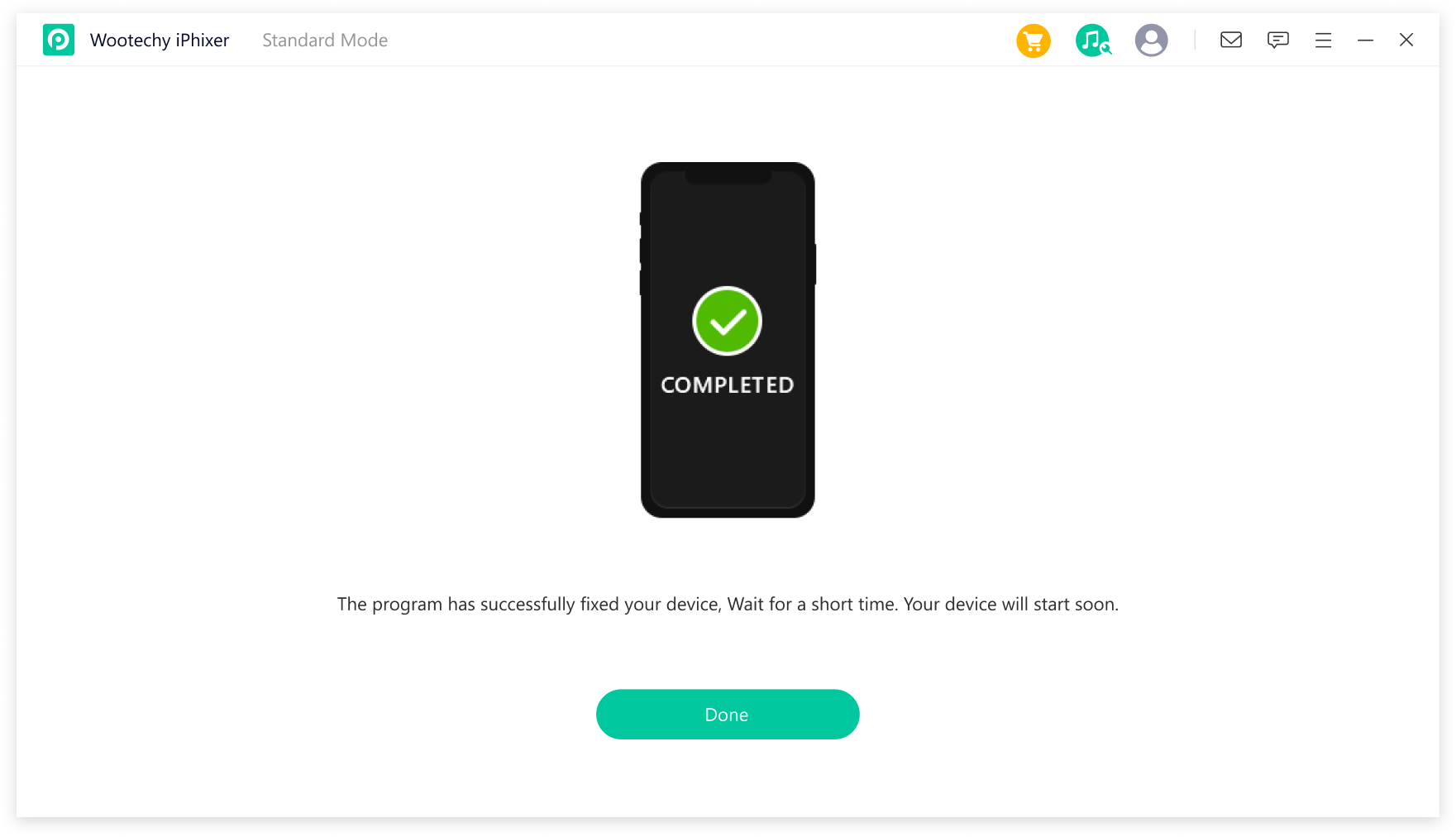 Note
The whole process won't cost too much time, you can fix your iPhone beeping problem.
Conclusion
Obviously, fixing iPhone beeping sounds is not as difficult as you imagine, with all these useful solutions mentioned above, you can fix this iPhone beeping problem with ease and high efficiency.
If you are meeting any other hassled iPhone software bugs, don't forget to use this smart iPhone software recovery tool – WooTechy iPhixer, which can help you a lot. Just enjoy it!