iPhone repair software is something most long-time iOS users have searched for at some point. However, a completely free ios recovery tool isn't possible. Because the developers of the tool need to recover the cost that went into creating it.
Even so, you can fix ios to normal free or at minimal cost if you choose your tool wisely.
Part 1. What Is iOS System Repair Tool?
An iPhone repair software or iOS system repair tool is software that can fix minor and major glitches in your iPhone's/iPad's operating system. Such a tool shall gain access to your device's system's code, scan it for issues and fix them. They can do this by adding pre-formed codes or by detecting and deleting malicious codes.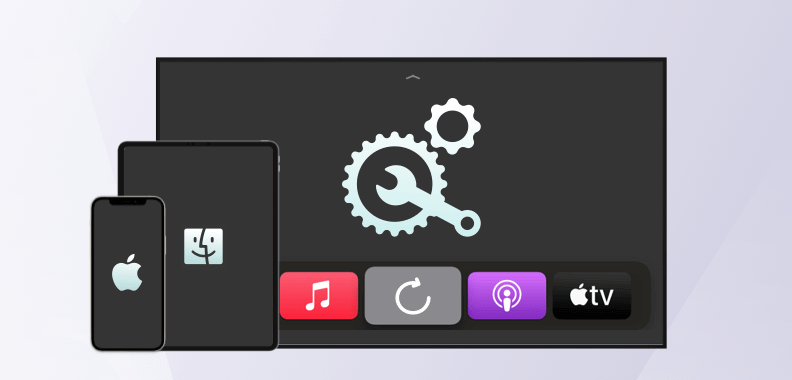 A frozen screen is one of the most common problems free iOS repair software can solve. Your iOS device can get stuck on a screen and be unresponsive to all your attempts. Such situations include iPhone's black screen, white screen, iPhone stuck on Apple logo, or the iPhone blue screen of death.
Your iPhone might also become frozen or unresponsive during updates or while running multiple applications simultaneously. Usually, these kinds of problems occur due to glitches in the software. Other times it might happen because the updating or rebooting process altered some of the system code.
To fix your iPhone with iPhone repair software, you first have to download and install the primary software on your PC. Then connect the device you want to fix with the computer using a USB cable. Afterward, the tool shall recognize your device, download the appropriate firmware, and resolve your issue.
Part 2. Is iOS System Repair Safe?
iOS system repair is safe if you use scientific methods and authentic tools to fix your issues. Otherwise, you might end up severely damaging your device beyond repair.
There are mainly two ways of repairing your iOS device. Number one is the manual tricks and techniques for fixing your device. And secondly, using genuinely professional and authentic iPhone repair software. This second method is safe and secure. However, the same can't be said about using tricks and techniques.
The techniques which iPhone users commonly use when encountering issues like the black or blue screen of death are hardly scientific. These practices have been here for many years, so users apply them rather superstitiously. However, there are some significant risks of using these iPhone repair techniques:
Losing all your valuable data
Damaging the sensitive hardware inside your iPhone
Destroying the system software and turning your device into a brick
An unauthorized free iOS recovery tool can install a virus on your computer
Some free iPhone restore software can steal your data
In contrast, when you use iPhone repair software like WooTechy iPhixer, you don't risk any of these damages. For instance, WooTechy has the approval of McAfee and Norton. This means there is no risk of malicious software when you use it. Plus, with an authentic tool like this, there is no risk of data theft.

Part 3. Is Any iOS System Repair Free?
Free iOS repair software is technically impossible. Because the developers have to invest a lot of effort, time, and money into creating iPhone repair software. Even after that, maintaining, marketing, and hosting the tool also costs a lot. So, there can't be a hundred percent free iphone restore software. Although free trial versions might exist.
However, if you are adamant about not spending a dime on fixing your iPhone, you can always try the various age-old, hardly scientific techniques that many users have found success with. These common and well-known methods include:
Restarting your iOS device.

Force restarting your iOS device.

Reverting your device to factory settings.

Putting the iPhone in recovery mode.

Disconnecting from iCloud.

Fix iOS to normal free using iTunes.
All these techniques are easy, require no technical expertise, and cost you nothing. Except, they might not work, result in data loss or, even worse, completely damage your device's operating software.
A much safer and more accurate method is to use the free trial version of a professional iphone repair software like WooTechy iPhixer. This free version, of course, would not grant you all the features of the paid service. But you will still receive a one-click enter or exit recovery mode totally free of cost.
Part 4. How Do I Fix My iPhone iOS?
Officially, you can fix iOS to normal free using iTunes. However, at your own risk of damaging the device's system software and data loss, the safest and most preferable way to fix your iOS device is using iPhone repair software.
1. Fix iOS to Normal Free with iTunes (Data Loss)
If your iPhone is experiencing a frozen screen or similar issues, you can fix it using iTunes. It will reinstall your device's software and restore it to its default state. You need to have the latest version of iTunes installed on your computer. Follow these steps to restore your iPhone using iTunes:
Step 1 Connect the iOS device to your computer using a USB. Open the iTunes app on your computer.
Step 2 Click on the Device option from the top left corner of the iTunes window.
Step 3 From the drop-down menu, select Summary. Now click on Restore iPhone.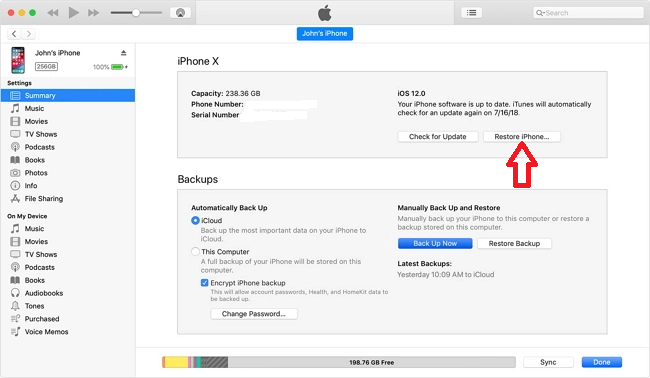 After that, your device will restart, and hopefully, the issue will disappear. However, you will lose all your previous data on that device. This includes documents, photos, passwords, settings, etc. So, make sure you have the essential data backed up somewhere.
What's more, during the repairing process, your device may not recognized by iTunes or there are other unknown errors preventing you from restoring your iPhone to normal.
2. Fix iOS to Normal with iPhone Repair Software (No Data Loss)
If you want to repair your iPhone without losing any data and damaging the system software, you must use professional iPhone repair software. And WooTechy iPhixer is such a tool that has proven itself to be the best for the job.
WooTechy iPhixer has two repair modes- Standard and Advanced. All issues, like a frozen or stuck phone, are easily solvable using the Standard Mode. And this mode promises no loss of data.
Wonderful features of iPhixer:
75.000.000+
Downloads
Developed by professional technical team, it has been proven successful in fixing various iPhone issues such as stuck on Apple logo, boot loop, screen flickering, all update issues, etc.

With a wide compatibility to all iPhones/iPads and iOS/iPadOS versions including the latest iOS 16, it can fix any your Apple devices with a high success rate and fast speed.

Better than using iTunes to fix iOS, you can use iPhixer for 100% safety, as it won't invade your data privacy or cause any other unknown errors.

Provide other iOS functions such as upgrading or downgrading iOS, resetting iPhone/iPad, entering or exiting recovery mode for free.
Here are the steps to fix your iPhone OS without data loss:
Step 1 Download WooTechy iPhixer for free on your computer, then install and launch it. From the left, choose the Standard Mode and proceed by clicking Next.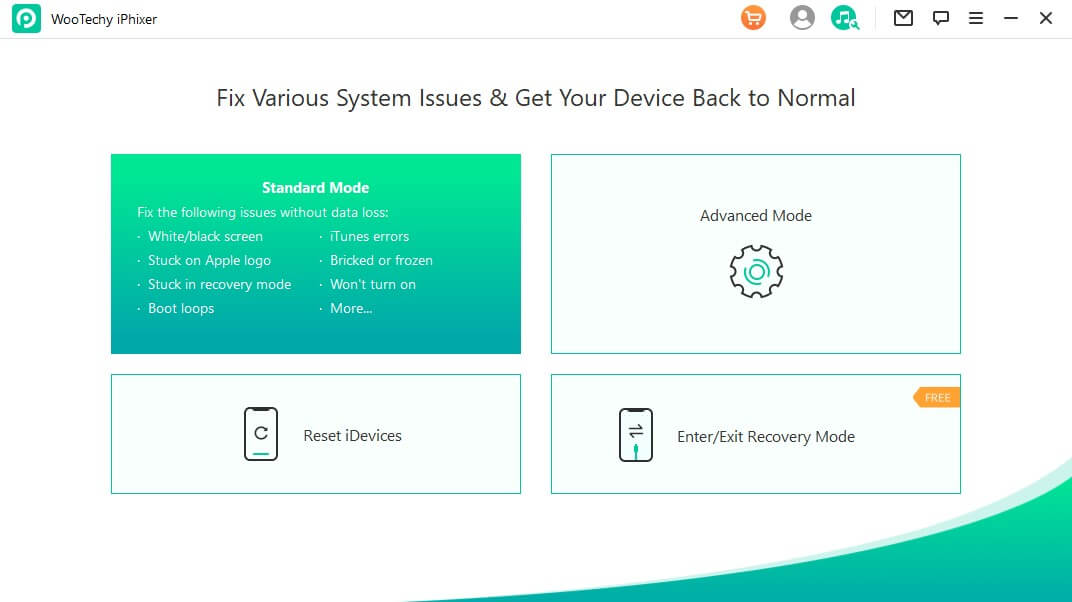 Step 2 Create a connection between the PC and your iPhone using a USB cord, then click Next. From the "Download Firmware" screen, select Download. This will automatically download and install an appropriate firmware for your device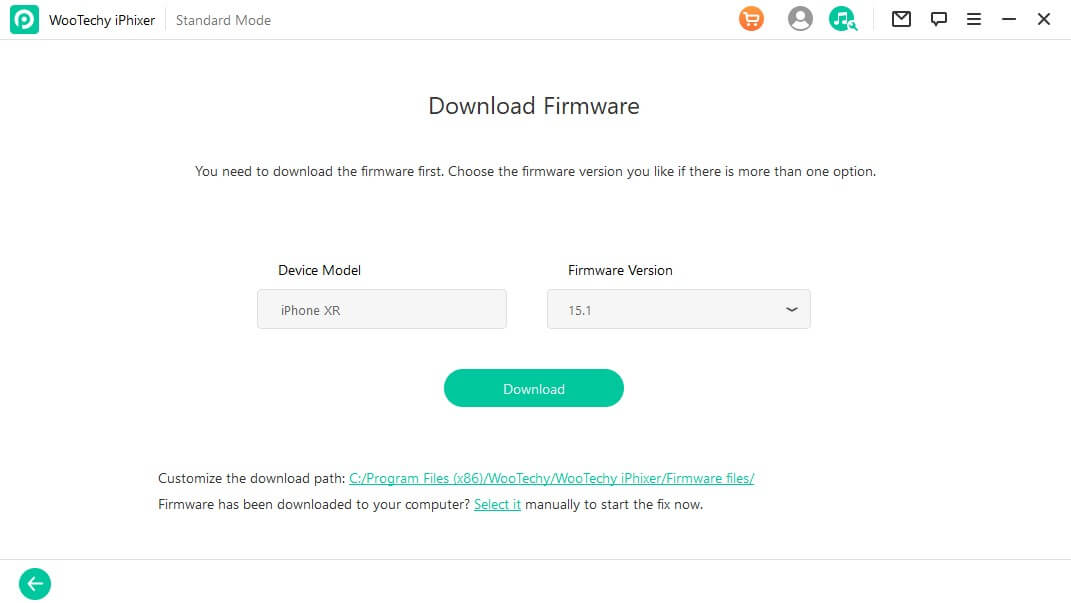 Step 3 Select Start, and the standard mode shall begin fixing your issue. After completion, you shall see the "Done" image on your WooTechy window.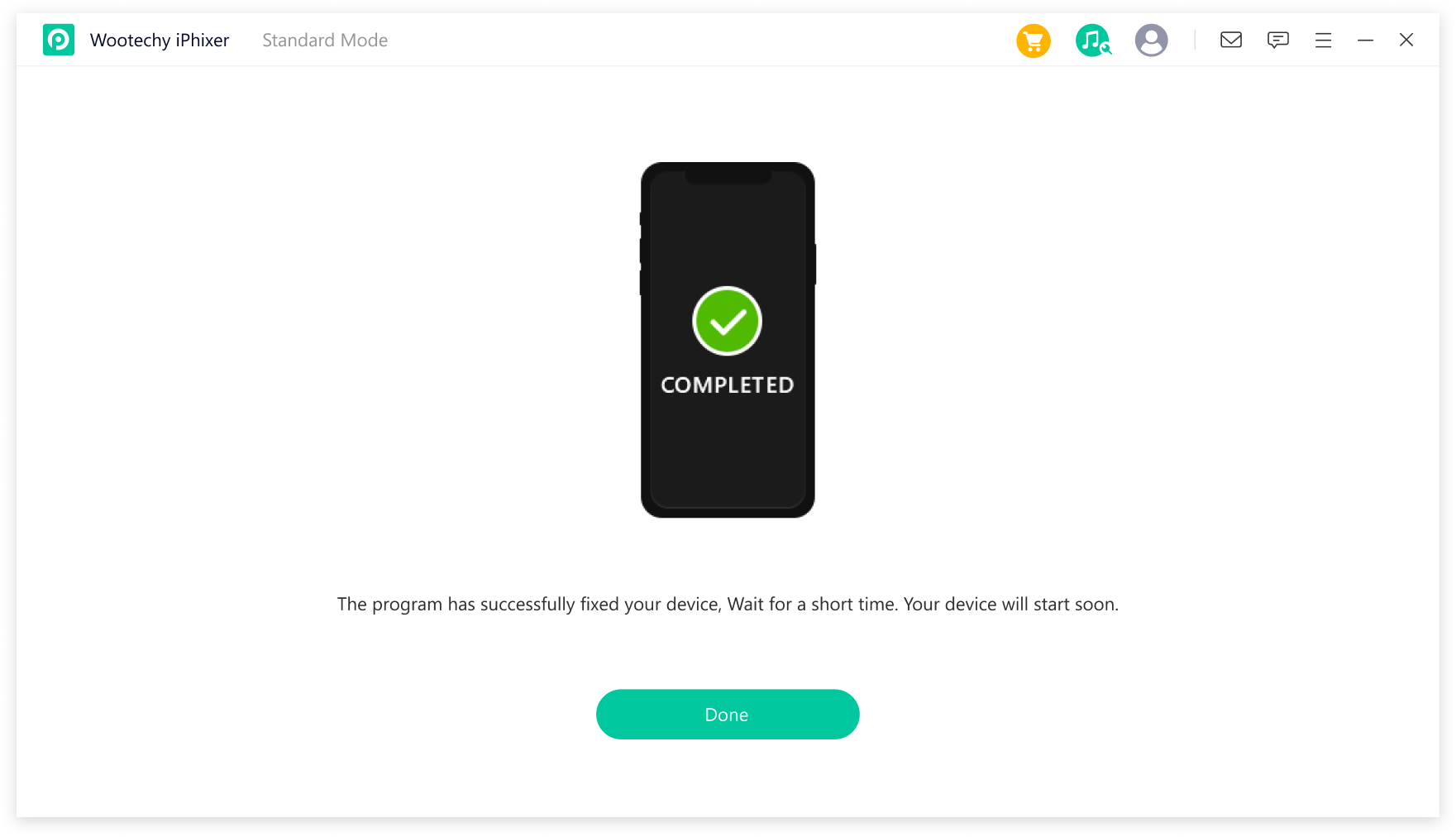 And with that, WooTechy iPhixer has successfully fixed your iPhone's issue. Your device will restart automatically, and everything will work fine like before. All your data will be intact, and there will be no damage to your system software.
Conclusion
iPhone repair software like WooTechy iPhixer is the right way to fix your iOS device issues. At only $59.95, you can get on the lifetime plan and ensure the safe repair of up to five iOS devices. However, you can always go for the free trial before deciding.