You put your iPhone to recovery mode and connect it to iTunes to do a full restore but it's not working. Well, sometimes the software can bug out due to a number of reasons. Now, there is no one golden fix for each and every issue that might cause this to happen.
In this article, we would like to talk about 6 solutions that can potentially fix your iPhone won't restore in recovery mode issue. At least one of them is sure to work for you. So, let's get right to it.
What Do You Do If Your iPhone Is Stuck in Recovery Mode and Won't Restore?
If your iPhone won't restore and is stuck on recovery mode, the first thing you should do is to not panic. Most likely, you didn't brick your device. The software probably just has a simple bug or maybe your iTunes is just too outdated to work with you iPhone.
Whatever the cause might be, the solutions below should fix any issue that might prevent your iPhone from restoring while on recovery mode. So, make sure you try these one by one until your issue is fixed.
Solution 1: Exit Recovery Mode and Try It Again
The first thing you should try is to exit the mode and re-enter it to restore iPhone again. You can exit the recovery mode by force restarting iPhone. Here's how you do it for various versions of iPhone.
iPhone 8 and Above: Tap Volume Up button and release. Tap Volume Down button and release. Hold Side button until you see apple logo.
iPhone 7: Hold both Volume Down button and the Side button until you see apple logo.
iPhone 6 and Older: Hold both the Home button and the Side button until you see apple logo.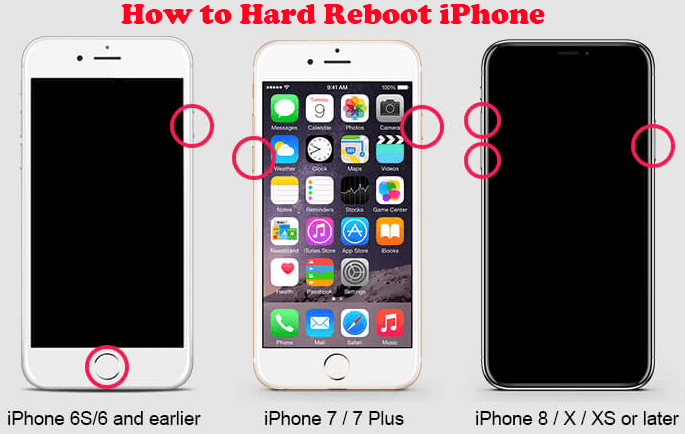 After force restarting you can try to go into recovery mode again and try to restore your iPhone using iTunes.
Solution 2: Use the Original USB and Disable Anti-Virus Software
Sometimes, the iPhone won't restore in recovery mode because of a faulty cable. Moreover, people often lose the original USB cable provided with their iPhones. Then they end up using other cheap copies as a substitute.
These copies can do the primary job once in a while, but it's better to get the original USB cable if it doesn't. You can even borrow one for some days from a friend too.
The cheap copies aren't usually MFi-certified by Apple. So, it's bound to cause restoration problems. MFi certification refers to the fact that Apple has tested the cable's compliance and made sure that it's of standard quality.
However, if you lost your original USB cable and have no chance of getting your hands on one, you should consider purchasing a high-end cable with MFi certification.
Some anti-virus programs can block your computer from accessing Apple's servers. As a result, the restoring process of the iPhone gets hampered.
So, before initializing the restoring process, make sure to check if the anti-virus is active and, if it is, then disable it temporarily. Once you've disabled the anti-virus, you're now free to open iTunes and connect the iPhone.
Solution 3: Turn Off Find My iPhone
If your iPhone won't restore in recovery mode, there's another thing that might be preventing this function from operating. iOS 7 comes with an activation lock and can cause your problem. The activation lock helps prevent your data from getting wiped if it gets stolen by any chance.
Fixing this problem is pretty straightforward. Just follow these steps sequentially, and you'll be ready to go:
Log in to iCloud.com.
Go and select the Find My iPhone option.
Now, choose the All Devices option and select your device. As your device is switched off, you'll see the "Offline" message appear.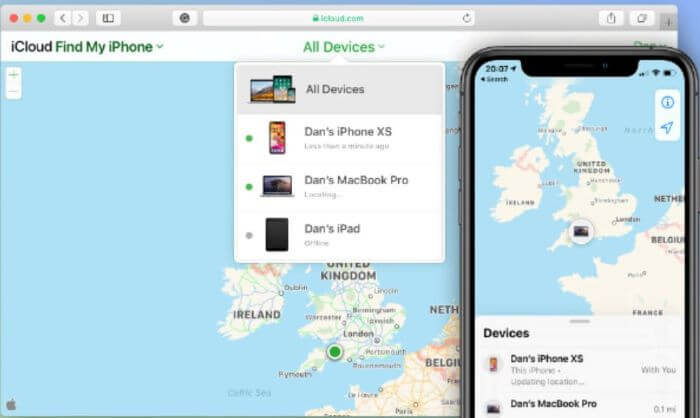 Select the Remove from Account option, and you're done.
Solution 4: Fix iPhone Won't Restore in Recovery Mode Without Data Loss
If you're still facing this kind of problem, the best advice is to use professional iPhone restoration software. One of them is the well-known WooTechy iPhixer, which helps you restore your iPhone back to normal in recovery mode with the highest success rate. It works miraculously well and does the job perfectly without causing you any data loss.
Key Features of iPhixer
75.000.000+
Downloads
Remove all system glitches that lead to your iPhone won't restore in recovery mode issue and many other problems like iPhone stuck in recovery mode, iPhone could not be restored, etc.

It comes with Windows and Mac versions, with 100% great compatibility with all iPhones and iOS versions.

You can use Standard Mode and Advanced Mode to resolve iOS problems, or utilize the Enter/Exit Recovery Mode to do it with one click.

It has a user-friendly interface, which is very easy to use. And it has received support from the users in the world.
Launch the app and navigate to the Standard Mode. After that, connect the device to your computer. Click on Next after the software recognizes the device.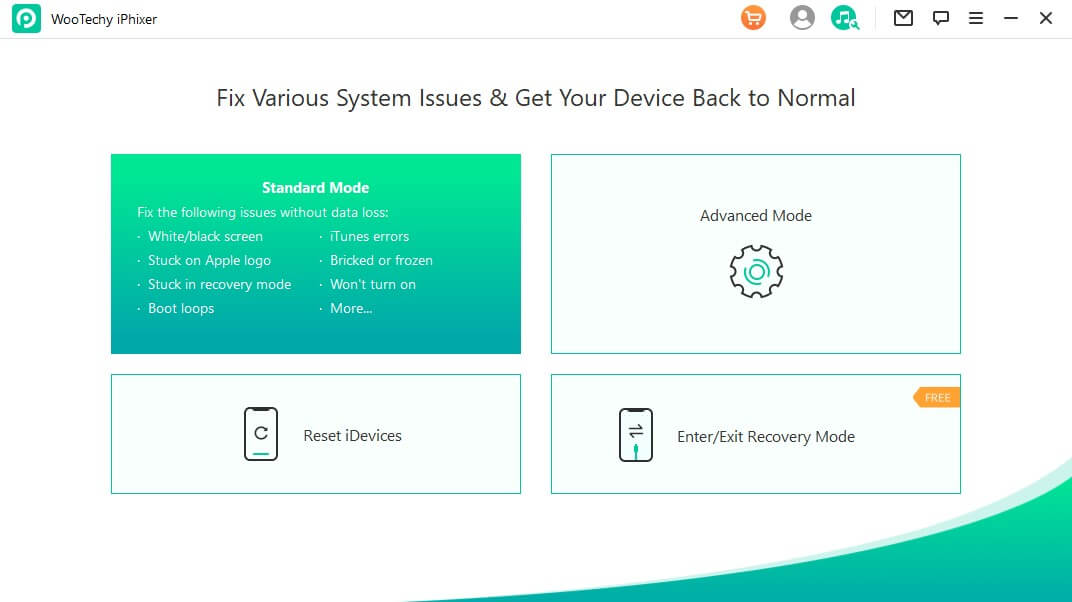 If the software can't recognize your iPhone, try enabling the DFU/recovery mode by following the on-screen instructions.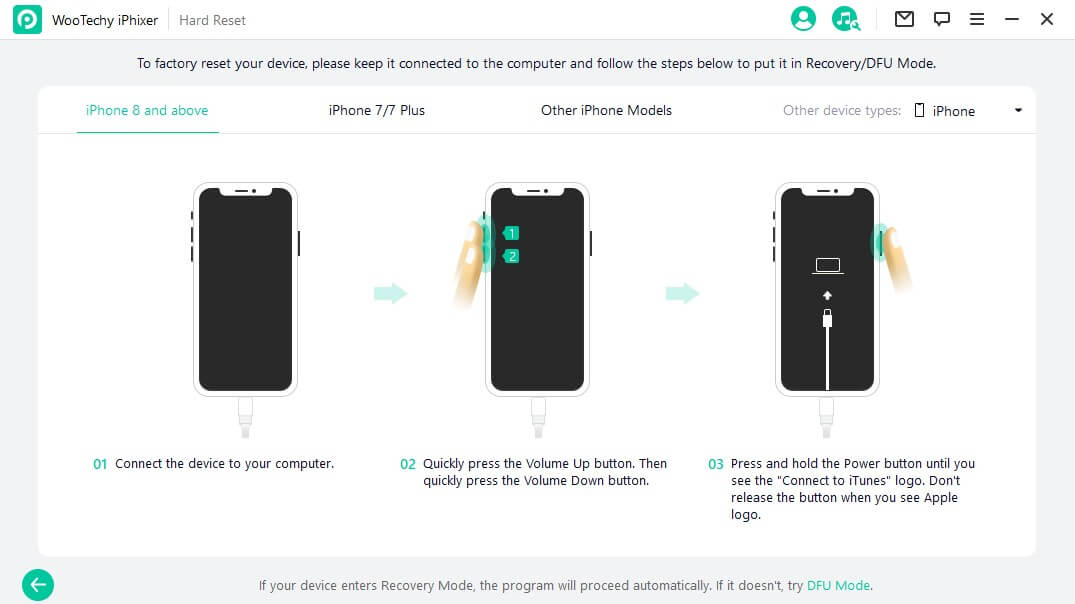 Click Download button to get the firmware which has no bugs.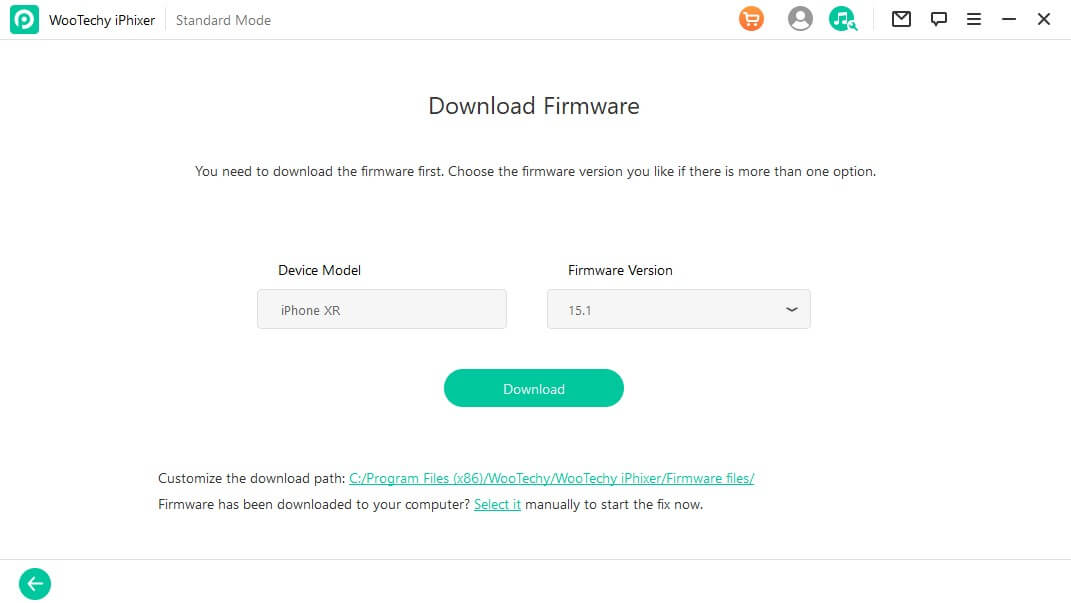 Click Start button and the program will start to fix the issue. When the process is done, your device will automatically reboot. After the restart, the issue should be fixed entirely.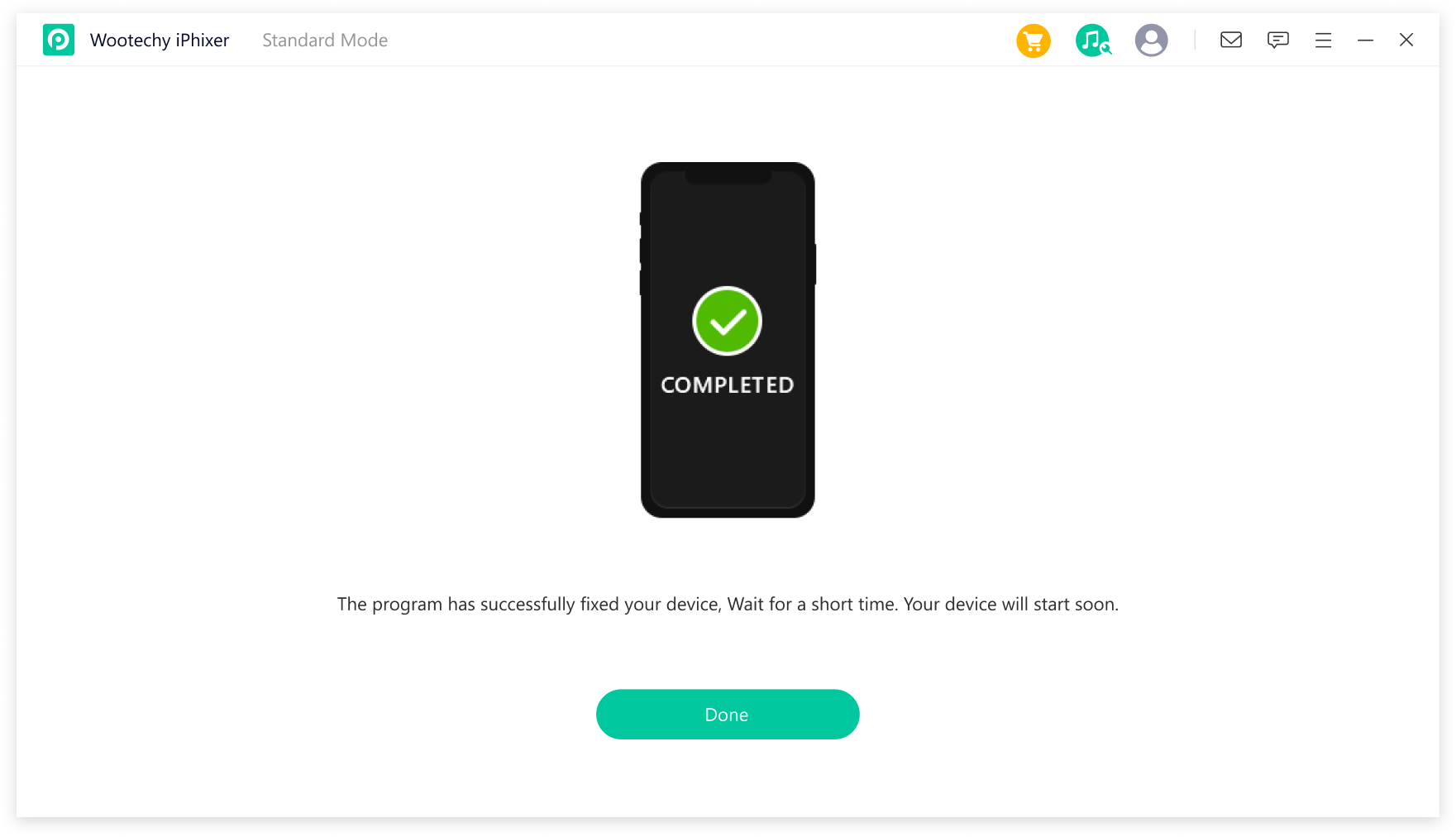 Solution 5: Update iTunes and Restore iPhone in Recovery Mode Again
Another reason why your iPhone won't restore is most probably your iTunes is out of date. So, you've to check it on your PC and see if it's updated or not. You can quickly check it out just by following these simple steps:
Open iTunes. Navigate to the Windows menu bar and click the Help button.
Open the drop-down menu and select the Check for Updates option.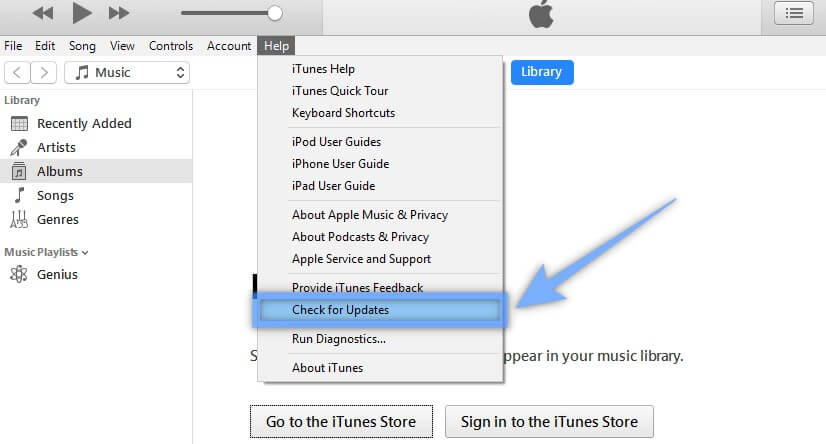 The system will now check if the iTunes version is up-to-date or not. If it's not, the update will start automatically. However, if it's already up-to-date, you'll immediately get notified.
After your iTunes has been successfully restored you can try to restore in recovery mode again.
Solution 6: Use the DFU Mode to Restore iPhone
If your iPhone still can't restore iPhone in recovery mode, then you can try to use DFU mode and then restore your device. In this method, all the software and hardware settings of your device get cleared. This helps unload all the junk stored in your iPhone and makes it brand new.
Connect your device to the computer. Open iTunes.
Initiate DFU Mode. Here's how you initiate DFU mode in different versions of iPhones.
DFU Mode in iPhone 8 And Newer: Press on the Volume Up button and release instantly. Similarly, tap on the Volume Down button and release instantly. Then press and hold on to the Side button until the screen is black. When you hold the Side button, press the Volume Down button at the same time for 5 seconds. After that, only hold the lower volume button for another 5 seconds.

DFU Mode in iPhone 7: Hold the Home and Side Button simultaneously for around 8 seconds. After that, release the Sleep Button. But hold the Home Button for another 5 seconds.

DFU Mode in iPhone 6 And Older: Press the side button and hold. Press the home button and hold. Hold both for 10 seconds. Release side button while you are still pressing down on the Home button for 5 seconds more.
Now, your iPhone is whole black and it is successfully in DFU mode. Restore your device by clicking OK on the message and further choose Restore iPhone.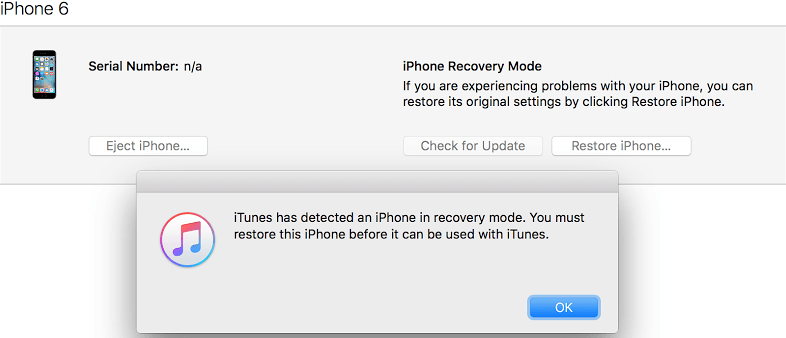 Conclusion
Mobile phones are undoubtedly an essential gadget in our daily life. It assists us in numerous ways and helps us conduct our regular tasks smoothly. So having a malfunctioning iPhone can be a major inconvenience.
Using iPhixer is the best of all the methods to help you fix your iPhone won't restore in recovery mode issue. The reason why it is so efficient is because even if you get stuck somewhere, you can ask for assistance from their customer service. And it's a fully automatic method of fixing common iPhone software issues. So, you really don't need any tech genius fix your issue.