It's annoying when your iPhone starts and keeps scrolling up without your control. When your gadget starts behaving this way, do not dispose of it or stop using it. There are useful things you can do to stop this weird occurrence. Some methods are time-consuming manual steps such as factory resetting your phone, while others are quick and effective like using WooTechy iPhixer. Here are some effective tips to use when your iPhone screen keeps scrolling up.
FAQ. Why Does Your iPhone Keep Scrolling up By Itself?
This phenomenon can be also called a ghost touch and it happens when your iPhone screen uncontrollably starts scrolling up on its own. This is very distressing as it prevents you as the user, from using your phone as you will. Imagine writing an important mail with your phone and the screen starts jumping from bottom to top. This can be very stressful. You need to understand some of the causes of such events so that you can handle the situation well. The probable causes of iPhone automatically scrolling up include a faulty display from a fall, too tight phone casing, faulty app, screen protectors, internal system problems, or damaged pin. Whatever the cause of this problem, you can use these ideas to fix the problem.
How Do You Stop Your iPhone from Scrolling up on Its Own?
1

Try These Basic Fixes
1.1 Clean iPhone Screen
Wiping clean your phone's touchscreen is an effective trick to solve iPhone automatically scrolling up. It helps clear any dirt or dust that might be interfering with the screen touch detector.
Before cleaning the screen, you must turn off your phone and disconnect any plugged accessory, these could be cables. Then, get a clean soft cloth or swab to clean your screen. The cleaning material should be moisturized and not overly wet to prevent getting moisture into your iPhone's openings.
1.2 Remove iPhone Screen Protector and Case
The thin layer of plastic or glass attached to the iPhone's screen to protect it from cracking or a scratch is the screen protector. While this is meant to protect your phone, it may affect the touch sensor on your screen. Removing the screen protector may fix the problem of "iPhone screen keeps scrolling up".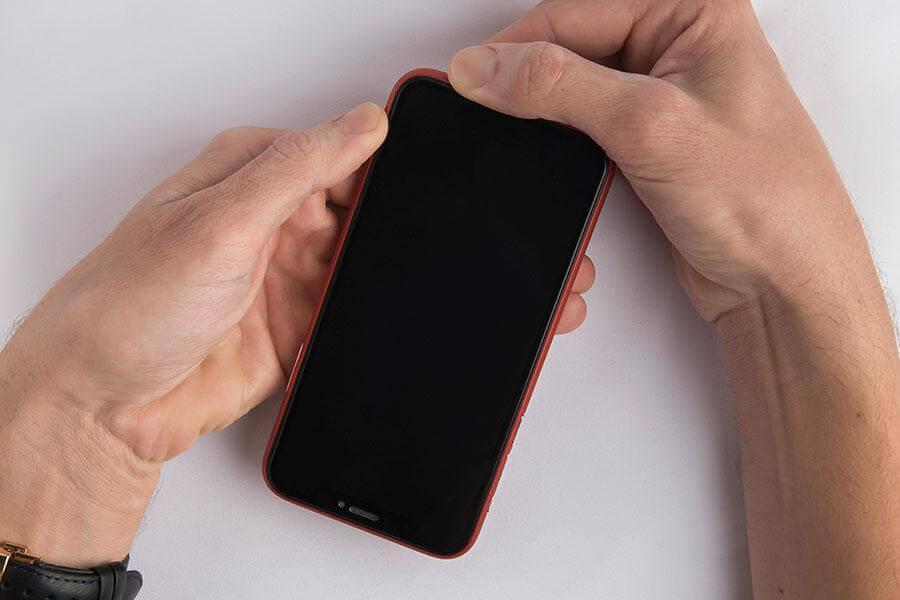 1.3 Disconnect the iPhone from Any Accessories
If the problem of the iPhone automatically scrolling up comes up when your phone is connected to any device, you should disconnect any accessory connected virtually or physically. This ensures that the gadget is not responding to any other activity apart from the touch.
1.4 Reinstall Problematic App
If your iPhone keeps scrolling up while you are using a particular app, say, Messenger, Facebook, or Whatsapp, delete the problematic app from your phone and reboot your gadget. You can then download the app and reinstall it again.
2

More Advanced Solutions

In case the above checks don't work, here are some more tips you could use to fix the "iPhone screen keeps scrolling up" problem.
2.1 Force Restart iPhone
Sometimes, the problem could be a minor technical glitch in the phone affecting the screen making it perform tasks automatically without your intervention. Usually, a minor tech problem or a bug is resolved on iPhone without having to go to a technician. What you have to do is force restart or reboot your device.
To force restart iPhone 8 and later, quick press and release the Volume Up button and then the Volume Down button, later long-press the Power button until the Apple logo is visible.
To force reboot iPhone 7 series, press and hold the Volume Down and the Power buttons together till you see the Apple logo.
To force restart iPhone 6s and older, press and hold the Home and the Power buttons simultaneously. Release them when the Apple logo is shown on the screen.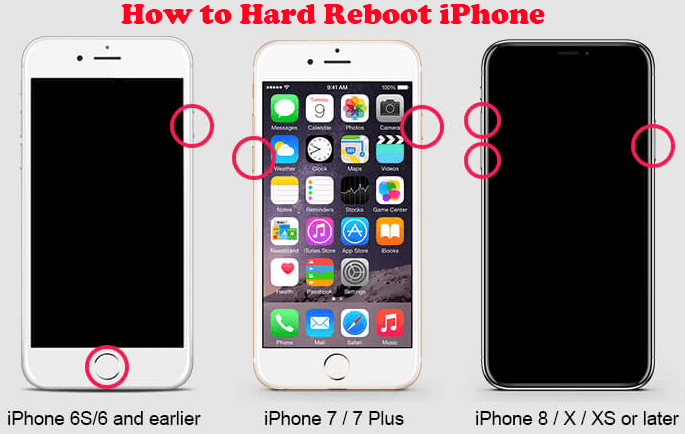 2.2 Reset All Settings
The issue may persist even after force restarting your device. If this is the case, you may want to perform a reset on your iPhone. Wiping all settings from your phone improves the chances of fixing your "iPhone screen keeps scrolling up" problem. This is how you reset your iPhone step by step.
Open the Settings app on our iPhone.
go to General.
Tap on Reset and Reset All Settings.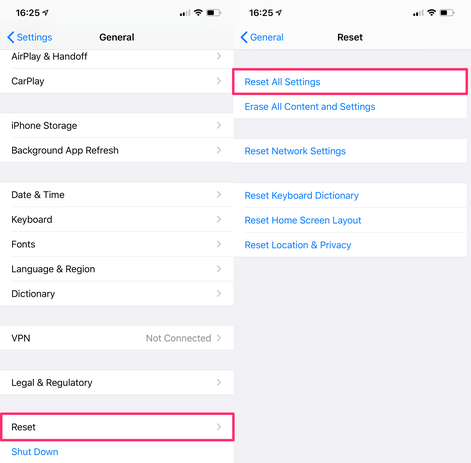 Enter your password and click OK to proceed.
2.3 Stop iPhone from Keeping Scrolling up with WooTechy iPhixer
Well, all the above methods are manual and may take so much time. However, with professional iPhone repair software such as WooTechy iPhixer, you can fix all iPhones systems problems including "iPhone keeps scrolling up", "iPhone keeps restarting", screen issues, etc. without losing any data. This software is compatible with all iOS versions and iPhone models like the latest iOS 15.
Key Features of iPhixer
75.000.000+
Downloads
With the standard mode and the advanced mode to solve all iOS problems with ease.

With the high technology, iPhixer brings your iPhone back to normal with a high success rate and a fast speed.

Better than iTunes, it updates and restores your iPhone without giving rise to any errors.

Easy to use, it has very simple steps and a user-friendly interface.
Here Are the Specific Steps to Fix "iPhone Keeps Scrolling Up":
Step 1 Connect your iPhone whose screen keeps scrolling up to your computer and launch the software. Choose Standard Mode.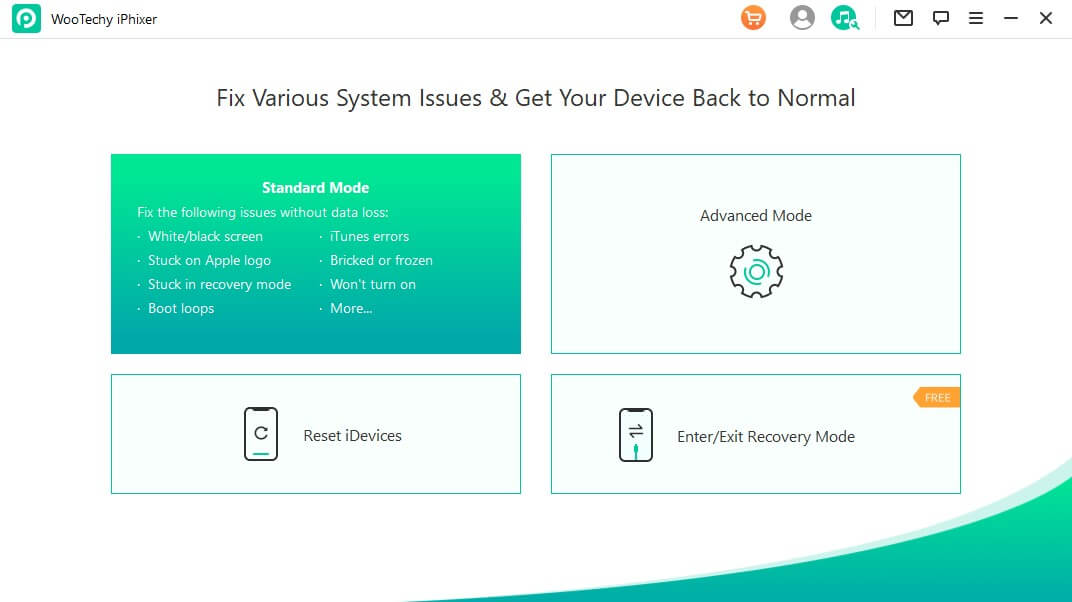 Step 2 You can click Next to the next step. Yet if your device isn't detected, follow the on-screen procedures to put iPhone into Recovery Mode.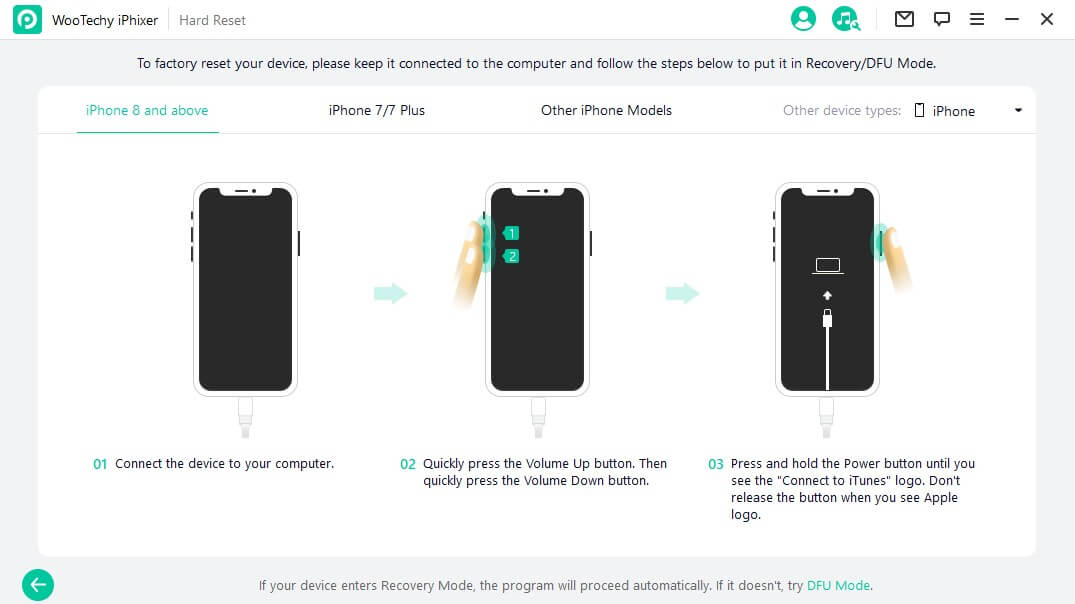 Step 3 Click Download to get the firmware which has no issues.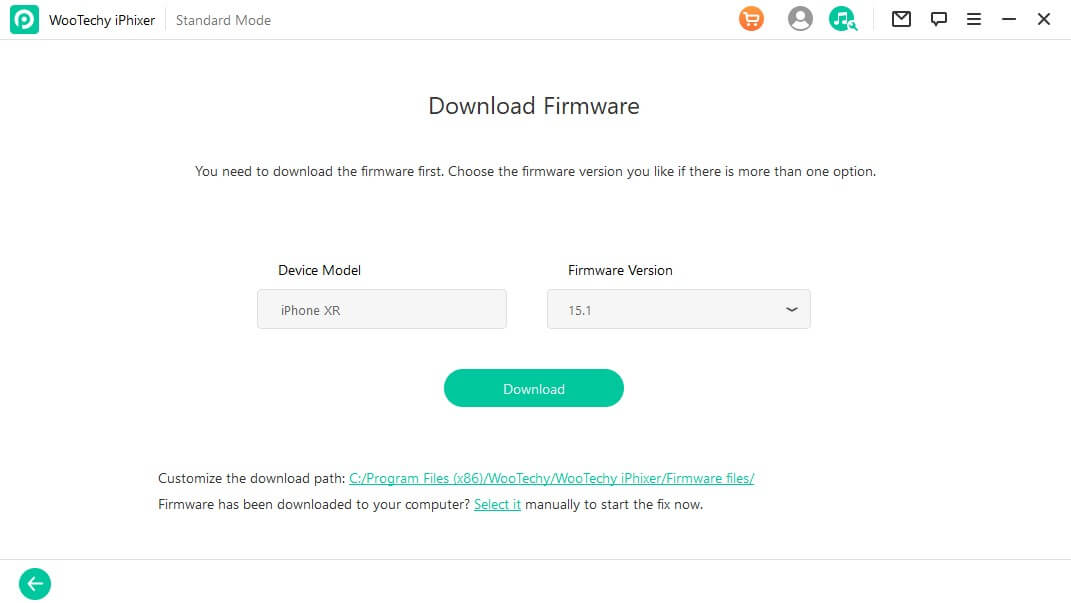 Step 4 Finally click Start button and the program will begin fixing iPhone scrolling up issue. Wait your iPhone restart automatically.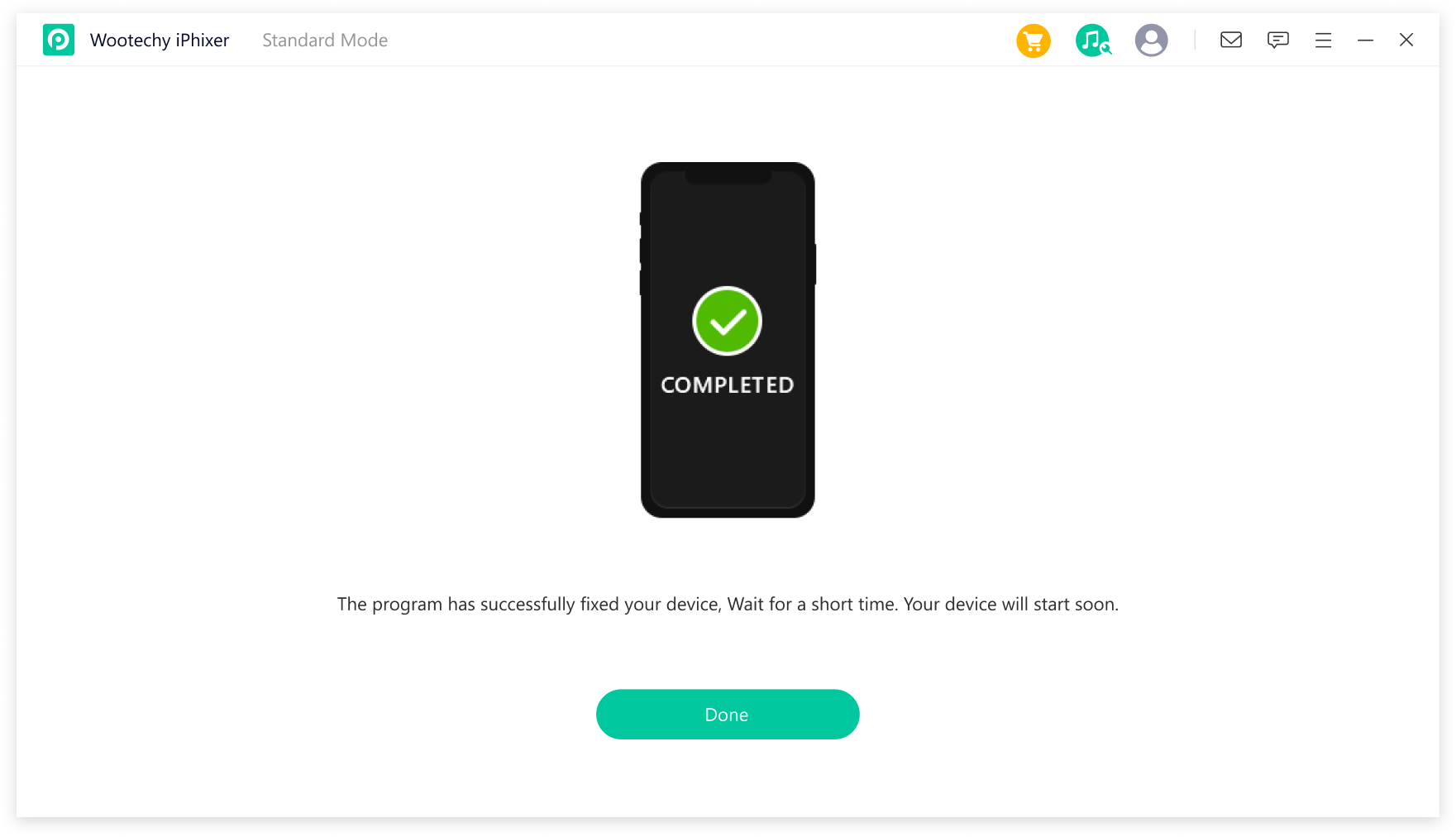 2.4 Update iPhone to the Latest Version
If you have used the iPhone for some time you must know that the device comes with regular updates for iOS. This applies to all other Apple devices. The need for regular updates is to fix as many issues as possible on Apple devices. If the earlier version of iOS had a problem, then the next version is likely to solve that issue.
Therefore, if your iPhone keeps scrolling up and it's running on an old version, you should consider updating the iOS. This is a simple process that you can directly go to the Settings app > General > Software Update.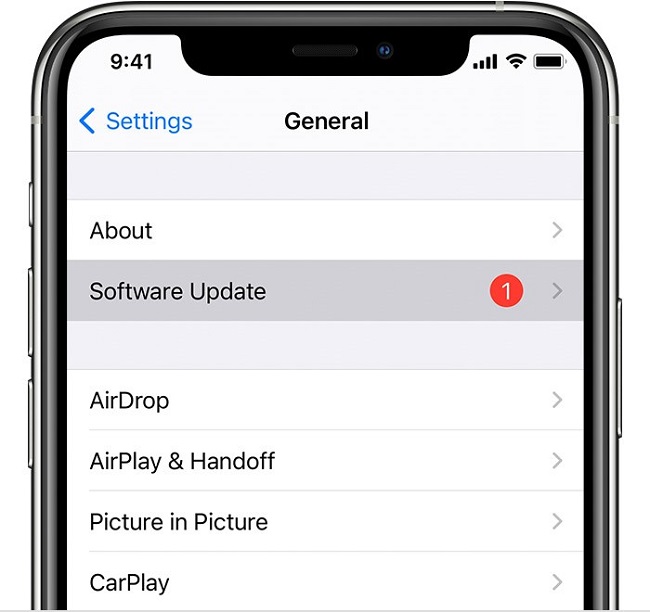 Conclusion
This article explains possible reasons why your iPhone screen keeps scrolling up and the possible ways to fix that problem. It gives both tips to solve the problem using simple actions such as restarting your phone. It also suggests useful tools such as Wootechy iPhixer that you can use to fix all the problems associated with iPhone OS. If you are not the person who likes performing so many actions on your iPhone manually, then the WooTechy iPhixer tool comes in handy for you.