Recently, there are many uses listing messages on our comment column. A typical example of the messages is asking what to do if there is not enough storage to update iPhone device. That's true that many users would like to upgrade iOS 16 system since it's released, but iOS 16 needs a hugh storage to install.
Actually, sometime your iPhone indicates there is not enough storage but there is, which can also lead to the failure of updating iOS 16. But if it's the inadequate storage that cause you cannot update iOS 16, there're still several good method to help you succeed in updating your iPhone device
There are a lot of other reasons why your iPhone says there is not enough storage. It may be related to background storage usage that you may not see in your iPhone File app. This article discusses how to fix the not enough space to update iPhone issue.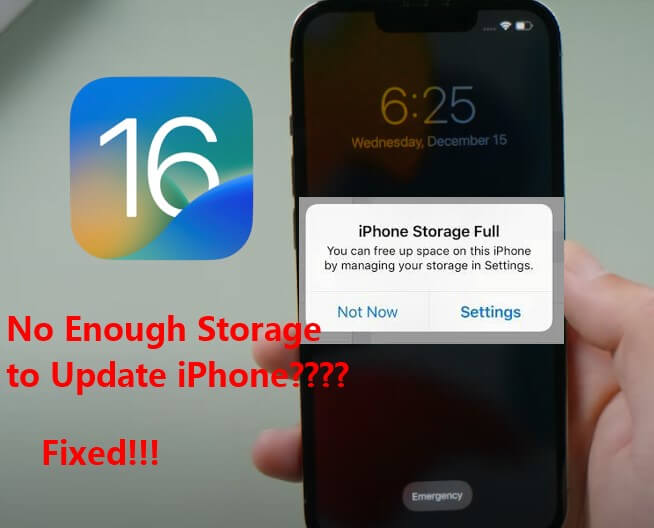 Part 1. Can You Update iPhone with Full iCloud Storage?
Yes, you can definitely update your iPhone even when the iCloud storage is full. This is because iCloud storage is used for files, photos and backups, while the new updates files are installed on iPhone's internal storage.
So if you can't update iPhone to the latest version due to insufficient storage, you are supposed to reduce the storage of your device, instead of the iCloud.
Usually, when you have not enough storage to update iPhone , the software on your iPhone will try to make space by removing app data. If it still says there is not enough storage to update iPhone, you can use the following methods to make space manually or update iPhone on computer.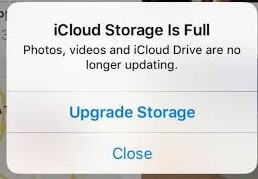 Part 2. How to Update iPhone When You Don't Have Enough Room?
There are different methods for fixing not enough storage to update iPhone. The 5 best solutions to manage your iPhone storage and 2 ways to disable some features taking up space have been compiled for you.
1

Manage iPhone Storage

You can make space for the update by deleting content and apps on your iPhone that you don't use. Then you can have enough room to update your iPhone to iOS 16.
1.1 Delete Unused Apps/Offload Apps
The best way to manage your iPhone storage is to remove unused apps. You can check your iPhone's Manage Storage to identify the apps taking up the most space on your iPhone. Here is how to get to Manage Storage.
Open the Settings app on your iPhone. Tap on the General and iPhone Storage options.

Then, you will see a lists of apps. Remove the ones that are not needed.

Or you can click Offload App to to free up storage used by a specific app. It won't erase your documents and data.
1.2 Delete iPhone Messages
If you cannot update your iPhone device due to limited iPhoe storage, then try clear the unnecessary cache. Messaging apps on your iPhone back up all your chat photos, audio messages, videos, gifs, and stickers. These backups may be the reason iPhone says not enough storage to update iPhone.
To manage your storage, it will be a good decision to have those backups removed. Below are the procedures for iMessage and WhatsApp. iMessage keeps all your chats indefinitely, but you can limit how long the chats that iMessage should keep can be. To do that,
Open Your iPhone Settings application. Select Messages. Click on Keep Messages.

Form the "Keep Messages" option, you will find 30 Days, One Year, or Forever. You can limit the time to 30 days.
WhatsApp is a feature in the app that allows you to check each chat and how much data is saved. You can then use that feature to delete the chat to fix not enough storage to update iPhone device.
Open your WhatsApp Settings using the hamburger icon on the top right corner of your screen.

Select Data and Storage Usage. Then clcik Storage Usage.

Choose unwanted history and click the Clear option.
1.3 Remove Media Files
If it says "not enough space to update iPhone", you probably have a lot of media files like videos, audio, and image files stored on your iPhone. You can keep the important one using the iCloud backup. However, the rest have to go.
Just go to your iPhone's album to delete videos and other large-sized images as well as audio files in the Voice Memos app.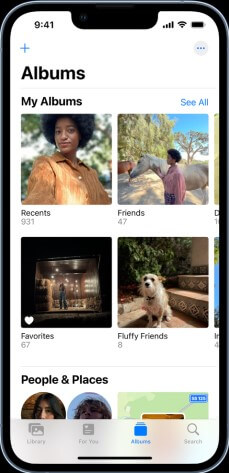 1.4 Clear Safari Data
Your Safari browser or your preferred browser stores a lot of data like histories, cookies, or caches that may be causing the iPhone not enough storage to update. To manage it, you should remove such data to fix the not enough space to update iPhone.
Start up the Settings app on your iPhone. Navigate to the Safari app.

Then click on Clear History and Website Data.
1.5 Delete Old iPhone Backups
If iCloud backs up data on your iPhone once you are connected to the internet, then the limited storage will be exhausted.
And as soon as the 5 Gigabytes of space given to you is full from auto backup, you will start getting the not enough storage for iPhone update messages. But you can delete the previous backup to make space for new backups and iOS updates.
Open your iPhone Settings app. Go to your name and iCloud.

Open the Manage Storage option. Then click on Backups.

Choose the backup you'd like to delete and tap Delete Backup.
2

Disable Some Features to Leave Room for Update [2 Tips]

Some specific features turned on will cause effects and therefore take up unnecessary space on your iPhone. So when there is not enough storage to update iPhone, you are suggested to turn them off.
2.1 Disable Keep Normal Photo
If you have your Keep Normal Photo feature on, your iPhone keeps similar images for every snap you take. One is HDR (High Dynamic Range), and the other is the Normal Photo. The HDR feature balances various highlights and shadows of your picture to produce the best quality, thus occupying some space on your iPhone.
In this way, you do not need to keep the Normal Photo again. You should have the feature for saving it turned off.
Open the Settings app on your iPhone. Navigate to Photos & Camera.

Then, toggle off the Keep Normal Photo option.
2.2 Disable iCloud Photo Library
iCloud Photo Library feature fills up your iPhone with backups. After a while, your phone storage will fill up, and you will get not enough storage to update iPhone message. To preserve your iPhone storage, you can have the iCloud Photo Library feature turned off.
Launch Settings on your iPhone.

Go to your name and click iCloud > Manage Storage > Photos.

Then turn off iCloud Photo Library.
If you still haven't enough storage to update your iPhone, then you can update the device on computer. We offer you 2 options, iTunes/Finder and professional iOS system recovery software.
3

Update iPhone with iTunes/Finder
Apple allows its users to update to the newest versions of iOS through iTunes/Finder. Therefore, if iPhone does not have enough storage for updating messages persist, you can update your iPhone OS through it.
Start by connecting your iPhone to your computer with a USB cable.

Then, launch iTunes or Finder on your computer.

Pick the phone icon displayed at the top left corner of your screen.

Select Summary from the left-hand sidebar.

Select Check for Update followed by the Download and Update option.
The update will be downloaded, and your iPhone will restart.

Sometimes your iPhone may have trouble being connected with it and there are unknown iTunes errors during the process, thus causing iPhone update failure.
4

Update iPhone with WooTechy iPhixer
iOS 16 not enough storage to upgrade? Then you can use our professional iOS system recovery tools to help update your iPhone to iOS 16. For example, WooTechy iPhixer can be your available choice. It can not only upgrade iPhone, but also to solve all iOS problems without any data loss. It is an easy tool that does not need you to consult with a professional before use.
WooTechy iPhixer -- The Workable Solution to Fix Not Enough Storage to Update iPhone Problem
Fix all iOS issues and iPhone/iPad update issues without data loss like not enough space to update iPhone, unable to verify update iOS, iPhone storage full won't turn on, iPhone blinking Apple logo, iPhone black screen and more.

Update iPhone to the latest version iOS 16 with the fastest speed and safer way than iTunes while not considering the storage trouble.

Support all iPhone models and iOS versions including the latest iPhone 14 and iOS 16.

Moreover, you can also use iPhixer to enter/exit recovery mode for 100% free without any limitation.
How to Update iPhone When Storage Is Not Enough:
Start by downloading and installing the application on your computer from our official website. Launch the app. Pick a repair mode, preferably Standard Mode, to prevent the loss of data.

Use a cable to connect your iPhone to the computer. Press the Next button on your screen.

Then, click the Download button and the firmware will be downloaded by the app to update your iPhone.

As soon as the download is done, click on the Start button to update your iPhone. Finally, your iPhone will restart automatically with the newest iOS 16 system installed.
Once you use iPhixer, you can find it a pretty smart tool for iPhone device. No matter what kind of iPhone software issue you have, you can use iPhixer to fix it done.
Part 3. FAQs About Storage to Update iPhone
This section addresses the frequently asked questions about the obscure details of the iPhone not enough storage notifications that have been put together below.
Q1: How Much Storage Do You Need to Update iPhone?
The basic requirement of storage for an iPhone update ranges between 1.5 Gigabytes and 2 Gigabytes. But because an update will first be downloaded before it replaces the old one, twice the update size is needed. Hence, you need up to 4 Gigabytes of storage for an iPhone update.
Q2: Why Is My iPhone Saying I Don't Have Enough Storage When I Do?
This complaint is common among users. As mentioned earlier in this article, there are obvious and obscure reasons for the not enough space to update iPhone messages. The less obvious reasons bridge the gap between users thinking they have enough space and not having sufficient storage.
To confirm your iPhone space, follow this path: Settings > General > Storage & iCloud Usage > Storage > Manage Storage. There, you will find all the apps (obscure reasons) that answer why your iPhone is saying you don't have enough storage.
Bottom Line
Seeing the not enough storage to update iPhone can be frustrating. This article shows you the full guide on how to deal with such mishap and update your iPhone successfully. You can manage your storage, disable some features, or update your iPhone with WooTechy iPhixer without bothering about the message.