There is no doubt that touch ID brings iPhone users a great convenience. Touch ID could be applied to unlocking iPhone, paying for money, avoiding to password loss. Anyway, touch ID is one of the smartest features that Apple company has released on the devices.
However, recently, there are an increasing iPhone users complaining about that they are unable to complete touch ID setup on their iPhone. Whatever they try, it's in vain. So why does you fail to complete the touch ID setup?
Note
Actually, if you are unable to complete touch ID setup on iPhone device, it may be caused by your iPhone's software bugs or other uncompatiable settings. In order to better help you fix this problem done, this article aims to fully introduce the possible reasons and top 6 practical solutions to fix it.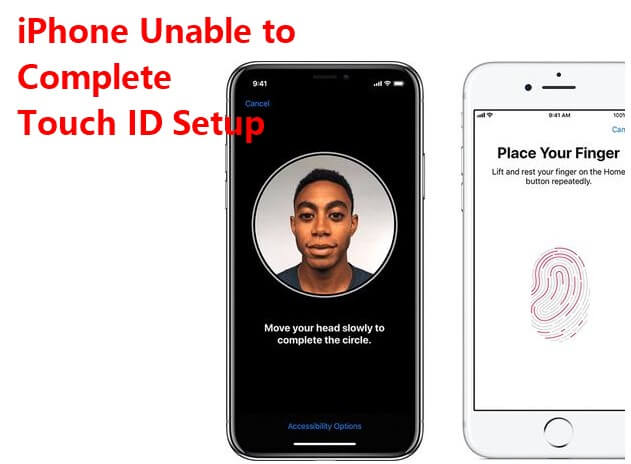 Part 1. Why Does My iPhone Say Unable to Complete Touch ID Setup?
Although unable to complete touch ID setup is a samll glitch, it can frustrate someone if they forget the passwords or they need the touch ID in emergency. Here we've compiled some possiblereasons for failed unable to complete touch ID setup:
The Touch ID sensor: The ultimate glitches encountered most times when enrolling your Touch ID is a primary factor.

Fingerprint Errors: If your fingerprint is not appearant or you didn't complete the touch ID steps in the right way, you may faile to complete your touch ID.

Low iOS Version: In some case, too old iOS version canot be supported the normal operation of iPhone device, so you had better update your device in time.

iPhone unlocks or iTunes & App Store: When your iPhone unlock or iTunes & App is turned off, your Touch ID will always display that error message.
Part 2. Top Hot 6 Ways to Solve Unable to Complete Touch ID Setup
Since touch ID is iPhone's built-in function, there's certainly available methods to help you fix the unable to complete touch ID setup setting. Just go ahead, you can find out 6 useful solutions to remove the error.
1

Force Reboot Your iPhone Device

If it's the iPhone stuck error that leads yo you unable to complete your iPhone touch ID setup, then the easiest solution is to force restart your iPhone device. It can solve most iPhone stuck problem. This operation depends on your iPhone model:
iPhone 6 Series : click the Home button and the Sleep button at the same time. Release them until the Apple logo is displayed.

iPhone 7 Series : Simultaneously press the Volume Down icon and Sleep/ wake button for a while. Once the Apple logo is shown up.

iPhone 8/X/S/11/12/13/14: First press Volume Up button, Then quickly press Volume Down button. Finally click the Power button until the Apple logo occurs.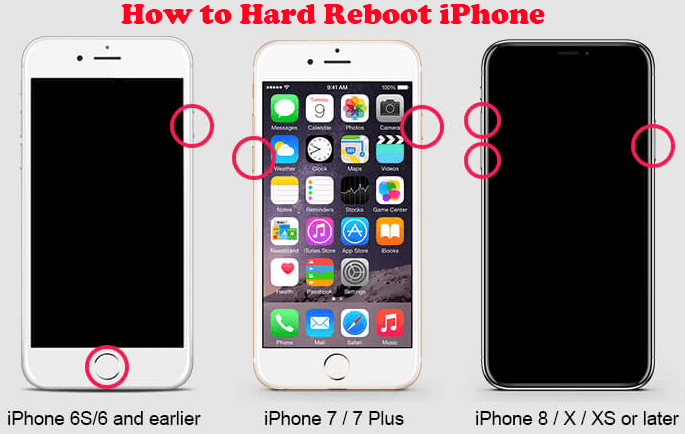 2

Update iPhone to iOS 16

Since too low iOS system cannot support the normal operations on your iPhone device, you need to upgrade your iPhone's iOS version. Now you can upgrade the device to the latest iOS 16 versions
Go to the iPhone' Settings App > General, and scroll to the Software Update, here you can check which iOS version your iPhone is running

Click on Upgrade to iOS 16 icon on the bottom of the screen. Then select Download and Install icon to start your iOS system upgrade.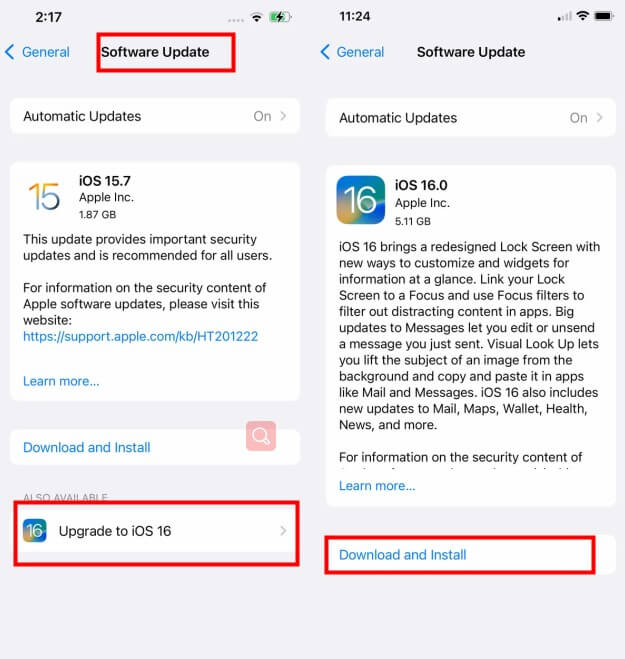 Note
Since it take much long time to update iOS 16 system, you should charge your iPhone device and connect the device with strong and stable WiFi environment.
Make sure your iPhone has enough iPhone storage to install the iOS 16 system.
3

Restore iPhone with iTunes (Data Loss Risk)

Restoring iPhone with iTunes can also be an great alternative to fix your iPhone software glitches. However, this method cannot make sure to protect your iPhone device data with 100% security. There may be some data loss. If you still wonder to use this method, then follow the steps below:
Go to your Settings App, tap on the Touch ID and Password from the varied options given. Enter your passcode.

Then, turn off the iTunes and App Store. Afterward, reboot your device.

After your phone has successfully rebooted, repeat the above, but now turn on the iTunes and App store.

Close all tabs, and that settles it!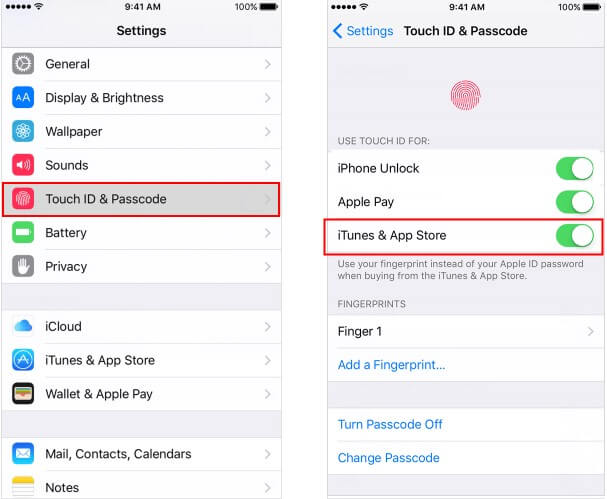 4

Check the Touch ID Settings or Use Another Fingerprint

You should check again if your touch ID settings are all right. Then try using another fingerprint to get rid of the unable to complete touch ID setup problem. This will help you:
Go to the Settings > General > Passcode and Fingerprint.

Touch to verify your fingerprint. It will say one or more fingerprints have been enrolled.Then, close the tab.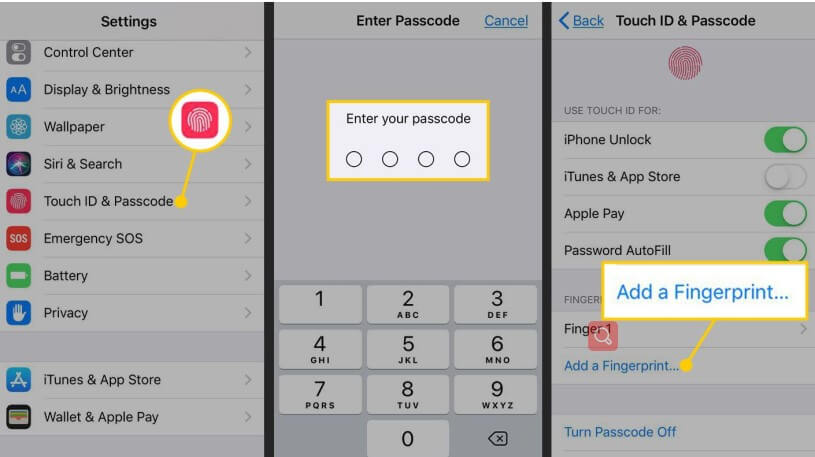 5

Reset All Settings on iPhone

When you have tried the remedies mentioned above, and it still doesn't work out as desired, your best bet is to try resetting all settings.

Note

Before you do, ensure you back up your data on iCloud or iTunes. How to reset all settings.
Go to Settings > General > Reset > Transfer or Reset iPhone.

And then click Reset All Settings twice to get this done.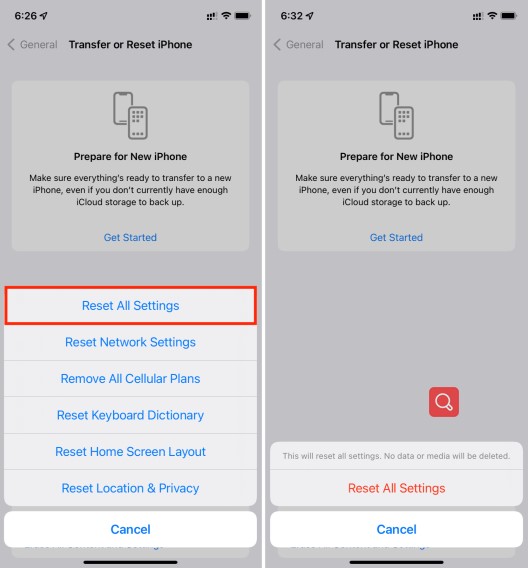 Then you can repeat the operations again to complete your touch ID setup, and check if it can work.
6

Fix the iPhone Error with A Profession iPhone Repair Tool (No Data Loss)

If you have tries all the 5 methods above, but you are still unble to complete touch ID setup on the iPhone device , then there must be a tricky problems, so you need to ask an official and professional iPhone repair tool for help.

That's WooTechy iPhixer, which can help you solve all kinds of iPhone software problems.

If you want to fix the iPhone error you are facing with, iPhixer must be the best choice, since this tool can ensure the highest efficiency to help you out and without any data loss on all models of iPhone device, including iPhhone 14.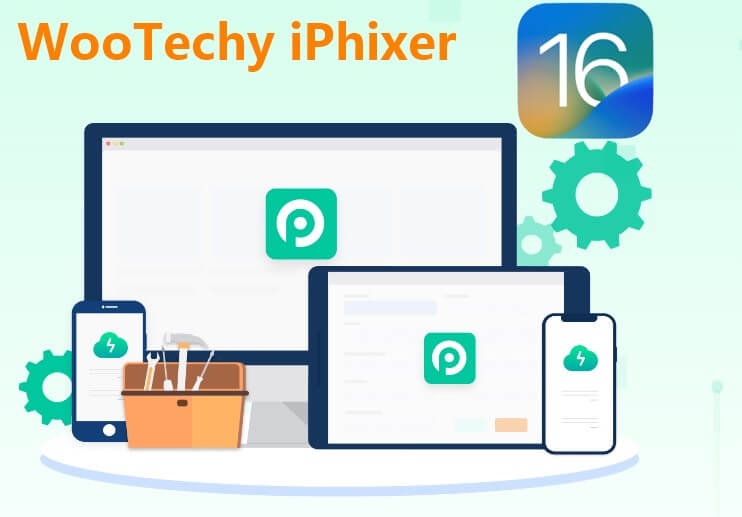 WooTechy iPhixer -- Fix Your Unable to Complete Touch ID with 100% Success Rate.
75.000.000+
Downloads
Use WooTechy iPhixer to Fix Unable to Complete Touch ID Setup:
Step 1 Connect your device to the PC and open iPhixer tool on your Windows or Mac computer. To continue, select Standard Mode.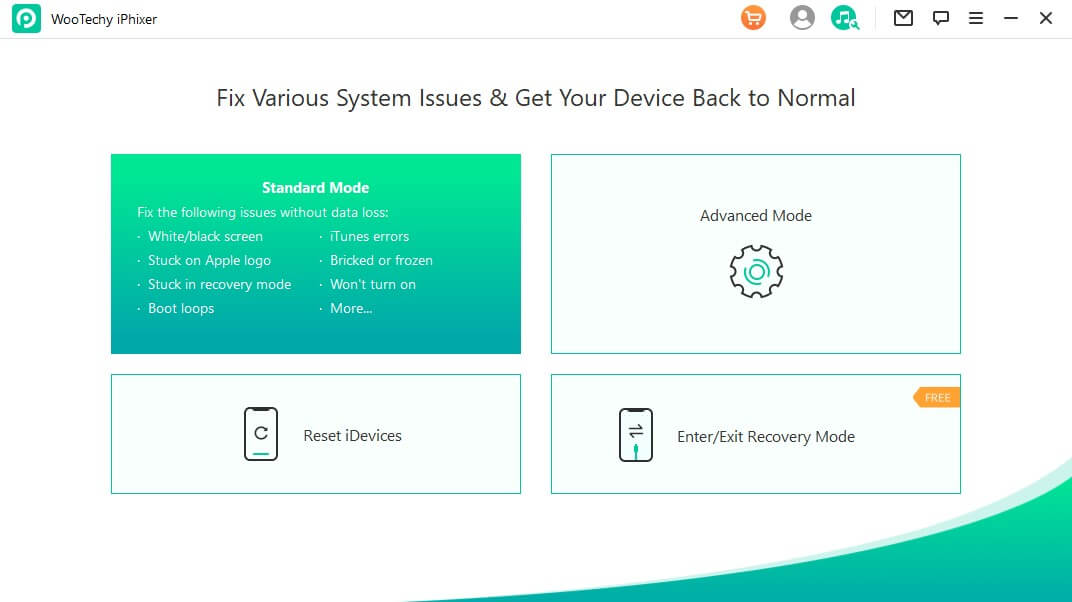 Step 2 Follow the insructions to put your iPhone device into Recovery or DFU Mode.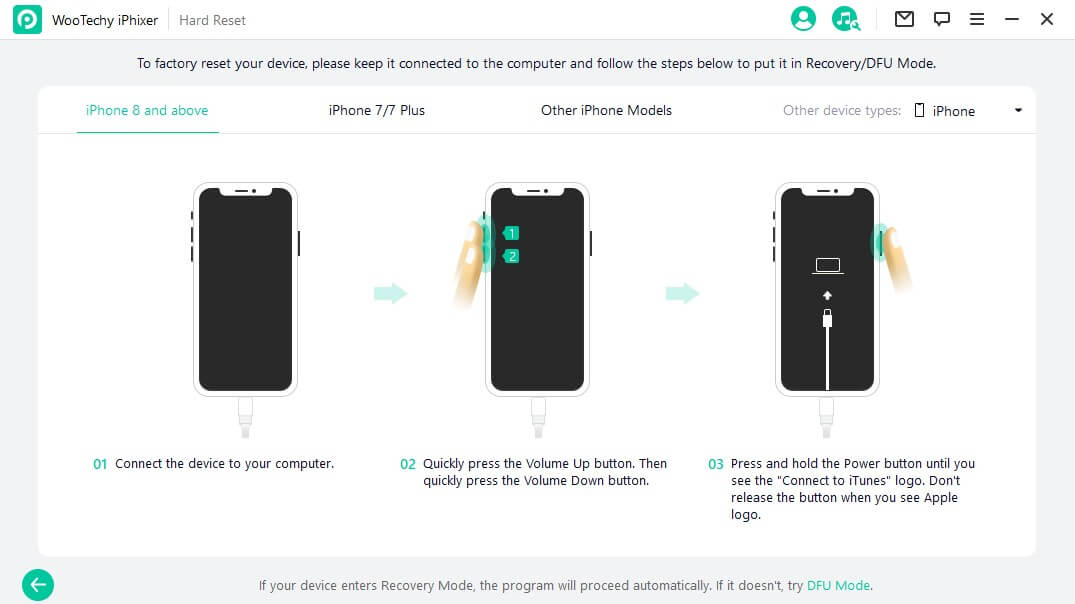 Step 3 Hit the Download option to get the firmware for your iOS device.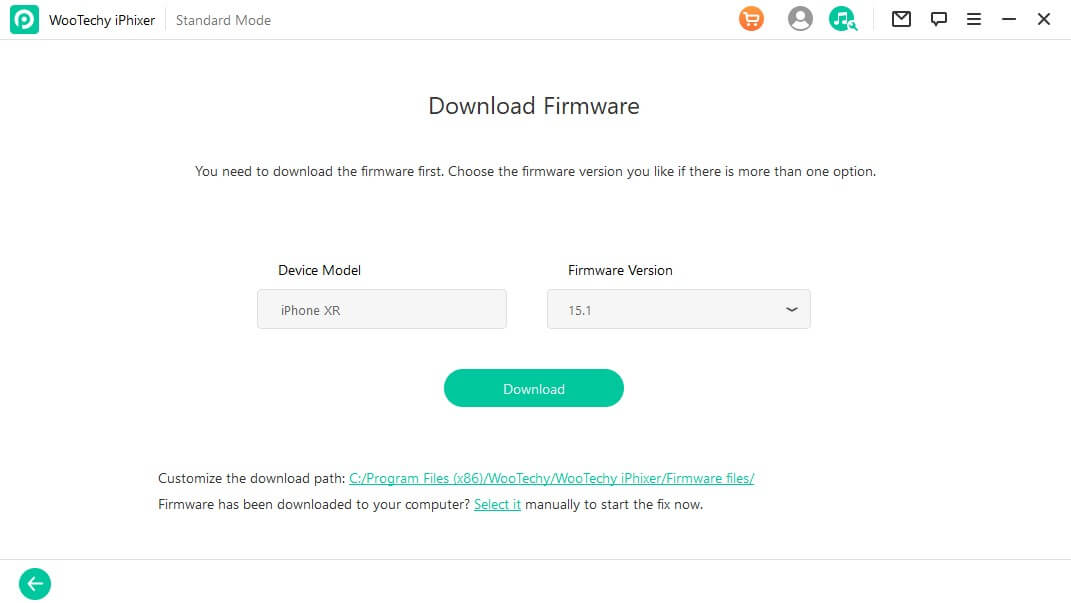 Step 4 After successfully downloading the firmware, click the Start button to initiate the device's repair. When the process is complete, you can try completing your iPhone touch ID setup again.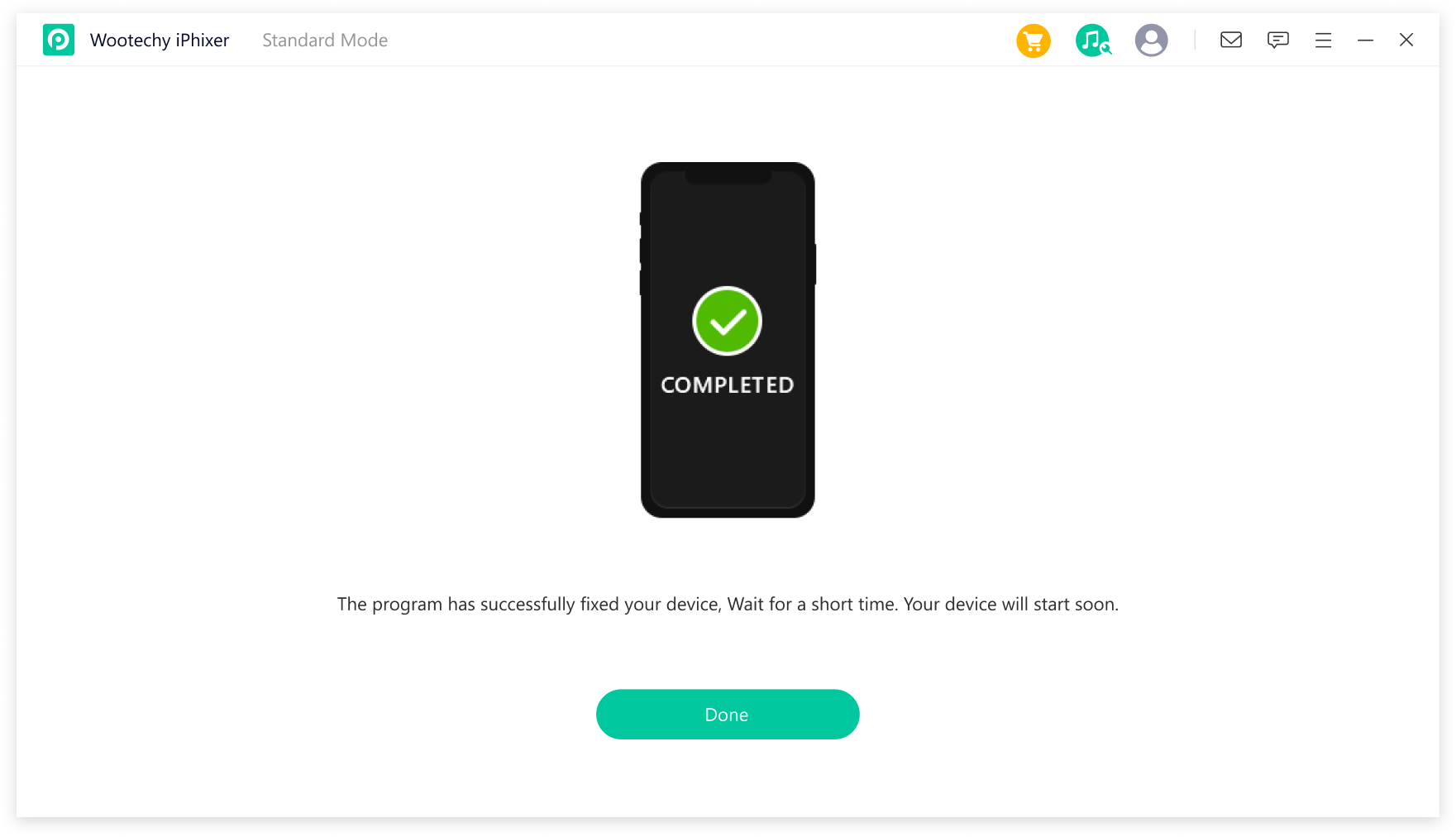 WooTechy iPhixer -- Full Guide About iOS 16 Features You Can't Miss
Conclusion
To sum up, with these 6 solutions, suppose you have fix your touch ID setup issues done.
Honestly, the last methods -- using WooTechy iPhixer must be the best way to solve the trouble with the fast speed and this tool can ensure to solve your iPhone software problems in root, which can save tons of time for you. Thus, highly recommend iPhixer tool to every iPhone users, just enjoy it.