Facebook Messenger is a free mobile messaging app that can be used for group conversations and online chatting. You can even share photographs, videos, and audio files. It allows you to chat with your Facebook friends as well as your contact numbers.
Moving on, have you ever removed Facebook Messenger messages by accident? Well, losing previous Facebook interactions with family and friends is a misery.
There's no need to fret if you've ever been on the receiving end of someone mistakenly deleting Facebook messages, since there are several simple techniques to recover your deleted Messenger messages on iPhone and reclaim your priceless memories. Just continue reading.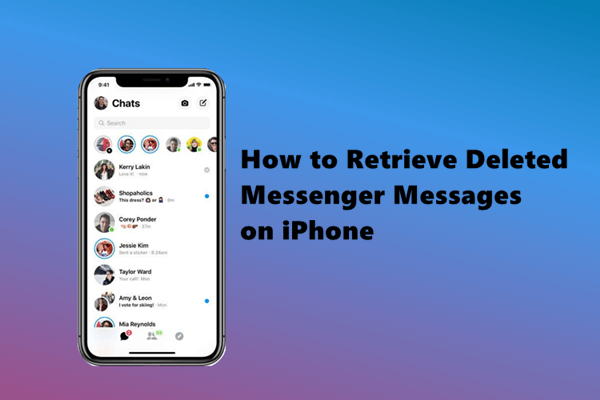 Part 1. How to Retrieve Deleted Messenger Messages on iPhone?
In this part, I will share three simple solutions for retrieving deleted Facebook Messenger messages with detailed instructions. You could choose any one of them according to your scenario.
1. Ask Your Contacts to Send the Deleted Messages to You
The first solution that may allow you to recover these messages is to ask the other person to send the deleted message to you.
This is because when you delete a message on Messenger, it will only be removed from your chat history. So, if you can recall who you were talking to, you can ask them to help you retrieve the deleted Messenger messages. This is one of the easiest approaches you should take. Nevertheless, this method only suits the situation where you just have a few conversations that need to be recovered.
2. Download a Copy of Facebook Messages in Settings
If you haven't been able to retrieve your deleted Facebook messages through your contacts, don't despair; there are alternative options.
You can download a copy of your Facebook data to get your deleted messages back. And you can do that in the Facebook settings on your iPhone.
Follow the steps below to retrieve your deleted Facebook Messenger messages:
Open your Facebook Messenger app and tap on your profile at the top-left corner.
Tap on Account Settings from the list.
Tap on Download Profile Information under Your Facebook Information section.
Select messages and other data categories from the list on the screen. After selecting, tap on Create Files at the bottom of the screen.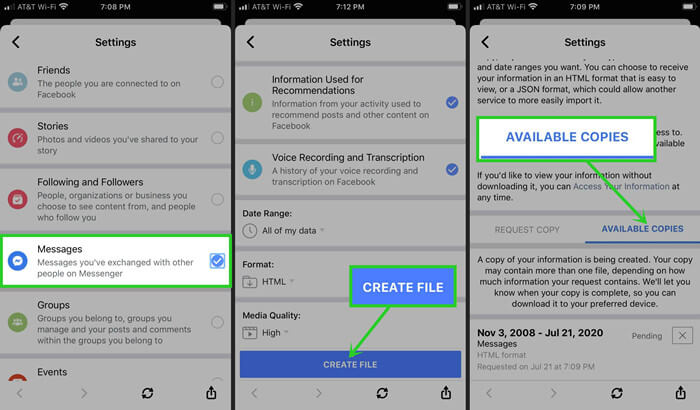 Follow the on-screen instructions to finish the process and check your messages.
Apart from downloading a copy of your Facebook data with the Messenger app on iPhone, you could also implement the operations by signing in to your account on the Facebook website. The steps are the same.  Adapt any one of them according to your need.
3. Retrieve Deleted Messages on Messenger by Unarchiving Messages
There's a significant probability you mistakenly archived the Facebook chats rather than deleting them. When you archived the chat, it will be hidden in another folder and you couldn't check the chat in inbox. If that's the case, unarchiving the Facebook conversations to retrieve your messages is a simple process.
To retrieve Messenger messages on your iPhone, follow these steps:
On your iPhone, open the Facebook Messenger app.
Go to the search bar and type in the name of the person with whom you erased the chat.
Unarchive the conversation by sending that person a new message once you've found it. This will assist you in recovering your archived Facebook conversations.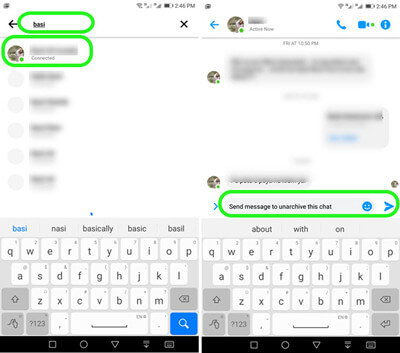 Part 2. Facebook Messenger Tricks and Hacks
I hope the above solutions are helpful for retrieving the deleted Messenger messages. And here we'll introduce some tricks and hacks about Messenger, which will help you know and utilize Messenger well hereafter.
1. Support Talk Cross-Platform
Now you can communicate with folks on Instagram without having to switch applications if you're using Messenger.
Navigate to Settings > Privacy > Message Delivery to limit access between the two applications. You get to choose whether Instagram friends or contacts can message you directly via Messenger.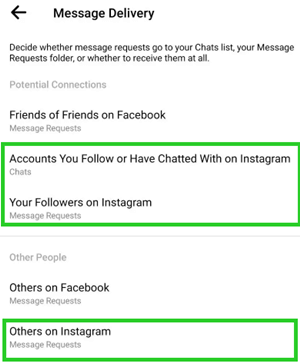 2. Encrypt Conversation
Facebook Secret Conversation uses the Signal Protocol to set up end-to-end encryption. Talking in secret conversation provides users with device keys and allows no one else to access your conversation.
Tap the New Message icon in the top-right corner of the home screen and select Secret to send a "secret" message. Go to Secret Conversation by tapping the username at the top of the screen in an existing discussion. Secret talks in Messenger will show in separate threads from ordinary chats.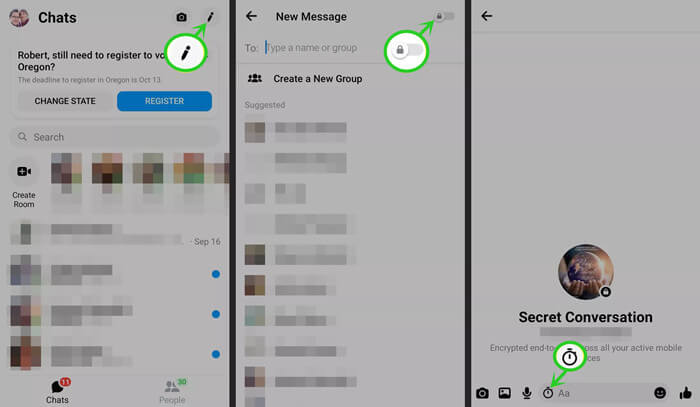 3. Turn on Vanish Mode
Vanish Mode is a feature in the app that allows you to turn on disappearing messages by simply swiping up inside a chat. When you exit the app, all of your conversations, videos, and gifs will vanish. Notifications for screenshots are also supported in this mode.
Swipe up on the screen or hit the Turn off Vanish Mode button at the top of your discussion when you no longer wish to utilize Vanish Mode.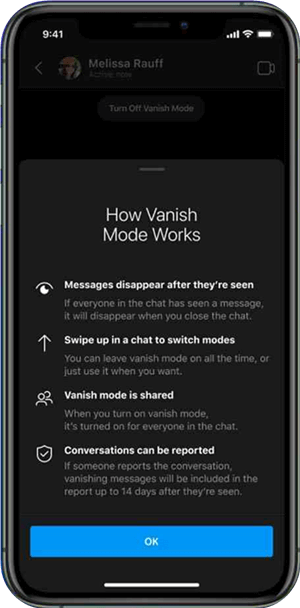 Bonus: Recover Other Types of Data from iPhone Directly
Apart from Messenger messages, you may also face the situation that you accidentally deleted or lost some other important data. In this case, you can resort to WooTechy iSeeker, an iPhone data recovery tool. With iSeeker, your deleted data can be recovered from your iPhone or any other iOS device.
The iSeeker software is compatible with a wide range of iPhone, iPad, and iPod touch models. It is still releasing updates to ensure that it is compatible with the most recent iDevice models and iOS versions.
What Makes iSeeker the Best iOS Data Recovery Tool
100.000+
Downloads
You can rapidly retrieve 18+ data types like WeChat Messages, photos, WhatsApp messages, etc.

It can recover data directly from iOS devices without any backup.

You can preview deleted or lost files before retrieving them.

It supports all iOS devices and versions up to iPhone 13 and iOS 16.
How to recover deleted or lost data with iSeeker:
Step 1 Launch iSeeker on your computer. Choose Recover from iOS Devices mode. Connect your iOS device to your computer after that. After your device has been detected, click Next to continue.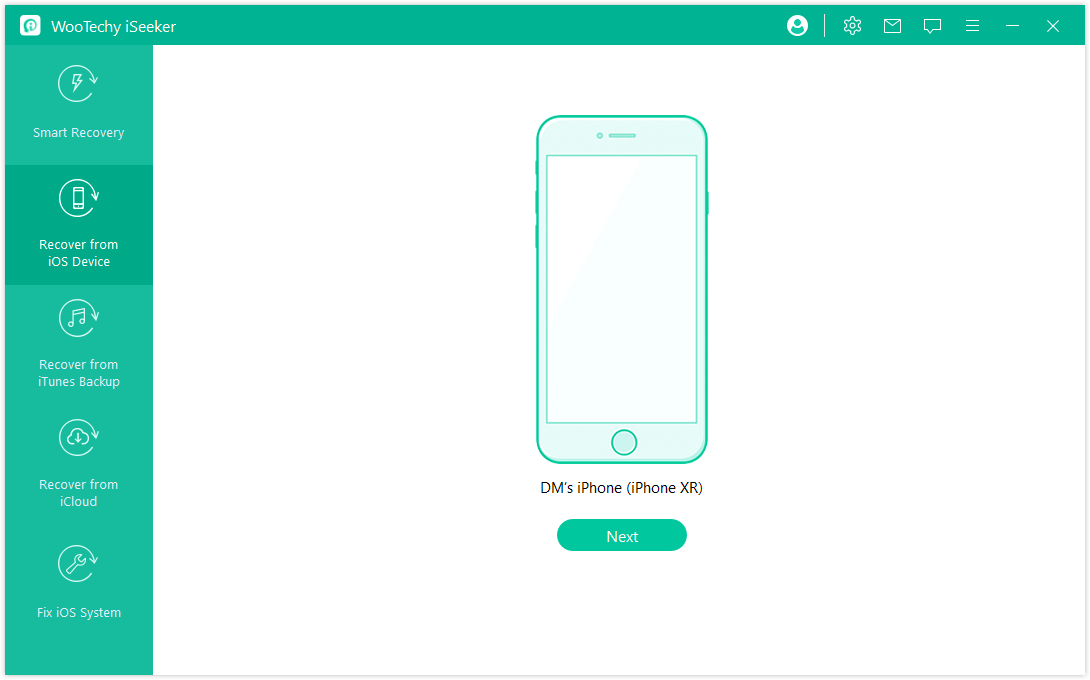 Step 2 After selecting the messages, you want to restore, click Scan. The app will completely scan your phone for any deleted data.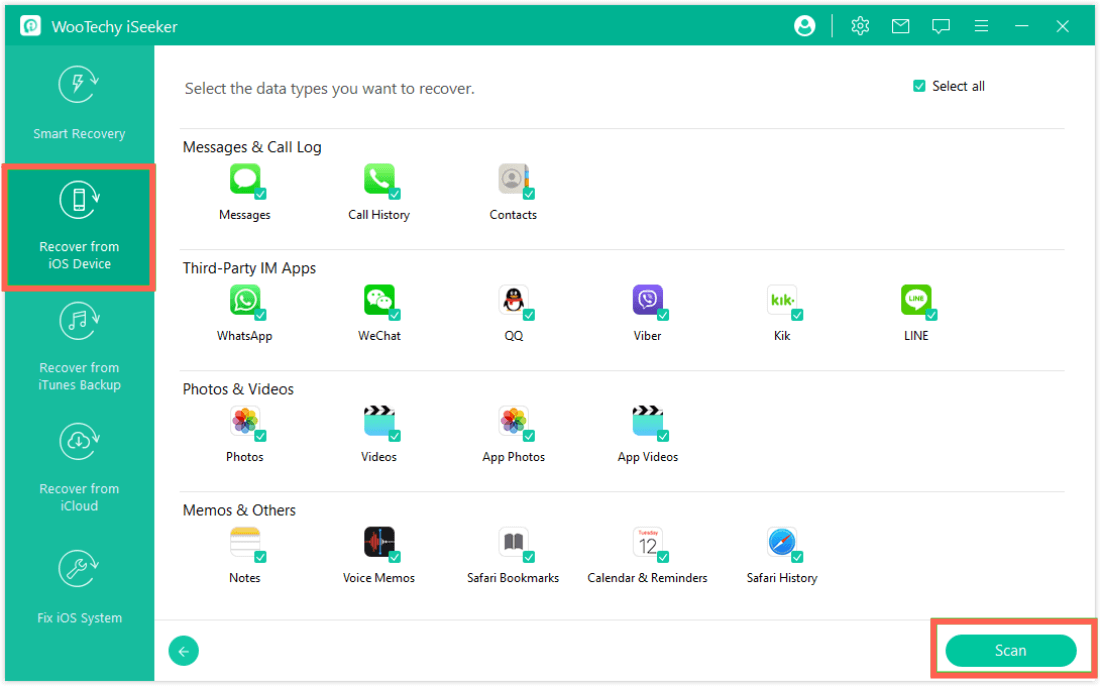 Step 3 Once the scan is finished, all recovered files will be properly sorted by types of data. After you've selected all of the data, click Recover in the bottom right corner.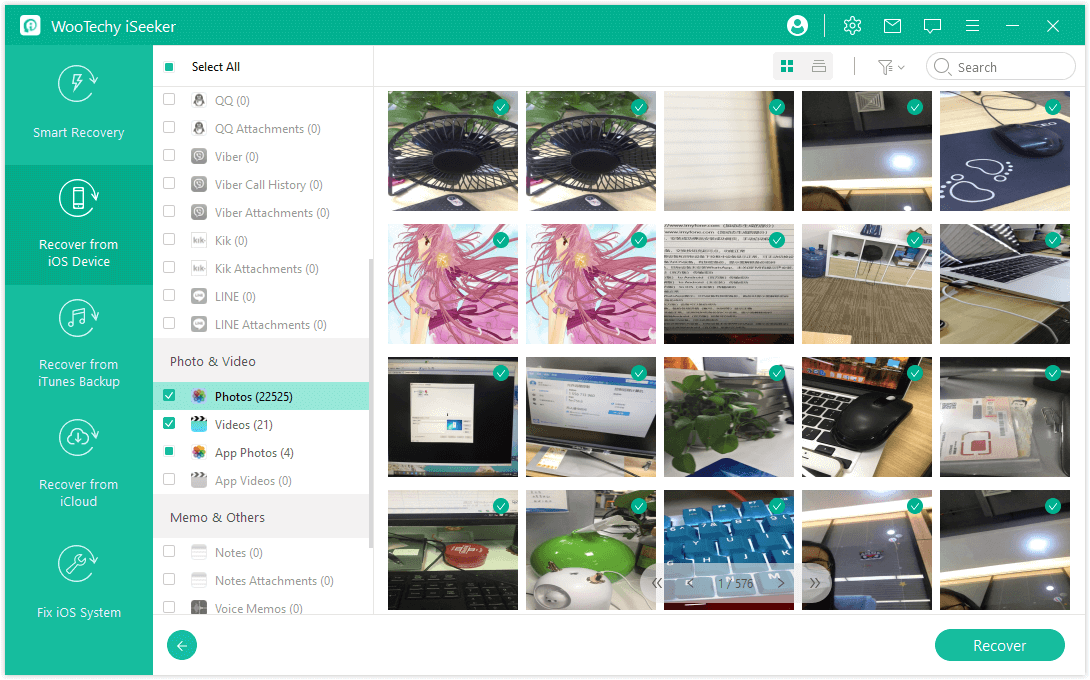 Conclusion
Though many people are stuck in the situation of retrieving deleted Messenger messages for a long time, we are here to introduce some methods.
Moreover, if you have deleted or lost some other important data on your iOS devices, we recommend using iSeeker. This professional iOS data recovery software makes retrieving deleted data a breeze, regardless of the reason for your data loss. Get a free trial here!