Some users are likely to delete their important text messages from their iPhone while deleting the advertisements or other unimportant messages they received. They are always looking for ways to restore those text messages. You may be reading this articles because you are facing the situation now.
We know it can be annoying to lose the text messages, particularly those from loved ones, business colleagues, and long-lost friends. Well, not to worry! To help you find and retrieve deleted text messages on your iPhone, we have put together a list of methods that you can use. So, let's start!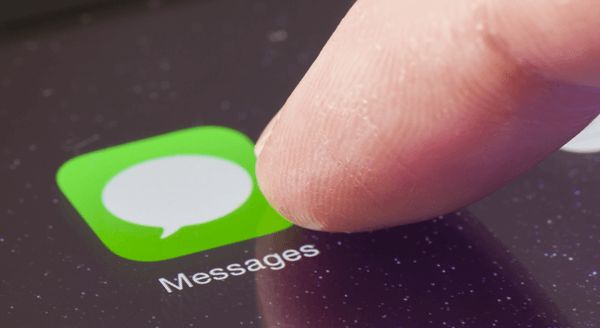 Part 1. Can You Get Back Deleted Text Messages on iPhone?
Generally speaking, yes! You can retrieve your deleted text messages from your iPhone and there are several reasons.
First, if you backed up your iPhone to iCloud or iTunes, you can recover them from it. The second possibility is that when you erase a message from your phone, it gets moved to an unknown area of the phone's internal storage rather than being deleted immediately. You can find and get these messages back with a professional data recovery tool.
Part 2. Retrieve Deleted Text Messages from iCloud/iTunes Backup
The first method you can try to recover deleted text messages on your iPhone is using an iCloud or iTunes backup. This is an easy process if you have previously backed up your device through either iCloud or iTunes.
Both of these backup solutions help you protect your data and allow you to recover text messages and other information in case your iPhone is lost, damaged, or you have accidentally deleted them.
However, you should keep in mind that you will not be able to recover specific data or preview your text messages to see if the messages you are trying to recover are included in the backup. Furthermore, all data that was not included in the most recent backup will not be restored.
If you want to avoid all of these scenarios, you should refer to the next method.
Steps of How to Restore Deleted Text Messages from iCloud Backup on iPhone 13/12/11:
Head to your iPhone's Settings app and go to General, followed by Transfer or Reset iPhone. Tap Erase All Content and Settings and give your permission if prompted.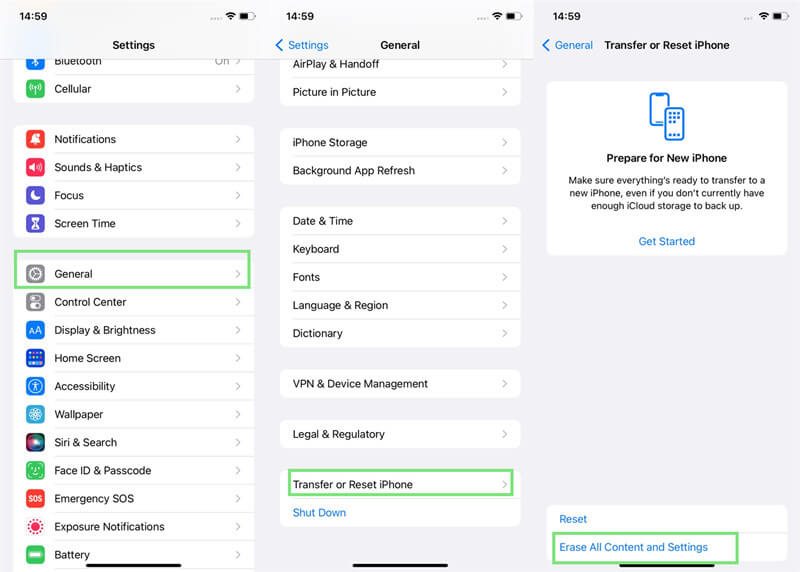 Reset your iPhone like you did when you initially acquired it. When you reach the Apps & Data page, hit Restore from iCloud Backup. On the next page, you'll be asked to sign in with your iCloud Apple ID.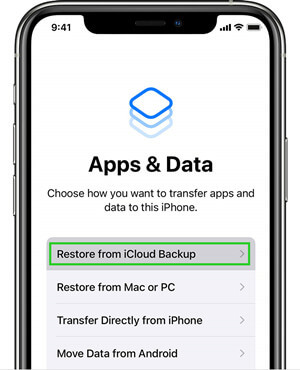 From the available list of backups, choose a backup that contains your deleted text messages and wait a few minutes for the process to finish.
Steps of How to Restore Deleted Text Messages from iTunes Backup on iPhone 13/12/11:
First, make sure you have the latest version of iTunes installed on your computer, then connect your iPhone to the computer.
From the main interface, select your device icon and then click on the Summary option. Choose the Restore Backup option to open a popup box.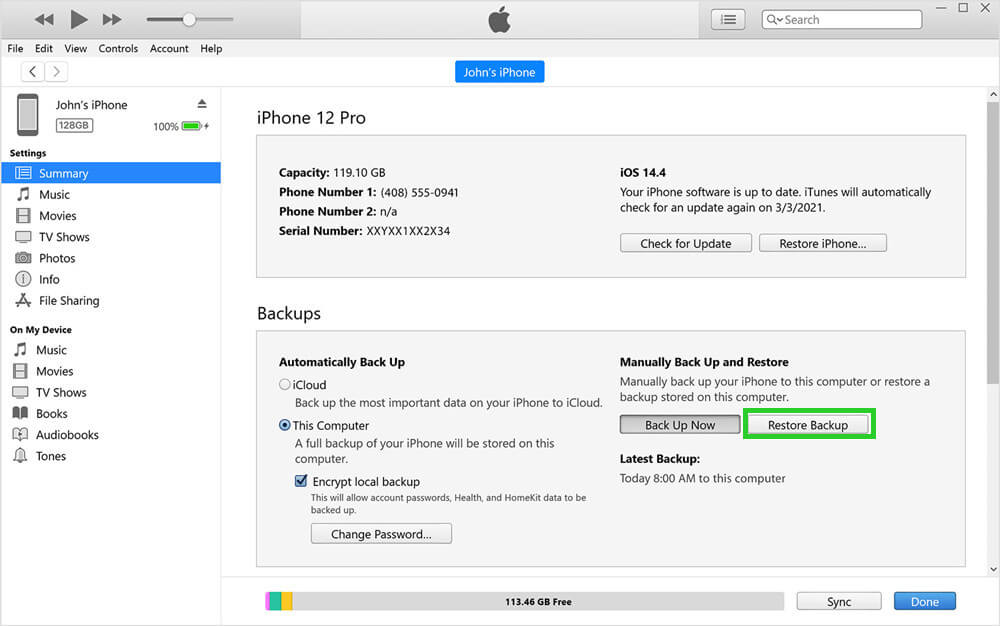 From the list of backups you made in the past, select one and click Restore to start the process.
Part 3. Retrieve Deleted Text Messages Without Backup
If you accidentally deleted text messages and have no backup, or don't want to restore your device from iTunes or iCloud, then WooTechy iSeeker data recovery software is the best option for you.
iSeeker is recommended by a lot of iPhone users for good reason. It has a high success rate when it comes to recovering deleted text messages on iPhone/iPad/iPod touch. It can scan your iOS devices and find the lost data. So, you could get permanently deleted text messages on iPhone without backup. Therefore, you don't need to erase your iPhone for restoring a backup and won't suffer from any data loss then. And it doesn't require you to be an iOS expert. This program is easy to use, and all you need to do is follow the instructions and your data will be recovered.
What Makes WooTechy iSeeker the Best iOS Data Recovery Tool
100.000+
Downloads
It can recover 18+ types of data easily. Apart from text messages, other data you value in your iPhone like photos, videos, WhatsApp chats can also be retrieved with iSeeker.

It can recover lost data in various scenarios, such as accidental deletion, factory reset, iOS update, iPhone broken/damaged.

It allows you to preview and select files before you restore them.

It supports various iOS devices and iOS versions (including iOS 15).

It has a high scan speed and recovers data with only 3 steps, which will save a lot of time for you.
Steps to recover deleted text messages on iPhone 13/12/11 without backup:
Step 1. Download and launch iSeeker on your Mac or PC. Connect your iPhone to the computer with a USB cable. Then choose Recover from iOS Device mode from the list on the left. After your iPhone is successfully detected by iSeeker, click Next.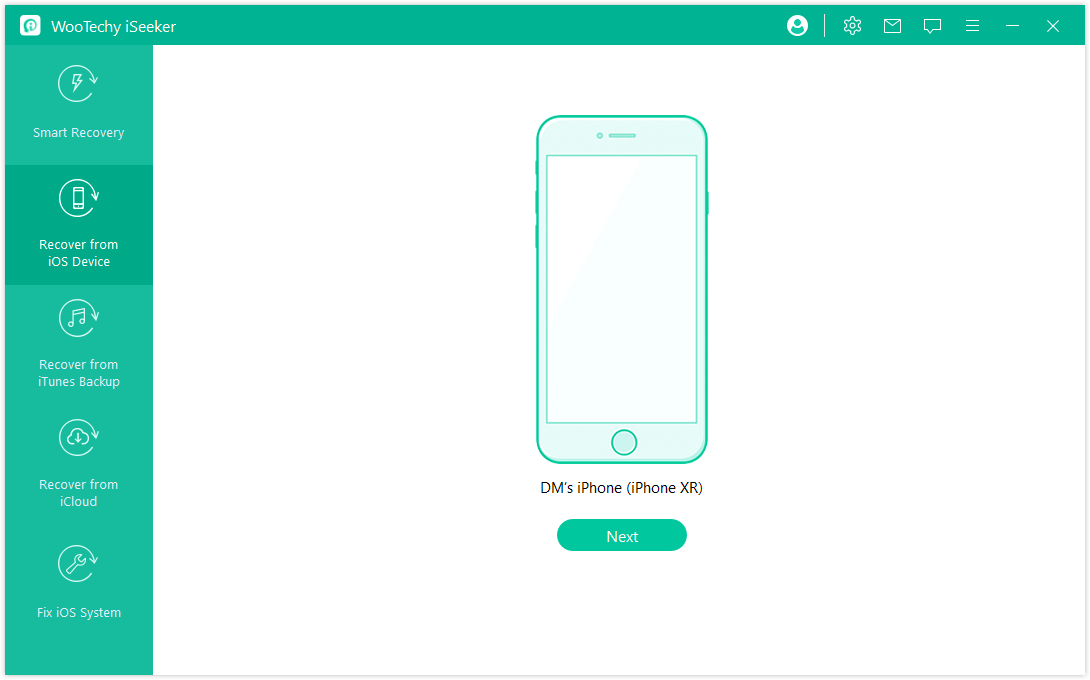 Step 2. From all the data types listed on the screen, choose Messages. Then click Scan.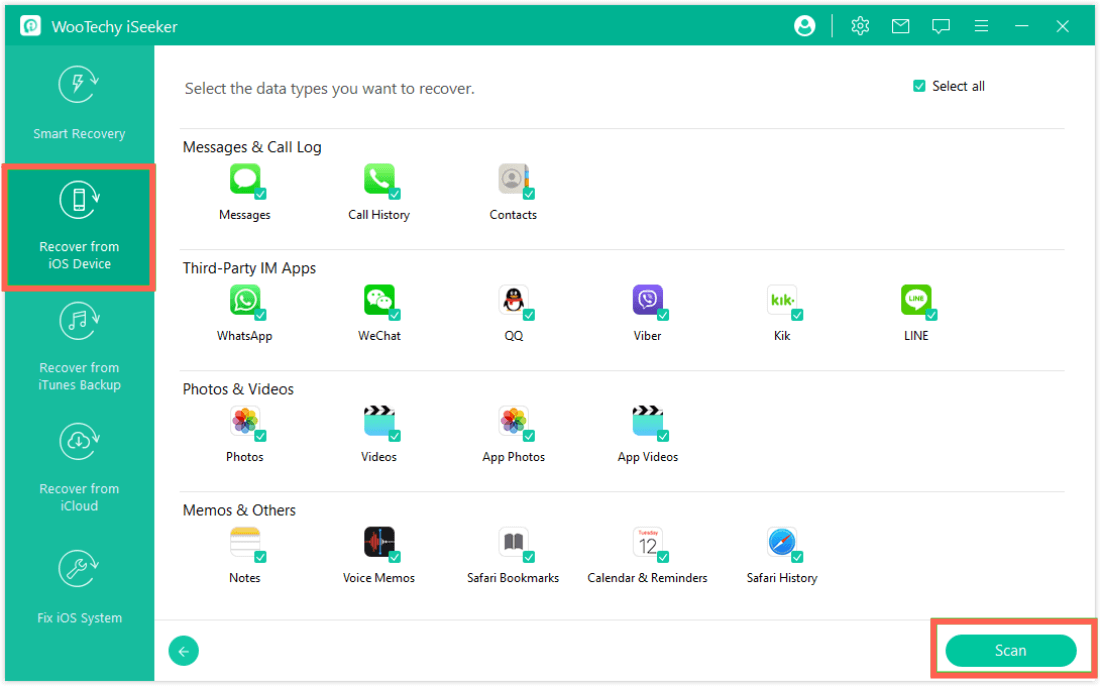 Step 3. After the scanning is finished, select the text messages you want to recover, then click Recover.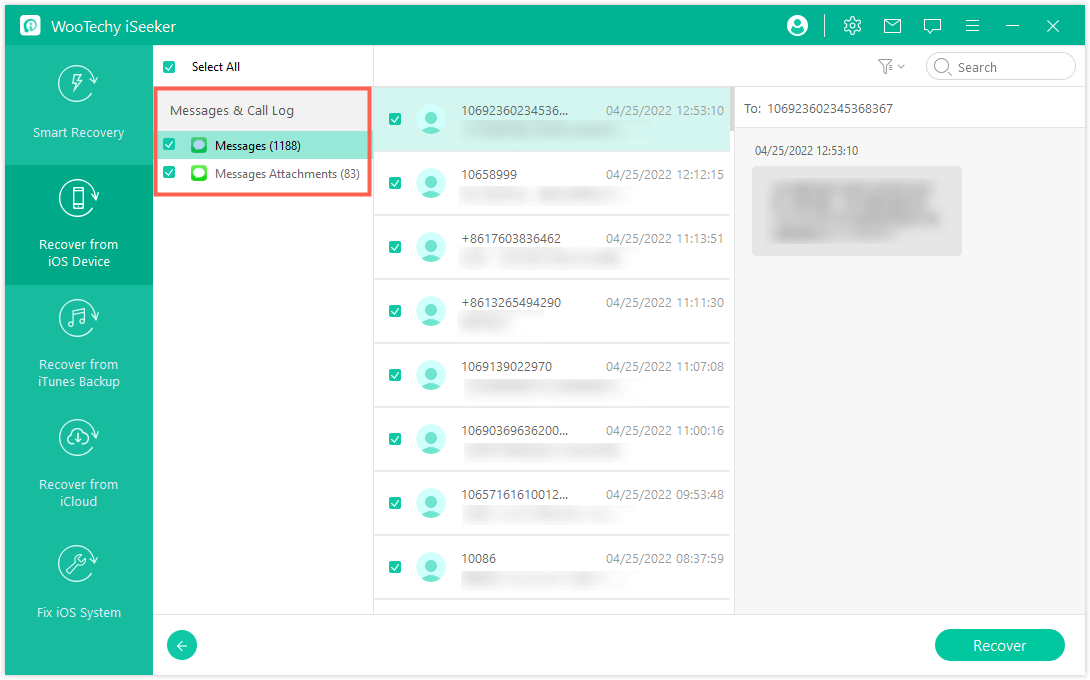 Part 4. Retrieve Deleted Text Messages from Another iDevice
Another way to get back your deleted text messages from an iPhone is by using your other Apple devices that have been synced (using the same Apple ID). However, you may only do so if you've activated the Messages synchronization option in your iCloud settings.
Simply go to Settings > iCloud > Messages to see whether you had previously switched it on or not. If it's turned on and you recently deleted some texts from your iPhone, you can just go to your iPad, Mac, or any other Apple device that uses the same Apple ID to see if they're still there.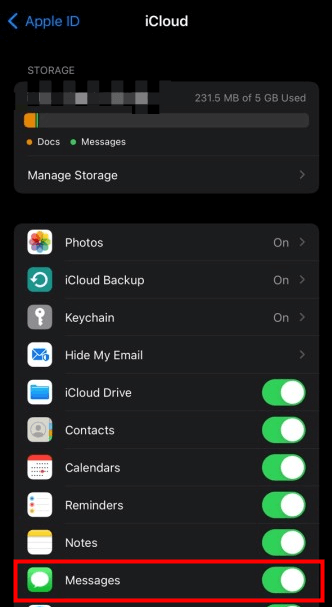 Part 5. Retrieve Deleted Text Messages by Asking the Phone Carrier for Help
If none of the methods above worked for you, try asking your phone carrier for help. Text messages you send or receive are kept on your cell provider's server for a limited period. If you think you have deleted an important text, you can contact your service provider's customer service department by calling or writing them an email.
However, this method will not work most of the time and getting a copy of your SMS messages from your carrier is possible but not guaranteed. You may need to prove your identity and provide a legitimate reason for why you want access to the database. Additionally, it is only going to work for text messages, not iMessages. If you want to get back deleted iMessages, refer to here.
Conclusion
When it comes to data on your iPhone, text messages are often priceless. It can be very frustrating to lose them, especially if it is difficult to get them back. However, we hope that by reading this article, you've learned how to recover your text messages on your iPhone without any stress.
All of those methods are effective but by far the easiest way to get your data back is with WooTechy iSeeker, the iOS data recovery tool. We recommend using this tool to retrieve your texts as there is no risk of data loss during the retrieving phase, and it has the highest success rate. It can also help you find old text messages on your iPhone. So, try the free trial version now to see if it meets your needs.