Snapchat is a popular multimedia ephemeral messaging app. Its most nptable feature is that the messages and media you sent and receieved will self-destruct. Such a feature makes many people feel that the privacy of their chat is guranteed. That's why more and more people love it.
However, the auto-deletion feature can also bring some annoyance for you. For example, it can be difficult when you want to see old messages in Snapchat. Don't worry any more! Today's article will discuss some reliable ways you can recover Snapchat messages on iPhone.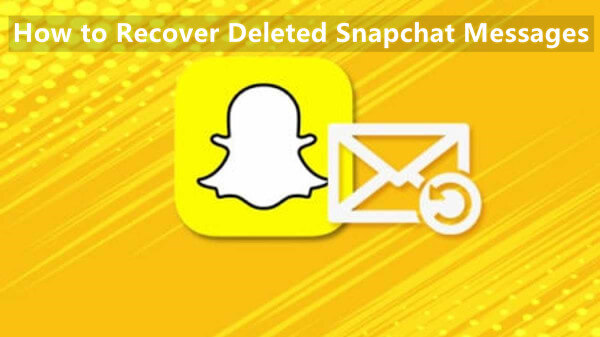 Part 1. Can Snapchat Messages Be Recovered
Yes, it is possible to recover deleted Snapchat messages.
However, the auto-delete feature in Snapchat makes the process a little harder. As we mentioned at the very beginning, Snapchat is an ephemeral messaging app and it will delete the messages right after the recipient reads the message. So if you forget to save the messages you want to keep and want to view the old messages later, it can be difficult.
But there are several ways you can try to recover these messages. Every method we will discuss next is proved to be efficient, you can read and choose a method that suits your situation. Hope you can get back your old Snapchat messages soon.
Part 2. How to Recover Snapchat Messages on iPhone
Now that you have learned that it is possible to recover Snapchat conversations on iPhone, let's discuss some useful ways to make it.
1. Recover Snapchat Messages from My Data
Snapchat gives users the chance to download their data from the Snapchat website. The data that can be downloaded includes User & Public Profiles, Snap History, Saved Chat History, Memories, and a lot more.
It is important to note that using this method requires you to visit the Snapchat website. You can't download your data through the mobile app. 
Steps to recover Snapchat messages from My Dara
Visit accounts.snapchat.com and log in using your Snapchat login credentials
Click My Data. Click the Submit Request option, which is at the bottom of the page.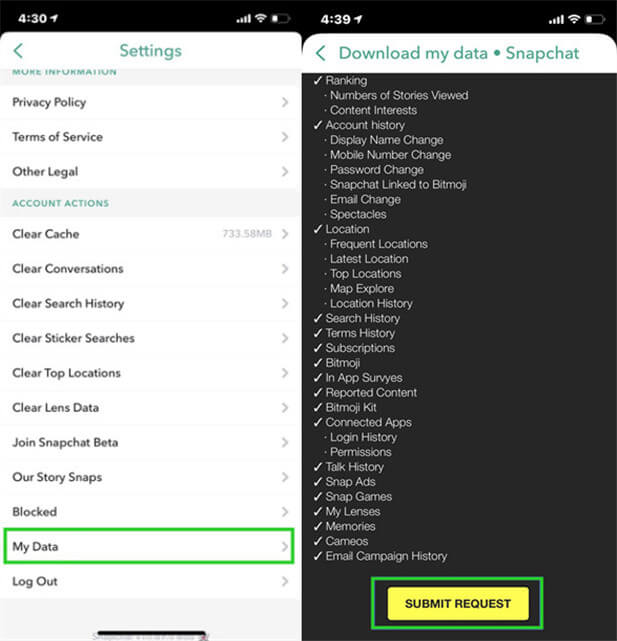 Snapchat will send you an email with a link that you should follow to download your data. Your email needs to be verified for Snapchat to send you this link. Check your email and click the link to download your data.
The downloaded file is a Zip file. So, make sure you have compatible software that can decompress this file.
Note
You might not receive the email right away. So if there is an urgency for you to get the messages in Snapchat, this method is not recommended.
2. Recover Snapchat Messages with a Data Recovery Tool
As it may take one day or two to receive the email from Snapchat, the easiest and most reliable way to recover your Snapchat messages instantly is using a third-party data recovery tool.
WooTechy iSeeker is a reliable data recovery tool you use to recover your deleted Snapchat messages even if you don't have an iCloud or iTunes backup for your iPhone. This program can recover deleted data from various apps, including Snapchat, WhatsApp, etc. So if you lost Snaps, it can also recover photos from Snapchat for you. And it's quite easy to handle. You don't need to worry that you can't achieve recovery by yourself with it.
What Makes iSeeker Stand Out
100.000+
Downloads
It has the highest recovery rate and can recover 18+ types of lost data. Other than Snapchat messages, photos, videos on iPhone, WhatsApp chats, WeChat chats can all be recovered.

It has perfect compatibility with almost all iOS models and iOS versions (iOS 16 supported).

It allows you to preview the lost data before recovering.

It enables you preview the data you stored in iCloud/iTunes and partly restore them.

It is user-friendly. You can achieve data recovery within 3 simple steps.
Steps of how to use iSeeker to recover deleted Snapchat messages on iPhone:
Step 1. Install iSeeker on your Mac or PC. Open the app and select the Recover from iOS Device option. Connect your iPhone using a reliable lightning cable. When your iPhone is detected, click Next to proceed to the next step.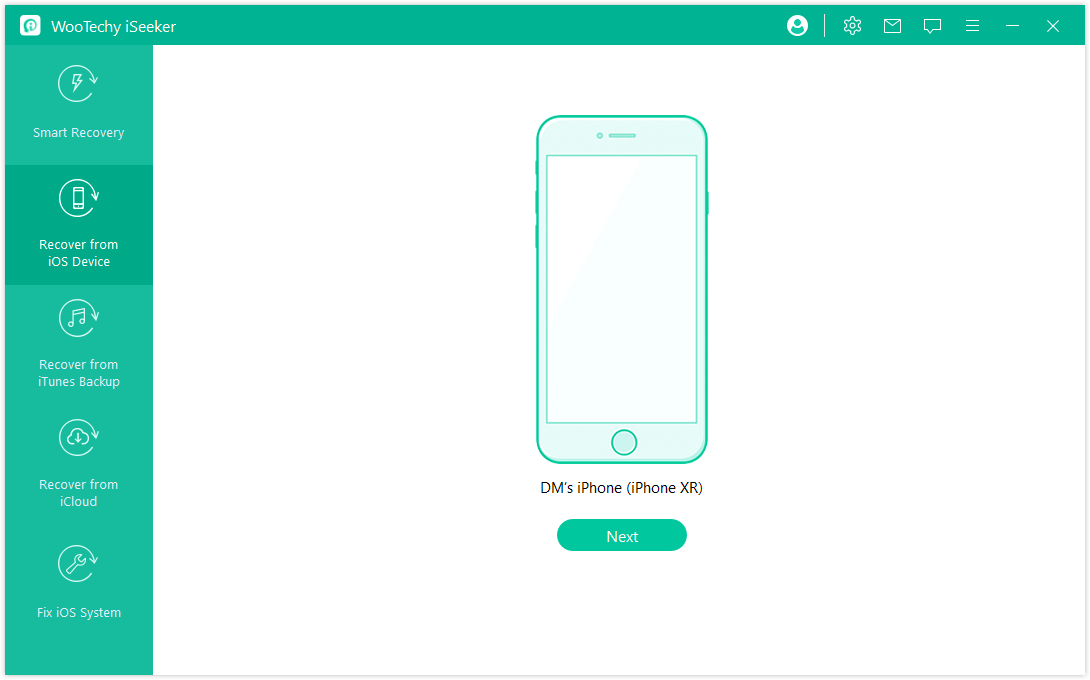 Step 2. Select the type of data you want to recover. Choose Messages and click Scan. iSeeker will scan your iPhone's storage to look for all the Snapchat data.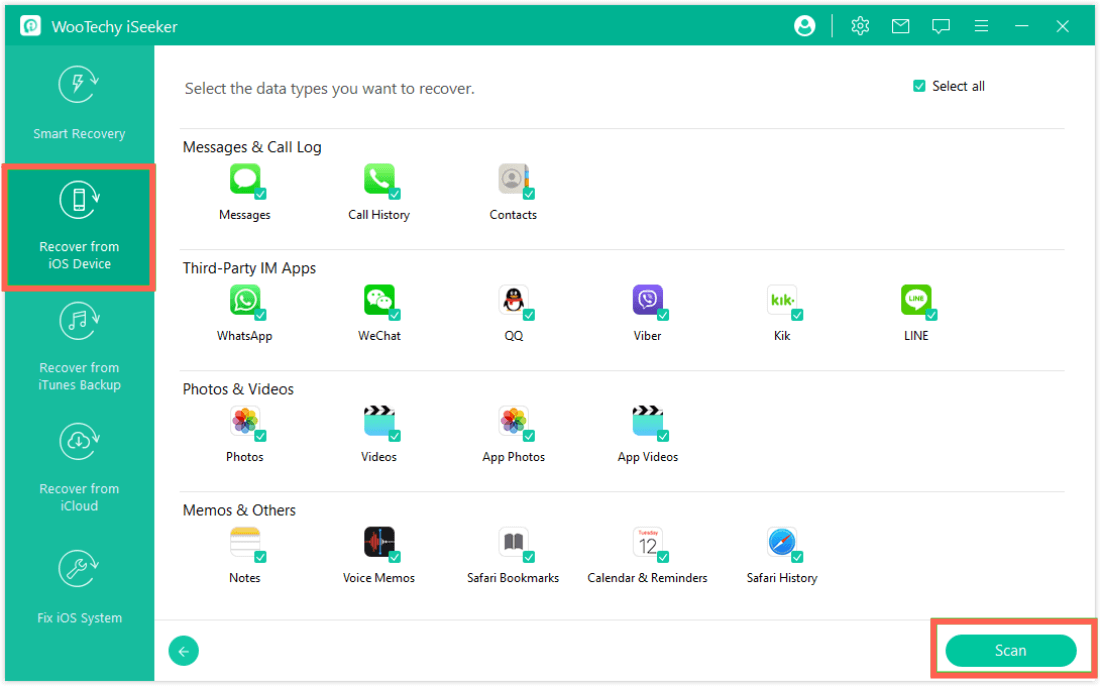 Step 3. Preview the discovered messages once the scan is complete. You can now select the messages you would like to recover. Select all if you want all your Snapchat messages to be recovered. Click the Recover button to start the process.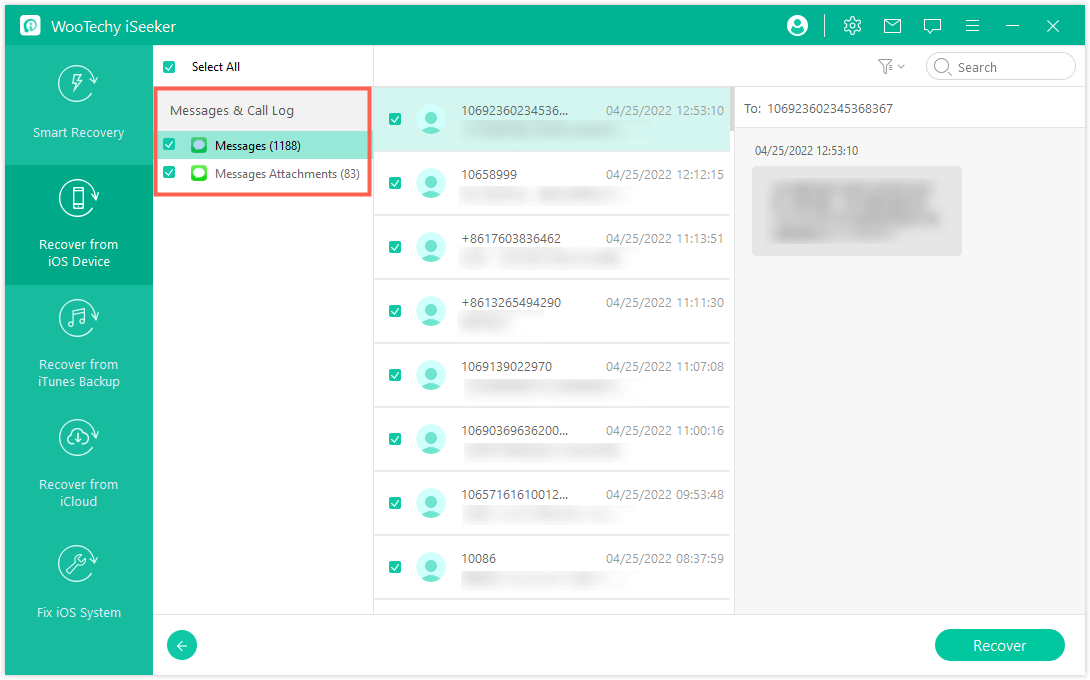 3. Recover Snapchat Messages from iPhone Backup
You can also recover your deleted Snapchat messages by restoring your iPhone from an iCloud or iTunes backup.
This method will only work if you had backed up your iPhone just before deleting the messages. And the backed-up data will overwrite existing data on your iPhone. So make sure to save a copy of important files on iPhone.
Steps to recover Snapchat conversations on iPhone from iCloud backup:
Erase all content and settings from your iPhone by going to Settings > General > Transfer or Reset iPhone > Erase All Content and Settings.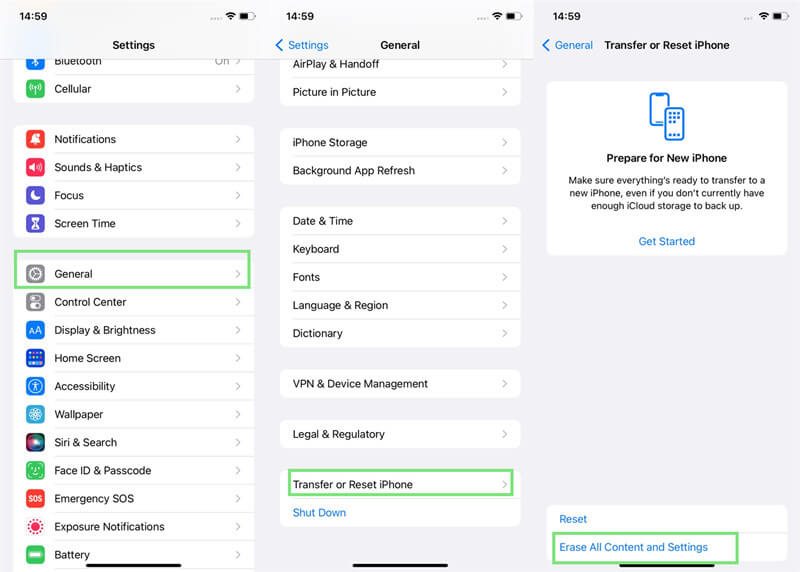 Your iPhone will restart. Set it up normally until you reach the Apps & Data screen. At this stage, choose the Restore from iCloud Backup option.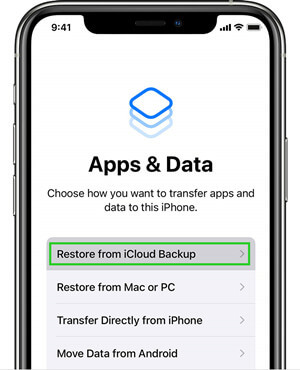 Log in to your iCloud account using your Apple ID and password. Choose the backup you would like to restore your iPhone with. It is best to choose the most recent one. The restore process will start after you have clicked the backup you want to restore.
After the restoration is complete, you should find your deleted Snapchat messages when you download the Snapchat app and sign in.
Steps to recover deleted Snapchat messages on iPhone from iTunes backup:
Launch iTunes on your computer. Now connect your iPhone to the computer. When it is detected, click on its name to open the backup/restore page.
Click Summary and then Restore Backup from the Backups section.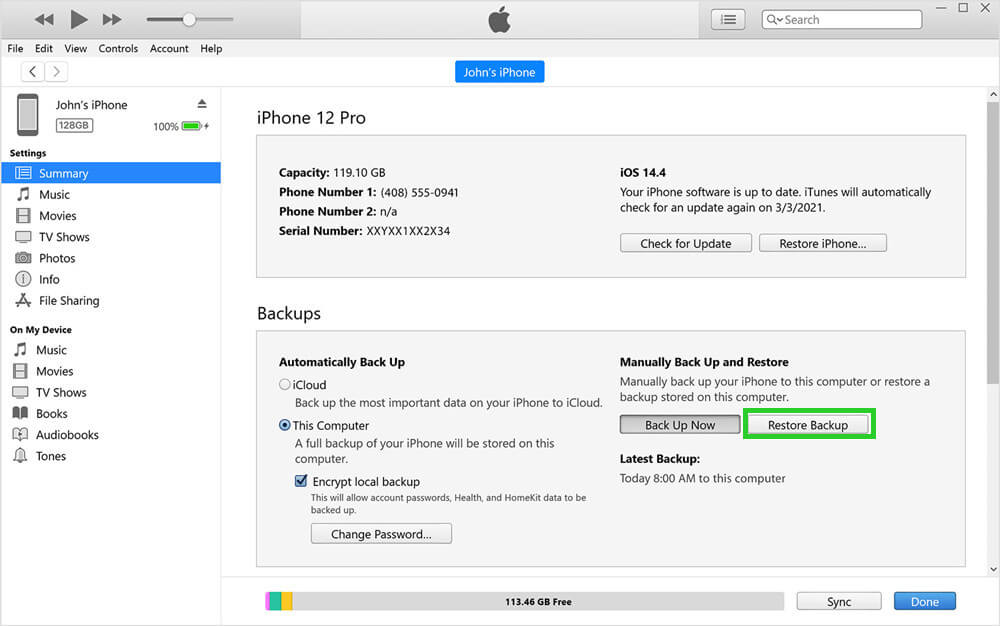 If you have several iPhone backups, select the exact backup you would like to recover and click the Restore button.
You should find the deleted Snapchat messages when you download and install the app after the restoration is complete.
FAQs about Snapchat Messages Recovery
1. How Long Do Snapchat Messages Stay
Snapchat messages in one-on-one conversations are automatically deleted after the recipient has viewed them or after 24 hours depending on your settings. For group chats, messages are deleted 1 day after everyone in the group has viewed them or one week after the messages were sent. Follow the simple steps below to save messages in Snapchat:
2. How to Save Snapchat Messages
Although messsages you sent and received will automatically delete, you can also manually save the messages. That may be also helpful when you want to view old messages in Snapchat.
Open the conversation you want to save.
Tap and hold the messages you want to save, then from the pop-up menu, choose Save in chat.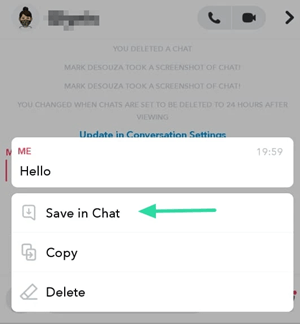 The saved messages wiil be highlighted with grey color and won't disappear until you delete them.
Conclusion
We have discussed all the four ways you can recover deleted Snapchat conversations on iPhone. Choose any of the four based on your situation and the tools you have at hand.
However, the most reliable method that will recover all your deleted Snapchat messages is using WooTechy iSeeker. This method doesn't need one to have an iTunes/iCloud backup. You also don't risk any unexpected data loss, since it doesn't require erasing your iPhone first. Download iSeeker to your Mac or PC to get started.