iPhone is known as water and dust-resistant device. But is that really so? The stories iPhone users narrate tell a different opinion. Many users have reported that they experienced dead home buttons, damaged cameras, or data loss when their iPhones get in the water. The common scenarios that get iPhone water damaged include drop in the bowl of water, drop in the bathtub, long time stay in the bathroom, etc. So, despite iPhone showing strong resistance to water, the water can still cause serious damage depending on the scenario and its impact.
If you also have damaged your iPhone data due to water exposure, then stay strong because there are still high hopes that you can recover data. All you have to do now is follow this guide on water damaged iPhone data recovery.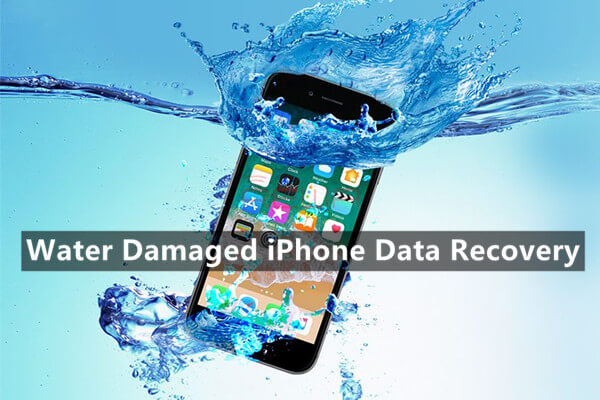 Part 1: How to Tell if You Have Got Water Inside Your iPhone
Other than accidentally dropping an iPhone directly into the water, your iPhone can also get wet in rain and in the bathroom. So, how to tell if the water has gone inside iPhone or not? Some of the main indicators that can tell if an iPhone is water damaged are as follows:
Fails to turn on.
Keeps restarting.
Shows only the white screen.
Speaker or microphone malfunction.
Home buttons malfunction.
Overheating.
Warning messages, like charging is not supported with this accessory, etc.
Apps close suddenly.
Other than the above indicators, you can also use the built-in Liquid Contact Indicator (LCI) to know if your iPhone was in contact with liquid. The indicator turns from white to red in case of water damage. The location of LCI varies from model to model. Its location on iPhone 12 is shown in the below figure.

Part 2: What to Do After iPhone Is Water Damaged
If your iPhone is water damaged, then there are multiple actions that you have to take immediately to avoid severe damage. In this perspective, the following are dos and don'ts:
Dos After iPhone Water Damage
Take off the phone from the water immediately.
Turn off the phone right away.
Remove the SIM card tray.
Remove the protective case (if any).
Clean the moisture from the iPhone with a dry piece of cloth.
Don'ts After iPhone Water Damage
Don't keep using the phone.
Don't try to restart.
Don't use the hairdryer to dry the phone because the heat from the dryer can cause further damage.
Don't put the phone in uncooked rice because tiny rice pieces might get inside the phone's body, absorb moisture, and increase their size.
To sum up, the initial few minutes after iPhone water damage are very crucial because they will decide the fate of your iPhone.
Part 3. The Best Tool for Water Damaged iPhone Data Recovery
Since your iPhone is water damaged, you should avoid operating it as much as possible. So, if you want to retrieve data from that iPhone, it is better you retrieve it from a backup. However, the official method of restoring backup requires the use of another iOS device. To avoid this, we recommend using WooTechy iSeeker.
This software is an all-in-one intelligent iPhone data recovery tool that can retrieve data from a wide range of scenarios, such as water damage, system crash, factory reset, etc. It can recover data from iPhone directly or from the iCloud/iTunes backup.
What Makes WooTechy iSeeker the Best Data Recovery Tool
100.000+
Downloads
It can recover 18+ data types, which include images, videos, notes, WhatsApp chat data, etc.

It lets users preview the recoverable data after scanning and then select the ones that are needed to recover.

It can recover lost data from iOS device without using a backup.

It has strong compatibility with all iOS devices and iOS versions, including the newest iOS 15.

It offers a click-based user interface that can recover data in 3 simple steps.

It ensures 100% data security throughout the recovery process.
Note
As your iPhone is water damaged, we recommend using the Recover from iTunes Backup mode of iSeeker, because it doesn't require using an iPhone and can directly scan your computer for the backup.
Follow the below steps to learn how to use iSeeker to retrieve data from a water damaged iPhone using the Recover from iTunes Backup mode:
Step 1. Install and launch iSeeker on your computer and click Recover from iTunes Backup from the left sidebar.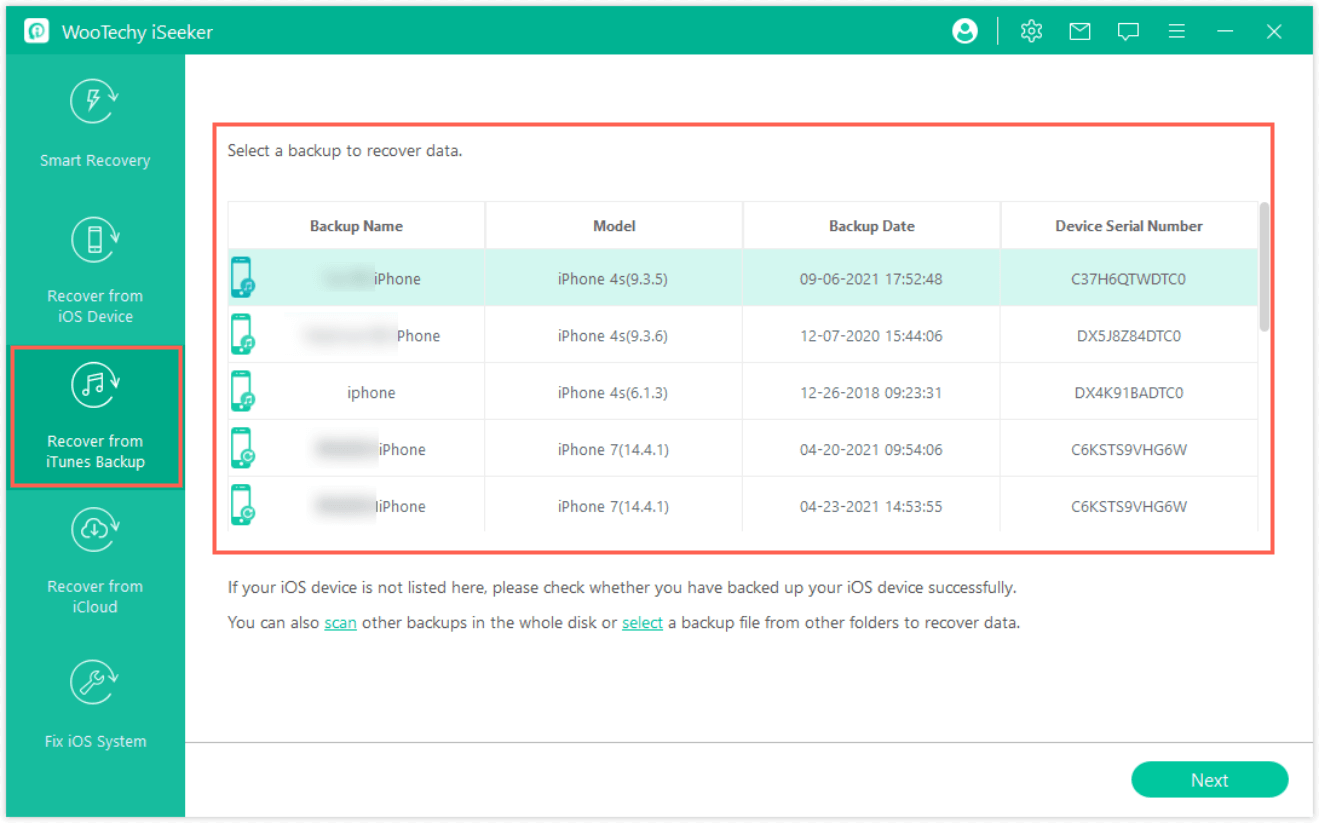 Step 2. Pick the iTunes backup that you want to restore and click Next. Then choose the data types you want to restore and click Scan.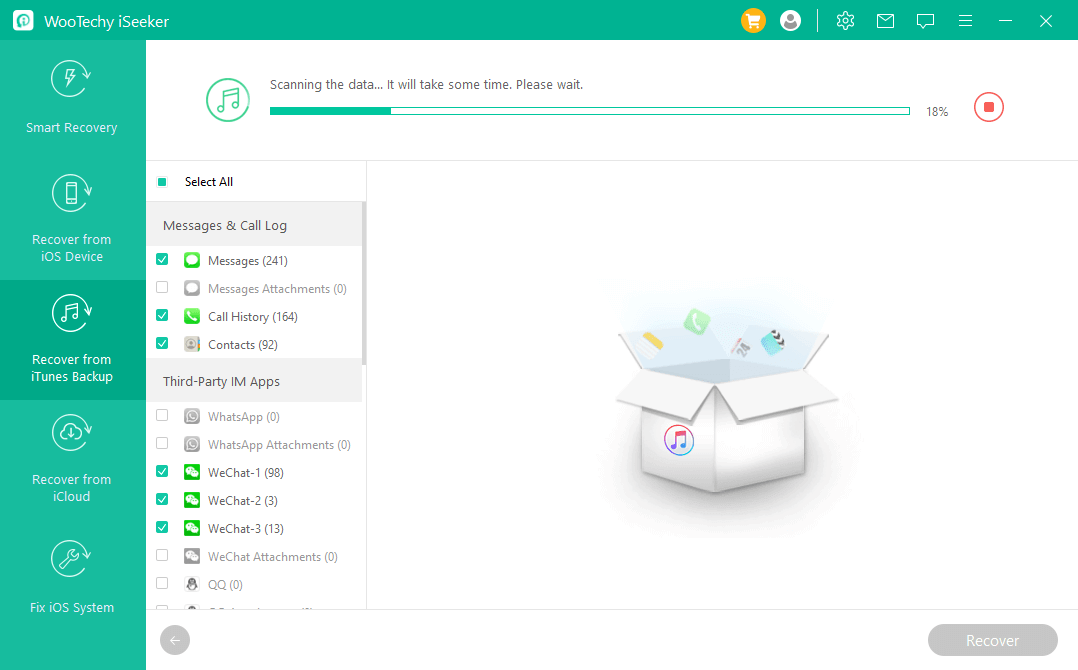 Step 3. Wait till the scanning is completed. Once done, preview and select the data you want to recover. Lastly, click Recover.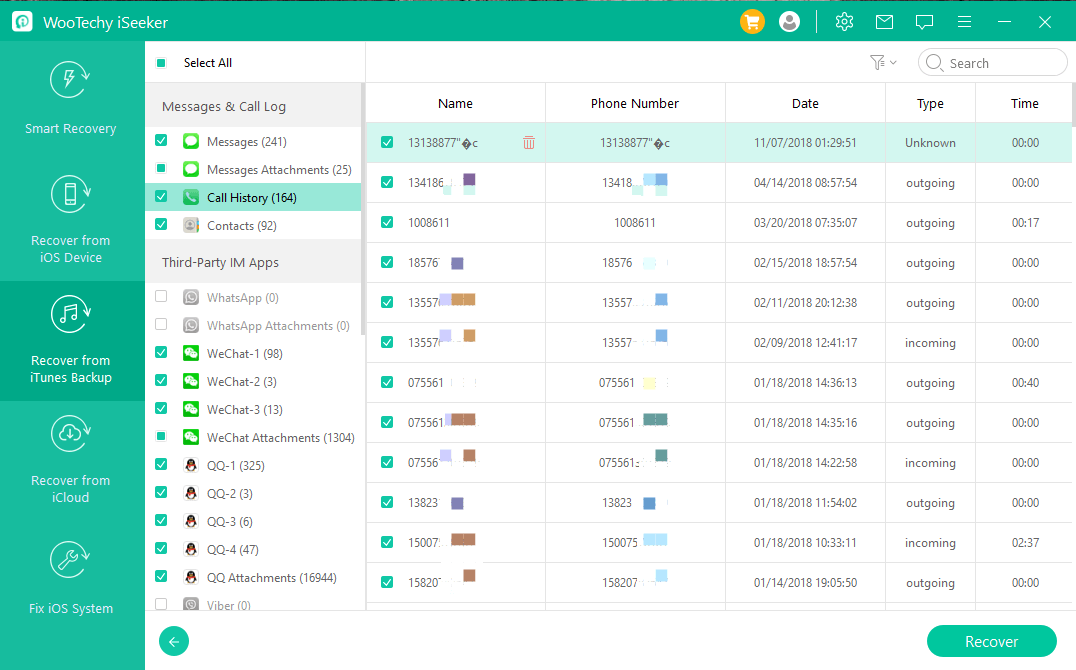 Part 4. Retrieve Data from Water Damaged iPhone if You Have Another Device
In case you have access to another iOS device, you can use it to restore iCloud/iTunes backup to that device to retrieve data from water damaged iPhone. However, the major problem with this approach is that you first have to erase all content from that iOS device, reset it, and then initiate the restore process. Moreover, you cannot preview and selectively recover data as in the case of iSeeker. So, if you are willing to proceed, then follow the below steps:
Steps to Restore an iCloud Backup to Retrieve Data from Water Damaged iPhone:
Go to the Settings app from the iOS device and then tap General > Transfer or Reset iPhone > Erase All Content and Settings. This way, all the data from the iOS device will erase and the device will reboot.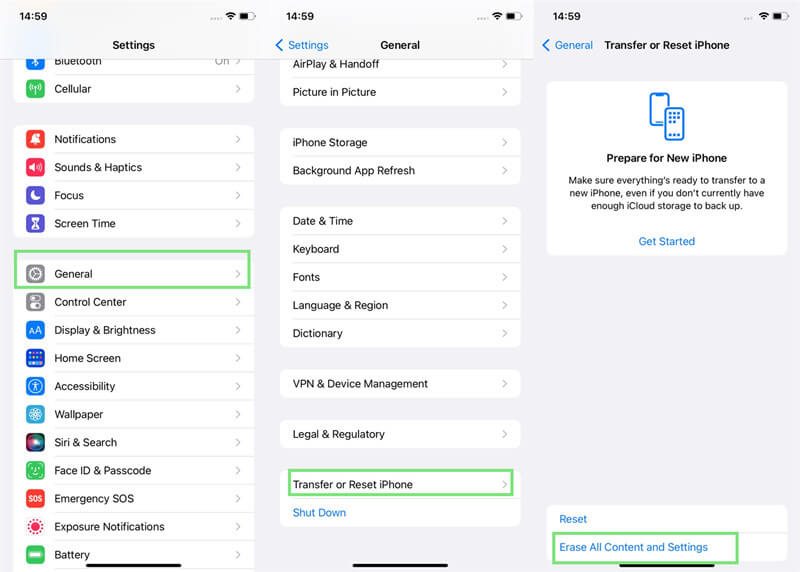 Follow the on-screen instructions to set up the device until you see the Apps & Data screen. Afterward, tap Restore from iCloud Backup.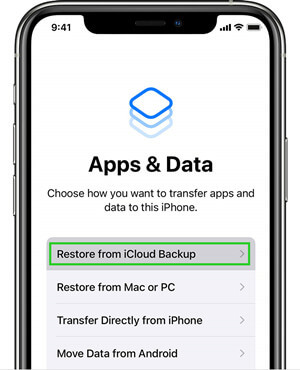 Sign in using Apple ID, pick the backup, and then wait till it is restored.
Steps to Restore an iTunes Backup to Retrieve Data from Water Damaged iPhone:
Launch iTunes and connect the iOS device with the computer.
Select the device from the left sidebar and from the Summary tab, click Restore Backup.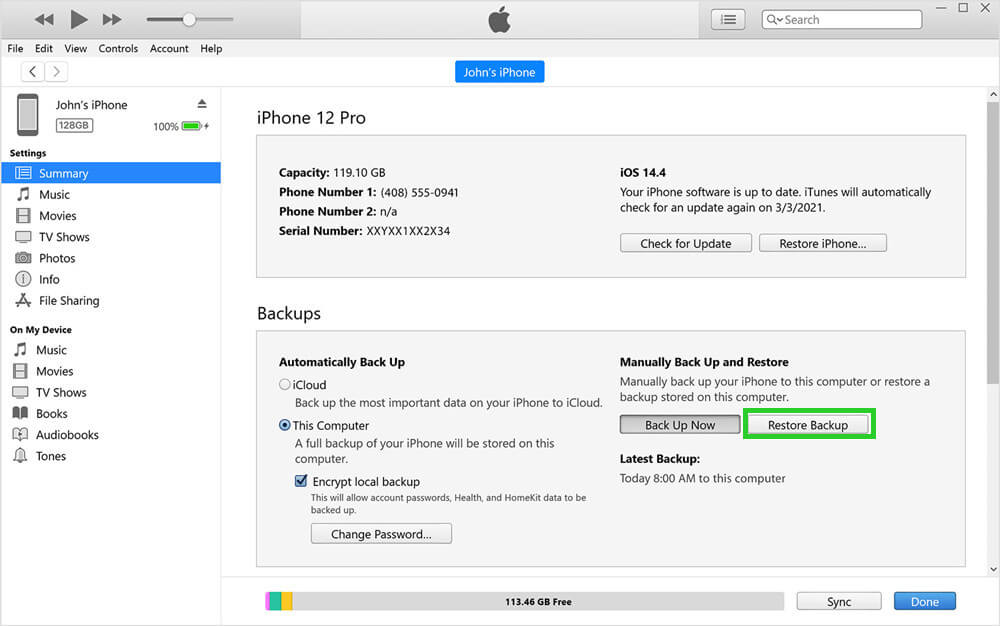 Select the backup based on the date and size that you want to restore. Afterward, click Restore to begin the restore process.
Conclusion
Despite trying our best to protect our iPhones from any damage, we eventually end up in a miserable position. One such heart-breaking scenarios occur with water damage. So, if your iPhone is somehow damaged by water, then you should immediately stop using it and recover the data right away. Above we have discussed multiple ways on how to do water damaged iPhone data recovery.
But what WooTechy iSeeker offers make it the first choice of recovery. Its user-friendly approach, powerful recovery, preview capability, and selective recovery make it a hassle-free process to extract the data from the water damaged iPhone. So, try out iSeeker right now and retrieve your data.