Screen mirroring is a convenient feature that allows you to display the content of your smartphone on a larger screen, such as a computer or TV. Whether you want to share photos, and videos, or play mobile games on a bigger display, there are 3 best ways to mirror phone screen to PC.
Screen Mirroring Explained
Screen mirroring is a technology that allows you to display the contents of a smaller device, such as a smartphone, tablet, or computer, onto a larger screen, such as a television or projector. It enables you to wirelessly transmit and mirror media, including personal photos, videos, music, games, and content from the internet or apps like Netflix and YouTube, from your smaller device onto a larger display.
Mirror Android/iPhone to Win or Mac--WooTechy MirrorDisp
Overview
WooTechy MirrorDisp is a screen mirroring tool that allows users to mirror their Android and iOS device screens to a computer (Win and Mac are both available.) What makes it most popular is its ability to cast phone screens in 4k resolution without any lag, and its ability to control the phone from the computer when mirroring. Besides, it provides a user-friendly interface and facilitates smooth interaction between mobile devices and computers.
With MirrorDisp, users can enjoy various benefits s MirrorDisp offers separate modes for mirroring Android and iOS screens.
Features
Support both Android and iOS devices and can be cast to both Win and Mac.

Displaying in-app content on a larger screen.

Playing mobile games on PC with keyboard and mouse controls.

streaming the phone screens with audio in real-time to different platforms such as Youtube, Discord, PUBG etc...

Available for different scenarios such as conferencing and live streaming.

Transferring files from Pc to Android.

Can screenshot on the PC.
System Requirements

Win 10/8.1/8/7

macOS 10.15 - 12.1

Supported Devices

Android (Android 6.0 and above): Almost all Android phones, such as Samsung, Xiaomi, Google Pixel, Huawei, OnePlus, Oppo, Vivo, etc...

iOS Devices: All models of iPhone, iPad Air, iPad Mini, iPad Pro, or iPad.
How to Mirror Phone to PC with Wootechy MirrorDisp?
Here is an overview of how to use MirrorDisp for Android and iOS screen mirroring:
Step 1: Download Wootechy MirrorDisp and launch it on your computer. (For Android device: Ensure both your Android device and computer are connected to the same Wi-Fi network.)
Step 2: Connect your Android or iOS to the computer using USB or WiFi. If it's the first time, USB is essential, but later you can connect directly with WiFi.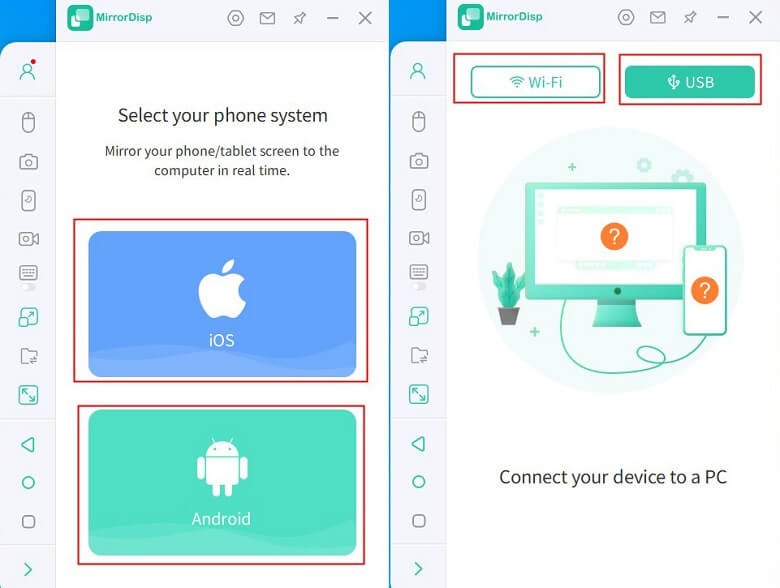 If your device is Android, enable USB debugging in the Developer Options.
Step 3: Grant permission to MirrorDisp when prompted. Once done, your phone screen will be mirrored on the computer automatically.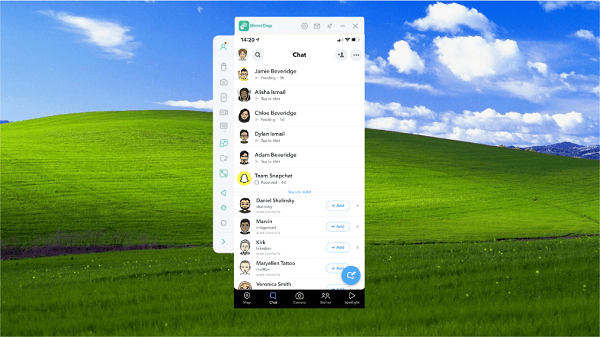 You can swift the features in the left bar to mirror your phone, live streaming, or control your phone using a keyboard or mouse.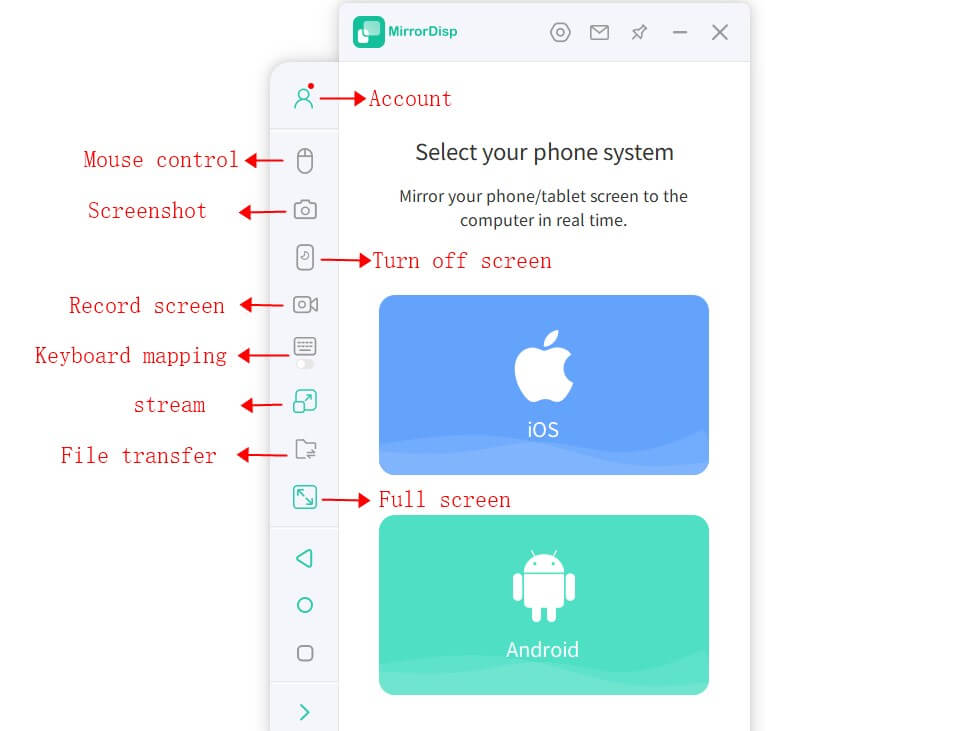 Mirror Android Phone to PC--Mobizen
Overview
Mobizen is a web-based screen recording and live streaming software that allows users to create and share video content directly from their mobile devices. It offers features like broadcasting, brand setting customization, recording capabilities, and more.
Pros:

Support live streaming.

Easy to start recording.

Built-in background sound in the paid version.

Cons:

Limited to iOS devices including iPhone and iPad.

$12/month is required.

Casting screen including the watermark.
How to Mirror Android Phone to PC with Mobizen
Step 1: Create a Mobizen account or sign in with your existing account. Purchase a premium plan, otherwise, only the most elementary functions can be used.
Step 2: Click Get Started. When prompted, grant the necessary permissions for the tool to access your device's screen and audio.
Step 3: Ensure that your Android phone or tablet is connected to the same Wi-Fi network as your computer. Follow the on-screen instructions to establish a connection between your device and the web-based mirror tool.
Step 4: Once done, you will see your device's screen mirrored on your computer through the web-based tool.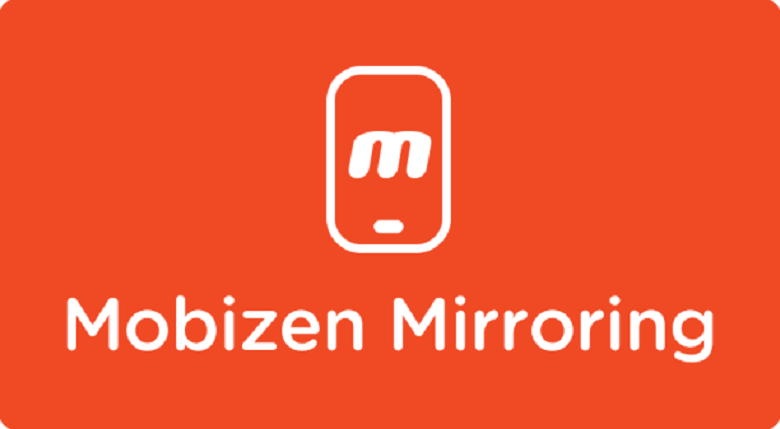 Mirror iPhone to PC--LonelyScreen
Overview
LonelyScreen is a phone to PC mirror that allows users to mirror and control their iPhone or iPad screens on a PC. It functions as an AirPlay receiver, enabling users to play music, games, videos, and even live stream from their iOS devices to a larger screen.
Pros:

Wirelessly connection is supported.

Have the option to record their screens while casting their phones.

Cons:

Only support mirror iOS devices to Windows (Mirror Android Phones to PC/Mac, or Mirror iPhone to Mac are not available.)

$29.95 is required.

Outdated and unappealing user interface.
How to Mirror iPhone to PC with LonlyScreen?
Step 1: Download the LonelyScreen app and install it on your Windows PC.
Step 2: In the LonelyScreen app, you have the option to change the name of the AirPlay server. By default, it uses the name "LonelyScreen."
Step 3: Connect the iPhone and PC to the same Wi-Fi network.
Step 4: On your iPhone, open Control Center by swiping down from the top-right corner (on newer iPhones with Face ID) or up from the bottom (on older iPhones with Touch ID). Tap the "Screen Mirroring" or "AirPlay Mirroring" button to see the list of available AirPlay devices.
Step 5: Once you select LonelyScreen on your iPhone, your iPhone's screen will start mirroring on your PC through the LonelyScreen app.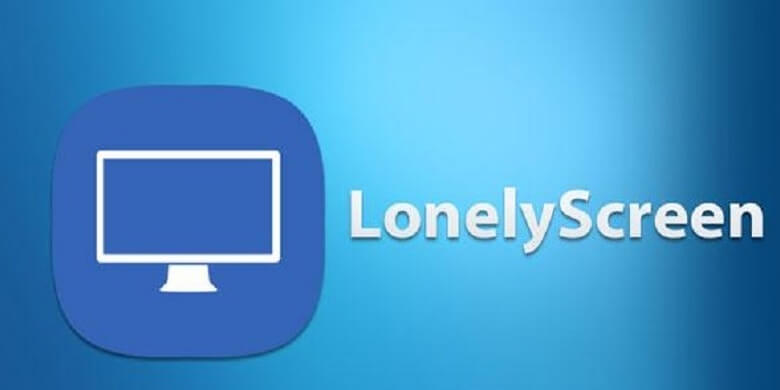 Conclusion
In this article, we explored the three best ways to mirror your phone screen to a PC, with our review of Pros and Cons. Among them, we think Wootechy MirrorDisp stands out as the top recommendation. It is available to mirror both Android and iOS screens to PC or Mac. With MirrorDisp, you can enjoy a seamless mirroring experience with various features and functionalities. Besides, you can fully control your games and experience the thrill of playing on a larger screen with high resolution. Try it and enjoy your phone mirroring!