Locked out of your Android device and anxious about losing precious data through a factory reset? Forgetting an Android password can feel like a digital deadlock, but there are effective ways to regain access without resorting to wiping your device clean. In this guide, we'll navigate through savvy methods that rescue you from the password labyrinth and show you how to unlock Android phone password without factory reset, ensuring your data remains intact.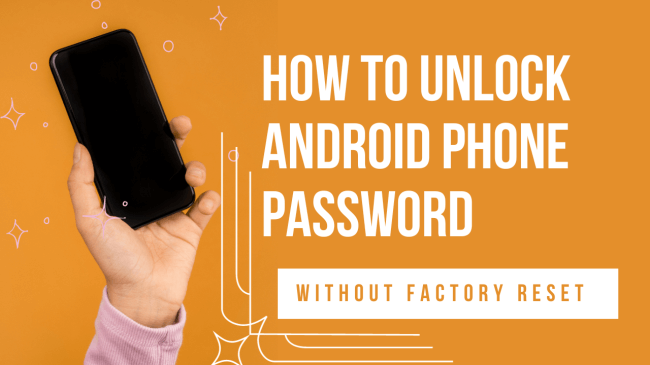 Part 1. Why Avoiding Factory Reset Matters
A Factory Reset on Android is a process that restores the device to its original settings, erasing all user data, apps, and settings. It matters due to several reasons:
A factory reset wipes all data and settings from the device, causing irreversible deletion.
Avoiding a reset ensures the retention of personal data, such as contacts, messages, and files, which might hold sentimental or crucial value.
Prevents the loss of irreplaceable photos and media files, safeguarding memories and valuable content.
Maintains the configuration of apps and settings, saving time and effort required for reinstallation and customization.
Part 2. Best Way to Unlock Android Phone Password without Factory Reset
If you are looking for the best way to unlock Android phone password without factory reset, then look no further. WooTechy iDelock(Android) might be your top solution. This is an Android unlocking tool not only for password, but also for patterns, PINs, fingerprints, and facial recognition. With a few clicks, all kinds of Android screen locks can be removed without knowing.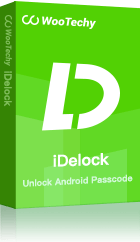 Highlights of Wootechy iDelock (Android)
Unlock an array of Android security measures encompassing FRP lock, fingerprints, face ID, 4-digit, and 6-digit PINs, custom passwords, intricate patterns, and more.

Compatible with over 6000 Android phones/tablets across diverse system versions, this tool ensures comprehensive accessibility.

Effortlessly disable FRP lock with a user-friendly unlocking process that guarantees a hassle-free experience.

Rest assured, the unlocking procedure is fortified against data exposure to hackers or virus intrusion, upholding iDelock's commitment to security.

Additionally, benefit from 24-hour customer support services catering to users, resolving any encountered issues promptly.
How to Unlock Android Phone Password with iDelock(Android)?
Step 1. To initiate WooTechy iDelock(Android) on your Android device, begin by choosing "Remove Screen Lock" from the interface.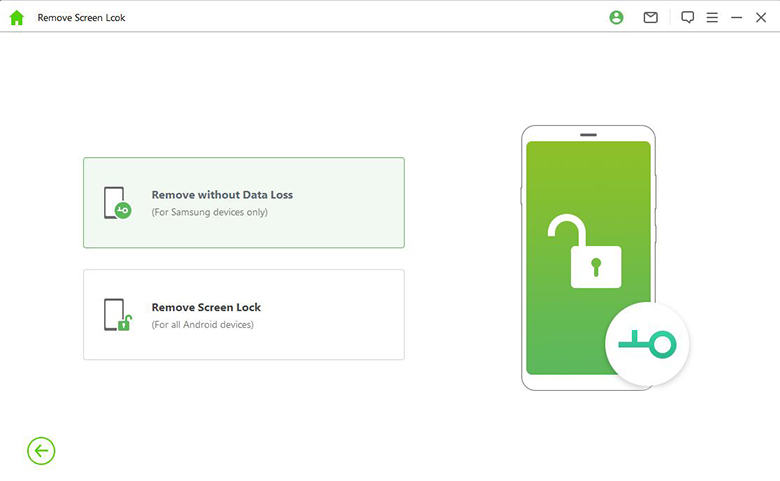 Step 2. Review your device details displayed on the subsequent screen. If there are any inaccuracies, rectify them manually. Once verified, click "Confirm" to proceed.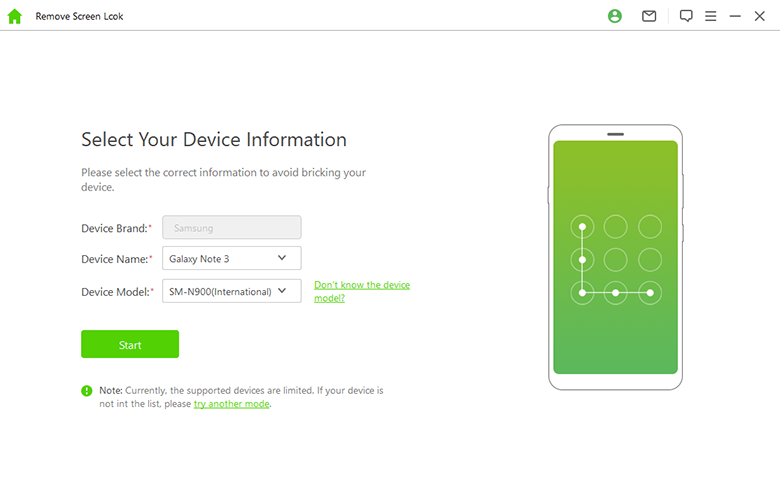 Step 3. iDelock will generate the necessary data package for your phone. Proceed by clicking "Download" to acquire this package.
Step 4. Upon the package's readiness, select "Start to Unlock." iDelock will then commence the bypass process, typically completed within a few minutes. Once done, you'll be able to set up your phone afresh, free from the previous Android phone password.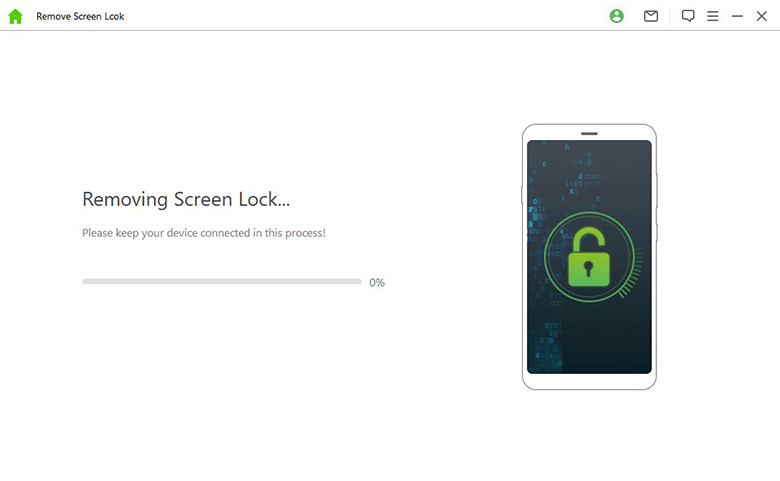 Part 3. How to Unlock Android Phone Password without Factory Reset via Android Device Manager
When you forget your Android phone password, you can avoid a factory reset by using Google Find My Device, especially if your phone runs on Android 7.1.1 or earlier. Follow these steps:
Go to Google Find My Device on your another Android device or computer > Sign in your Google account > It will show all your Android devices that have signed in to this account > Choose the Android phone you want to unlock.
Then you will see "Ring", "Lock" and "Erase". So select the Lock option.
At the popping-up window, set your new password.
Go to your locked phone, and enter the password just set now. And you can unlock your Android phone.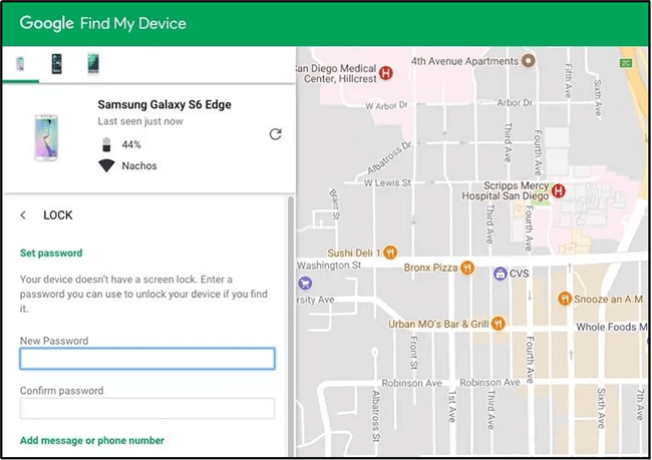 Part 4.  How to Unlock Android Phone Password without Factory Reset via Find My Mobile [Samsung Only]
If you are holding a Samsung device, and you happen to forget your Samsung password, then besides going to Android Device Manager, you've got another option, which is Find My Mobile. Before applying this method, please be sure that you have enabled Find My Mobile before.
Visit the Find My Mobile website or app on another device or computer.
Log in using your Samsung account credentials.
Choose your locked Samsung device from the list of linked devices. Click "Unlock."
Follow the on-screen prompts to complete the unlock process.
Part 5.  How to Unlock Android Phone Password without Factory Reset via Google Account
Another way to unlock Android phone password or unlock Android pattern lock without factory reset is through the help of Google Account. You can use the Forgot Pattern feature to do the work. You can use this method on Samsung, Motorola, Xiaomi, Huawei, etc. However, this method only applies when the Android device is running Android 4.4 and earlier. Here is how:
When five unsuccessful attempts to unlock an Android device occur, a message prompts a 30-second wait. During this display, tap the "Forgot Pattern" option.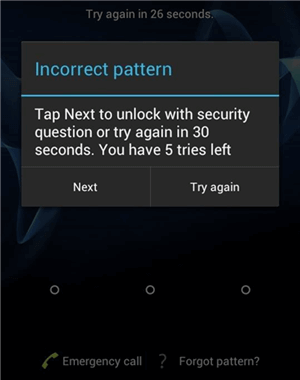 Select Enter Google account details.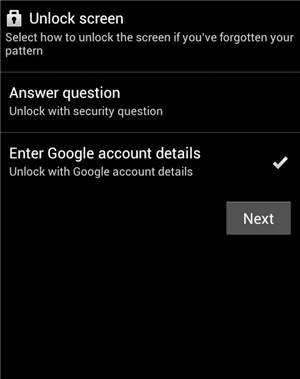 Enter the primary Gmail account along with the associated password.
Google will either dispatch an email containing the unlock pattern or allow pattern alteration directly on the screen.
Part 6.  How to Unlock Android Phone Password without Factory Reset via Smart Lock
Google Smart Lock offers a way to bypass the password on Android devices without resorting to a factory reset. Here's how it works:
Smart Lock Setup: Activate Smart Lock before the device gets locked. Access settings and set up Smart Lock under the Security menu. You can choose from:
On-body detection: Keeps the device unlocked while it's with you.

Trusted places: Unlock in specific locations you've marked as safe zones.

Trusted devices: Allows unlocking when connected to specific devices via Bluetooth.

Voice Match: Unlocks your phone using your voice if it's registered.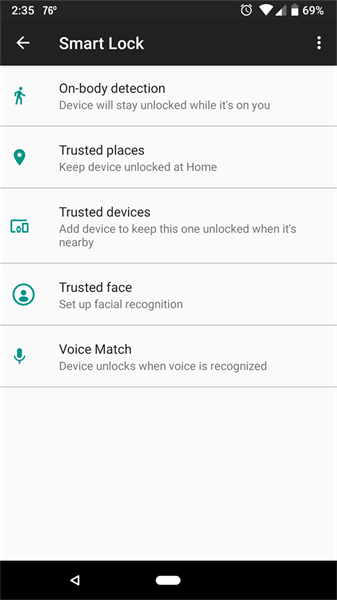 Utilizing Smart Lock: Once Smart Lock is set up, the phone stays unlocked based on your chosen settings, eliminating the need to enter a password, PIN, or pattern.
However, if Smart Lock was not previously set up or is disabled, other methods may be necessary to unlock Android phone without factory reset.
Part 7.  How to Unlock Android Phone Password without Factory Reset via ADB
Ensure you have access to a computer running Windows, macOS, or Linux, and a USB cable.
Get the tools from developer.android.com. Extract the files from the downloaded ZIP to a convenient location on your computer.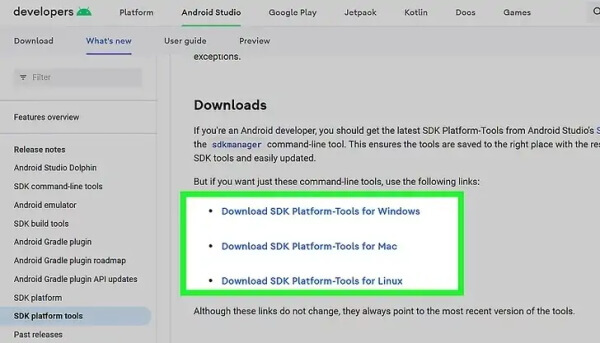 Navigate to the extracted folder. On Windows, use File Explorer and Shift + right-click, selecting "Open command window here." On Mac, access Terminal and use the "cd" command to navigate to the folder.
Use a USB cable to connect your Android to the computer, granting permission for USB debugging when prompted on your phone.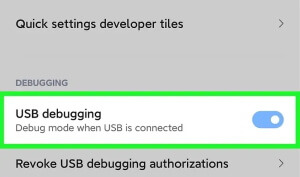 Execute commands based on your operating system:
For Windows: Use the command adb devices and adb shell rm /data/system/gesture.key.

For Mac/Linux: Employ ./adb devices and ./adb shell rm /data/system/gesture.key.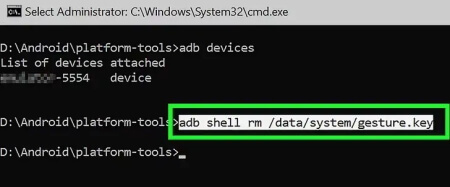 Reboot your device to eliminate the lock screen.
Note
Ensure USB debugging was previously enabled on your Android (Android 6.0 or earlier) for this method to work.
Part 8. How to Avoid Android Lockout in the Future?
Experiencing a lockout can be frustrating and disruptive, but taking proactive steps to secure your device and account access can prevent such scenarios. To prevent lockouts on Android devices in the future, consider these measures:
Use Two-Factor Authentication (2FA): Implement 2FA across your accounts to add an extra layer of security, reducing the risk of being locked out due to forgotten passwords.
Remember Passwords Securely: Maintain a secure method to store passwords, such as a password manager or written backup stored securely.
Regularly Update Recovery Information: Keep recovery options updated, such as phone numbers or secondary email addresses linked to your accounts.
Avoid Pattern/PIN Reuse: Refrain from reusing the same patterns or PINs across multiple accounts or devices.
Write Down or Save Passwords Securely: If it helps, write down or securely save passwords in an offline location to access them in emergencies.
Security and Recovery Settings: Familiarize yourself with the security and recovery settings on your Android device to understand backup options and methods to access your device in case of a lockout .
Regular Backups: Regularly back up your device to safeguard important data and settings in case a reset becomes necessary.
Conclusion
Getting locked out of your Android device is a stressful ordeal, especially when the risk of losing crucial data looms over a factory reset. Fortunately, this guide has explored myriad strategies, ensuring that unlocking your Android phone password doesn't demand drastic measures. Staying informed and implementing these strategies will not only rescue you from current lockouts but also avert them in the future.