Protecting your passwords in today's world is essential to the safety of your files and data, especially with the prevalence of third-party applications. Registering accounts for these applications is not the problem, as much as remembering them is. However, if you somehow forgot your phone's password, you can still find your way around the situation without losing valuable data.
Several tools offer universal unlock patterns for Android on the internet. However, there are more tools than Android phones to be unlocked. So how do you know which is best for you? In this article, we'll preview five of the best ways to combat this problem without resetting your phone or losing data.
Is There a Universal Unlock Pattern for Android?
Yes, a universal unlock pattern for Android exists. This built-in feature is commonplace with all Android devices and OS versions. This feature is quite interesting because it shows how thoughtful Google can be, knowing that passwords/PINs/patterns can be lost at any time.
The most common pattern locks for Android devices usually represent letters of the alphabet, especially letters that can be initials for something important to the user, such as S, L, P, Z, and M.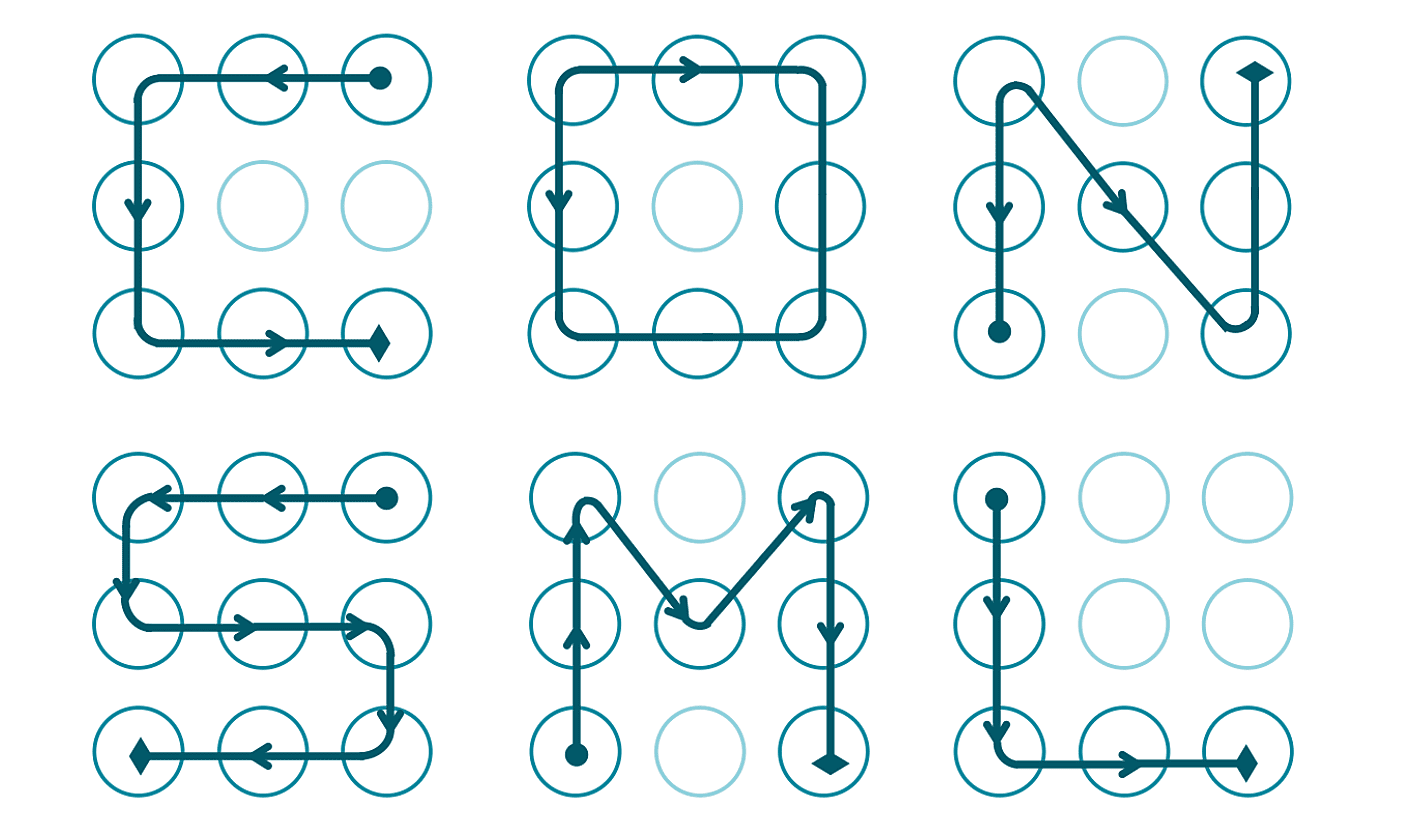 Unlock Pattern/Pin for Android - Universal Method
If you input the wrong pattern/pin five times and your phone locks you out, here are some of the steps you can take to carry out a universal unlock pattern for Android without losing data:
2.1 Use a Professional Tool to Unlock Pattern/Pin for Android
iDelock (Android) is a tool created by Wootechy to help Android users effectively combat different kinds of Android lockout situations. You can use it to unlock not only pattern, PINs, fingerprints, face ID, but also Google FRP lock.
Key Features of iDelock (Android):
75.000.000+
Downloads
Compatibility with almost all Android devices, from Android 2.3 to Android 11,12,13.

iDelock (Android) is versatile and it can deal with a variety of lockout situations.

Unlock Samsung phone if forgot passcode without data loss.

It is fast, reliable and consistent. With a high success rate, it can always be counted on.

You can quickly unlock your device using the intuitive interface.

24 hour support is available.
Guide to Use iDelock (Android)
Step 1 Download iDelock (Android) by clicking the button and install it on your computer. Next, select the Remove Without Data Loss Option.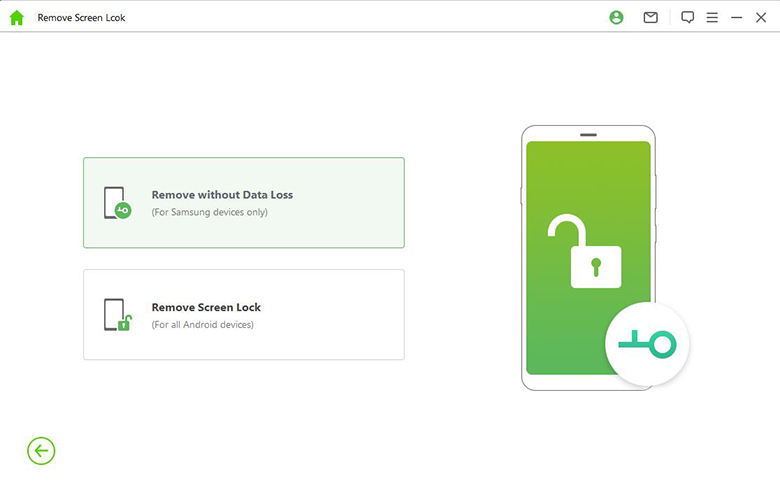 Step 2 Input your phone details, including the model and Android version. Click Start to continue.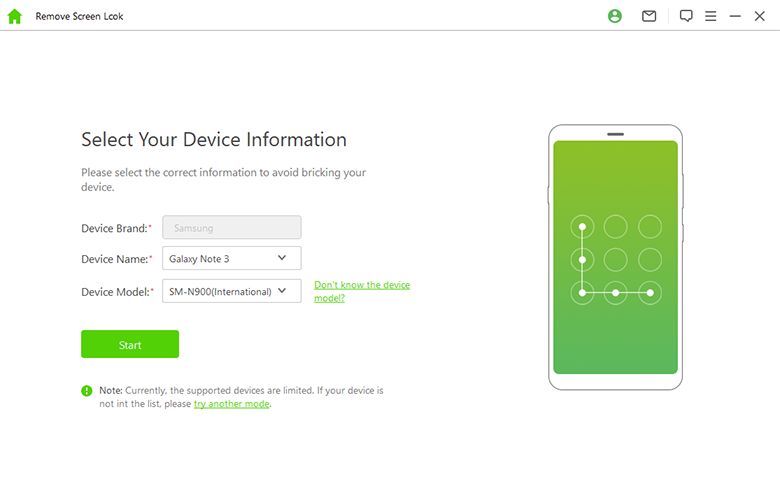 Step 3 Download the needed data package and connect your Android device to the computer using a USB cable.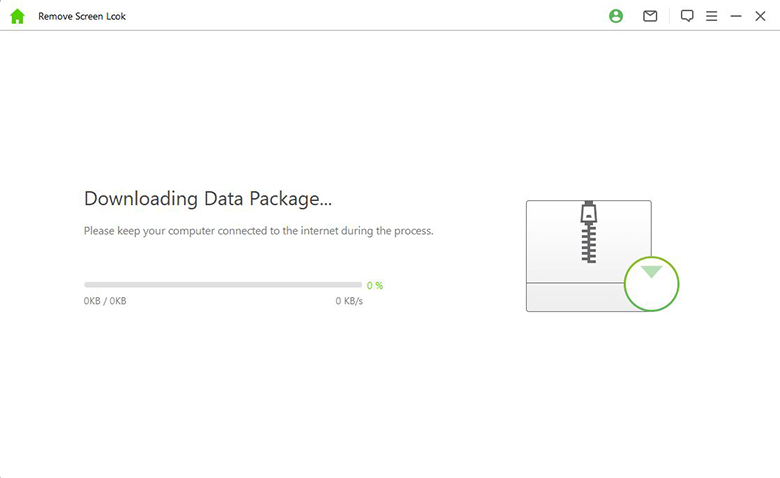 Step 4 Ensure your phone is in downloading mode. Then select Start to Unlock button to begin the unlocking process.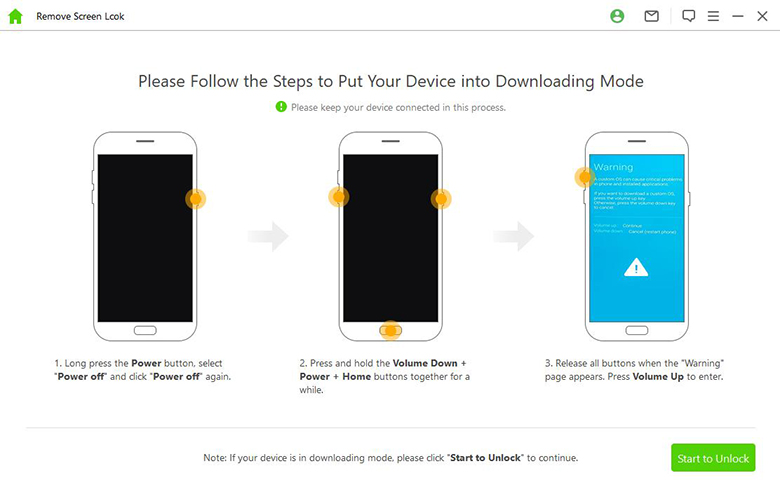 Step 5 Ensure your phone is in downloading mode. Then select Start to Unlock button to begin the unlocking process.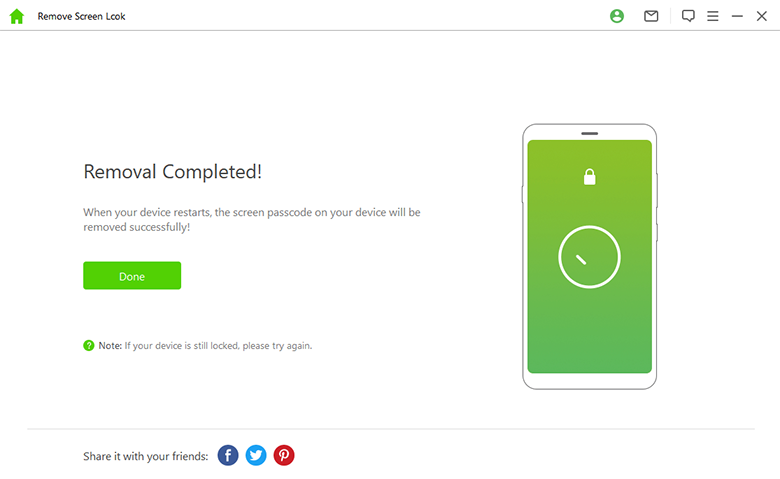 2.2 Unlock Pattern/Pin for Android With Find My Device
Asides the universal unlock pin for Android without losing data Google Find My Device is another tool to carry out this function. Used primarily to locate a device or prevent data theft in the event of a lost or stolen phone, this tool can also be used to lock or unlock your device if you forget your PIN/password/pattern.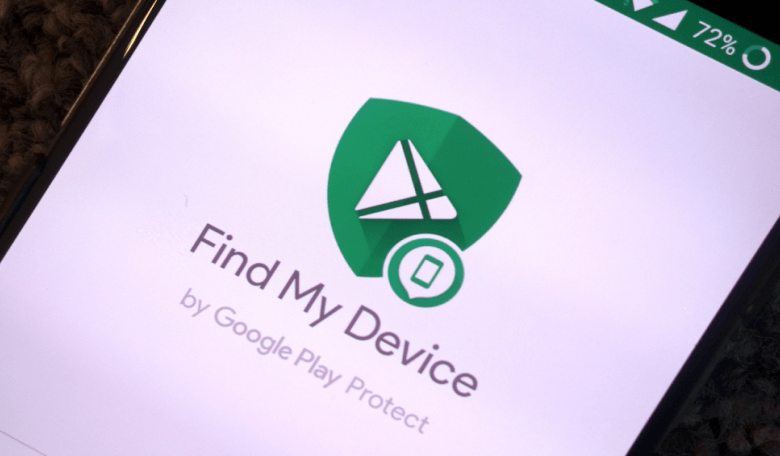 Note
To use this method, Google Find My Device feature must have been activated on your locked device. And your phone also need to connected to the internet.
If your locked device meets the above conditions, then follow the steps below to unlock your device using Google Find My Device:
Search for Google Find My Device on your PC.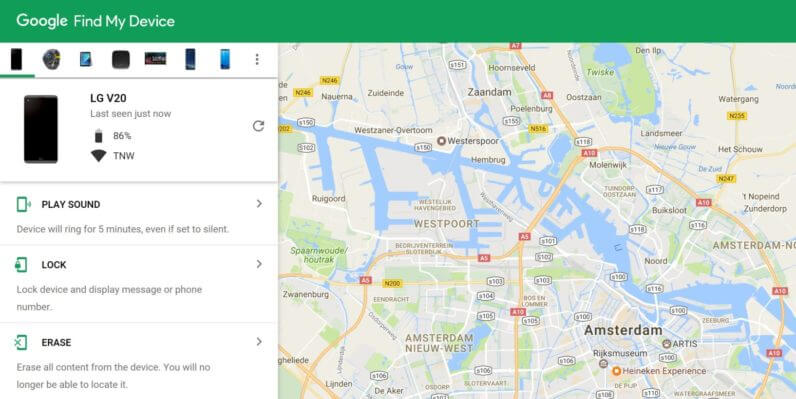 Next, log in to the application using the same account to set up your locked device.

Select your device > tap on Lock button.

Then input a temporary password. Click on the Lock button again.

Next, reboot your locked device. Then a password screen will appear on your phone. Enter the temporary password to unlock your device finally.
2.3 Boot Into Safe Mode to Unlock Pattern/Pin for Android
The safe mode is another universal unlock pin for Android without losing data solution to a forgotten pattern/pin situation for Android devices. However, this solution works only for third-party lock screen apps. It might not work for your phone's inbuilt lock feature. Here are the steps to follow:
Step 1 Long press the Power button on the device to recall the Power menu on its screen.
Step 2 Next, tap and hold on the Power off option.
Step 3 A pop-up message will appear on the screen. Accept and restart your device in Safe Mode.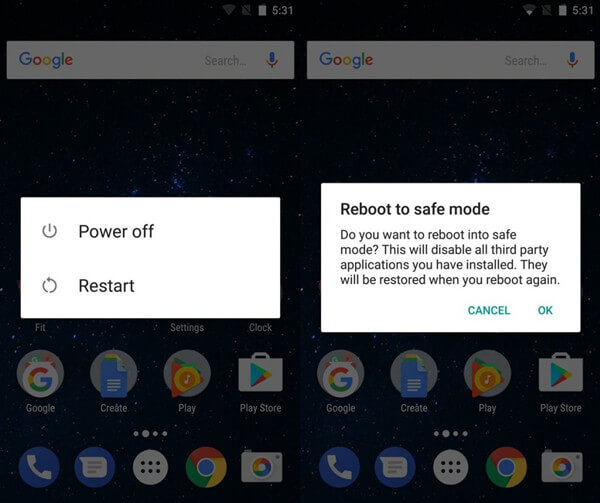 Step 4 Once the phone is restarted in Safe Mode, the third-party lock screen will automatically be disabled.
You should go to your device's settings later and remove the third-party application that caused the lock.
2.4 Unlock Pattern/Pin for Android via Forgot Pattern
This unlocks pattern pin method works best for devices running on Android 4.4 or even older. For this method, you won't need any third-party tool or PC to perform the procedure. Just follow these steps.
Step 1 After your device is locked, click on the Forgot Pattern option.
Step 2 Choose the option to unlock your device using your Google account credentials.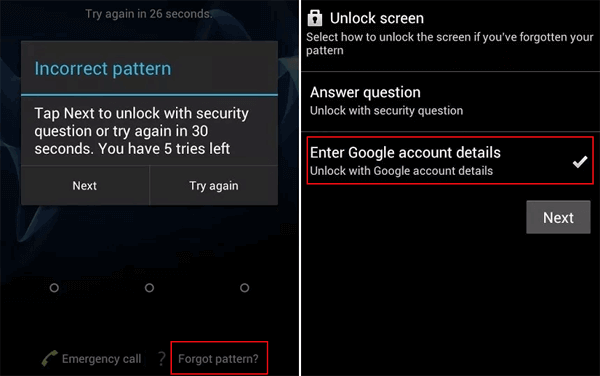 Step 3 Input the Google account information of the account linked to your Android device.
Step 4 Finally, choose a new pattern for your Android device and confirm it. You will now be able to access the device with this new pattern.
2.5 Use Emergency Call to Unlock Pattern/Pin for Android
Some Android devices allow you to bypass pattern/pin lock situations with an emergency call. It is common knowledge that you can make an emergency call even if the device is locked. However, this method, initially a security glitch, was later fixed when Android 5 was released. This means that this solution would probably only work for Android 4.4 and lower. Here's how to go about it:
Tap the Emergency Call button on your lock screen. This will open up the dialer screen for an emergency call.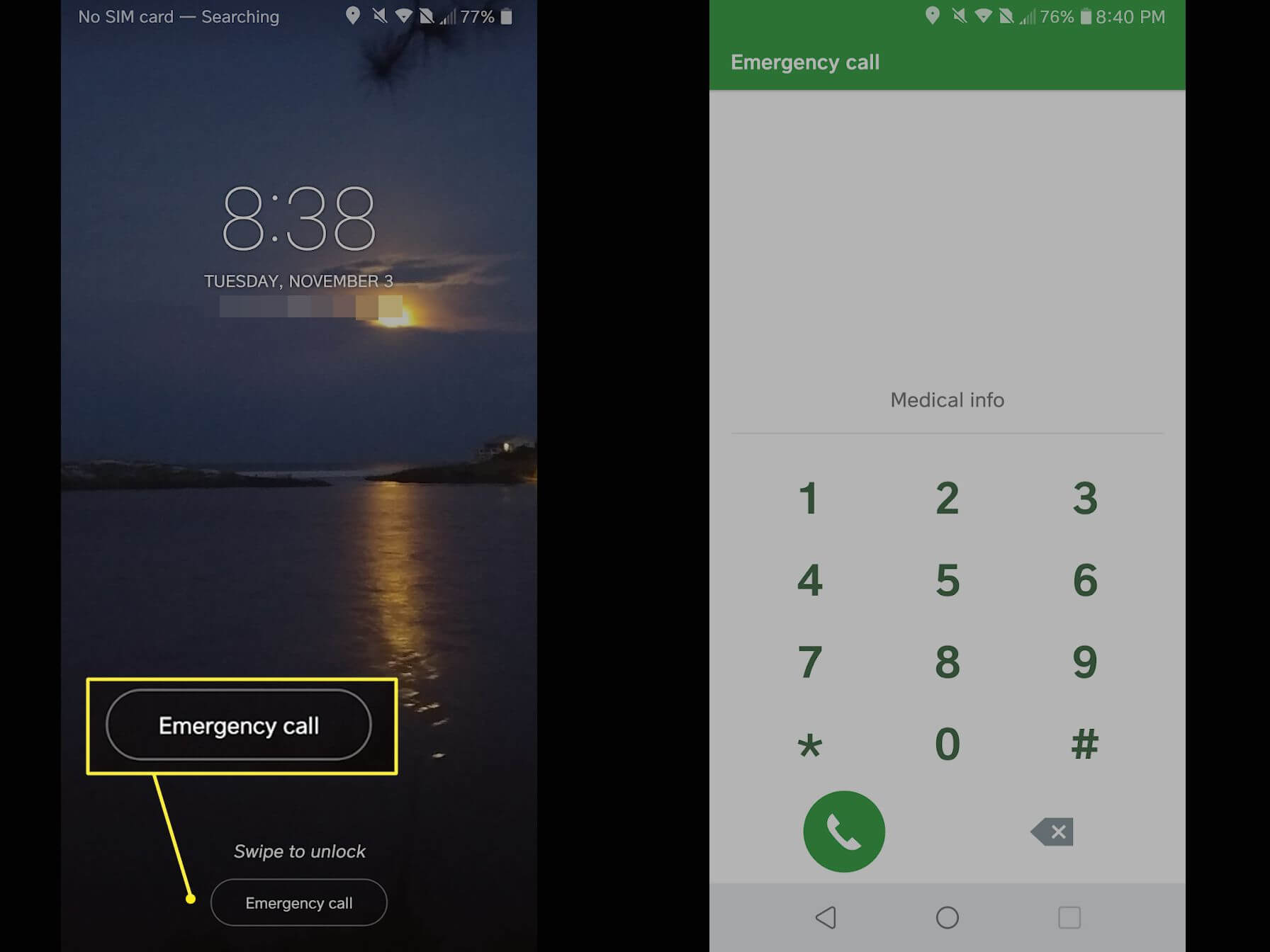 Next, enter a combination of special symbols. For example, you could input the asterisk (*) a few times.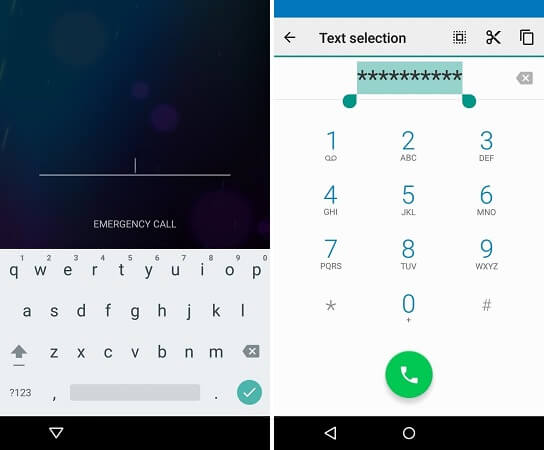 Double tap to highlight the combination and copy it to your clipboard. Then paste it on the dialer. Repeat this step 10 times until you can no longer highlight the combination.

Afterward, go back to the lock screen. Open the camera and pull the notification bar down simultaneously. Tap the gear button at the top of your screen and go to your device settings.

Now you'll receive a password prompt. Paste the copied combination until interface crashes. Once this happens, the camera interface will replace the lock screen, and your device will be unlocked.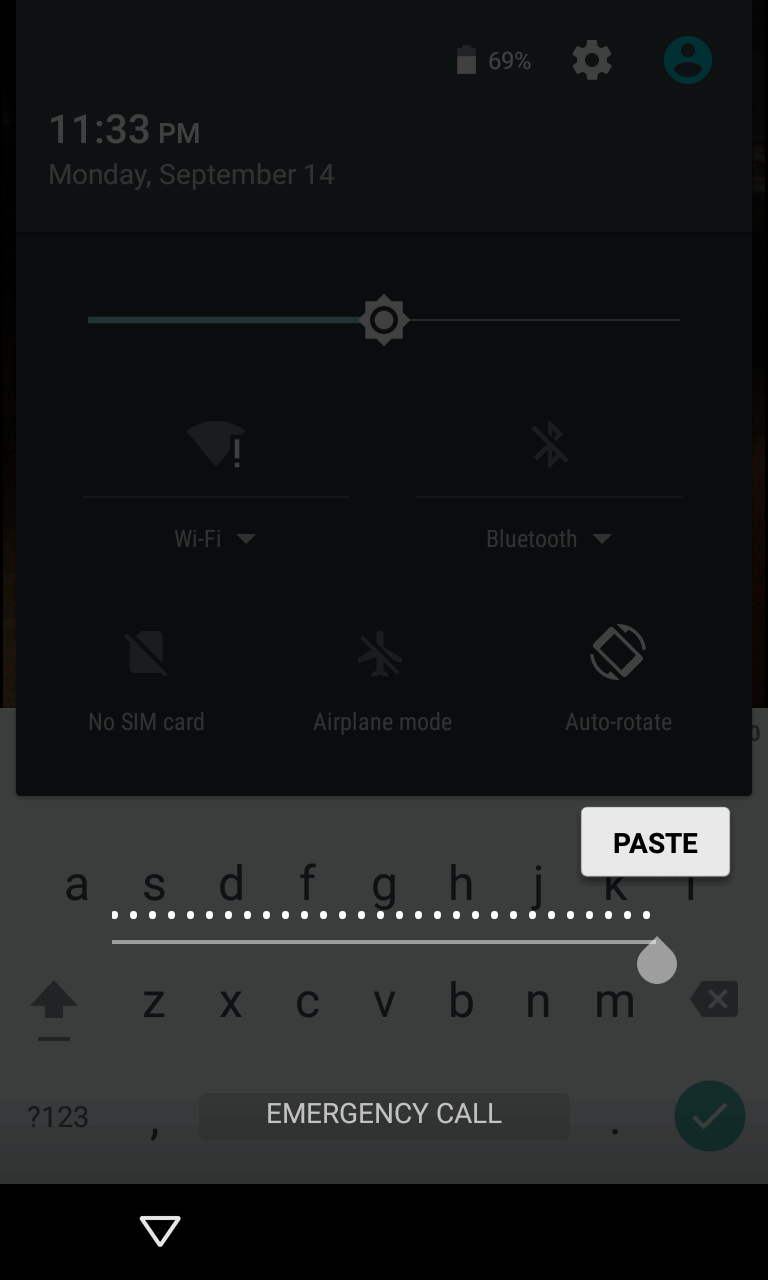 You can now access your home screen from your phone.
FAQs About Unlock Android Phone
Q1. What Software Can I Use to Unlock My Android Phone?
There are a number of software with which you can unlock your Android phones. However, not all those tools are as reliable as this lock remover tool by Wootechy.
Q2. Is There a Way to Bypass a Phone Lock Screen Even if It Is Broken?
Yes, there is a way to bypass a phone's lock screen even if it is broken. Learn how here.
Conclusion
These methods effectively resolve Android forgotten Pin/Pattern screen situations. However, there is no method as reliable or effective as iDelock (Android). This tool is easy to use. It is compatible with most Android devices, and provides an effective after-sale support channel. If you have tried all these universal unlock pattern for Android methods but they don't work. Then it's time to head over to the Wootechy official website and download iDelock (Android).