"Your Account Has Been Disabled in the App Store and iTunes", says Apple when I try to download Apps on App Store. What is this and why does it say that my App Store is disabled and how do I fix it?
Apple offers one of the most secure operating systems in the world. There is no comparison to iOS when it comes to reliability and security. If you forgot your Apple ID password or your account is disabled, you cannot recover it easily. There are many lengthy solutions to this problem. In this article, we will discuss some tips and a tool that can help you fix the account disabled in App store issue.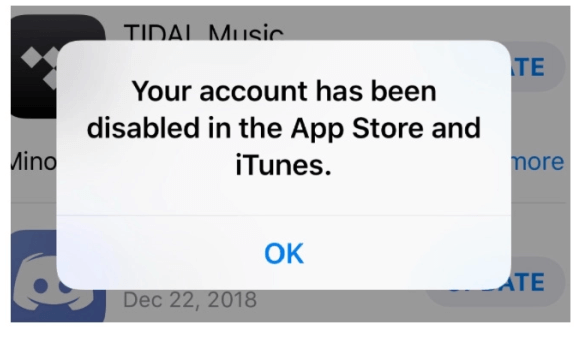 Part 1. Why Is My Account Disabled in the App Store?
If you have encountered an issue where it shows that your account is disabled, then you might be wondering "why is my account disabled in the App Store?" Well, there could be a few issues behind it. Here are some common reasons that can cause App Store account disabled.
One of the most common problems is entering the wrong password repeatedly in a short amount of time.
If there is a dispute regarding Apple billing, then you could be locked out of your account.
Any suspicious activity on your account will inform Apple about it, and your account will be disabled.
If you are not using your Apple account frequently, Apple will log you out so that no one can go due to safety measures.
If you have used this Apple ID on many devices, Apple could consider your App Store account as unsafe and disabled your account due to security concerns.
If you have an unpaid purchase on App Store or iTunes, this could also result to your account disabled.
Part 2. How to Fix Apple Account Disabled in App Store [5 Tips]
Many ways can fix disabled account in App Store. Here are a few tips that can help you to solve this problem. Not every fix is guaranteed to solve your issue, but it can. Give it a try.
Note
Before looking for solutions, when you forgot your Apple ID password and enter the wrong passwords too many times, thus getting your Apple ID locked. Check out iDelock - an iPhone unlocker to help you unlock Apple ID and regain your access to App Store and iTunes.
1Sign Out and Sign In Apple Account
A quick way to solve this issue is to sign out and back in. In this way, your iOS device will acknowledge that you signed in to your account.
Step 1. Open Settings on your iOS device and locate Apple ID. Tap on it.
Step 2. Scroll down to the bottom and tap on Sign Out. Confirm your selection.
Step 3. Restart your iOS device, go to the App Store and log in again.
2Change Your Apple ID Password
You can also try and change your Apple ID password. Before doing that, make sure that you have access to your iOS device and phone number as well. You must also know your screen password when you are trying to change your Apple ID password.
Step 1. Go to Settings and tap on the icon of Apple ID.
Step 2. Tap on Password & Security. When it opens, tap on Change Password.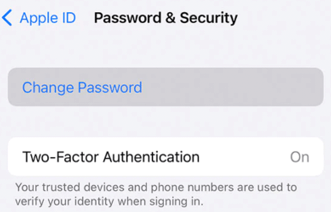 Step 3. Enter the screen password, and it will lead to the option where you will enter a new password followed by the confirmation of it.
3Add New Payment Methods
If you think your App Store and iTunes account is disabled due to a payment issue, then you view and update your payment method. You can also add a new payment method, and it will resolve this issue.
Step 1. When you open the setting, you will see your name at the top. Tap on it.
Step 2. From there, tap on iTunes and AppStore and choose your Apple ID. Here, tap on View Apple ID and select the Manage Payments option.
Step 3. Tap on Add Payment Method. It will allow you to add a new payment method to it. If this is the specific case, then your account will be enabled.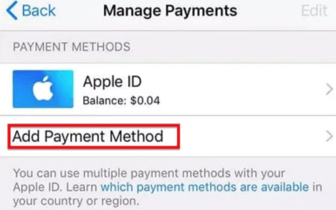 4Check Restriction Settings
Most of the users take help from restrictions to turn off the in-app purchases so that there is no unwanted transaction made. You can check if this was the case that makes your Apple account disabled.
Step 1. Open Settings and go to Screen Time.
Step 2. Tap on continue and select This is My iPhone. Here, tap on Content & Privacy Restrictions.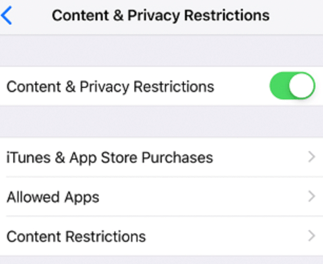 Step 3. Now, you can choose to enable or disable it.
5Change Your Apple ID Password
If all the above solutions don't work for you, then there is only one last thing to do. You can try and contact Apple Support. Hopefully, they will solve your issue. Otherwise, you can refer to the next part to solve this issue yourself.
Step 1. Open the browser and go to the Apple official website. Choose your region and country.
Step 2. Scroll down, and you will see an option of Contact Apple Support.
Step 3. Then click on iTunes Store: Purchasing music, movies, apps, and books.
Step 4. Select the option of Account Management. Choose the option of Account Disabled in the App Store and iTunes Store alert.
Step 5. You can then schedule a call with Apple Support, and they will surely fix your account disabled issue in the App Store.
Part 3. Unlock Apple ID Without Password When Account Disabled in App Store]
If you are unable to fix your Apple account disabled using the above tips, you can move forward using a powerful tool. WooTechy iDelock is an effective tool that can unlock Apple ID without the passcode. It doesn't matter if the account is disabled in the App Store or not. Here are some of the features of WooTechy iDelock and how to use it.
Key Features of WooTechy iDelock
Remove screen lock, Apple ID, screen time lock, and restrictions from the iOS device quickly.

If your iPhone won't unlcok with correct password, wootechy could also help you out.

You can bypass MDM with only three clicks with the help of this tool..

Not only it works with iPhones, but it is also compatible with different iOS devices having different iOS versions, including iOS 16.

It also has Android version which can remove FRP or Google account.
Step 1. Download WooTechy iDelock on your computer and install the tool. Launch the tool, and you will see different options on the home screen. Click on Unlock Apple ID.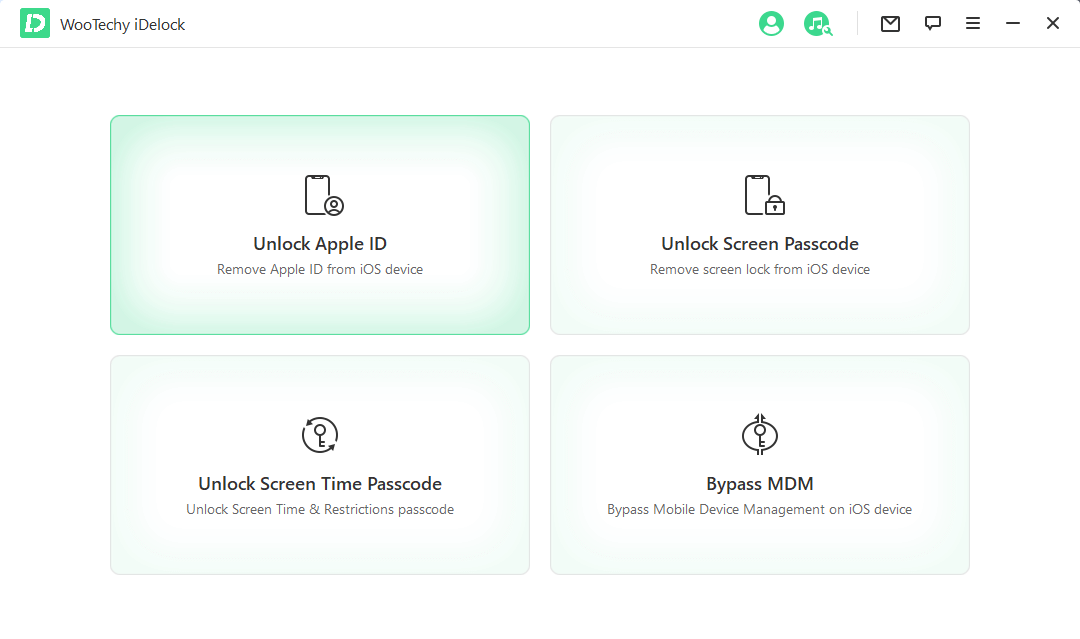 Step 2. Take a USB cable and connect your iOS device to the computer. Choose the option to Trust so that tool can work with the iOS device.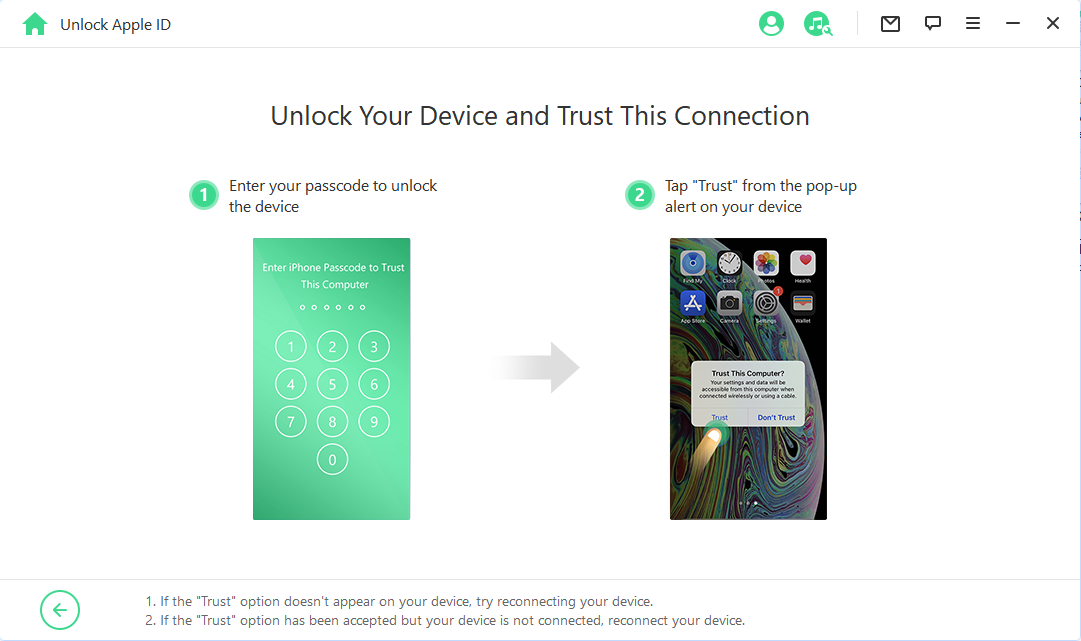 Step 3. Now, click on Start to remove the Apple ID and iCloud synced to the iOS device. However, if the iPhone is disabled, then it will start unlocking the iOS device immediately. It works with almost all iOS versions.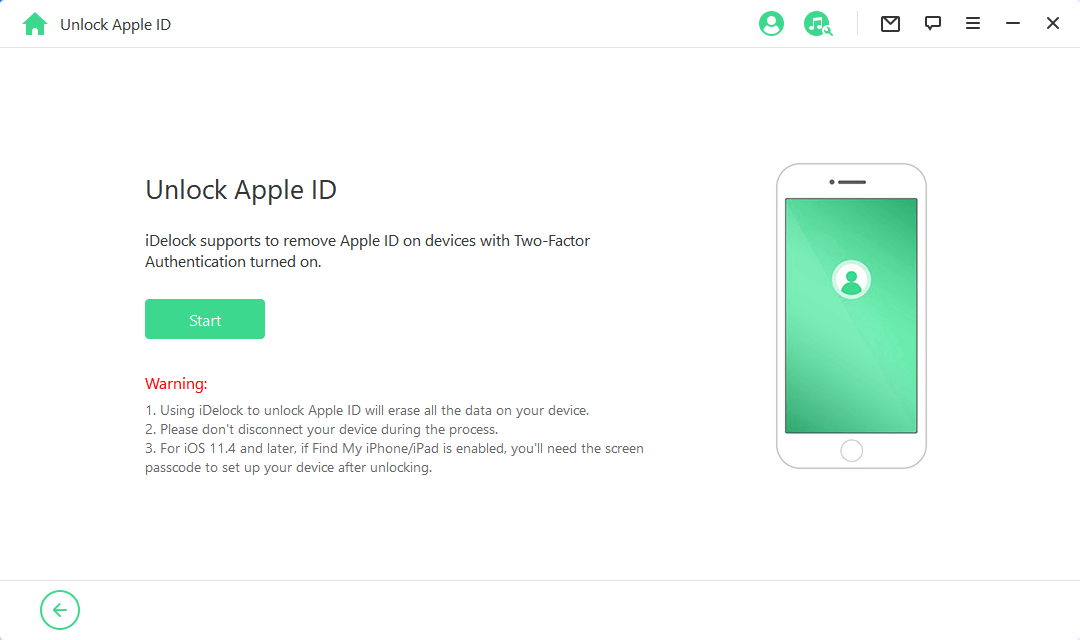 Step 4. Then your operation varies according to different conditions of Find My feature, and we'll still show thorough steps. Finally you will successfully unlock Apple ID without password.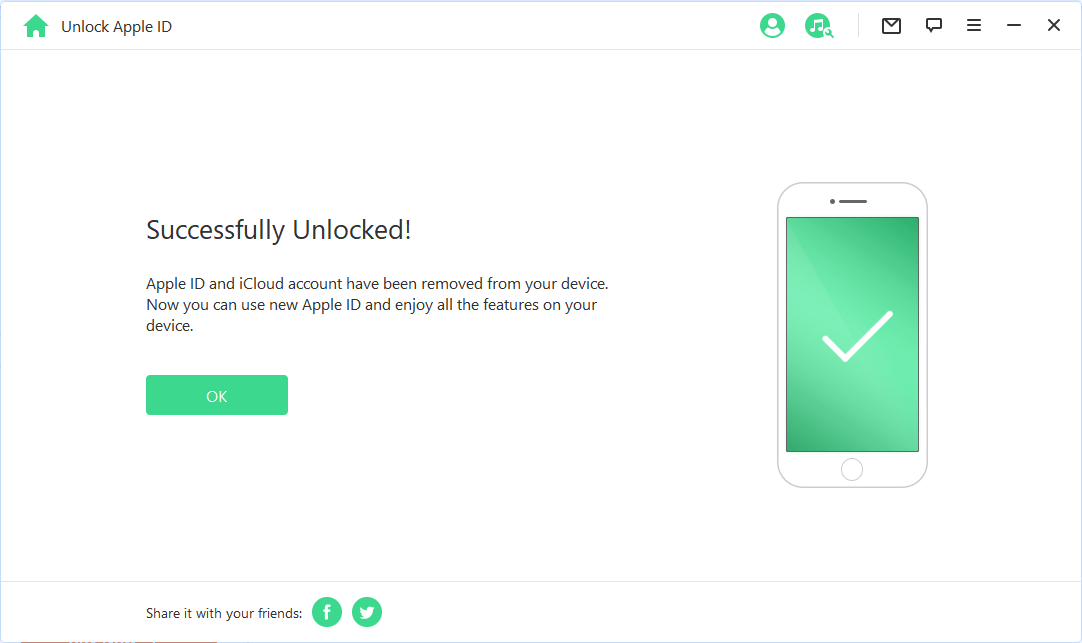 Conclusion
In this article, we have discussed different causes of why your account is disabled in the App Store. We also discussed the probable solutions that you can try that would enable your account. However, the most effective solution is to use a professional tool like WooTechy iDelock. It can help with all the locking and disabling issues of iOS devices. It has a free trial which is up for grabs. Download the tool now and solve any password issues related to iOS devices.