Are you being locked out of your iPhone? Whether you forget your screen passcode, Restricrions & Screen Time passcode or Apple ID password, these can limits you from getting full access to your iPhone.
Luckily, having proper tools can help you regain iPhone access. In this article, you will learn the details of 3 iPhone passcode unlockers and the official solutions to crack iPhone passcode.
3 Best iPhone Passcode Unlockers
iPhone passcode unlocker is a program designed to help you get rid of your forgotten passcode. The primary purpose of this program is to assist users who can no longer recall their iPhone passcode to regain access to their precious devices.
When choosing an iPhone passcode cracker, you want to go with the best tool effective to your issues. Let's look at the best 3 iPhone passcode unlockers.
1

WooTechy iDelock iPhone Passcode Unlocker

WooTechy iDelock is undisputedly the best iPhone passcode cracker available. Unlike other tools only offer screen lock unlocking, iDelock can help you get rid of various locks on iOS devices with a high success rate, including screen lock, Apple ID, restrictions, MDM, and Screen Time. All you need are a few clicks, and you will get full access to your device. Additionally, WooTechy iDelock doesn't require any technical skills.

Features of WooTechy iDelock

WooTechy iDelock is the best tool for removing different screen locks, thanks to the features that it harbors. The program removes screen locks fast and efficiently, including:
Screen lock, Apple ID, Restrictions & Screen Time and MDM

Disabled or frozen iOS device

Non-functional Touch ID or Face ID
Follow these steps to unlock the iPhone passcode. (Note that all the device data will be erased during password removal. Your iPhone will be upated to the latest iOS version.)
Step 1: With WooTechy iDelock launched, select the option Unlock Screen Passcode.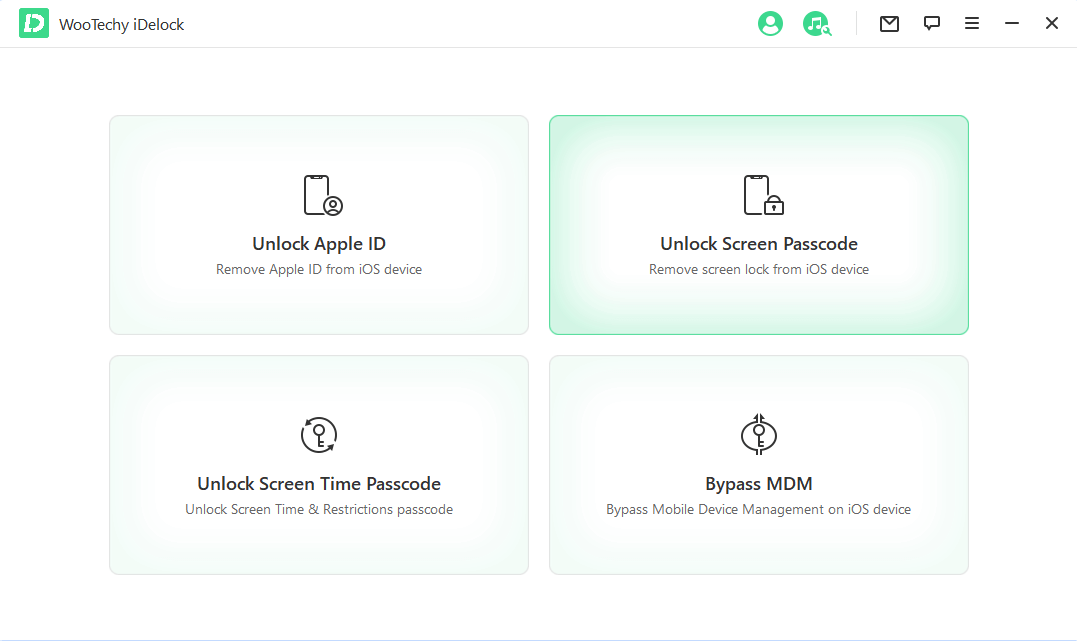 Step 2: Connect your iPhone to the computer using a USB cable and choose the Next option. Sometimes your iDevice might fail to be detected. In this case, put it in DFU/Recovery mode as prompted.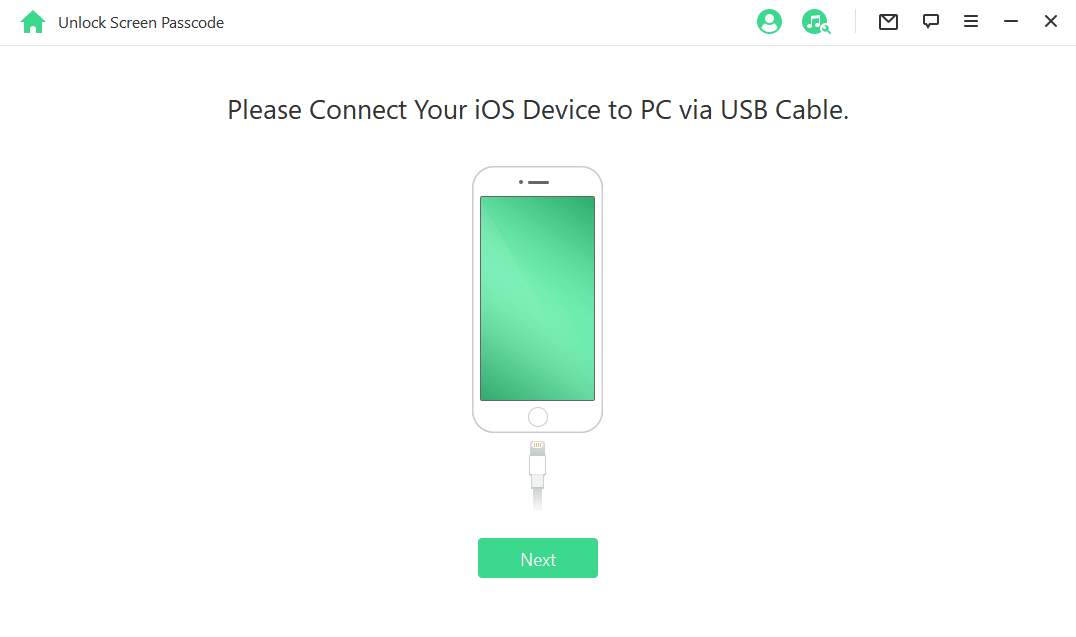 Step 3: iDelock will automatically detect your device model. Then, follow the instructions on your screen to download and verify the firmware package.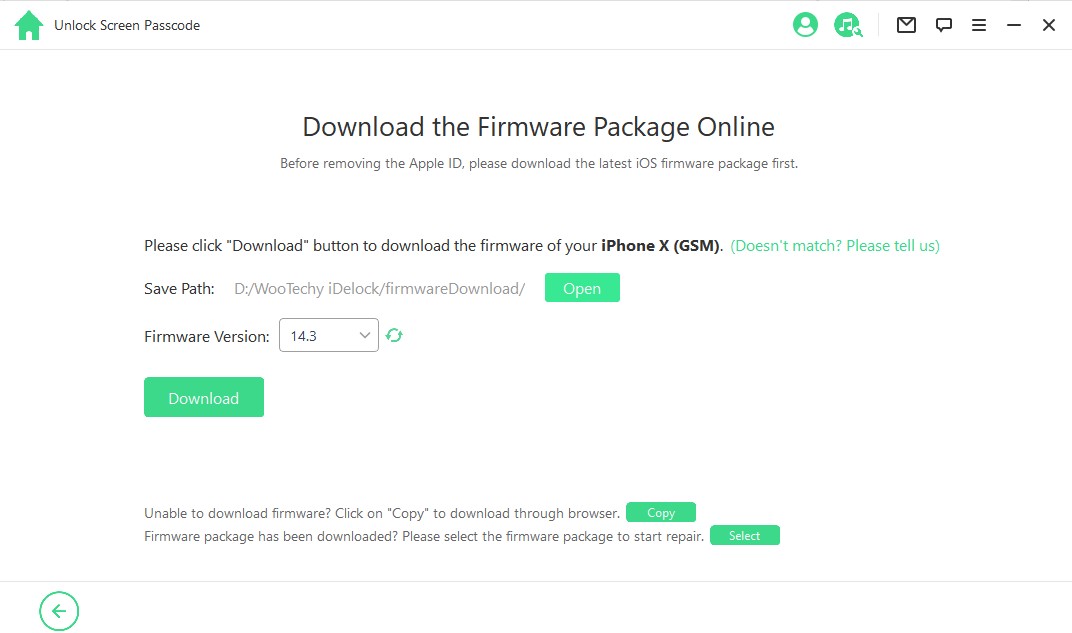 Step 4: Choose Start Unlock to start the process. Then, enter the unlock confirmation code 000000 as prompted. With that done, the unlock will complete in just a few minutes.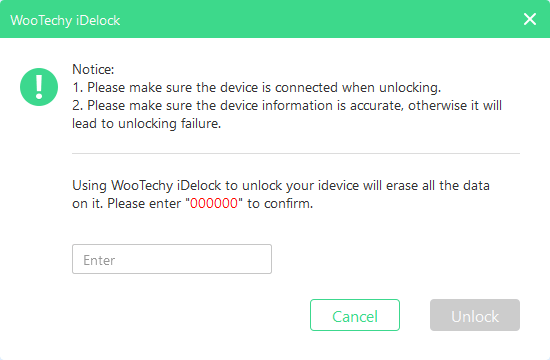 After the process, the screen passcode on your device will be removed successfully.
Pros:
Secure iPhone passcode unlocker with a high success rate.

Doesn't require any tech knowledge.

Only require a few simple clicks to unlock your device.

Trusted by iPhone users globally.
---
2

Joyoshare iPhone Passcode Unlocker

Joyoshare is one of the alternatives to WooTechy iDelock that you can use for iPhone passcode unlocking. The software may work on some iDevices even though it has an inferiority to WooTechy iDelock in terms of features.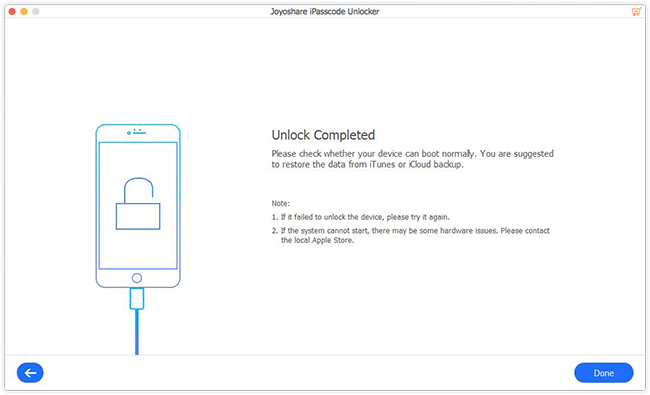 Pros:
Cracks four types of screen lock, including 4-digit passcode, 6-digit passcode, Face ID and Touch ID.

Allows you to unlock the screen in a couple of steps.

Works on most iOS devices.
Cons:
The success rate of unlocking is not competitive in the market.

It is possible that your device won't be detected and there is no solution.
---
3

Elcomsoft iOS Forensic Toolkit

Elcomsoft iOS Forensic Toolkit offers various tools for unlocking access to many types of data. The program is not primarily created as an iPhone passcode unlocking tool, but you can still use it for this purpose.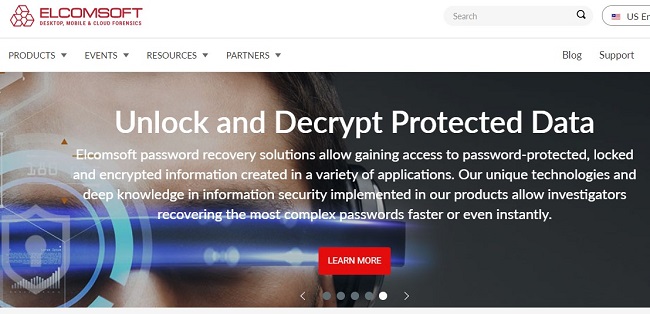 Pros:
It can be used to unlock iPhone 4, 5 and 5c devices.
Cons:
To unlock iOS screen lock, it only offers Mac edition.

Mainly targets legacy iPhone devices for passcode cracking.

It has an extremely high price that costs $1495 for a year.

It will take up to 21 hours to complete the unlocking.
Bonus. 2 Official Ways to Crack iPhone Passcode
Using an iPhone passcode unlocker is not the only way to regain access to your precious iDevice after forgetting its passcode. You may opt to use either iTunes or iCloud, as explained here.
1

Crack iPhone Passcode by iCloud

iCloud can function as iPhone passcode unlocker if you know the trick around exploring it for this purpose. Keep reading to learn more about how you can go about this.

Requirements

The requirements to use iCloud as iPhone passcode cracker include:

1. Another device where you can log in to your iCloud account

2. Credentials to the iCloud account

3. The locked device must have had Find My iPhone feature enabled

Steps to remove iPhone passcode with iCloud

Follow these steps to unlock your iPhone using iCloud:

Step 1: Log in to your iCloud account

Get another device and log in to your iCloud account that matches the one used to sign up for Find My iPhone on the locked device.

Step 2: Find iPhone

Navigate to the "Find iPhone" section within iCloud. Given that you already have the iPhone with you, you do not necessarily want to locate it. Just proceed to the next phase.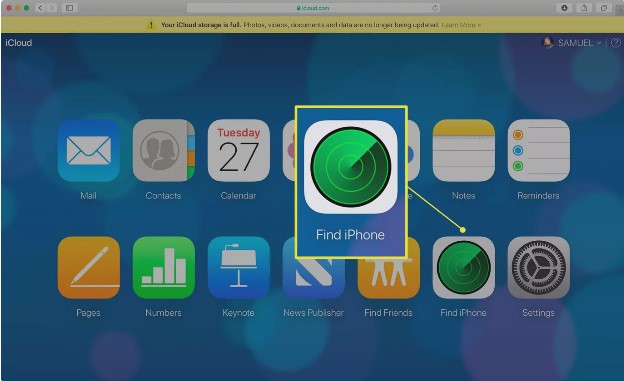 Step 3: Erase data
Choose the "Erase" option to delete all the data on your iPhone. You will receive a prompt that you must accept. It notifies you that all data on the iPhone would be lost.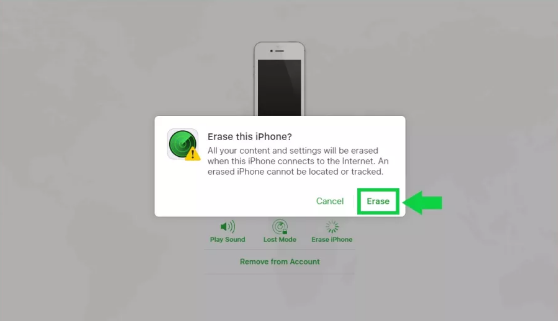 Step 4: Fresh iPhone setup
Begin setting up the erased iPhone as though it is new. Once done with the setup, your iPhone screen lock will be removed.
2

Crack iPhone Passcode by iTunes

Just like iCloud, you can also use Apple's own iTunes as iPhone passcode unlocker. Thus, the next time you get the "iPhone unavailable" or "iPhone is disabled" errors, do not panic.

Requirements

Here is what you would need to regain access to your iOS device using iTunes:

1. Latest iTunes version installed on PC or Mac

2. USB cable to connect your iPhone to the PC or Mac

Steps to remove iPhone passcode with iTunes

Step 1: Launch iTunes and plug the device into your computer using a USB cable. Ensure that your iTunes is the latest version.

Step 2: Then, depending on your device model, follow the steps below to put your iPhone into Recovery mode.
For iPhone 8 or later: With your iPhone connected to your PC, press the Volume Up button, press the Volume Down button, and then hold down the Side button until you see the Recovery mode screen.

For iPhone 7/ 7 Plus, and iPod touch: Press and hold the Top (or Side) and Volume Down buttons at the same time. Keep holding them until you see the Recovery mode screen.

For iPhone 6s or earlier, including iPhone SE: Press and hold both the Home and the Top (or Side) buttons at the same time. Keep holding them until you see the Recovery mode screen.
Step 3: Back to your PC iTunes, click on Restore. Then, follow the instructions on the screen, and wait until the process is completed.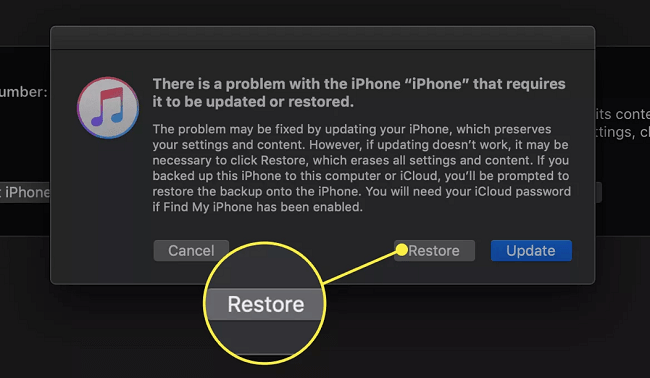 Wait until the process is complete, you will now be able to access your device without the passcode.
Conclusion
We have listed different iPhone unlock software to opt for when you forgot your passcode, including WooTechy iDelock, Joyoshare, Elcomsoft iOS Forensic Toolkit, iTunes, and iCloud.
Apart from WooTechy iDelock, you might notice that these tools have many limitations, dubious success rate. Therefore, we recommend WooTechy iDelock as your most reliable and powerful iPhone passcode unlocker with the highest success rate. Download iDelock right now and give it a nice try!