In today's digital age, our iPads have become an integral part of our lives, storing a plethora of personal and sensitive information. Whether you're planning to sell your iPad or want to start fresh, it's essential to erase all data and settings before passing it on. However, what if you've forgotten your Apple ID and password? Don't worry; we've got you covered.
In this article, we'll explore a reliable solution so you can learn how to erase iPad without Apple ID, ensuring your privacy remains intact.
Part 1: Erase iPad without Apple ID and Password - iDelock
When it comes to erasing iPad without Apple ID, iDelock proves to be an invaluable tool. It's a software solution that enables you to wipe your iPad clean, removing all personal data and settings without requiring your Apple ID credentials. It can be done with or without Find My feature enabled. No matter it's a second-hand iPad or you just simply forget Apple ID credentials, iDelock can erase iPad with ease. iDelock can also work on its magic even iPad is disabled.
Key Features of WooTechy iDelock
75.000.000+
Downloads
iDelock is an outstanding iPhone/iPad unlocking tool for its features. It can remove any kinds of locks on iDevices, such as screen lock, screen time or restriction lock, even Apple ID can also be removed wihout password.

Besides unlocking, iDelock offers a way to bypass MDM and delete MDM profile without administrator knowing.

Unlike iTunes, iDelock offers a speedy erasure process, ensuring your iPad is wiped clean within a short span of time.

With its intuitive interface, iDelock makes it easy for anyone to erase their iPad without complications.

iDelock supports various iPad/iPhone models, including the latest iOS 16, so you can use it regardless of the device you own.
How to Use iDelock to Erase iPad without Apple ID
Step 1: Begin by installing WooTechy iDelock on your PC and launching the software. From the options displayed on the screen, select "Unlock Apple ID".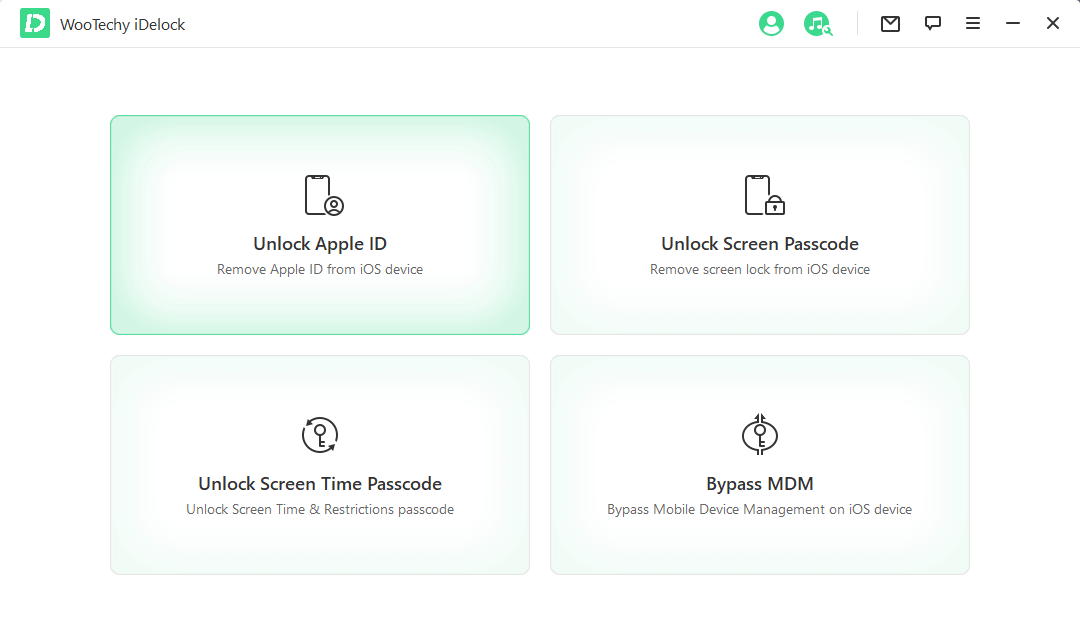 Step 2: Connect your Apple device to your PC using a suitable cable. Ensure that your iOS device screen is unlocked and trust the computer when prompted.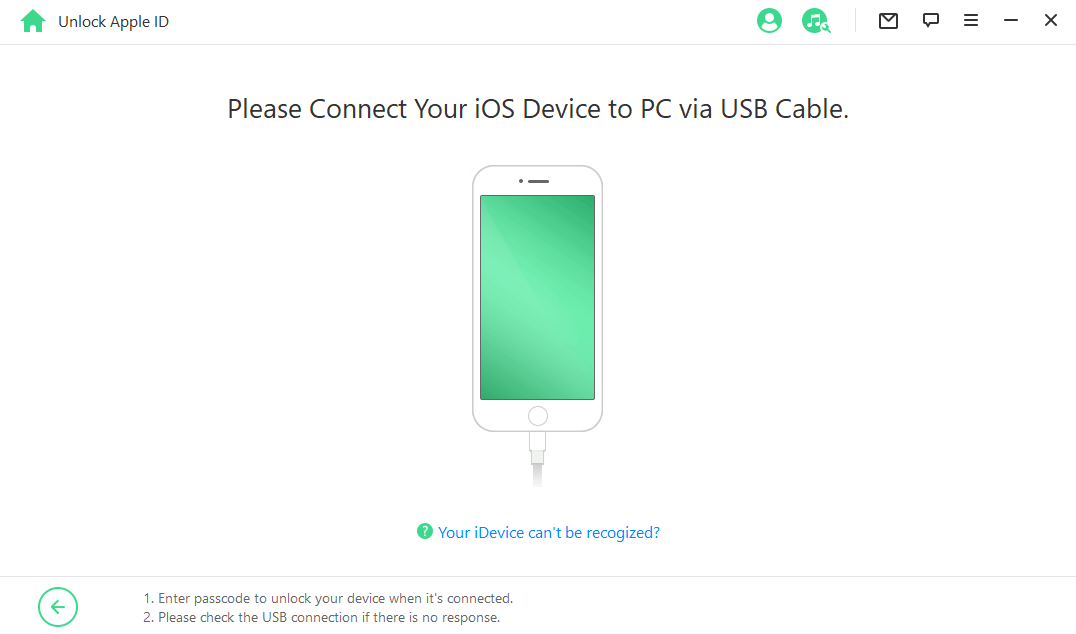 Step 3: Click on "Start" to initiate the process of removing the Apple ID associated with your iOS device. Please note that this method will only work if the "Find My iPhone" feature is disabled on your device.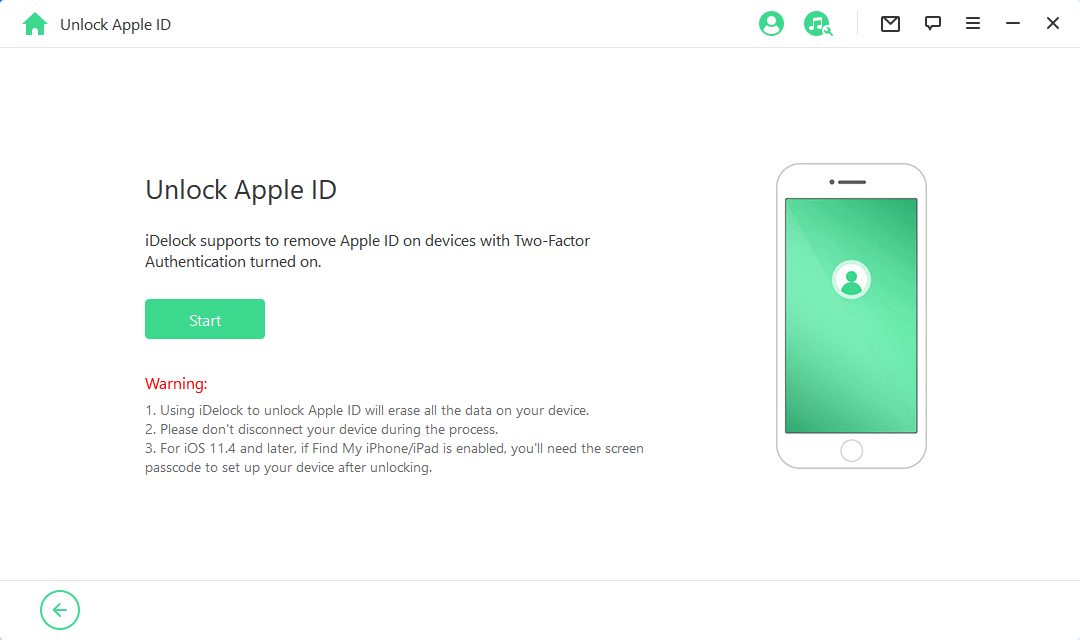 Step 4: If you have enabled Two-Factor Authentication, you will see a prompt to check the device status. Click "Next" and make sure you have set up a screen lock passcode on your device.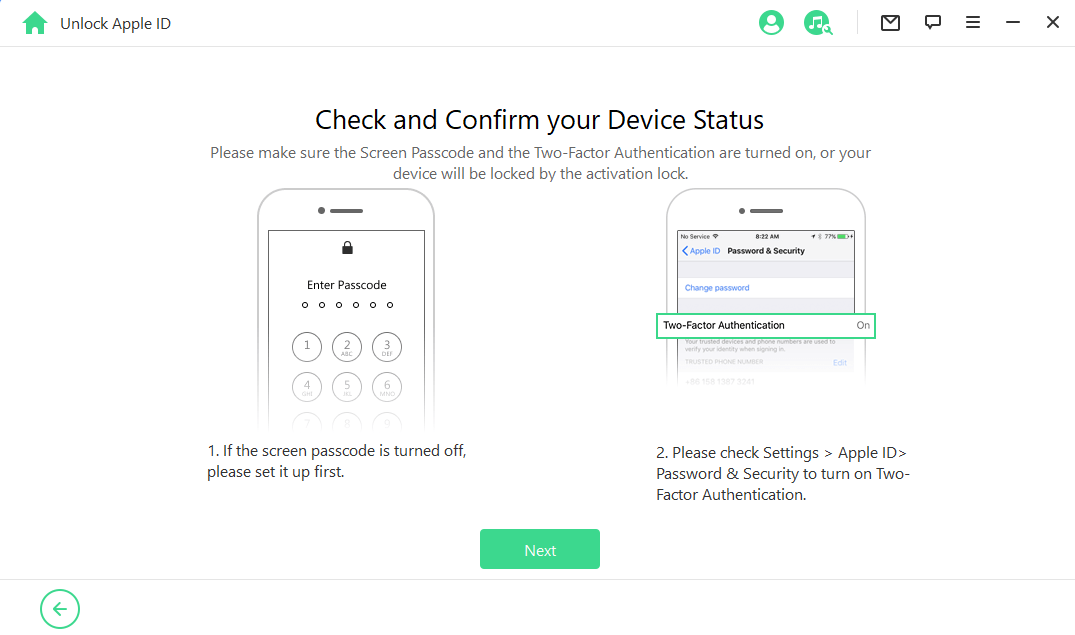 Step 5: A pop-up window will appear, requesting you to enter "000000" for confirmation. Once entered, click on "Unlock" and let iDelock take care of the rest.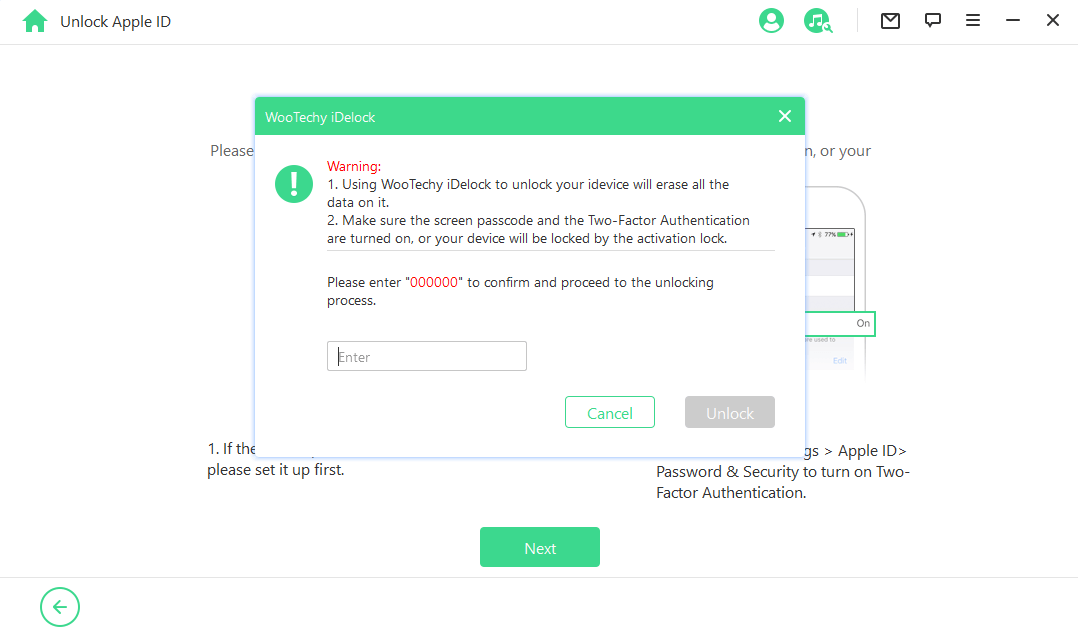 Step 6: Wait patiently for a few minutes as iDelock removes the Apple ID from your device. You will see a successful message on the screen once the process is complete.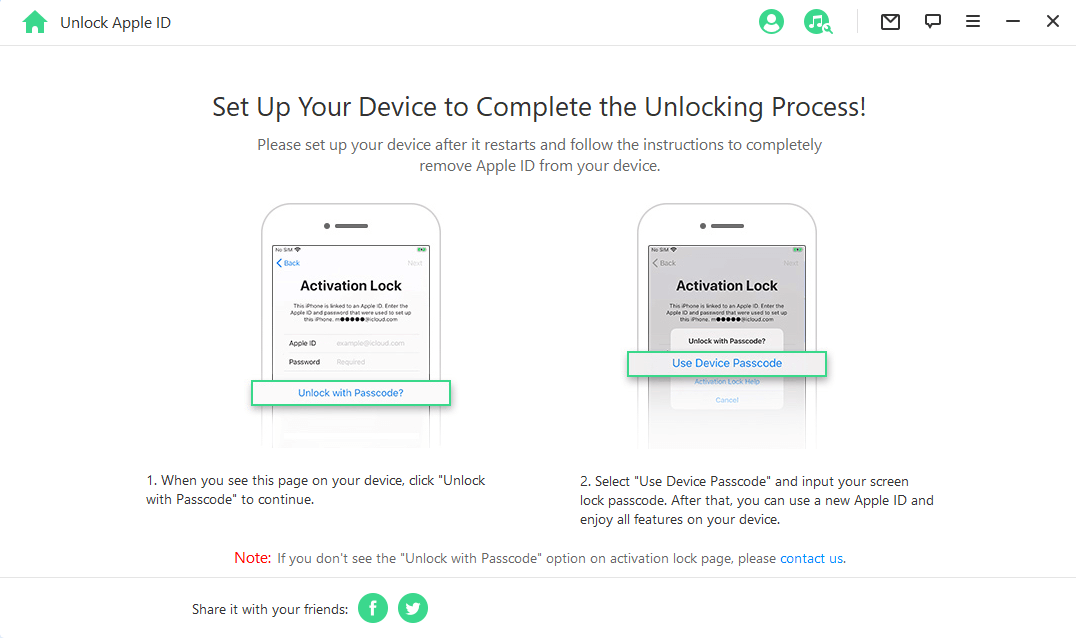 Remember to follow the instructions carefully and ensure that you meet the necessary requirements for using iDelock. By utilizing this reliable software, you can erase your iPad without an Apple ID and regain control over your device.
Part 2: Erase iPad without Apple ID - iTunes
If you're looking for an alternative method to erase your iPad without an Apple ID, you can consider using iTunes.
Using iTunes to erase your iPad without an Apple ID is suitable if you have access to a computer with the latest version of iTunes installed and have previously synced your iPad with that computer. Additionally, you must have enabled the "Find My iPad" feature on your device.
Follow these steps to erase iPad without Apple ID using iTunes:
Use a USB cable to connect your iPad to a computer on which you have iTunes installed.
Open iTunes on the computer, and if prompted, enter your computer's passcode or grant access to trust the device.
In iTunes, locate and click on the iPad icon, which should appear in the upper-left corner of the iTunes window.
Once you've selected your iPad, click on the "Summary" tab in the left sidebar.
Press and hold the Sleep/Wake and Home buttons simultaneously until the iPad enters recovery mode. A message should appear in iTunes, indicating that your iPad is in recovery mode and needs to be restored.
In iTunes, click on the "Restore iPad" button. This action will erase all data and settings on your iPad.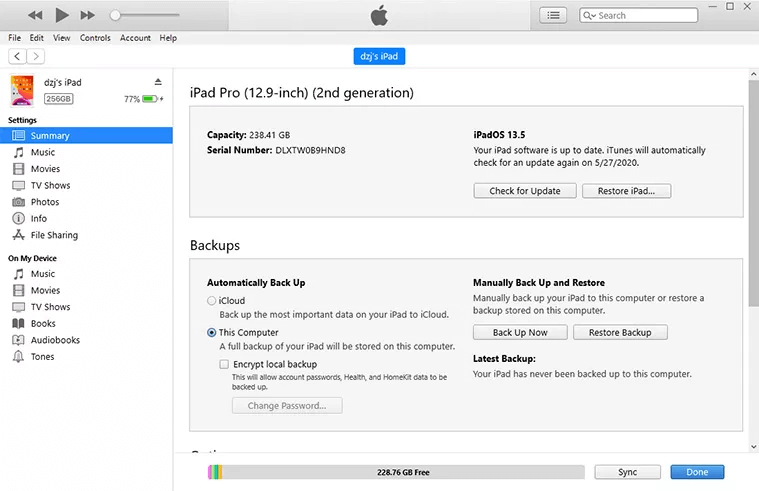 Part 3: Erase iPad by Resetting Apple ID Password - Official Website
Another method to consider for erasing an iPad without Apple ID is by resetting your Apple ID password through the official Apple website.
This method is suitable when you want to remove all data and settings from your device but cannot remember your Apple ID password. By resetting the password, you can gain access to your iPad and proceed with the erasure process.
Follow these steps to erase iPad without Apple ID using the official Apple website:
Open a web browser and go to https://appleid.apple.com/. Then, scroll down to the bottom of the page and click on the "Forgot Apple ID or password" option.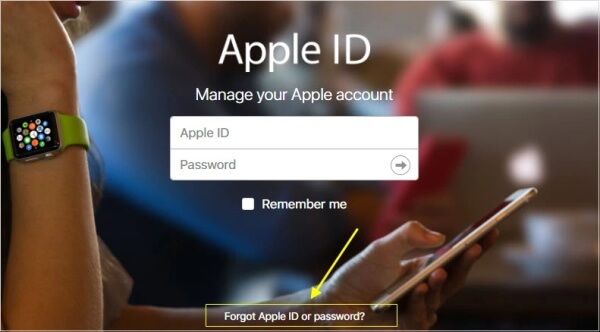 On the next page, enter your Apple ID and choose the method you prefer to reset your password. You have two options: "Answer security questions" or "Get an email".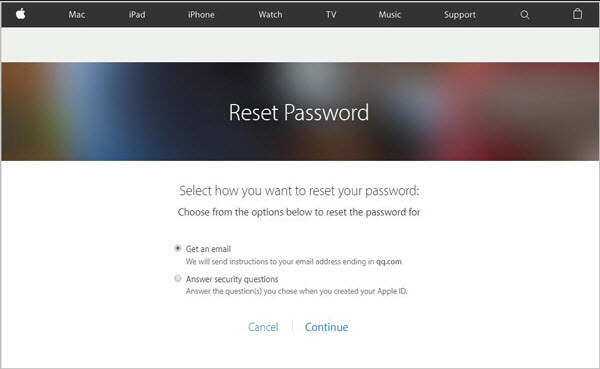 Follow the steps to complete the verification process. Once the certification procedure is successfully completed, you will be able to use the new password to sign in to your Apple ID account and unlock your iPad.
Once you have gained access to your iPad with the new password, navigate to "Settings" > "General" > "Reset" and choose the "Erase All Content and Settings" option to initiate the erasure process.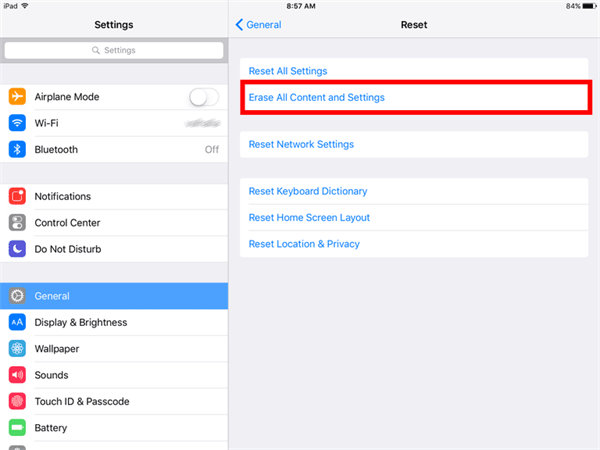 Part 4: Erase iPad without Apple ID - iCloud
If you have enabled the "Find My iPad" feature on your device, you can consider using iCloud to erase your iPad without Apple ID. This method requires that your iPad is logged in to iCloud and connected to a network, and you have another device also logged in to iCloud.
Follow these step-by-step instructions to erase your iPad without Apple ID using iCloud:
Visit the official iCloud website at https://www.icloud.com/find.
Choose your iPad from a list of devices associated with your Apple ID.
Click on the "Erase iPad" option. This action will initiate the remote erasure process.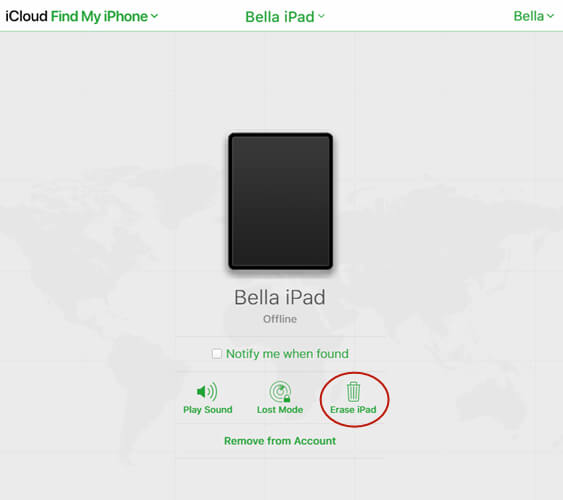 A confirmation pop-up will appear, warning you that erasing your iPad will delete all data. Confirm your decision by clicking on the "Erase" button.
Part 5: Additional Tips for Erasing iPad
After learning how to erase iPad without Apple ID, it is crucial to take certain precautions and consider additional tips before the process. By following the tips below, you can ensure a smoother and more secure process while erasing an iPad.
Tip 1: Back up important data
Before erasing iPad, it is essential to back up any important data you want to keep. This includes photos, videos, documents, contacts, and any other files you don't want to lose. You can use iCloud, iTunes, or third-party backup software to create a backup of your iPad's data. By doing so, you can easily restore your data to a new device or after the erasure process is complete.
Tip 2: Understand the consequences of erasing without Apple ID
When you erase  iPad without an Apple ID, it is important to understand the consequences. Erasing your device will delete all data, settings, and apps permanently. This cannot be undone. Take the time to consider if erasing your iPad without an Apple ID is truly necessary for your situation.
Tip 3: If encountering difficulties, contact Apple Support for assistance
If you encounter any difficulties or face unexpected issues while attempting to erase your iPad without an Apple ID, it is recommended to seek assistance from Apple Support. They have the expertise and resources to guide you through the process, troubleshoot any problems, and provide the necessary solutions. Apple Support can be reached through various channels, such as their website, phone support, or visiting an Apple Store.
Tip 4: Consider enabling two-factor authentication for enhanced security
To enhance the security of your Apple ID and prevent unauthorized access to your devices and data, consider enabling two-factor authentication (2FA). With 2FA enabled, you will need to provide an additional verification code along with your password when signing in to your Apple ID on a new device or browser. This extra layer of security can help protect your personal information and prevent unauthorized erasure of your iPad.
Conclusion
When you find yourself in a situation where you need to erase your iPad without an Apple ID, there are several methods available to accomplish this task. We have explored different approaches. iDelock stands out as a reliable and efficient solution for erasing iPad. iDelock software offers a user-friendly interface and advanced features that make the process seamless and secure. With iDelock, you can erase your iPad withhout Apple ID and password and protect your privacy.